March will be an extraordinarily busy week for the FDA. The FDA will hand down decisions that effect 18 Healthcare companies this month. Therefore, as expected, many firm's stocks will soar to the sky or crash through the floor because over half of the scheduled events will affect small cap healthcare and biotech firms. Therefore traders will have the opportunity to short these highly anticipated events and bring in major profits. On the other hand, long investors and traders may be able to double their money in one day if another Vivus (NASDAQ:VVUS) comes to fruition. Nevertheless, we should get started on the dozen or so FDA events going off this month.
In order to make things more clear for investors and traders, I will begin with a brief table showing the dates that affect specific companies. I am doing this to help investors and traders pinpoint the one firm they are interested in without having to read through all the events; since there are a lot this month.
| Date | Company | Event (Ad. Comm. or PDUFA) |
| --- | --- | --- |
| March 6 | Astex Pharma (ASTX) | PDUFA |
| | Discovery Labs (DSCO) | PDUFA |
| March 7 | NeurogesX (NGSX) | PDUFA |
| March 12 | Johnson & Johnson (JNJ) | Ad. Comm. |
| | Pfizer (PFE) | Ad. Comm. |
| | Regeneron (REGN) | Ad. Comm. |
| | Sanofi (SNY) | Ad. Comm. |
| | AstraZeneca (AZN) | Ad. Comm. |
| March 20 | GlaxoSmithKline (GSK) | Ad. Comm. |
| | Ariad Pharma (ARIA) | Ad. Comm. |
| | Merck (MRK) | Ad. Comm. |
| March 21 | Talon Thera (TLON.OB) | Ad. Comm. |
| March 26 | Allergan (AGN) | PDUFA |
| | Map Pharma (MAPP) | PDUFA |
| March 27 | Affymax (AFFY) | PDUFA |
| | Shire (SHPGY) | Ad. Comm. |
| March 28 | Bristol Myers Squibb (BMY) | PDUFA |
| | Pfizer | PDUFA |
| | Chelsea Thera (CHTP) | PDUFA |
March 6
On tap for March 6th are two PDUFA dates. The first I will discuss is intended for Astex's Dacogen. Dacogen is intended to treat elderly patients with Acute Myeloid Leukemia. Dacogen faced a 10-3 rejection from an Advisory Committee in February. It goes without saying that this is not a good sign for Dacogen. The share price is down about one third since rumors of the rejection became prevalent.
It is difficult to say the share price will not fall further if a CRL is handed down, but since Johnson & Johnson and Eisai will market Dacogen the revenue from the treatment will come in the form of royalties, just as with Dacogen's previous FDA approval. Nevertheless, when the CRL is issued there is still room for the share price to fall. If, surprisingly, the FDA goes against the Advisory Committee's recommendation, the share price will turn into a rocket, just as we saw prior to the Advisory Committee.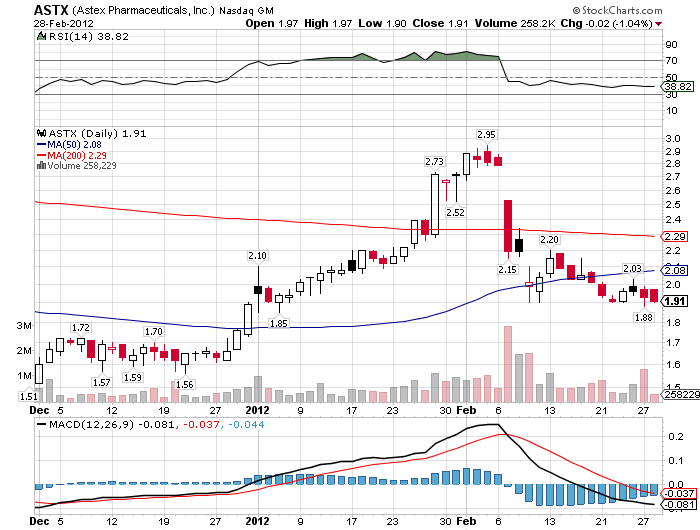 The second PDUFA is for Discovery's Surfaxin. Surfaxin is intended to treat respiratory distress syndrome in premature infants. Surfaxin received a CRL in 2009. The CRL did not appear to have any issues with any of the phase three trials; which was good because this meant that Discovery did not have to do a new phase three trial. Discovery did, however, have to begin a new preclinical fetal rabbit biological activity test (BAT). Discovery spent nearly two years to complete this; which is a bullish indicator for investors because this indicates Discovery spent more than enough time to satisfy the FDA's requests.
The firm's share price has shown that investors and traders are thinking in a similar manner. The share price has more than doubled since mid December 2011. If you have not jumped on the Discovery bandwagon just yet, it is not too late. With less than a week until the PDUFA the share price should run up to the 4.00 level. Obviously if traders and investors become overly optimistic it may run higher. However, it is important to note that this is not a slam dunk approval.
The first CRL indicates the FDA is hesitant about Surfaxin; and rightly so because any treatment meant for premature infants has to be extremely safe. Therefore investors must not simply jump into Discovery just because everybody else is. In fact, Discovery's incredible run sets up a perfect short opportunity. Especially because the share price will likely drop anywhere from 55%-65% on a CRL. I am personally optimistic about Surfaxin because Discovery has taken the time to build a strong new drug application. But it may be best to be hesitant at this point because the maximum gains are limited with the PDUFA only one week away.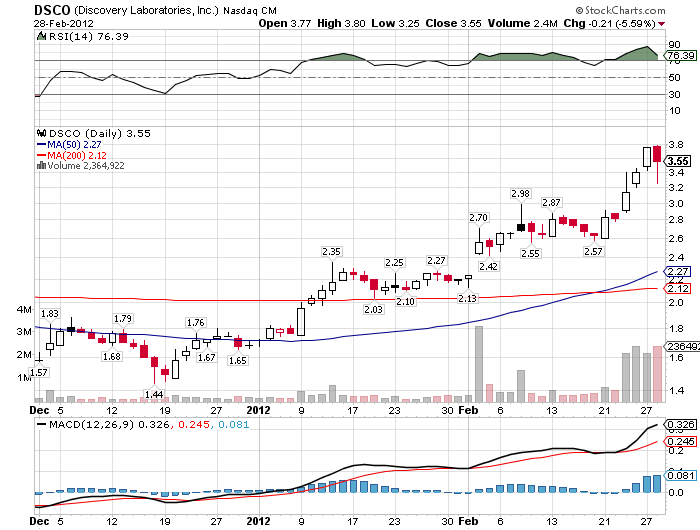 March 7
The following day the FDA will officially rule on NeurogesX Qutenza. Qutenza is intended to treat neuropathic pain in patients with HIV. An FDA Advisory Committee voted unanimously against the approval of Qutenza. This almost puts the dagger in the heart of Qutenza when the PDUFA makes a ruling. Investors should not expect an approval, period.
March 12
The first Advisory Committee will convene to discuss the anti nerve growth factor (NGF) drug class. The objective of the meeting is to check if this class of drugs is in fact leading to join destruction; which has been hypothesized in the past. This will be a very important meeting for Johnson and Johnson's fulranumab, Pfizer's tanezumab, Regeneron and Sanofi's REGN475, and AstraZeneca's Medi-578. (Please note that Regeneron and Sanofi's study has been terminated as of August 5, 2011).
Excluding Regeneron and Sanofi, these major healthcare companies currently have trials that have been halted due to the FDA's concern with this class of drugs. This is important because if the FDA does not find any problems with this class of drugs, these trials can continue. This would be excellent news for Pfizer's investors because Pfizer is the closest to completing all necessary trials. With that said, even if the FDA allows for anti NGF trials to be continued, this would likely mean that the FDA will be very strict prior to approving any new treatment. Therefore healthcare companies will need to have an air tight NDA.
On the other hand, if the Advisory Committee is able to find a positive correlation between joint destruction and anti NGF treatments, we may not see the share prices slip at all because investors have priced this news into the stock already. This should not be taken as an assurance, because it is very possible that if the FDA does not allow anti NGF treatments to be studied or approved at any point in the future, investors will punish these major healthcare companies for investing the time and money into the trials.
March 20
Two Advisory Committee meetings are scheduled for March 20th. In the morning an Advisory Committee will converge to discuss GlaxoSmithKlines's sNDA for Votrient. Votrient is already approved for patients with kidney cancer that has spread to other organs. The indication that will be discussed by the Advisory Committee is for patients with advanced soft tissue sarcoma (STS) who have had chemotherapy in the past.
The first important note to make regarding Votrient is that the phase three trial excluded patients with adipocytic STS or gastrointestinal stromal tumors. This may be the reason the FDA has requested an Advisory Committee to take a look at the sNDA because the FDA seems to be concerned with the exclusions in the phase three trial. We will see what the FDA rules here, but any negative outcome will send the share price lower. A positive recommendation, however, is needed in order for Glaxo to reach regulatory approval; which will help Glaxo continue to grow revenue and income.
In the evening, an Advisory Committee will discuss Ariad and Merck's Taltorvic (ridaforolimus). Taltorvic is intended to treat patients with metastatic STS or bone sarcoma as a maintenance therapy for patients with disease progression after at least four cycles of chemotherapy. Taltorvic is another treatment that attempts to help cancer patients. This has been one of the hot button diseases as of late.
Ariad will be the stock to watch here. Ariad's share price has been on a 423% tear over the past two years and a positive recommendation will give investors and traders a reason to send the share price substantially higher. Ariad will need a positive recommendation because the company has been unable to produce positive income; excluding the third quarter of 2011 and full year 2010. Therefore investors and traders will rejoice if the Advisory Committee gives a positive recommendation for Taltorvic.
This is a likely scenario, however with the FDA becoming very stringent regarding cancer treatments it may be best to sit this one out. With that said, Merck and Ariad are both very competent firms and it is likely there are no unnecessary holes in the NDA. I am also optimistic about this event. Merck and Ariad's share prices will see a 2%-3% percent and 5%-10% increase, respectively with a positive recommendation. Of course this is dependent upon how strong the Advisory Committee votes.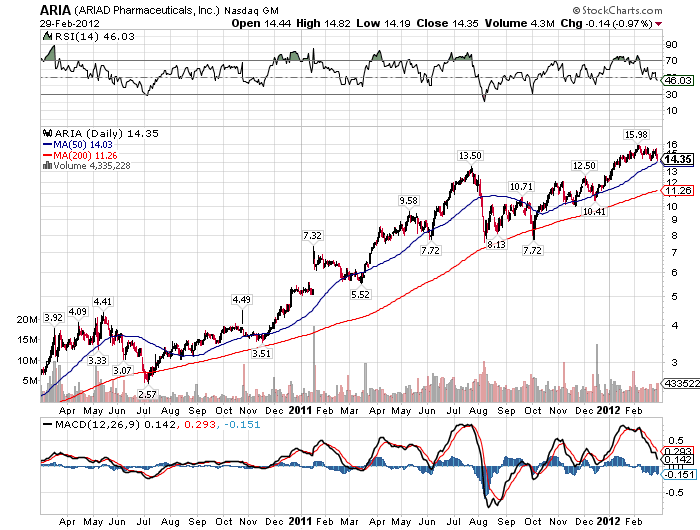 March 21
Another Advisory Committee will convene on the 21st to discuss Talon's Marqibo. Marqibo is intended to treat adults with Philadelphia Chromosome Negative (PH-) acute lymphoblastic leukemia (ALL). Marqibo has been granted accelerated review. The accelerated review period is a bullish sign because it indicates the FDA acknowledges Marqibo is a possible life saving treatment in a market that lacks sufficient treatment options.
A positive recommendation will send Talon's share price remarkably higher because the share price is currently about 50% below the 2011 high. On the other hand, shorts will be interested in the fact that Talon's share price is over 100% higher than the early 2012 low. Even though Talon trades over the counter, traders will be looking for big profits here.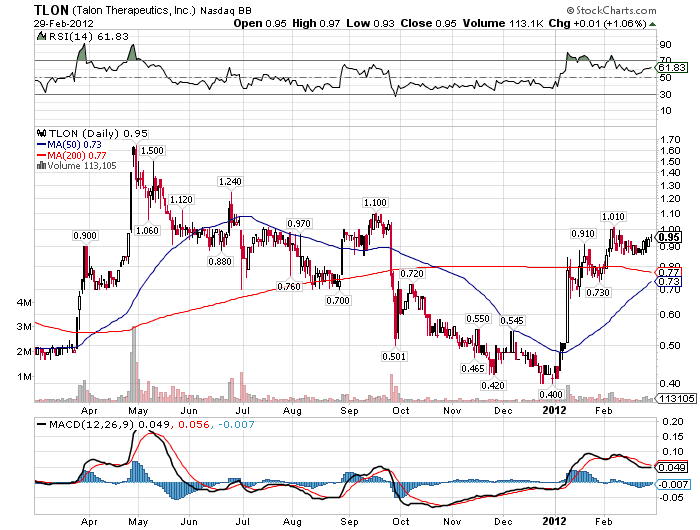 March 26
The FDA will hand down a final decision regarding Allergan and MAP's Levadex on March 26th. Levadex is intended to treat adults patients with migraines. Levadex will be going up against a very tough FDA. Since there are many migraine medications on the market, the FDA will not approve Levadex unless the treatment is extremely safe. However, on the other hand, the FDA may in fact grant approval for that same reason. Since there is already many migraine treatments approved, the FDA may feel the market should determine which is best; assuming, of course, that Levadex is safe and meets the FDA's standards.
Both firm's share prices are very close to 52 week highs. It appears investors are banking on an approval; which would help MAP more than Allergan. Allergan reminds me of Regeneron prior to the VGEF Trap-Eye approval. Keep in mind, since Regeneron's approval the share price has rocketed higher. MAP on the other hand does not have impressive revenue coming in and will receive royalties from Levadex. Therefore investors will gladly send the share price higher on approval.
March 27
On March 27th two events are scheduled. The first is a PDUFA for Affymax's Peginesatide. Peginesatide is intended to treat patients on dialysis with anemia due to chronic kidney disease (CKD). Peginesatide received a 15-1 vote in favor of approval from an Advisory Committee in December 2011. This is a definate bullish indicator because the Advisory Committee voted the treatment has a positive benefit to risk ratio. This means Peginesatide offers patients more benefit than risk.
Affymax's share price has recently moved substantially higher in anticipation of regulatory approval in the U.S. This does not mean investors and traders have missed the train. With almost four weeks before a decision is handed to Affymax, the share price is likely to move higher; possibly to the 11.50-12 range. This presents speculative shorts with an excellent opportunity to rake in profits because the share price has doubled since December. However, I am optimistic about an approval for Levadex.
Also on March 27th an Advisory Committee will meet to discuss Shire's Biologics License Application (BLA) for Replagal. Replagal is intended to treat patients with Fabry disease as an enzyme replacement therapy. Replagal is approved in 46 countries, but Shire has struggled with approval in the U.S. In December of 2009 Shire submitted a BLA, but withdrew the application in February 2010 because the FDA requested more detailed human pharmacokinetic data. Shire fully withdrew the rolling BLA in August of 2010 as well. Finally in October 2011 Shire began a rolling BLA once again.
Despite these speedbumps, the FDA is likely to approve Replagal. The treatment is approved in 46 other countries and the U.S. is likely to join that list. Unlike many biotech companies we have seen in the past, Shire has invested the time to get a complete and concrete application that has a good chance of receiving a positive recommendation from the Advisory Committee the first time around.
March 28
On March 28th, there are two PDUFAs scheduled. The first is for Bristol Myers Squibb and Pfizer's Eliquis. Eliquis is intended to prevent stroke and systemic embolism in patients with atrial fibrillation. Eliquis will be one of the most watched PDUFAs in March. One reason for this is that two healthcare giants, Bristol Myers and Pfizer, have teamed up to develop Eliquis. Another reason is that many people beleive Eliquis will be approved.
I for one agree that Eliquis has a good chance of being approved. The FDA granted Eliquis a fast track review period; which indicates that the FDA understands that Eliquis is a possible blockbuster treatment for a market that lacks sufficient treatments. With that said, if the FDA finds any problems with Eliquis it will be back to the drawing board for both companies.
And after Bristol Myers's Dapagliflozin turned out to be a huge flop, and Pfizer has lost important patents; an approval is needed in order to sustain long term revenue projections for both companies. If Eliquis gets rejected, we may see Bristol Myers's share price take a turn for the worst as frustrated investors tire of rejected blockbuster drugs. Pfizer's share price will also take a beating as investors will be worried about Pfizer's long term revenue possibilities.
However, with that said, it is likely Eliquis gets approved. There is an estimated $10 billion market open to Eliquis that already has two treatments approved. Therefore the market potential is worth the investment. Even if each treatment splits the market we will see three and a third billion dollars flow towards Eliquis. I am optimistic about Eliquis, and if Pfizer's share price is an indicator of investor sentiment towards Eliquis, it appears I am not alone.
On the same day the FDA will make a decision on Chelsea's Northera. Northera is intended to treat patients with neurogenic orthostatic hypotension whom have primary autonomic failure, dopamine beta hydroxylase deficiency, and non-diabetic autonomic neuropathy. As you can see Northera is intended to treat a slew of different issues. It is important to note that Northera was given a 7-4 positive vote from an Advisory Committee in February. Keep in mind, 1 vote was abstained and another did not vote.
This type of voting from an Advisory Committee is very difficult to judge. While the FDA does not have to listen to the Advisory Committee, it is often the case a unanimous vote one way or the other is an indicator of what the FDA will rule. In this case we do not have a unanimous vote.
The share price is an ideal picture of inconclusiveness. After February 10th the share price has been a roller coaster ride bouncing up and down at the mercy of rumors. With four weeks prior to a ruling, we will likely see the share price continue this trend. This is one event that is extremely difficult to make a concrete conclusion about. But what can be said is that short traders will be swarming Chelsea to pick up the pieces if a CRL is delivered.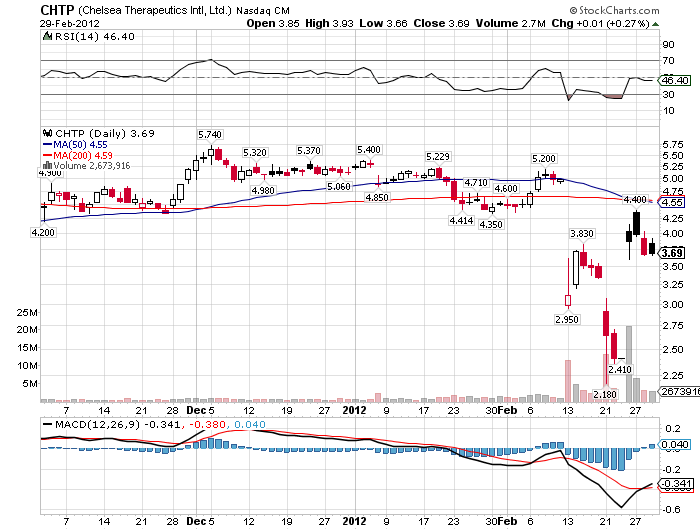 The FDA will be very busy this month, as you can see that was quite the doozy. This means that healthcare and biotech traders and investors will have their hands full throughout March. It should be an exciting month with several new treatment opportunities possibly hitting the market. The trading opportunities will also be exciting to watch as shorts and long battle over which companies will deliver the most profits.
Disclosure: I am long PFE.