In my opinion, Chesapeake Energy (NYSE:CHK) is set to deliver a strong performance on the market this year as the company has a lot going in its favor. An improvement in natural gas prices along with Chesapeake's focus on its low-cost assets will allow the company to deliver an improved bottom line performance this year. Additionally, driven by an improving natural gas pricing scenario and the ramp up of production from new assets, Chesapeake also will witness a rise in its revenue performance this year.
As a result, driven by an increase in both earnings and revenue, Chesapeake looks set to deliver more upside in 2017 and beyond. Let's see how.
Gauging Chesapeake's upside potential due to improving revenue
We are going to look at the upside potential at Chesapeake Energy from both the revenue and the earnings perspective. Since Chesapeake will be a loss making company for the 2016 fiscal year, we will judge its upside potential in 2017 using its projected top line performance.
This year, analysts expect Chesapeake's revenue to increase over 9% as compared to 2016 levels to $8.9 billion. This will be a sharp improvement in Chesapeake's top line performance after a revenue decline of 36% for the fiscal year 2015. But, since Chesapeake has been able to cut its losses substantially in 2016, its stock price remained strong last year.
But now, Chesapeake looks set for growth in 2017. The expected revenue growth, as outlined above, will be driven by an increase in the company's production. More specifically, this year, Chesapeake is of the opinion that its production will increase by 10%, with the cumulative increase in total production coming in at 20% till the fourth quarter of 2018. The following chart shows the expected increase in Chesapeake's production: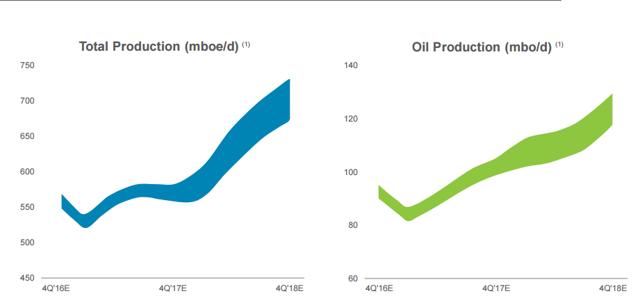 Source: Chesapeake Energy
Now, along with the rise in production, Chesapeake will also witness a rise in its average realized price of oil and gas. For instance, the Henry Hub natural gas price averaged $2.67/MMBtu last year, but this is expected to go up to an average of $3.27/MMBtu this year, suggesting a rise of over 22%. Therefore, a combination of higher pricing and increased production could help Chesapeake achieve higher revenue growth than forecasted.
In fact, if we ignore the expected increase in Chesapeake's production and assume that prices are going to average 20% higher than last year, then the company should be able to increase its revenue by at least 20% in 2017. This means that as compared to the expected revenue of $8.1 billion for 2016, Chesapeake could report revenue of $9.72 billion this year.
Now, Chesapeake Energy has a price to sales ratio of 0.75. This means that if the company is able to achieve $9.72 billion in revenue this year, then at a price to sales ratio of 0.75, its market capitalization will be $7.3 billion by the end of the year. This is around 15% higher than Chesapeake's current market capitalization $6.3 billion.
Thus, from a top line perspective, Chesapeake seems set to deliver robust upside this year. But, if we take into account Chesapeake's cost-reduction moves and its focus on increasing production from low-cost assets, the company looks set to deliver stronger upside in the long run. Let me explain why.
Upside potential from bottom line growth
Over the long run, investors can expect Chesapeake Energy to deliver strong growth in the bottom line as it is ramping up output from areas with a low cost base. In fact, going forward, Chesapeake looks set to enhance its production and reduce the lease operating expenses simultaneously. For example, in the Marcellus shale area, Chesapeake has been enhancing its production as it has 11.2 trillion cubic feet of natural gas resources over here.
The most important reason why Chesapeake is increasing its output in the Marcellus is because of very low break-even costs of $2.00/MMBtu. Due to such low break-even costs, Chesapeake has witnessed a substantial decline in the well costs at Marcellus, while increasing its production at the same time. This is shown below: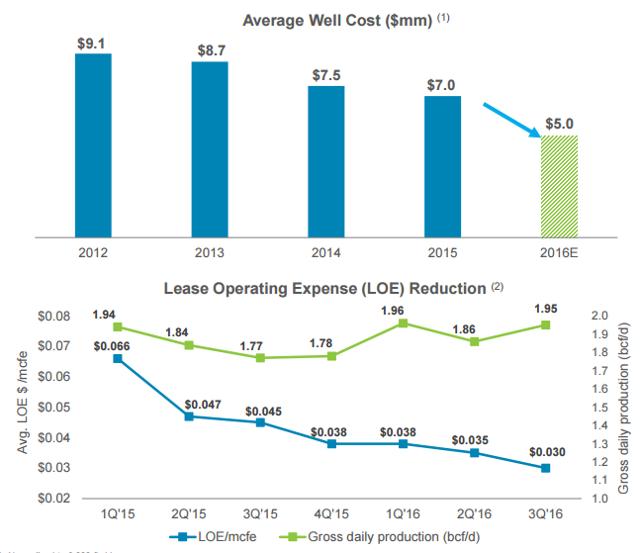 Source: Chesapeake Energy
What's more, Chesapeake's oil assets carry very low break-even points. For instance, its South Texas production can achieve break-even at $39 per barrel, while the Mid-Continent assets also have break-even costs of less than $40/barrel. Due to such low costs, Chesapeake is on track to improve its earnings substantially going forward.
For instance, in 2017, Chesapeake will turn profitable as it will post earnings of $0.86 per share as compared to an expected loss of $0.07 per share for fiscal year 2016. This is not surprising given Chesapeake's focus on increasing its output from low-cost assets. More importantly, Chesapeake will sustain its bottom line growth momentum in the coming five years, clocking annual earnings growth of close to 8%.
At this rate of earnings growth, Chesapeake's earnings in 2021 will come in at around $1.27 per share. Now, Chesapeake Energy has a five-year average price to earnings ratio of 19.6. At this PE ratio and potential earnings of $1.27 per share in 2021, Chesapeake's stock price will rise to almost $25 per share. This represents massive upside from current levels of around $7.20 per share, or annual stock price growth of 28% for the next five years.
Conclusion
After a strong performance on the market in 2016, Chesapeake Energy is set to sustain its momentum going forward. As the discussion above indicates, the stock could deliver annual gains of 30% in the long run, which is why investors should continue to hold Chesapeake Energy for more gains.
Disclosure: I/we have no positions in any stocks mentioned, and no plans to initiate any positions within the next 72 hours.
I wrote this article myself, and it expresses my own opinions. I am not receiving compensation for it (other than from Seeking Alpha). I have no business relationship with any company whose stock is mentioned in this article.