Crude futures prices dropped $1.57/b (2.9%) in the week ending January 3rd (to correspond to the data below). Over the balance of the week, crude futures recovered $1.37/b, on balance.
As traders returned from the holidays, the market shifted its focus to compliance with the OPEC and Non-OPEC agreements. While Saudi Arabia and it Gulf neighbors are expected to cut as they had promised, there were mixed messages from Russia, and a report that Libya had moved its production up by 85,000 b/d to 685,000, 385,000 more than the October "base period" for the agreement. It was within the context that traders were rebalancing short and long positions during the holidays.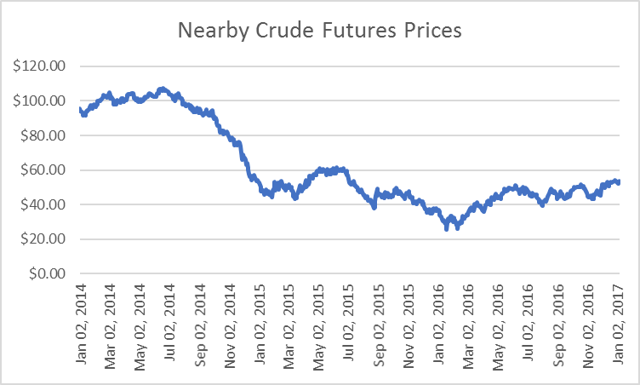 Commitments of Traders
Utilizing the Commodity Futures Trading Commission's (CFTC) Commitments of Traders (CoT) reports for crude oil, I was able to dissect how traders were re-positioning in the week ending January 3rd.
The groups I follow - Hedgers (Producer/Merchant/Processor/User) Longs and Shorts, and Speculators (Money Managers) Longs and Shorts - are defined below:
Hedgers: A "producer/merchant/processor/user" is an entity that predominantly engages in the production, processing, packing or handling of a physical commodity and uses the futures markets to manage or hedge risks associated with those activities.
Speculators: A "money manager," for the purpose of this report, is a registered commodity trading advisor (CTA), a registered commodity pool operator (CPO) or an unregistered fund identified by CFTC. These traders are engaged in managing and conducting organized futures trading on behalf of clients.
The latest data include data for both options and futures combined for the New York Mercantile Exchange (NYMEX). All comments below pertain to each group as a whole, on balance, noting there are exceptions among individuals.
Findings
The largest activity last week was by hedgers. Short hedgers (oil producers) increased (sold) their hedges last week by 38 million barrels to 652 million. It was the third highest level since 2010.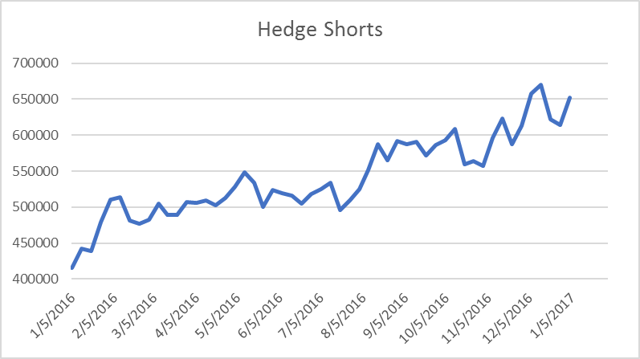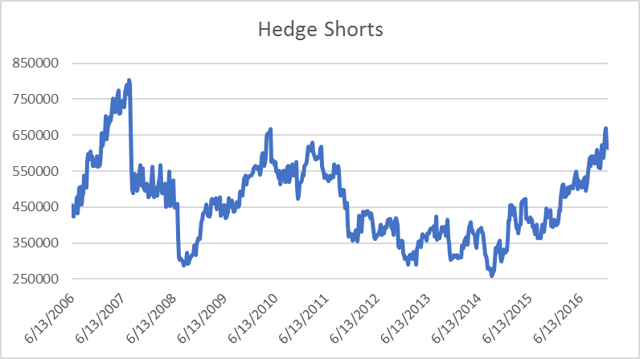 Oil producers have been steadily adding rigs to increase production. In the week ending January 6th, 529 rigs were active. That's 67% higher than the bottom reached at end-May and 2.5% higher than one year ago.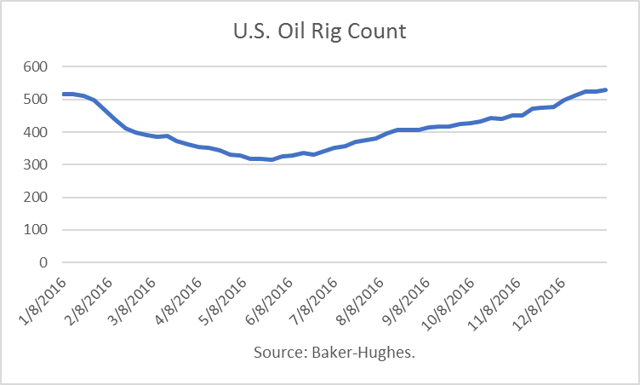 Hedge longs also added (bought) long hedges, adding 31 million barrels to end at 394 million barrels. This is close to the highest position they have taken in three years.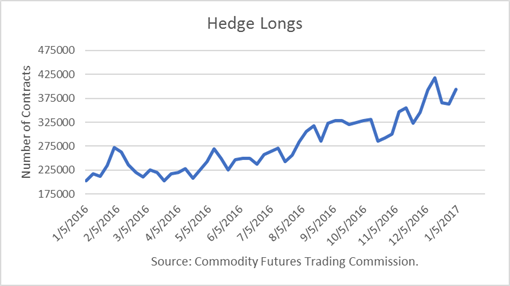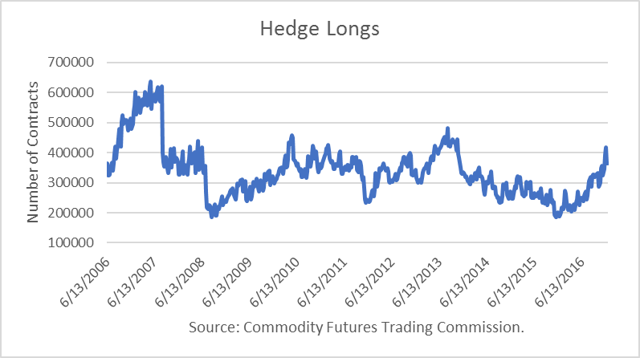 Spec shorts added (sold) 6 million barrels. In a recent article, I had argued that this group was close to the bottom of their position size and that swings in their position cycles correlated highly with swings in prices. They are in position to provide powerful selling pressure when there is a bearish catalyst.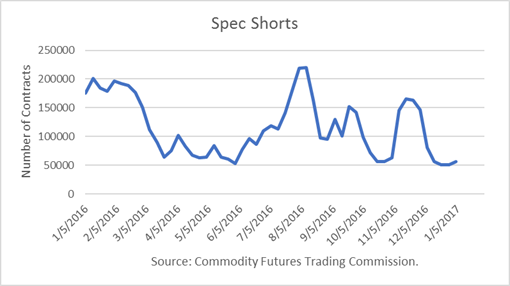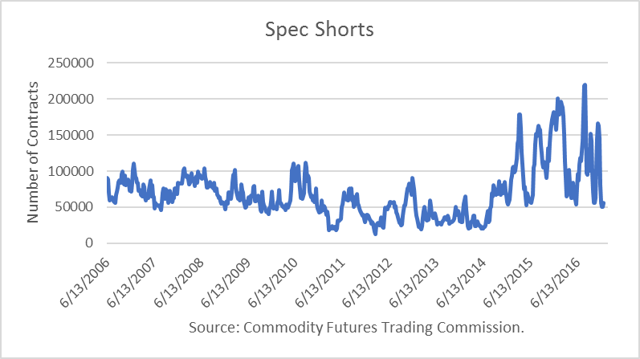 Long speculators bought 2 million barrels to end at 361 million barrels. Based on historical levels, this is near the top end of their normal range. This data suggests they are unlikely to propel prices higher with much more buying.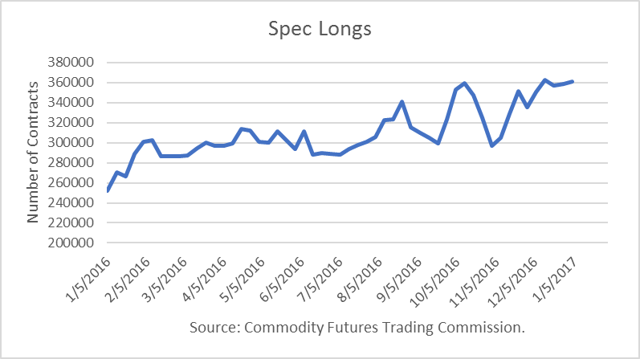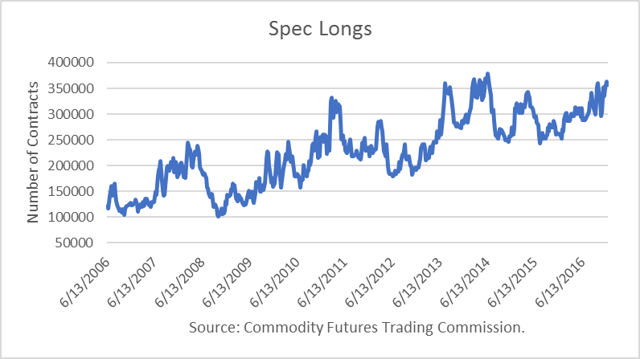 Netting the long and short positions of both these hedgers and speculators, there was a net purchase of 8 million barrels. As a result, they held a net long position of 57 million barrels.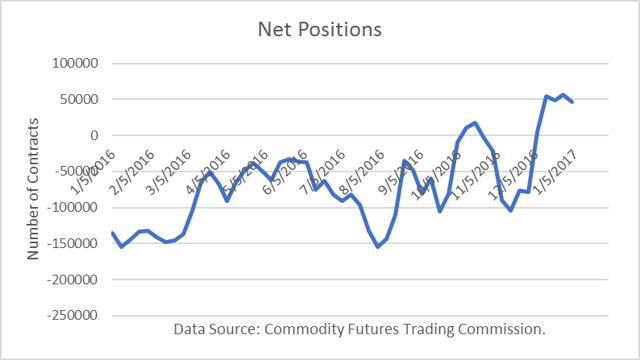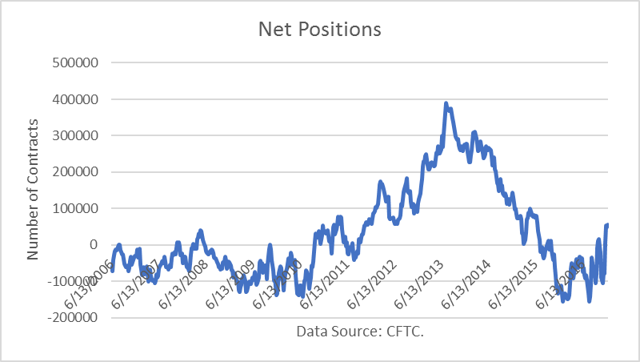 Conclusions
Oil producers appear to be becoming more risk averse as the price rise seems to be topping out. A lack of compliance among OPEC or non-OPEC producers, or larger production gains in countries not a part of the agreements, such as Libya, Nigeria, the U.S. and Canada, may result in a breakdown of the agreements. To me, this is the biggest risk, which is quite likely.
Spec shorts have started the new cycle of shorting. They will add substantial shorts if world oil production actually increases.
Disclosure: I/we have no positions in any stocks mentioned, and no plans to initiate any positions within the next 72 hours.
I wrote this article myself, and it expresses my own opinions. I am not receiving compensation for it (other than from Seeking Alpha). I have no business relationship with any company whose stock is mentioned in this article.