"Bull markets are born on pessimism, grown on skepticism, mature on optimism and die on euphoria."

Just about every analyst at every major investment firm is being asked the same question. "What is your target for the S&P 500 next year?" Plenty of nice guys and gals are being cordial and answering with their best intentions as to how the major indexes will perform in 2017.
My view on this is that predicting where the S&P 500 is going to be one month from now is hard enough, so trying to predict where prices will be a full year from now requires a crystal ball. So many developments can take place to toss the best plans aside. Case in point, how many predicted Brexit or a Donald Trump victory?
However, I also understand how these forecasts are sought after by many, if for nothing else to get a feel for what analysts are looking for in 2017. Last year, my thoughts revolved around the idea that the bull market would continue with new highs being made. When I looked over the situation as we entered into 2016 many were downright bearish. Last January my opening statement was:
"Ladies and Gentlemen, unless this time is different, this bull market is nowhere near death.
I had many reasons to make that claim and the overwhelming negative sentiment that prevailed was just one issue that tipped the scales to the bullish side.

This year presents a totally different backdrop. The picture being presented centers around the new political scene in Washington. A new found enthusiasm over what is being perceived as a less regulatory, pro growth agenda. A scenario that has provided a spark, igniting the major indices to new highs.
But I'm not ready to embrace all of that just yet for reasons that will be explained later. Don't interpret that as being cautious or even bearish as we open the door into 2017. I still believe the market is set up for higher prices this year, even if the exact percentage return could remain unknown for a while.
Look around at the economic data. Manufacturing has rebounded, employment remains positive, strength in housing sits right near cycle highs, consumer sentiment and perhaps more importantly business outlooks have surged to multi year highs. We have witnessed an earnings rebound and the positive technical patterns that emerged before the election was finalized. The gasoline was there, and the spark to ignite it was the election.
If I am correct that gasoline will continue to be added, in the form of slowly improving economic conditions. As things start to develop, the question will be at what rate and how long? This is where the change that the markets are expecting will enter the scene. Make no mistake about it the markets are forward looking. While some may say that the market has come too far too fast, I will remind them that in the last week of trading, the market has gone from an overbought condition to one that is oversold in the short term.
Looking ahead to the case for owning equities in 2017 seemingly comes down to a set of ideas and circumstances. The stock market has rallied since the Trump victory as consumers, small businesses owners, corporate executives, home builders, and manufacturers are all more optimistic. Many expect that a rollback in regulation, increased infrastructure spending, and lower taxes will spur growth.
While all the positives are being anticipated, many if not all economists, including those at the Fed, have raised their GDP forecasts for 2017 and 2018 only slightly at best. That makes sense to me based on what I perceive as an element of time that will be needed to make the transition to a pro growth backdrop.
As always, because of the unknowns that leaves us with a few different scenarios to contemplate. In the following segments, I will attempt to lay out the pros and cons of what I see developing in the next few months. It then will come down to how each of us reacts to what is being presented that determines how much success we will have this year.
Is this the first step to a euphoria that could mark a significant top in the near term? OR is it just the first step in a breakout similar to March 2013 that led to significant gains? I try to answer those questions and more in the following commentary.

Economy
Fellow author with an eye on the economic scene, Scott Grannis looks into his crystal ball and comes up with his forecast for 2017.
After a relatively weak 2016, real GDP is projected to grow at 2.2% in 2017, which is less than the actual readings seen in 2014 and 2015. It will be important to see improvement as the year goes on.
The ratio depicted in the graphic below does an excellent job of signaling recessions, with sharp declines in the prelude to contractions. It doesn't look pre-recessionary at the moment. The gentle decline off 2015 highs has been more sideways than anything.
Still, the lack of upward progress on the ratio is a cautionary sign. Going forward, I won't be worried about this unless the ratio starts seriously declining. Until it does, the current expansion is likely to continue.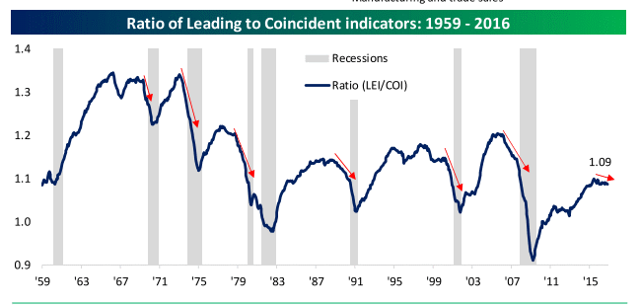 Source: Bespoke
What the market is seeing at the moment are the proposed regulatory changes that could trigger investment spending and move the economy from one of 2% growth to higher levels.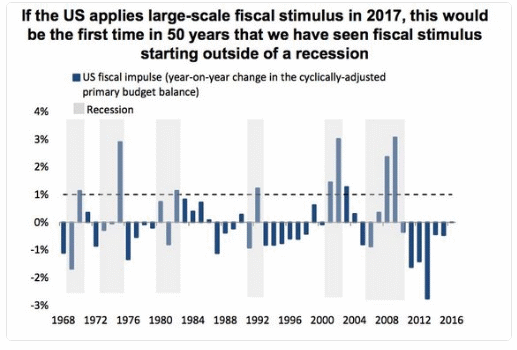 Graphic courtesy of Liz ann Sonders ,Charles Schwab
In 2015, the big concern was that the Manufacturing sector was showing signs of contraction. 2016 started to bring about change as the sub 50 readings diminished.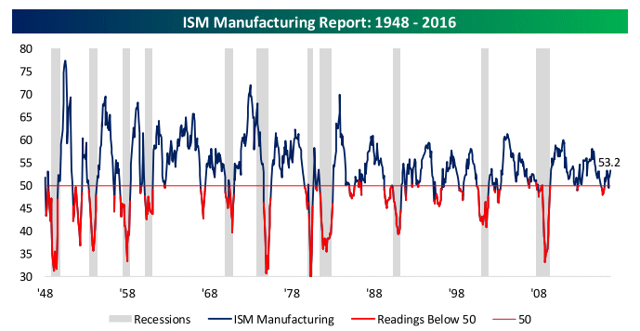 It appears to me that the probabilities of a recession in 2017 are very small. That being said, it is hard to come up with a scenario that says we enter a bear market in 2017. If that is the case, market pullbacks should be contained, keeping the underlying upward trend intact.

With job growth right near cycle highs, the unemployment rate continues to trend lower and is at its lows of the cycle and not far from the lows of prior cycles.
Growth in average hourly earnings has been extremely small in this cycle relative to cycles in the past, but is at least trending higher.
Throughout this entire economic cycle, the biggest bright spot in economic data has been jobless claims. That remained the case in 2016 as the indicator continued to mark new multi-decade lows. Claims did hit a six-month high in December, but the four-week moving average confirms the view that jobless claims remain in a downtrend.
The present job situation should not be an issue for markets in 2017.

The demand for housing, especially entry level housing, is structurally strong because of demographics. The issue with sales lately has been due to low inventory levels and is not demand related.
Total housing starts (at a seasonally adjusted annual rate) made a new cycle high in the month of October 2016. In addition to strong starts activity, the number of units under construction has also climbed steadily. In the multi-family space, that pipeline is just off the highest levels since the 1970s.
The skeptics note that home prices are rising to an extreme that makes them unaffordable for most. I don't believe that to be the case. On a national basis, home prices are not yet back to their peak level from 2007. Overall, home prices are rising at a moderate but healthy pace, a good sign economically but not one of excess.
In short, housing should remain on a slow but steady upward trajectory in 2017. Given the renewed confidence in both the consumer and homebuilder surveys recently, that could easily change into a robust picture as the year unfolds. Housing should continue to be a positive for the economy in the coming months.

All during 2016 all we heard was peak auto sales. Results for sales in December came in stronger than expected, capping off the seventh straight year of increased sales. Something not seen since the 1920s. I am not sure if we have peaked at these levels or not, but I won't be taking my cues from the pundits that had the story completely wrong last year. At the moment it is not on my worry list.

Global Economy
In the latter half of 2016, it became apparent that the pace of economic growth was accelerating in a synchronized fashion around the globe. Real GDP growth in the U.S. bounced to 3.2% in the third quarter and Japan grew at 1.3%. The Eurozone showed improvement and the U.K. despite the Brexit news hasn't cratered as many thought.
China showed signs of bottoming with a resurgence in manufacturing in the second half of 2016. Canadian economic activity is improving again with energy prices.
Global manufacturing appears to be rebounding nicely and fits into the synchronized global recovery story that appears to be underway. More and more economies returning to health could be yet another catalyst boosting confidence and capital investment both here in the U.S. and elsewhere.
First up, Japan Manufacturing PMI just rose to a 12-month high.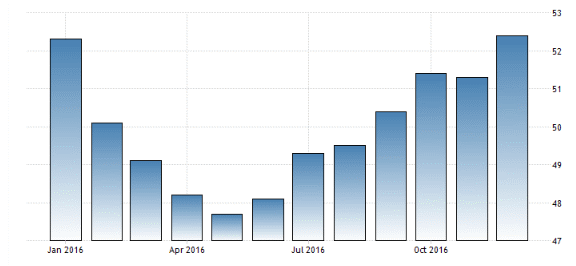 Source: Trading Economics

The slow improvement in the economic data coming out of the Eurozone continued in the back half of last year. This graphic shows how Eurozone manufacturing closed out the year on a high note.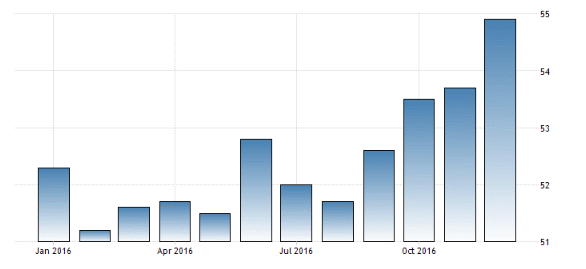 Source: Trading Economics
Other areas of their respective economies showed improvement, and unless there is an external shock, it should continue to improve into 2017.
Germany's Construction PMI for December came in at its highest reading since March.
U.K PMI results just reported were the best in two and a half years.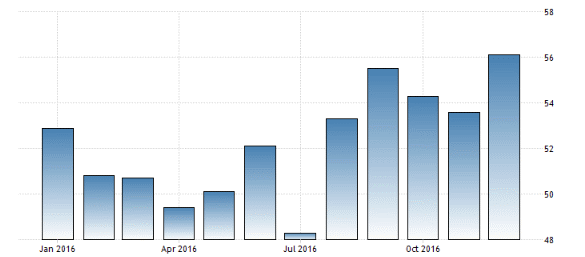 Source: Trading Economics

Chinese Manufacturing PMI results continued to show expansion with the latest December reading of 51.4. Other than a 49.9 report in July, the entire year came in above 50 in each and every month. Chinese Caixin Services PMI for December exceeded expectations at 53.4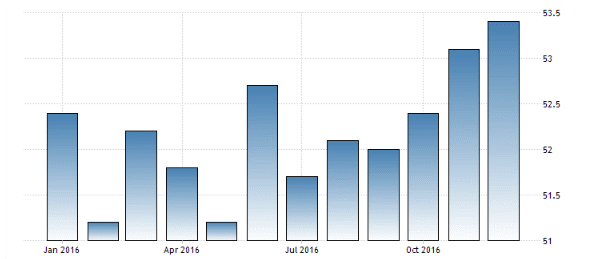 Source: Trading Economics

Connect the dots if you will, the market has been resilient and rallying well before the election results. Perhaps investors have sniffed out the positive change taking place. When I also watch how crude oil has behaved in the face of a rising dollar, the dots plot a picture of global growth translating into more demand. I don't believe these instances are coincidences. The election just added an exclamation point to the growth story.

In Chinese tradition, 2016 was the year of the monkey. I guess that did come to pass, as many of the geniuses that called for China to slip into recession taking the entire globe with it, surely look like monkeys today. These type of calls aren't a "slight miss", they are game changers. Funny how that contingent has exited the scene.
2017 is the year of the rooster, so it will be interesting to see if China surprises the naysayers again and starts crowing about improving results this year.

Earnings Observations and Valuations
We all know by now that earnings rule the day and on that score with valuations stretched, the earnings picture has to keep improving if the markets are to continue higher. Analysts' expectations for growth in earnings and revenues will have to come to fruition to keep the long term trend in tact.
Valuations will remain a headwind for stocks as many analysts look to them as being unattractive. Additionally, while TINA (There Is No Alternative) has helped to justify higher valuations in the past, moves in fixed income markets towards the end of 2016 should remind investors that as rates rise, TINA looks less attractive. Despite the unattractive valuations that many complain about, though, there are two things to point out.
First, after more than a year of declines, earnings have troughed and that should help valuations going forward. Second, despite the overhang of rising rates we could still be in an environment where the fed funds rate is 1% or slightly higher at the end of this year. That is not a scenario that would entice me to load up on fixed income assets. The valuations in the table below should come as no surprise now. We are in a mature bull market, the days of seeing stocks and sectors well under their historical norms has passed.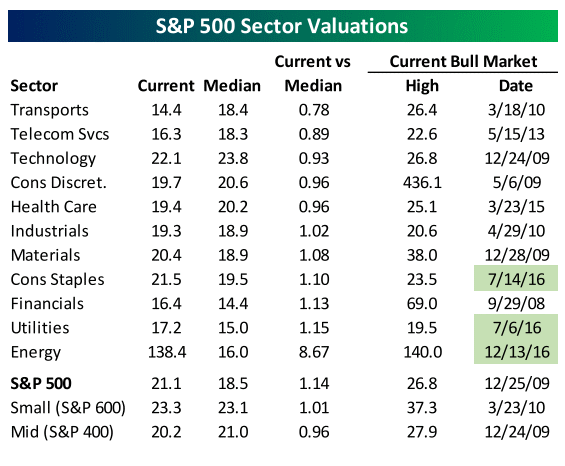 Source: Bespoke
Energy is the most expensive relative to its median and distorts the current S&P 500 index. The sector is also coming off of trough earnings, so expect valuations to become much more reasonable in the coming quarters. Other sectors that are overvalued relative to median levels and that hit new highs in terms of bull valuations this year include Consumer Staples and Utilities.
On the other end of the spectrum, Transports are the cheapest relative to their historical average. The four remaining sectors with below average multiples are Telecom Services, Technology, Consumer Discretionary, and Health Care.
Technology and Health Care should combine their growth appeal with current valuations, and become targets for investment firms given what would appear to be a pro growth backdrop in 2017.
Remember that valuations are rarely a catalyst for a market move and serve instead as fuel for the move that needs a spark to ignite it. I believe we have already identified that spark.

Nowhere is the improvement in earnings more dramatic than in the energy sector. The drag that was greater than 100% will become a large contributor to the S&P earnings next year. Energy sector earnings are expected to rebound by nearly 350% in 2017. It won't just be energy that shows improvement, the chart below indicates that every one of the 11 S&P 500 sectors is now expected to show positive growth next year.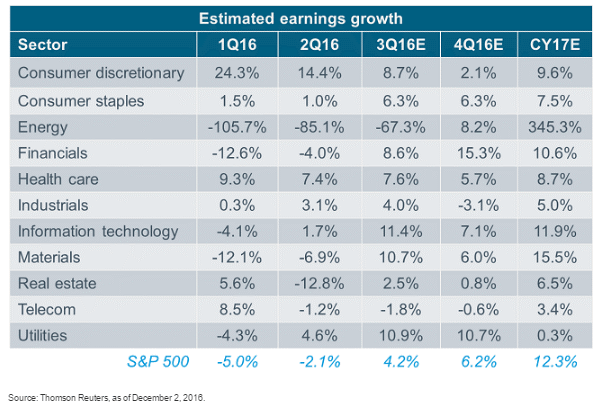 After three consecutive years (2014, 2015 and 2016) of S&P 500 earnings of about $118, Thomson Reuters has $133 as an expectation for 2017.
FactSet Research is on the same page:
"The forward 12-month P/E ratio for the S&P 500 is 16.9. This P/E ratio is based on Thursday's closing price (2249.26) and forward 12 month EPS estimate ($132.79)."
Goldman Sachs estimates that although the median company currently pays an effective tax rate far below the statutory rate, the impact of an even lower rate could lift S&P 500 earnings by more than 10%. Even a statutory rate of 25% (roughly 29% including state and local taxes), which is more likely given deficit projections, could still boost earnings ex-financials by 8%. Project earnings to $145 over time, and you can see why the new found optimism is prevalent.

The Political Scene
Ray Dalio, founder of Bridgewater Associates, shares his thoughts and ideas on the upcoming Trump Presidency.
2017 ushers in an apparent 180 degree reversal in government policy and attitudes toward the private sector. Investors attention will be focused on Washington to see exactly how things will be playing out as we move forward.

Rest assured, there will be speed bumps. Trump's corporate tax proposal, for instance, is likely to stumble in Congress. The usual bickering will start about which tax exemptions get eliminated in return for a simpler code. On top of that, a worsening fiscal backdrop will likely make many in Congress hesitant to support large deficit financed tax cuts. How the market reacts to these anticipated delays will enter into the equation.
Evercore ISI thinks it could take until the traditional August recess for any legislative priority to be achieved. Washington Analysis doesn't think tax reform will take effect until Jan. 1, 2018. That even may be optimistic.
On the other hand, the repatriation of profits back to the U.S. may be easily achievable with the new administration at the helm. Corporate tax cuts will be haggled over, but I can see the negotiations cutting back the existing rate of 35%, one of the highest in the world, to one that is more positive for corporations and the economy. We may not get the 15% the President-Elect wants, but a 20-25% rate would be a good start and a market positive.

Regulatory issues can be dealt with and some of the burdensome anti-business structure that is in place can be removed, or at the very least tempered. That said, just having a different tone at the top, encouraging regulators to work with businesses instead of blocking them at every turn, might just be enough. The question will be how much, how soon, and at the end of the day, how much will it mean to the companies involved. Estimates are ranging for exorbitant boost to earnings to just a minor bump. As in most cases, we will probably see something in the middle.
Congressional Republicans also are almost sure to balk at giving Trump all he wants. The question is how much will the market get, and how long it will take to get it? Right now, the market expects more, more, more, now, now, now. The way things usually work out, though, it will probably be at the very least a little less, less, less, later, later, later. Let me remind everyone, we are still talking about Washington D.C. here.
As shown below, full Republican control has been positive for equities in the past, but Bespoke Investment Group reminds me that in the four times since 1928 that a Republican has replaced a Democratic President, the S&P 500 declined at least 6.5% in the first year each time. It may just be a statistical anomaly, but it is something to keep in mind.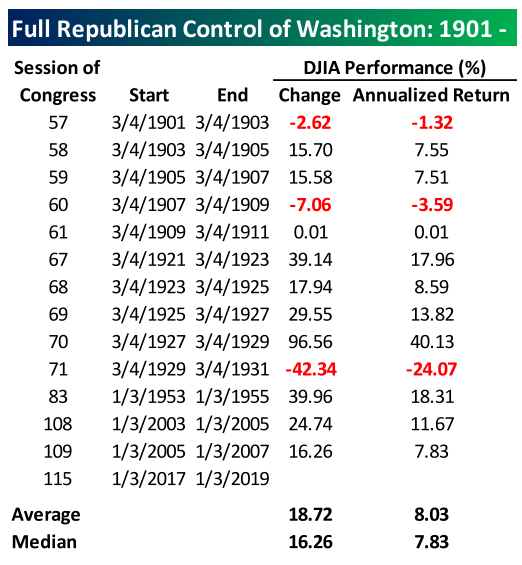 Source: Bespoke
Elevated political expectations may be the single biggest risk facing the market now, but for reasons that I will explain later, I believe these risks will be kept in check, and not derail the bull market.

The Fed
Another issue that needs to be monitored closely is inflation expectations. Given that the yield on the 10-year note has risen 75 basis points from 1.7% to 2.4% since the election, it is clear that the market is concerned about a faster rate of inflation. If that develops the Fed comes back into the picture with a more aggressive approach to interest rates.
At the moment, we still have tepid growth. Understanding that it will take time for any of the administration's pro growth policies to trickle down to the economy, I give the probability of two rate increases a higher chance of occurring than the three to four that is being forecast. The gap between expectations and what actually transpires would have to contract for me to get on the three to four increase train.

Sentiment
From my Twitter feed:

There hasn't been one year in the last 17 where strategists were collectively expecting the S&P 500 to decline. The most bearish they have been was in 2005, when the average year end price target was looking for a gain of just 2.8%. When you think about it, this really should come as no surprise, because the long-term chart of the S&P goes from the lower left to the upper right. The time that the equity market is advancing far exceeds the time it is declining.
Second, the average expected change over all seventeen years has been +9.6%. That's 5.4% higher than the actual average annual gain of 4.2% that the S&P has experienced over the same time period. Compared to the average expected gain of 9.6% that strategists have predicted over the last seventeen years, their outlook for 2017 is relatively bearish. It would be the smallest expected gain of the entire bull market, and the smallest reading seen since 2005.
While we have seen wildly positive sentiment in many of the investor and consumer surveys released recently, it appears that Wall Street strategists don't have high expectations for the stock market in the year ahead.
Individual investors have seen sentiment rebound post election, but with bullish sentiment below 50% for a full two years now, there is still plenty of room on the bandwagon before it gets too crowded. My guess is that the road to get to that overcrowded stage will be a long one. Moving the needle on sentiment is a process not an event.

Crude Oil
As mentioned last week, WTI went on a roller coaster ride in 2016. I envision a more stable pricing platform this year with a bias to the upside.
Crude oil prices recently broke out of a short-term base showing strength in the face of the USD screaming higher. In my view, that breakout renders a near term target in the $60-$65 range. Longer term, I am working with a $70 price target that will be achieved in 2017. The strong dollar has limited the upside move and will continue to be a headwind until that trend starts to slow down.
WTI closed the week at $53.99, up $0.10 for the week, remaining above the $52 breakout level.

The U.S. Dollar
As the Fed proceeds into its tightening cycle, the U.S. dollar continues to rally. First, let me say that I hardly think that two rate increases in two years constitutes tightening. So my doubts on the strength of the USD have been incorrect. It is what it is. A rule of thumb says that a 10% move in the dollar is about the equivalent of a 1% hike in the fed funds rate when considering the impact on exporters, overseas corporate profits, and the prices of other assets.
So far, the market has shrugged off the latest rise in the USD. While the dollar has rallied 6.2% since October, the S&P is up 5% in the same time period. Typically, the relative performance between these two closely tracks the performance of the U.S. dollar, but in 2016 that wasn't the case.
Since the dollar has risen sharply in the latter part of the year, multinationals have actually outperformed. Just when we think we have it figured out that a strong dollar will be more beneficial to the domestics, it isn't really working that way.
One of the reasons has been the continued move higher in Materials, while Utilities have underperformed horribly. Keep in mind the domestics are overweight Utilities and they have underperformed lately. They're also overweight the Real Estate sector, a big underperformer with higher bond yields since the summer.
Once again, it will come down to specific stock selection to garner outperformance rather than using a broad brush approach to the markets.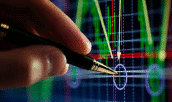 The Technical Picture
A significant portion of my bullishness comes from the technical patterns that have emerged recently. Quite some time ago this chart was presented which depicts what I believe was the beginning of this secular bull move.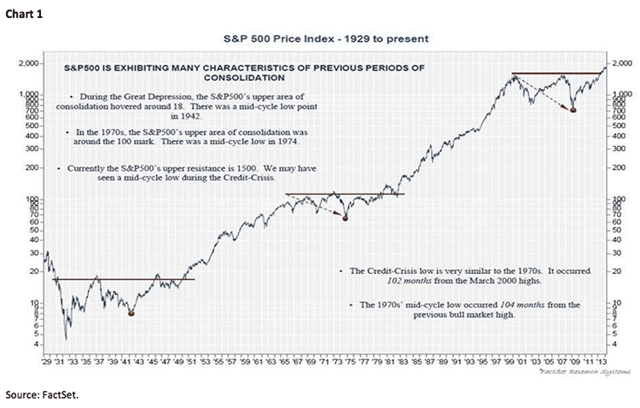 The graphic above reveals a pattern that over time has shown to project the start of extended upward moves in the S&P. The upper right on the chart was the 2013 breakout.
Fast forward to a recent breakout from a two-year consolidation pattern in 2016. Also note that this move was accompanied by a strong move in breadth, as the Advance/Decline line was making new highs.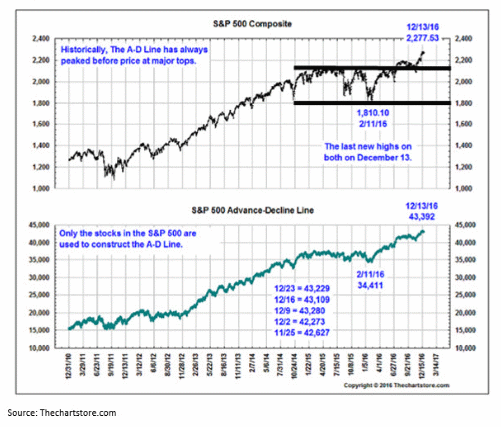 In my view, it would be a mistake to dismiss this type of price action, and shows why it becomes a key to making a bullish case for stocks this year. Simply stated it portends higher highs are yet to come. How high the market goes with this run is the question I don't have an answer to. Each investor will have to weigh all of the evidence in front of them, but this piece of the puzzle adds a lot of confidence to my outlook.
Solidifying the bullish case comes from a sign that I have seen at other market tops, something that isn't present today. When some people think about the end of a bull market, they envision a tired market struggling to make any meaningful progress and then simply running out of steam. History tells us that the opposite is usually the case.
This is when the words of John Templeton come into the picture as investor optimism takes over and the "bull market dies on euphoria". The price action we have experienced in the last six months (+6%) has been subdued compared to last legs of prior bull markets.
Just about everyone believes we will see some sort of decline very soon. The consensus view is that the market will wake up and realize the new administration will have many obstacles thrown at it before it can get off the ground. That would not be surprising, given the recent move, but I believe any pullback will be contained. There are numerous major support levels that are all within 5-6% of where the S&P trades today. These pullbacks will be buying opportunities.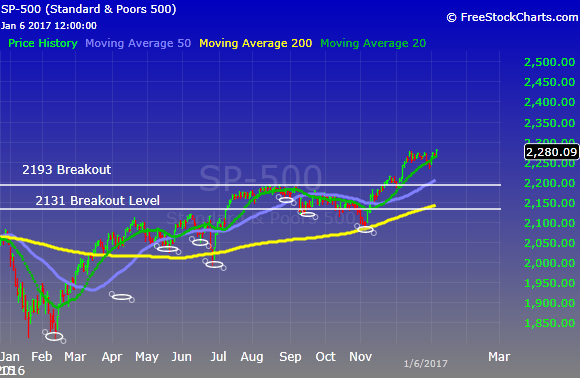 Chart courtesy of FreeStockCharts.com
Taking a look at the short-term view, the S&P once again stalled at the 2,270 level earlier in the week. After many attempts, the Index finally eclipsed the old high and set another record. The Dow and Nasdaq joined in as the buyers resumed control. The trading range that was in place was broken to the upside and that portends higher prices down the road.
However, the fact that declining stocks outpaced advancing issues, while the major indexes were making new highs could spell trouble in the very near term. Short-term support is now at 2,260 and 2,245, with resistance moving up to the 2,285-2,290 level.

Individual Stocks and Sectors
Last year it was "take what the market gives you". I won't be abandoning or changing that strategy. Energy and Financials were good opportunities that presented themselves to investors in 2016. I will offer an opinion on what I believe works in 2017. First will be what I feel are the continuing momentum plays, then the undervalued, unloved, and left behind companies that are prime situations to rebound this year.

Emerging leadership is coming from the Materials (NYSEARCA:XLB), Energy (NYSEARCA:XLE), and the Financials (NYSEARCA:XLF). As momentum plays, I continue to favor these sectors on dips. Rio Tinto (NYSE:RIO) and Teck Resources (NYSE:TECK) are favorites of mine in the Materials space. Both have come off of their highs, can consolidate and move higher in 2017.
E&P energy companies were standouts in the back half of last year and any name on this list is worthy of a look on any pullback. Those stocks will cool down some and could trade sideways for a while, but I do not believe the upward trend is over given my outlook for WTI. Look for Marathon Oil (NYSE:MRO) and Oasis Petroleum (NYSE:OAS) to be leaders of the pack this year.
Banks moved higher once the election results were announced. The siege from D.C is perceived to be over. They now will serve up a trifecta for investors. Balance sheets, valuation and now the prospect for growth. They have moved and moved swiftly. The uptrend isn't over and investors need to be nimble in adding the largest money center banks on any pullbacks. One that hasn't exploded is a name to now consider. Bank Of New York Mellon (NYSE:BK). It currently sells at a discount to its peers.
For the past month or so, my thoughts began to focus on 2017. I penned this comment in the year end wrap up last week.
"Adding shares of solid companies that have been left out of the Trump rally will prove to be rewarding in 2017."
Now that we have covered the momentum story, it is time to switch gears and concentrate on the unloved, undervalued situations that are prime for a turnaround year.

Companies that I have brought to light recently, Consumer Discretionary names, Newell Brands (NYSE:NWL) and Mohawk Industries (NYSE:MHK), are selections that will take advantage of a solid housing situation and an improving economy. Neither stock has done much lately, they aren't overvalued, and I look for these two to play catch up in the months ahead.

Healthcare - Mylan (NASDAQ:MYL) is my top turnaround candidate in the pharma space, a move back to the old highs represents potential upside of 30%. Old favorites Celgene (NASDAQ:CELG) and Alexion Pharma (NASDAQ:ALXN) (more speculative) have room for more upside. AbbVie Inc. (NYSE:ABBV) is an income and growth play with its 4% yield. Regular readers should also be aware that I have not given up on my shares of Gilead (NASDAQ:GILD), a huge disappointment for me last year. Alexander Poulos, a fellow contributor here on SA, weighs in on that situation and his ideas on Healthcare for 2017.
Mr. Poulos recently brought Edward Lifesciences (NYSE:EW) to my attention. A Healthcare supplies and service provider that was left behind last year. Another name that I have mentioned Envision Healthcare (NYSE:EVHC), is my selection for outsized performance in this sector as well. It was formerly Amsurg Corporation. They changed their name after a recent merger which makes the new combined situation quite attractive to me.
Roper Technologies (NYSE:ROP) is a well diversified domestic conglomerate providing software to a range of end markets, including healthcare, transportation, food, energy, water, education and academic research. The last quarter saw their free cash flow increase by 40%.
Alibaba (NYSE:BABA) joins my list of growth candidates for 2017. It was another stock that got lost in the scramble to switch into the momentum plays.
Brad Thomas and his 2017 selections in the world of REITS is a must read. My choice for profits in the sector is CyrusOne (NASDAQ:CONE). I see growth, income, and plenty of upside. It is up a nifty 8% in the first week of trading this year.

The worst Dow performer in 2016 (-17%), Nike (NYSE:NKE), is my selection for Dog of the Dow for 2017. The concerns are overdone. Remember how Disney (NYSE:DIS) was thought to be dead when it was sold off to the $90 level? Good companies will get it right and Nike has the management team to do just that. Look for a big turnaround this year. Runners up in the Dow Dog category, Merck (NYSE:MRK) and Pfizer (NYSE:PFE), are solid income selections in the beaten down pharma sector.
I am sure I have left out a name or two. Apple (NASDAQ:AAPL) and Facebook (NASDAQ:FB). Bottom line, I am having no problem finding companies that offer an attractive risk/reward opportunity. Sectors and specific stocks in those sectors are the way to approach this year. Don't get too obsessed over the indices, the rotation from sector to sector should continue this year. Growth areas are where I want to be. While everyone is obsessing over Dow 20,000 the growth laden Nasdaq Composite just made another new high this past week.

The Outlook for 2017
Many have voiced disbelief about the rally, comment like, "What, do people think Trump walks on water?" After the election results were announced, there were plenty who claimed, "Today's a sad day for our country."
That mindset has now caused hesitancy to get on board the equity train.

Skepticism is still around to some degree because of that. If one now starts to mix in their political views with their investments, they are setting themselves up for failure.
When I look back at the opening quote from Sir John Templeton, I realize how many times his words have rung true. The bull market that is being presented to me today sits in between the skepticism and the maturing on optimism stages. Many still do not believe or identify the significance of the breakout that occurred late in 2016.
Based on the traditional definition of a bull market, the nearly eight year bull run ranks as the second longest and third strongest going back to 1928. While it may be getting long in the tooth, it is just coming out of a long pause. Prior bull markets that saw similar pauses saw big gains in the year after they broke out of the consolidation period. As we close out 2016, we are only two to three months removed from that break out.
The all time record for consecutive up years is nine (1991-1999), so another year of gains would tie that record. For those that will say we are "due" for a bear market, please remember just because black has come up eight times in a row on the roulette wheel, it doesn't mean the odds are in your favor, and red isn't a sure thing on the next spin.
The concern for those that are bullish is that at the very least, there will be trouble along the way. Nothing we haven't seen and navigated before. Consensus is for a strong first half followed by a weak ending to the year. That seems too obvious for me to buy into just yet. Markets do climb a wall of worry, but right now there doesn't seem to be much of it around.
Oh, it is there, maybe it's just that no one is paying attention to it now. I laid out quite a few unknowns that could upset the apple cart in the months ahead. A rising USD, valuations, the questions with a new administration, all have to be dealt with.

Don't be concerned that these worries are somewhat absent now. They will arrive at some point, and as usual it will be up to investors to weed out what is noise and what may have a real impact on the long-term trend. The other side of the story is telling me that we must also place the proposed policies of the new Trump administration and Republican Congress within the context of the last eight years. The issue to keep in mind, the apparent contrast is dramatic. It is spelled G-R-O-W-T-H.
An issue that may be vastly underestimated as we move ahead is a very powerful ingredient that was missing. The new wall of expectations. This new found feeling may give investors the patience to see their way through the inevitable speed bumps that will come.

The dynamics of a market driven by new found confidence is much different. Pullbacks will tend to be quick and shallow. Market participants will be looking ahead to what is down the road beyond the setbacks. In my view, the stock market is signaling just that with the initial positive reaction to the change it foresees.

I remain committed to my long-term bullish call. I am not selling here or positioning defensively. Buying the dips and out of favor stocks and sectors worked well in 2016 ,and I believe the early part of 2017 will give me the same results. I will be buying the dips when they inevitably come as it will be time to climb the Wall of Expectations.
So, let's get out the crystal ball and give what I believe will be the range for the S&P that could develop this year. I will be looking at a lot of things going into 2017, but can tell everyone that ONE of the scenarios calls for a series of events on the earnings front that could combine to be the "perfect storm" and raise earnings significantly. Those that continue to say the S&P has done nothing will then have to rethink their view. This viewpoint sets the top of my range at S&P 2600.

Plenty of variables can take the S&P from my first target of 2,370 which I announced in December, to the upper limits just mentioned. Please keep in mind these are not year-end projections. Earnings and fiscal policy that will affect those earnings will be the key drivers.
I came up with this wide range and expect criticism for not nailing it down. But the crystal ball I'm using doesn't see into the minds of the policymakers in D.C. Therefore, as I always do, it will come down to watch, assess, watch some more and reassess some more. All with the idea of taking the year in small increments.
While issues and events could fall into place keeping the Bull in charge there are of course always those things that can derail the best scenario.
The most probable catalyst for some give back in price will come from shifts in investor enthusiasm toward the anticipated fiscal changes. The realization that reforming the complex tax code and agreeing upon, then implementing, infrastructure spending will take time could cause investors to rethink stock price levels.
Such a period would be healthy given my view that the reforms will be favorable to the economy, and eventually to the equity market. I can't pinpoint the timing of when, but I believe to some extent they will happen. If for nothing else but to work off any excesses that are built up over time. To that end, there is a good possibility we will see a retest of the 2,193 breakout level at some point during the year.
Any consolidation or pullback will set the table for the next leg higher as lofty valuation and bullishness retreat and prices become more attractive relative to key moving averages. The bearish view comes into play when the market realizes that not much is happening on the fiscal policy front and earnings in the $130-$132 range do not materialize. If earning should somehow really disappoint and stay stagnant at around $122 or so, that will yield my low end target of 2,190 to 2,200. At that point, it would be time to reassess the entire situation.
Sitting here today, I see the probability of the bearish view being very low, while the bullish side has a greater probability of coming to fruition for the reasons explained in the article. The takeaway, investors have the wind at their back, we won't be hearing about recession talk, well at least for a couple of months, nor will we hear the global economy is about to crash. Because they are issues that I trust will not take place in 2017. In the short term, I do like the setup going into the first quarter.

With this backdrop in place, passive investors need to simply stay on board, ride the trend. More active investors can use weakness in the sectors that have lagged to diversify, while harvesting profits in names that surely look extended. Each individual circumstance is different but unless one has a special situation, this is a time to continue to play the trend in place. The hedgers and naysayer will say differently, but as we have already seen, I expect to see them left behind again.
Regardless, if one buys into any of the S&P targets mentioned here, we all can agree that a lot can happen in 12 months. Instead of attempting to carve out the exact path of the market in advance, more focus should be paid to making sure your investments are set up in accordance with the general outlook based on what we do know right now. We can always adjust as circumstances warrant.
Yet, I still believe we are FAR from hitting irrational exuberance levels of bullishness, especially since it was just a few months ago when market sentiment seemed to be near all time lows, so even this newfound optimism isn't likely to break the back of the bull.
Therefore, the best advice I can give for the upcoming year is to remain optimistic, but flexible. Make sure your portfolio is constructed in anticipation of an earnings driven bull market in stocks, and then adjust throughout the next several months as needed based on the ever constant flow of data.
Wishing everyone a successful year in 2017.
Disclosure: I am/we are long AAPL,ALXN,BABA,CELG,CONE,DIS,EVHC,FB,GILD,MHK,NKE,NWL,MRO,MYL,ROP.
I wrote this article myself, and it expresses my own opinions. I am not receiving compensation for it (other than from Seeking Alpha). I have no business relationship with any company whose stock is mentioned in this article.
Additional disclosure: The opinions rendered here, are just that – opinions – and along with positions can change at any time. As always I encourage readers to use common sense when it comes to managing any ideas that I decide to share with the community. Nowhere is it implied that any stock should be bought and put away until you die. Periodic reviews are mandatory to adjust to changes in the macro backdrop that will take place over time.