2016 was a tale of two halves for the 60 guru-inspired investment strategies tracked by Stockopedia. A year earlier, growth strategies had been the big winners in a flat market, but that changed in 2016. For a start, there was a revival in natural resources sectors that spurred the performance of value strategies. But then came the EU referendum, after which index valuations took off across the board. It was a year when the legends of finance once again showed how different investment styles can respond dramatically to wild swings in investor sentiment.
Prior to the EU referendum on June 23, it had been a fairly muted year for indices like the FTSE All Share (below). But after a pullback following the Brexit vote, some of them went on to perform well. That said, it's undeniable that there is still a lot of uncertainty about the outlook for the economy and corporate earnings.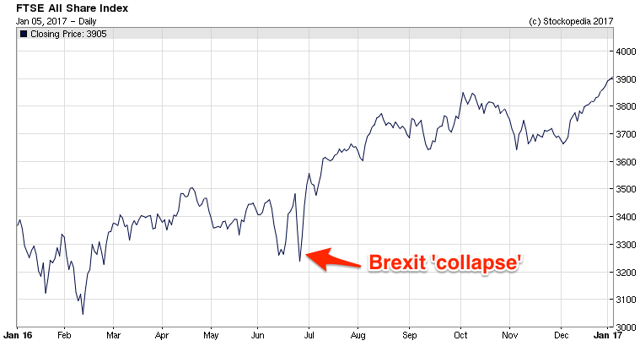 Before diving into how the guru strategies fared, it's worth saying that performance stats over short timeframes need careful handling. For most investors, constant tracking and benchmarking is only useful up to a point. Not only can it be misleading, but it's this sort of thing that causes so much short-termism and underperformance in professional fund management. For long-term investors, over-analysing what the FTSE 250 did over the past six months is next to no use at all. Ed covered some of these ideas on benchmarking in his recent NAPS article.
But what is interesting is having a look at how different investment styles responded to the agony and ecstasy last year. For those new to Stockopedia, since late 2011 we've been tracking the returns from a range of approaches used by some of the world's best known investors. They are categorised as either Quality, Growth, Value, Bargain, Income or Momentum.
Each strategy has its own set of rules, and we constantly screen the market for companies that meet those rules. At the end of each quarter, the companies meeting the rules are scooped up into a portfolio for each strategy, which we track. Note, however, that these models aren't always realistically investable, and sometimes there may be few companies that meet the rules of some of them. In addition, we don't account for the drag of trading costs or the bonus of dividend payments.
| | | |
| --- | --- | --- |
| Index / Strategy Composite | 1 Year Performance | Performance since the EU Referendum |
| FTSE 100 | +14.4% | +19.4% |
| FTSE All Share | +12.5% | +19.6% |
| FTSE 250 | +3.7% | +20.8% |
| FTSE SmallCap XIT | +9.2% | +22.1% |
| AIM 100 | +15.6% | +27.7% |
| Guru Strategy Composite | +8.6% | +24.2% |
| Bargain Composite | +24.1% | +24.6% |
| Momentum Composite | +13.8% | +25.7% |
| Income Composite | +9.0% | +23.3% |
| Value Composite | +6.8% | +18.1% |
| Growth Composite | +4.5% | +34.7% |
| Quality Composite | +1.9% | +21.6% |
Bargain and Value strategies bounce back
Several years into a bull market is when value - and deep value - strategies often suffer. The chance of finding genuine mispricing gets difficult and you're left with a heap of micro-cap waifs and strays. This was why these approaches suffered badly in 2015. What changed in 2016 was that smaller natural resources stocks, which dominated the Bargain and Value screens, picked up.
The pick-up started in larger-cap mining stocks, which in 2016 appeared to be turning a corner after several years of commodity price pressure and cost-cutting. Their share prices began rising and it fed through to much smaller companies in those sectors. They stayed in favour after the referendum because investors wobbled towards sectors geared to the domestic economy. Would it be desirable to build a portfolio from some of these strategies right now? Probably not. But the 24.1% aggregate gain in Bargain strategies and 6.8% in Value strategies was a signal that investors were easing up on their dislike of natural resources.
The best performing Bargain strategy was the Free Cash Flow Cows, which rose by 56.8% over the year. The best Value strategy was Piotroski Price-to-Book, which looks for the market's cheapest stocks with the best potential to rebound. It gained 69.6%.

Momentum strategies prove consistent
Unsurprisingly, Momentum strategies were some of the most consistent in 2016, and they raced away in the second half. The Earning Upgrades portfolio finished the year in first place, up 33.1%. The interesting thing about this strategy (which looks for the largest broker EPS upgrades) is that very few companies were passing its rules in early 2016. Plus it had just come out of a fairly poor couple of years. But it was one of the early strategies to catch on to the upturn in natural resources, and mining in particular. By April it was holding a number of mining players like BHP Billiton (NYSE:BHP), Ferrexpo (OTC:FEEXY) and Evraz (OTC:EVRZF), and the number of those stocks swelled through the year.
The James O'Shaughnessy Tiny Titans strategy notched up a 25.8% gain in 2016. With a 3-year return of 72%, it's now the best performing of all the guru strategies over that timeframe. It's a strategy that combines value (price-to-sales) and momentum (1-year relative strength) in small caps and it soared in the second half - helped in part by holding Avesco, which was taken over.
A rollercoaster for Growth strategies
After outperforming in 2015, Growth strategies got off to a quiet start in 2016. Many got battered after the EU vote but went on to perform strongly in the months that followed. A useful coincidence last year was that the Q2 rebalancing of the guru portfolios happened just after the referendum. Looking back, large swathes of stocks in many of the leading Growth folios were a sea of red. Arguably, that reflects a tendency for exciting growth stocks to fall hard on market turbulence - investors dump them fast. But on the flip-side, these stocks and strategies flew as the market bounced back, and easily outpaced the market.
One note of caution is that there's now a trend across the Growth screens for far fewer stocks to be passing their rules. In a number of cases the screens in question have 'value' components to them. In other words, they look for growth at a reasonable price. With smaller stock indices soaring, this could be a hint that a number of growth stocks are reaching racy multiples.
The best performing Growth strategy in 2016 was the popular Robbie Burns-inspired Naked Trader screen, which was up 22.5%. That was followed by James O'Shaughnessy Cornerstone Growth, up 9.0%, and Charles Kirkpatrick Growth, up 8.8%.
Mixed results from the Quality strategies
Finally, the Quality strategies put in an aggregate performance of 1.9% for the year. But that masked some very mixed results, which saw strategies like R&D Breakthroughs and Joel Greenblatt's Magic Formula produce super gains of 23.1% and 20.2% respectively. By contrast all three of the Warren Buffett-inspired Quality strategies saw double digit underperformance.
The Quality strategies are interesting because they each take a slightly different approach. For instance, the Greenblatt model looks for "cheap and good", the Piotroski High F Score looks for a very strong track record of improving fundamentals and Buffett looks for consistently high return on equity. Broadly speaking, in 2016 we often saw reasonable results from these folios, but nothing that really shot the lights out. Like the Growth strategies, this could be because quality stocks are tending towards rich (and perhaps unpalatable) valuations - and where there's less scope for big gains.
What to expect in 2017?
Despite the volatility, 2016 ended up being a decent year for many investors. The major stock market indices and the aggregate performances of the guru-inspired strategies both recorded double-digit gains. Beneath the surface, though, there were some pretty wild fluctuations, with both big losers and winners.
For the time being, Growth and Momentum strategies are powering ahead, but there are signs that fewer stocks are meeting their rules. Those styles are sensitive to uncertainty, which means that stretched valuations and an unsettled outlook for earnings could upset the party. For that reason, Value remains a vital factor. Our own Paul Scott proved in 2016 that pockets of value can always be found, and they can rake in super returns, especially when apparently cheap stocks attract takeover bids. So overall, with so many political and economic unknowns, the only certainty is that the gurus will be put to the test again in 2017.