Perhaps the market predicted a republican presidential win in 2016 given the poor showing of Sturm, Ruger's (NYSE:RGR) stock price over the past 12 months.
Typically, the specter of firearm restrictions causes people to stock up on firearms, which causes the share price of the firearm manufacturers to spike. Given that shares of Sturm, Ruger are down by approximately 18% over the past year, it may be the case that the market was predicting the ascendancy of Mr. Trump. Leaving aside the strong possibility that Mr. Trump will not be a typical Republican politician, and leaving aside the fact that Americans buy firearms in good times and bad, it's worthwhile to understand if this is a good investment now or not. We can assume that people who want to restrict firearms and those who want to liberalize gun sales will continue to howl at each other, and one side or the other will dominate the debate about gun control over a given year or Congressional or Presidential cycle. What we as long term investors need to figure out is whether it makes sense to buy them at these levels.
People Buy Guns During Republican Administrations Too
I like to test hypotheses when it comes to investing, and when I review the number of firearm applications over the term of the Bush compared to the Obama regimes, I find that under Bush, applications grew at a Compound Annual Growth Rate of 4.12%, while they grew at a rate of 5.5% under Obama. For those who are interested, the population of the United States grew at a CAGR of about .94% during this time. This leads me to conclude that, even with an administration that it less likely to impose gun legislation, firearm demand grows robustly. Because Trump is expected to be more supportive of the 2nd Amendment, I use 4% as a base case for firearm demand growth.
Comparison to 2015
In a sense it's strange that the shares of this company have massively underperformed the market in 2016, as the first nine months of 2016 are much better than the disastrous performance in 2015, and 2014 (both of which occurred during Obama's administration, calling into question the simple (simplistic?) assessment that gun sales bubble during democratic regimes.

Capital Structure is Largely Devoid of Risk
Debt is a double edged sword. In good times, it can lever returns positively, meaning that companies that are growing rapidly invest more capital to earn a higher return on. When things start to slow for a company, as they inevitably do, excess amounts of debt is painful. The fact that Sturm, Ruger has no debt means that they are in a position to weather the volatile demand for their products. Because there is no debt, bankruptcy risk is nonexistent here.
As I've said many times, doing a good job of earning a positive return on capital employed, in a sustainable way, with risk that is lower is only one half of the equation. Even the best businesses don't make sense to invest in if the shares are too expensive.
Shares Are Ridiculously Priced For A Viable Business
With a PE of approximately 12, shares of Sturm, Ruger are trading less than half the overall market, with a yield of approximately 3%. Additionally, the forward PE multiple is 14.42, and, therefore holding all things constant the market believes that earnings will drop by approximately 17%. This would be a very dramatic drawdown in sales and operating income.
Additionally, if we are long term investors we should be prudent about this. We need to take a long term view about such businesses, and it is necessary to understand that demand has grown at a fairly robust pace during all administrations.
Technical Snapshot
As per our TrendCharts Daily Price Model the trend for Sturm, Ruger turned Bullish on January 4, 2017. After a spectacular three-day collapse of 26.5% to $47.00 following the Trump win, the stock rebounded and has been consolidating in the $51.00 to $54.00 range. A close above $54.00 would confirm a short-term bullish breakout with an upward target price of $58.00. If RGR can close above $54.00 today we will be buying the RGR 17FEB17 52.50 Call Options which will provide us with approximately 10x leverage on our LONG trade. Our stop-loss exit signal for the trade will be a daily close below $53.00.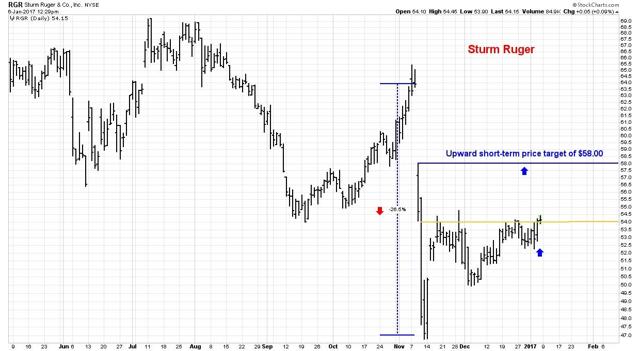 Conclusion
In my view, investors with a long-time horizon (or even short-term) should buy these shares at these prices and these dividend yields. The company has virtually no bankruptcy risk and offers a product that, for better or worse, is in almost constant demand.
Disclosure: I/we have no positions in any stocks mentioned, but may initiate a long position in RGR over the next 72 hours.
I wrote this article myself, and it expresses my own opinions. I am not receiving compensation for it (other than from Seeking Alpha). I have no business relationship with any company whose stock is mentioned in this article.