Macy's (NYSE:M) recently announced that it would close stores and cut about 10,000 jobs. This did not come as a surprise, but this news saddened me greatly. I felt sad for the 10,000 people who would now struggle to find new jobs. Macy's is the latest iconic American brand that has fallen in trouble. Macy's leadership can blame their problems on many factors, such as increased competition from Amazon (NASDAQ:AMZN), slow economic growth, low mall traffic, etc. In my opinion the primary reason for the failure is lack of bold leadership at the top. The management, not just at Macy's, is too focused on short-term share gains. They are not thinking about trying and experimenting with new ideas. They are not focused on their people and processes and looking at ways to improving the customer experience.
Qualities such as being bold, determined, believing in your ideas and being ethical, cannot be virtues we read about in books or mention it to our kids. These are the qualities that we need to embody every single day. In today's business, these qualities are sorely lacking. This is why I miss Steve Jobs. Leaders like Steve Jobs and Bill Gates had an unwavering opinion on where they could take this world. They did not look at short-term gains but had a long-term vision and were determined to execute on that vision. They obsessed about every aspect of their product and service. That's why those leaders will be long remembered, talked about, and studied.
Businesses exist to serve humanity. Companies need to start by ensuring that they treat their employees well, give them the tools to serve their customers and provide bold strategic vision. When employees have the tools and power to engage with their customers great things happen.
Capitalism is the greatest economic model ever conceived, but the focus on short-term gains is eroding the foundations of capitalism. Managements across the country would be wise to start focusing on people and innovation.
I had published the following about Macy's on my personal blog on February 6th, 2016. The issues discussed in that post are still relevant today.
Is a Crisis Brewing at Macy's?
The iconic department store - Macy's - seems to be heading towards trouble. It is not just short-term lack of growth that can be blamed on slow growth of the overall economy. Even though the GDP grew at an anemic 0.7% in the fourth quarter of 2015, consumer spending held up fairly well. The trouble at Macy's seems to be of the type that could lead to long-term irrelevance. They claim to be an omnichannel retailer, but have so far failed to show innovation and leadership in that area.
Lead with People and Process
Technological change that brought us to this iteration of retail that combines online and brick-and-mortar, is highly disruptive and slows decision making. Alan Murray rightly pointed this out in a recent column and emphasized the fact that "the fundamental challenge of the new industrial revolution is not a technological one, but a human one". Adding a "pickup in store" button to your web page is just the beginning of a long process in providing an efficient omnichannel retail experience. People and processes need to be streamlined to enhance customer experience and profitability. For example, currently store associates spend an unacceptable amount of time walking back and forth from their point-of-sale counters to the back warehouse to fetch items to customers who placed orders online or who ordered items during Macy's "Pre-Sale". The time it takes to serve a customer dramatically increases and throughput decreases. During the holiday season, it becomes very critical for store associates to have quick turnaround in serving customers. Frederick Taylor's Time-and-Motion studies are still relevant today and are applicable to analyzing work processes in a Macy's store.
Agile Innovation using Technology
Continuous innovation is the new mantra in every industry and retail is no exception. A software solution that you put in place today is quickly redundant within a couple of years. To stay in close touch with the innovation in technology; many retail companies, including Wal-Mart and Kohl's, have opened technology centers in Silicon Valley.
In my own line of work, I hear a lot about selecting the right platform so that you can have the good, flexible foundation to build your applications. Fortunately, technology approaches such as the software-defined data center (SDDC), open stack, and application delivery approaches such as public or hybrid cloud give you the flexibility to select the right platform and innovate at a faster pace.
Macy's has been investing in new technology to support omnichannel retail, such as the new RFID-based inventory visibility platform from Tyco. This is a good start but they have a long way to go before they can compete against the likes of Amazon. Amazon has not only moved into brick-and-mortar, but has also been a fast innovator in the retail space. They are experimenting with using their online sales and feedback data to curate products (currently, books) for their physical stores and their ambitions for these physical stores may go well beyond just selling books.
The Numbers that Matter
There has been scant or negative growth in revenue between fiscal years 2012 and 2015 Q3. The 3rd quarter of fiscal year 2015 was a decisive one. Revenue in that quarter fell over 5% compared to the 3rd quarter of fiscal year 2014. Here are the charts depicting revenue per quarter and the growth rates (or lack thereof):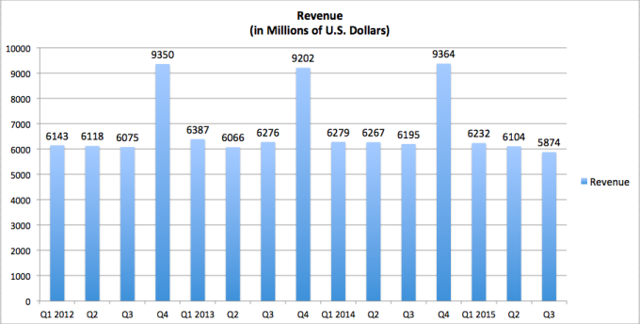 Exhibit: Macy's Revenue (Source: Company Filings)
Macy's had already lowered their fourth quarter earnings per share guidance. Wall Street is speculating that Macy's is in a negative comps environment. The remedy is to focus on the long-term initiatives that drive customer experience and not on short-term boosters such as real estate monetization.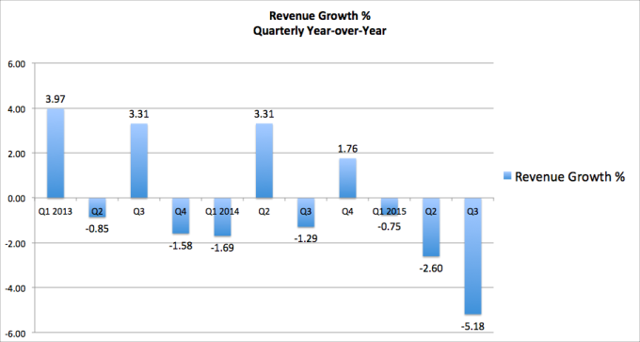 Exhibit: Macy's Revenue Growth (Source: Company Filings, Author Calculations)
Basic earnings per share have fallen off a cliff - declining by over 40% in Q3 fiscal year 2015 compared to Q3 fiscal year 2014.
Exhibit: Macy's Basic Earnings Per Share (Source:Company Filings)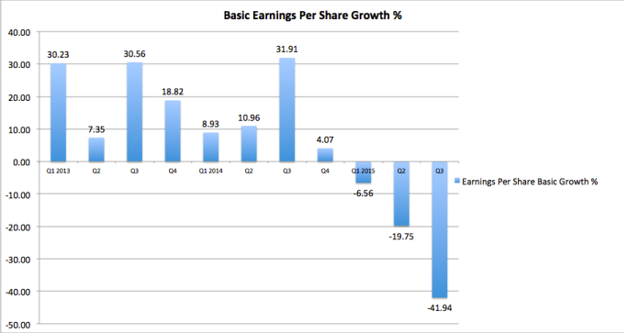 Exhibit: Macy's Earnings Per Share Growth Rate - Quarterly Y-o-Y (Source: Company Filings)
Misadventures of Stock Repurchase
Personally, I have never been a supporter of share repurchase programs. It probably gives a short-term boost to their share price and earnings per share, ultimately your brand's relevance to your customer will decide the long-term value of your company. BlackRock CEO Larry Fink - the world's largest investor - has written an excellent letter to chief executives of S&P 500 companies regarding the dangers of short-term thinking. He says:
"Dividends paid out by S&P 500 companies in 2015 amounted to the highest proportion of their earnings since 2009. As of the end of the third quarter of 2015, buybacks were up 27% over 12 months. We certainly support returning excess cash to shareholders, but not at the expense of value-creating investment. We continue to urge companies to adopt balanced capital plans, appropriate for their respective industries, that support strategies for long-term growth."
I am aware of the argument for stock repurchases and this article in the Barron's magazine rekindles the debate between issuing dividends vs. doing stock repurchases. My biggest problem has been that most companies seem to buy when their stock is high and then when the stock drops investors are left wondering if they would have been better off with dividends. Macy's seem to have done that same mistake.
Between August 2nd and October 31st, 2015, Macy's repurchased a total of 16.7 Million shares at an average price of $53.88.
Between May 3rd and August 1st 2015, Macy's repurchased a total of 8 Million shares at an average price of $68.69.
As of February 5th, 2016 the Macy's stock was trading at $40.30.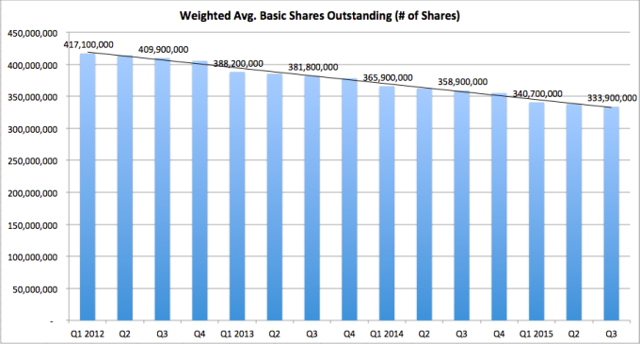 Exhibit: Macy's Basic Shares Outstanding (Source: Company Filings)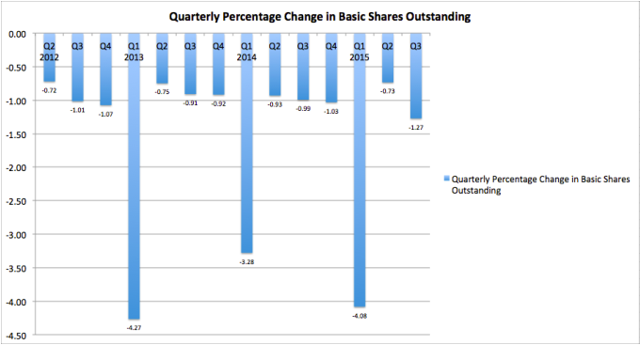 Exhibit: Macy's Quarterly Change in Shares Outstanding (Source: Company Filings, Author Calculations)
The Competition
Apparel accounts for about 46% of the revenue for Macy's. On that front, Amazon is becoming the biggest threat. According to Wall Street analysts, Amazon is slated to overtake Macy's as the largest apparel retailer in the U.S. Costco (NASDAQ:COST) is also becoming a bigger threat. They seem to have added a "permanent" apparel section in their stores for year-around shopping experience. Costco is always known for its very fluid warehouse layout with unmarked aisles. Having apparel in a fixed location probably highlights the success that Costco has had in selling it. In my experience, Costco always seems to find right quality at the lowest price. Finally, there's been a resurgence of sales at J.C. Penney (NYSE:JCP). They reported a 3.9% growth in sales in November/December of 2015. There is a possibility that J.C. Penney would continue their revival and take market share from Macy's.
The Answer: Prioritize, Focus, and Experiment
The goal for Macy's should be to become the best innovator in retail. That's the only way to compete against the likes of Amazon, Wal*Mart, and Costco. They need to invest a lot of money experimenting on everything from store layouts, product selection, employee training, and workflow processes. To achieve this, they should focus on the customer experience as a driver for every innovation they try.
Macy's could probably copy Amazon and try having lockers in their stores. Lockers could be used to deliver online shipments and thus relieve store associates from retrieving packages. Like Amazon, Macy's can make store inventory decisions based on feedback they receive online. Amazon has a vast database filled with feedback, Macy's probably does not. That's why it's critical for Macy's to enhance their online shopping experience to win the omnichannel wars.
Expensive investments are required by Macy's to achieve this goal. They may have to suspend their dividend or stop their share repurchase or do both to fund these investments. In the short term (2-3 years), their stock will get battered and will languish, but they have a chance to win the long-term. But, if they stick with their current path without dramatic changes they may die a slow death.
In the end, the only thing that matters is the customer experience. If your brand can make an emotional connection with a customer, your company will win in the long term. This is true for every company in the world and retailers such as Macy's are no exception.
For Macy's, the road ahead is tough, but the journey is worth it.
Disclosure: I/we have no positions in any stocks mentioned, and no plans to initiate any positions within the next 72 hours.
I wrote this article myself, and it expresses my own opinions. I am not receiving compensation for it. I have no business relationship with any company whose stock is mentioned in this article.