Barrick Gold (NYSE:ABX) has bitten me in the butt on numerous occasions. Part of me thinks that I am a sucker for punishment as I debate another trade that I think will work. The upside will be lower but the risk should also be less.
But if history repeats itself, I better get the iodine and bandages ready. The trade will be a deep in the money covered call. I will talk more about the benefits of such a trade in a minute.
It Can't Fall Further…Can It?
Rewind to April 2013. Share prices had taken a recent dive from around $53 to the mid $20s. The stock seemed like a great value play and I even wrote a Seeking Alpha article about the 52-week low opportunity of ABX.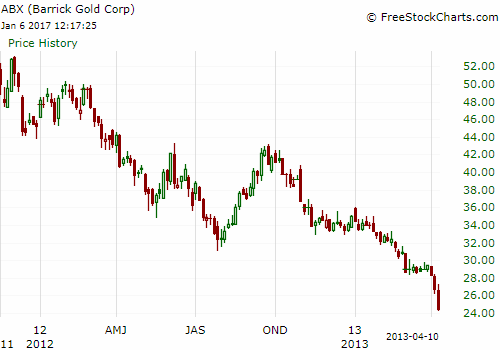 Prices were down over 40% and gold was only down 12% in the same period. There were environmental issues with one of their mines and investors were losing patience. But the value was so strong - a forward price-to-earnings ratio of 5.38! Even if I just held this for the dividend of 3% with a 20% payout ratio it should be a great buy.
I like to think of myself as a disciplined investor so instead of hastily going long on ABX, I decided to wait and see if prices fell an additional 10-15% before buying. And it did. And instead of my original plan of going long with shares, I purchased long-term call options with a strike price around $30.
What goes down and has value must come up…right? Er…wrong. Check out this chart of ABX since my trade until the beginning of 2016. Where was that elusive $30 per share?
Looking at ABX Once Again
To get a little perspective about the recent volatility of ABX, I would like you to look at this chart which compares Barrick Gold to the SPDR Gold Trust ETF (NYSEARCA:GLD).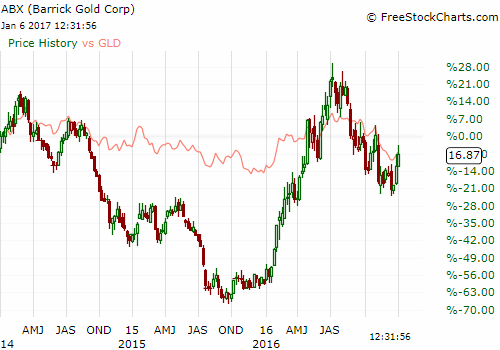 ABX has a massive amount of volatility compared to gold. For once, I would like to make that volatility work in my favor. Option premiums increase when volatility is high. So instead of buying expensive calls or buying high-risk shares, this is the recommended trade which has a lower return but lower risk.
Covered Calls ABX
The beauty of covered calls (in the money or ITM) is that you profit even if share prices drop somewhat. But in exchange for this protection, you also do not participate in the upside price appreciation. One perk of ITM covered calls is that you still get the full dividend despite your cost of ownership per share being far less.
After getting burned multiple times with ABX, I think this cautious approach might yield more result.
Here is the proposed trade:
Buy ABX and sell Call options
Call option strike price $10
Expiration date January 2018
What is the potential return on this trade? Let's assume there isn't an early exercise of the option.
Purchase shares at $16.77
Sell call option at $7.35 per share
If the share price fall below $10 per share, this starts to erode your profit. Your options premium is $0.58 per share. If you compare that to your strike price of $10, this would represent an income yield of 5.8%.
The other source of income is from dividends. If you use the $10 strike price as your 'capital at risk' for this formula, then the $0.08 in dividends that might roll in over the next year would represent another 0.8% yield. So if you put it together you have a potential for a 6.6% return. Keep in mind that share prices can fall over 40% from where they are today and you still retain that 6.6% return.
And there is one potential bonus - what if Barrick decides to increase their dividend during the year from the miniscule $0.08? This isn't out of the question although I wouldn't count on it. The president of Barrick is quoted as saying that it continues to consider a dividend increase for ABX, but the first focus is debt reduction.
Even a modest bump up to a quarterly dividend of 5 cents per share would represent a 2% yield with the covered call strategy based on your capital at risk.
Summary
Selling deep in the money covered call options with a far away expiration date (Jan 1018 calls with $10 strike) is a modest return play, but hopefully at moderately low risk. The annual return would be 6.6% based on a $10 strike price and this would be retained even if share prices fell by 40%. There could be additional upside if the dividend is increased in 2017.
If the option was exercised early, say in 6 months and assuming prices were at a minimum of $10 per share, you would keep the 5.8% option premium plus a potential 0.4% in dividend yield. Because you cashed-in early, your annual return would in theory double. And you would go about finding another covered call play - whether it be ABX or not.
Will I get bitten again? Let me know your view of this trade below.
Disclosure: I/we have no positions in any stocks mentioned, but may initiate a long position in ABX over the next 72 hours.
I wrote this article myself, and it expresses my own opinions. I am not receiving compensation for it (other than from Seeking Alpha). I have no business relationship with any company whose stock is mentioned in this article.