Every year I like to start fresh with my New Years' resolutions but on most items every year I end up failing early. If one resolution of Whiting Petroleum (NYSE:WLL) is to achieve substantial debt reduction, the company is not following in my footsteps but is, instead, being about as proactive as possible. In what follows, I will give my thoughts on a new push by management to make the company more capital efficient in the months and years to come.
More debt reduction!
On January 3rd, the management team at Whiting announced that the firm had finalized its sale of its 50% stake in certain North Dakota Midstream assets in exchange for $375 million (subject to post-closing adjustments). This was a transaction announced last year that you can read my thoughts about in another article here but the general idea is that, by selling off some assets, Whiting can increase its liquidity and work on reducing debt in the smartest way possible.
Now that the transaction has officially closed, management elected, in a separate announcement, to redeem, at par, its 6.5% Senior Notes that would otherwise be paid back in October of 2018. As of the time of this writing, the amount of these notes outstanding comes out to $275.121 million and, as a result, has been costing the firm $17.88 million in interest expense per year. Based on their announcement, the redemption will take place on February 2nd and will, by my calculations, save the firm $16.39 million in interest expense this year alone.
Management will not, however, just be paying par for these notes. Pursuant to how publicly traded notes work, the business must also pay the holders of said notes all accrued but unpaid interest. Based on my calculations, this should amount to a "premium" of sorts totaling 2.17%, putting a price on the Senior Notes of $102.17 for every $100 in par value. Of course, this means that management will be repaying interest expense early but this is a far better choice compared to continuing to pay out 6.5% in semi-annual payments every year.
What's this mean for Whiting?
No matter how you look at things, this picture is drastically better than not redeeming the notes. The last time I performed a cash flow analysis of Whiting was in an article I published on December 5th and a lot has happened since then. After incorporating the decrease in debt (I had previously assumed that the debt would be rolled over at the same interest rate) just announced by management and after incorporating Whiting's debt-to-equity conversion announced last month and the fact that oil prices have risen from $51.19 per barrel to $53.76 per barrel while natural gas prices dropped from $3.49 per Mcf to $3.305 per Mcf, you can see my projected cash flow analysis for Whiting for 2017 through 2019 in the table below.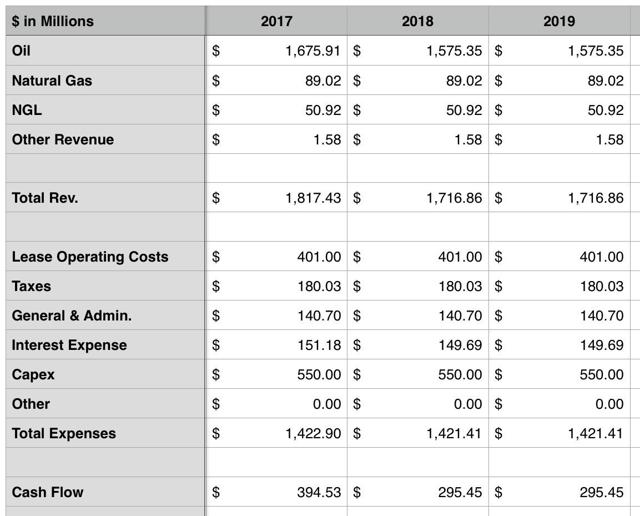 *Created by Author
As you can see, the picture facing Whiting is very impressive. If everything goes in accordance with my assumptions, which rely heavily on management's guidance for the business, cash flow in 2017 should come out to $394.53 million which, with a market cap of 8.1, is fairly cheap. This cash flow outcome is far better than the $313.15 million I expected in December of last year. For 2018, cash flow should now come out to around $295.45 million, up significantly compared to the $189.47 million seen in my prior analysis. Seeing as how Whiting does not have any hedging in place for 2018 or 2019, the bottom line results for both years came out identical.
Takeaway
Right now, I'm really glad I bought into Whiting (though I wish I had bought sooner). This latest move by management is proof that the firm is focused on reducing debt as they deem appropriate and, with the possible exception of things going south regarding its credit facility (which I see as unlikely given the current energy environment), there's no debt that will be due now until 2019. Add to this Whiting's strong cash flow should energy prices not fall back, or if management engages in additional hedging, and it's hard to not like what I'm seeing.
Disclosure: I am/we are long WLL.
I wrote this article myself, and it expresses my own opinions. I am not receiving compensation for it (other than from Seeking Alpha). I have no business relationship with any company whose stock is mentioned in this article.