The electric car market in China is heating up as established automakers are looking to make the most of the EV growth in the country. This looks like bad news for a luxury EV company such as Tesla Motors (NASDAQ:TSLA), for which China is the second-biggest auto market. However, will Tesla be able to overcome the competition in China and benefit from the growth of this market in the long run? Let's find out.
Tesla's Chinese competition
Although Tesla has carved its own niche among the EVs and plug-in electric vehicles, it should realize that there are some strong local players already present in China. Additionally, new players are also popping up, making the competition fiercer.
You can get an idea of the level of competition from the fact that while Tesla may touch 6,000 units in sales for this year, China's EV​ and plug-in electric sales are going to double to nearly 400,000 sales. That is twice the U.S. number, which makes China the largest EV market in the world as well.
Although Tesla is enjoying the benefits of being an EV seller in China, the government policies are not conducive for the likes of Tesla. China's government policies are there to promote the local EV manufacturers and keep their air clean.
This is the reason why Chinese start-ups have the capability of challenging Tesla. For example, Silicon Valley-based start-up Lucid Motors is coming up with the production version of its electric sedan, which it plans to offer in China as well.
"These guys are coming in at the highest levels and saying we want to be Tesla or better," said Michael Dunne, a longtime auto industry consultant who spent years in Asia.
Similarly, another Chinese start-up, NextEV, has launched the NIO EP9 and it claims it to be the world's fastest electric car. Therefore, challengers like NextEV and the telecom giant-turned EV developer LeEco appear to have enough backing not only to deliver an EV, but also to reach global customers.
WM Motors is also planning to construct an assembly plant to build electric vehicles, most probably in the Zhejiang province. The company plans to launch three EV models beginning from 2018. Further, it is researching on over two dozen prototype cars behind the scenes.
WM Motors is targeting the Tesla Model 3, which is the most successful mass-market car till date. So WM's first EV, coming in 2018, will be priced around $35,000, i.e. the price of the Tesla Model 3. Additionally, the company aims to give Tesla a tough competition with a target of reaching more than 100,000 cars in sales within 3-4 years of its launch.
Apart from the locals, the global competitors have also made some quick moves to make their presence felt in China. According to Reuters, Volkswagen (OTCPK:VLKAY) has recently signed a preliminary deal to set up a joint venture with China-based Anhui Jianghuai Automobile (JAC) for making electric vehicles. However, the deal has enough hurdles in its path. Also, Daimler (OTCPK:DDAIY) (OTCPK:DDAIF) is also readying some electric cars for China under the Mercedes-Benz brand.
Therefore, the EV market of China is bound to get more crowded with every passing year. However, what Tesla needs to do is just keep its current share intact in the country in order to increase sales. Let's see how.
How Tesla can capitalize on China's EV growth
For 2016, it is anticipated that sales of electric vehicles in China will reach 400,000 units, making it the biggest market as compared to both North America and Europe. In comparison, total EV sales in China in 2015 stood at 188,000 units, indicating that the market will more than double this year. Last year, China proved to be the second-biggest market for Tesla Motors and the company has continued to report impressive growth over here.
For instance, in the first nine months of 2015, Tesla's total deliveries in China stood at 3,025 cars. In comparison, Tesla exceeded that mark in July of 2016 itself with sales of 3,287 units. At this level of sales, Tesla currently has 2% of the market share in China. More specifically, Tesla's sales in China during the first 11 months of the year have increased almost 100% as compared to the same period last year and looks set to achieve sales of 6,000 units.
Thus, it can be safely said that Tesla has made good use of the growth in China's EV market and it is likely to sustain its growth going forward.
How China will drive Tesla's revenue growth and stock price
As mentioned earlier, Tesla has a market share of 2% in China, but it is likely that the company will be able to improve on this front due to its impending launch of the Model 3 budget luxury sedan. According to the last update, Tesla had received more than 400,000 pre-orders, with China accounting for the most reservations.
This is not surprising as the Model 3 is expected to be priced at around $35,000 for the base model. This is far lower than the Model S that has driven Tesla's sales in China so far and helped it gain 2% market share. More importantly, even if Tesla manages to hold on to its 2% market share for China in the long run, the company's sales in this market will continue to get better.
This is because EV sales in China will be 2 million units in 2020 on an annual basis. Tesla's 2% market share in China in 2020 will help it increase annual sales to 40,000 units, which will be a massive jump over just 3,000 units last year. If Tesla manages to increase its vehicle sales to 40,000 units in China in 2020, and assuming that all of the sales come from the base Model 3 priced at $35,000, Tesla could generate over $1.4 billion in sales from China in 2020.
In comparison, Tesla's revenue from China in 2015 stood at $319 million. This means over the next five years, Tesla's Chinese revenue could grow more than 300% to $1.4 billion at least. Now, in 2015, Tesla's revenue from China stood at $320 million, with the country accounting for around 8% of total sales. In fact, China is the second-largest market for Tesla, which is why growth in this region will be key for the company's overall growth.
Now, as Tesla's sales in China rise, the company's revenue growth will receive a major boost. In fact, next year itself, Tesla is expected to hit almost $10 billion in sales, according to Financial Times. In comparison, last year, Tesla's total sales were around $5.3 billion. Now, if Tesla's sales rise to $10 billion next year, its market capitalization will rise to $58 billion since the company has a price-to-sales ratio of 5.82.
In comparison, Tesla currently has a market cap of $34.5 billion. This means that next year, investors can expect around 70% gains from Tesla Motors as its business in countries such as China picks up pace.
But, if Tesla manages to increase its market share from the current 2%, the company will report stronger growth in China. More importantly, Tesla is taking the right steps to boost its market share in the country by building a local manufacturing facility and developing the supercharger network. Let's take a look.
What Tesla is doing to gain share in China
Tesla has more than 100 supercharger stations and 502 charging poles across China are testimony to the solid preparations done by the company for the inevitable boom in EV sales. Besides these charging points, Tesla owners in China can charge their cars at 1,400 charging poles in hotels, office buildings, and shopping malls in major cities.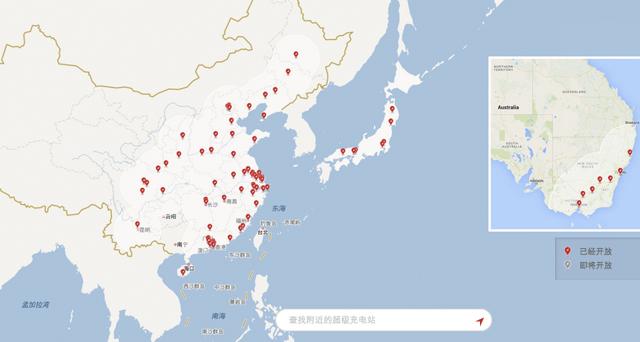 Most importantly, Tesla has placed its charging facilities on long routes, which include the interstate highways going from Sanya to Harbin, Chengdu to Lhasa, and Qinghai to Lhasa. This strategic move has been able to ease the range anxiety among the Chinese customers to a great extent. Another step toward the same goal is the introduction of adapters that allow owners to power their vehicles at state-run points.
Therefore, the presence of a robust supercharging network in China will boost confidence in Tesla's products and enhance sales as customers will be able to cover longer distances.
Another factor that will prove to be a tailwind for Tesla in China is a local assembly plant. It has been reported that Tesla has entered into a memorandum of understanding with the Jinqiao Group to build a factory in Shanghai at a cost of $9 billion. Once Tesla builds this factory, it will be able to avoid the 25% import tax, as a result of which it can price its models competitively in the Chinese market.
In fact, it is estimated that Tesla pays a total of 30% in duties and taxes in China. But, if Tesla is able to eliminate these expenses, its pricing of the Model 3 could become even more competitive and this will help it compete more efficiently against the local players.
Conclusion
The opportunity for Tesla Motors in China is huge and the company is making the right moves to tap the same. More specifically, China will power Tesla's revenue growth in the long run, as the discussion above indicates. So, it will be a good idea to bet on China as one of the primary catalysts for Tesla's performance.
Disclosure: I/we have no positions in any stocks mentioned, and no plans to initiate any positions within the next 72 hours.
I wrote this article myself, and it expresses my own opinions. I am not receiving compensation for it (other than from Seeking Alpha). I have no business relationship with any company whose stock is mentioned in this article.