I have been a staunch bear on GoPro (NASDAQ:GPRO) for roughly the past two years. I first initiated coverage on July 1, 2014, when the stock was trading at $40.16 per share. However, at the current valuation, $9.02 per share, with a market capitalization of $1.27 billion, my sentiment has shifted and I believe that GPRO provides a compelling risk/reward opportunity.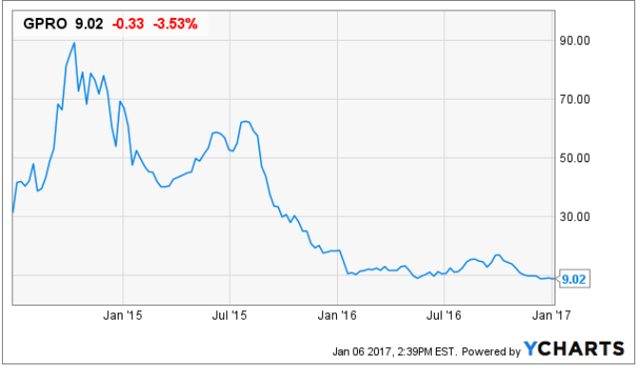 I will begin by summarizing my coverage on GPRO and then will make my case for why I believe it is currently a good value play.
Summary of My Coverage:
Sell Recommendation on July 1, 2014 (Price: $40.16)
I first labeled GPRO as overvalued in July 2014 and I published an article entitled "GoPro: Irrational Exuberance Propelling It To Unsustainable Levels. Below is an excerpt from my article, which summarizes my sentiment at the time:
Investors are enamored with the growth prospects of GoPro. On the surface, it provides a compelling opportunity with 87% y/y growth and other avenues for revenue growth such as with content. However, once you delve deeper into the company's prospects, the picture is not so bright. Sustaining this elevated price level with declining margins, an onslaught of competitors, a bleak future for content revenue, and a dilution with a significant number of options maturing, investors should be wary of an investment in GoPro.
Another Sell Recommendation on September 5, 2014: (Price: $52.95)
In hindsight, my initial sell recommendation was called too early and the stock continued to rise after my article was released. The stock rise, without business fundamentals improving, gave me stronger conviction in my sell recommendation. On September 5, 2014, I published an article entitled "GoPro Is The Epitome Of Irrational Exuberance." At this time, I believed that the market was irrationally valuing GPRO's content revenue generating capability:
Investors are fallaciously assuming that the content revenue generating capabilities are tremendous for GPRO with the flood of GoPro videos hitting Youtube. However, monetizing this content will prove difficult, especially since GPRO is not the owner of it. The company will have to either convince filmers to split the revenue or somehow swindle them into signing over the rights. With a forward PE of more than 40x next year's earnings and the capability of generating revenue from its content being tenuous at best, I would suggest avoiding the irrational investment that is GPRO.
Unlike then, management has determined a way to monetize user generated content through non-exclusive licenses, which I will discuss below.
Another Sell Recommendation on October 2, 2014: (Price: $86.97)
My sell recommendation was again too early and the stock price ratcheted up in the month following my article, climbing to nearly $90 per share. At this point my conviction that GPRO was extremely overvalued was so strong that I began calling up brokerage services to try to borrow shares to short against. I wrote another article at this time and entitled it "GoPro: the Level of Hype is Unbelievable."
The hype infused into the stock price of GPRO is unbelievable. I have been trying to short this stock for days now, but I cannot find a broker that will let me borrow shares against. As Interactive Brokers reported, GPRO is among one of the hardest names to borrow against. Brokers understand that this stock will not likely sustain this level for much longer. With the put options being extremely expensive, I unfortunately do not see an opportunity to make money on the short side of this stock unless I can get shares to borrow against. I highly suggest staying away from this fallaciously priced stock.
The Case For Buying GoPro Now
GoPro Plus: Subscription Revenue
In September 2016, GoPro launched a cloud subscription service, called GoPro Plus that allows users to seamlessly upload their footage from their camera to the cloud. After uploading, users can edit the footage using GoPro's suite of mobile and desktop editing applications.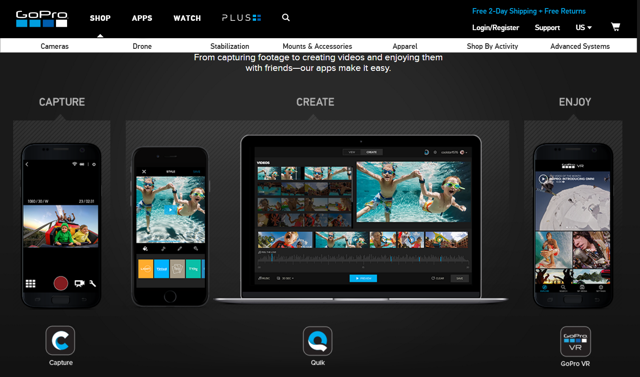 Source: GoPro.com
Management has prudently created a seamless, end-to-end platform where users can easily upload, edit, and display their content. This service offers users a compelling value proposition. Consumers no longer have to buy and keep track of SD cards. This also saves consumers from having the burden of figuring out how to edit and share their videos. GoPro is democratizing valuable content creation.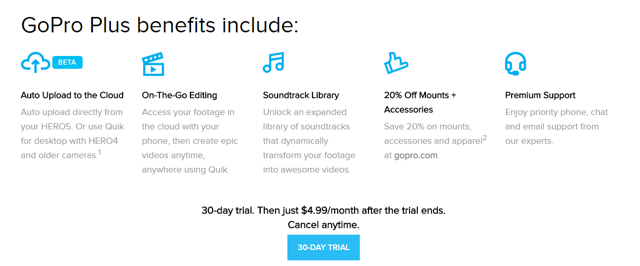 Source: GoPro.com
GoPro will benefit from this service in two material ways. First, and most obvious, GPRO will have a recurring revenue stream in the form of $4.99 per month per user that signs up. Assuming this service gains some traction, it will provide a predictable revenue stream, which will allow GPRO to generate cash flow to either invest in other endeavors or begin returning money to shareholders in the form of dividends or share repurchases. Secondly, this will create a positive virtuous cycle for GPRO's licensing efforts by enabling users to quickly make content.
Licensing
In July 2015, GPRO launched a licensing platform to enable global advertising brands and agencies to license video and images. The platform will allow easy access to creators' content with time-saving tools to search, download, and preview content to license for use in advertising, news, and other media and entertainment.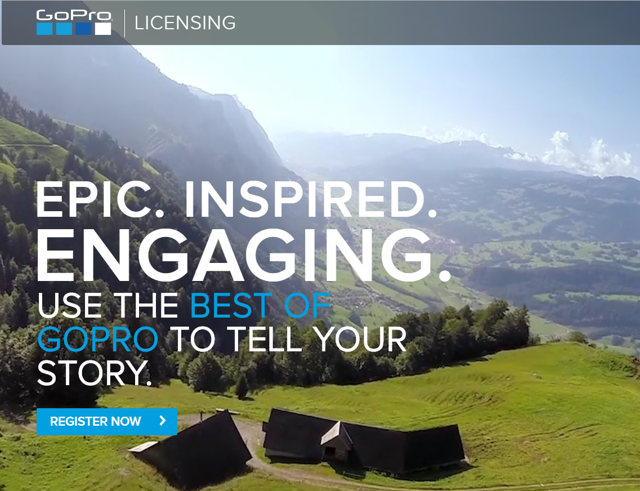 Source: GoPro.com
I signed up for an account to see how difficult the licensing process was. I found the interface relatively simple to use and I was set up and ready to request a license within 5 minutes. Moreover, I tried a test request and the pre-set email I received said it would take up to 3 days to get a reply quote. However, within the hour I was personally contacted by a GoPro "Senior Manager" in the Content Licensing department who was ready to help fulfill my licensing needs. Such great customer service bodes well for this product's chance of becoming a success.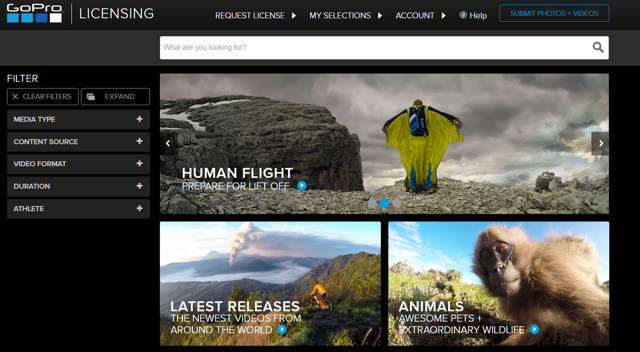 Source: GoPro.com
Licensing provides another stream of revenue where GPRO can monetize user content. However, the corollary question to answer to determine the true profit potential of this project is to figure out the cost of generating the content that it licenses. That information is not readily given, but after tracking it down and finding the answer, I am incredibly bullish about GPRO's prospects in generating substantial profits through this avenue. All of this content is generated by users submitting them for the GoPro Awards Program.
GoPro Awards
Management prudently created an award based program to generate user content, which it can then license out to advertisers. The terms and conditions to the program show the brilliance of this program. By participating in the program, users grant GoPro with "a right to sublicense for commercial use, a perpetual, worldwide, unlimited, irrevocable, transferable, assignable, royalty-free (bolded for emphasis), fully-paid license..." Moreover, the terms and conditions go on to allow GoPro to license one's appearance and other identifying info for essentially any purpose and "in any manner or media now or later developed."
Source: GoPro Awards Terms and Conditions
Basically, GoPro can monetize any of the content that is uploaded in the GoPro Awards program. Furthermore, GPRO's ability to license out this content without having to compensate users who don't receive awards is reinforced in the FAQ section of the GoPro Awards tab on their website.

Source: GoPro Awards FAQ
Management has also created a system to generate a varied library of content, compensating users with $500 if their photo is selected, $1000 if their video clip is selected, and $5000 if their edited video clip is chosen for an award. Importantly, management has capped the number of awards that it will grant under this program to $5 million per year. This creates a predictable content acquisition cost while simultaneously creating an incentive for users to create content for them to license out.

Source: GoPro Awards Announcement
Moreover, GoPro's Pro Plus service will democratize the process of creating compelling content and will make it easier for users to compete for these awards. This will enable GPRO to create a competitive moat in the form of a vast collection of proprietary content.
Furthermore, the awards program, which provides an incentive to create edited content, by awarding $5000 for edited videos, also may give users the added push to opt for, and continue with, the subscription service. Thus, GPRO is creating a virtuous cycle in which it gets more subscription users and more content in which it can earn licensing revenue from.
Other Positives
Current Value = Acquisition Target
At the current trading level, $9.02 per share, GPRO's market capitalization stands at just $1.27 billion. This is a far cry from the roughly $11 billion market capitalization reached in 2014, and is significantly below its IPO price of $24 per share. Historical price should not be considered alone in determining if a security provides a value investment opportunity, however, when considering the value of GPRO's assets, when coupled with its new business opportunities, I believe that GPRO is currently undervalued.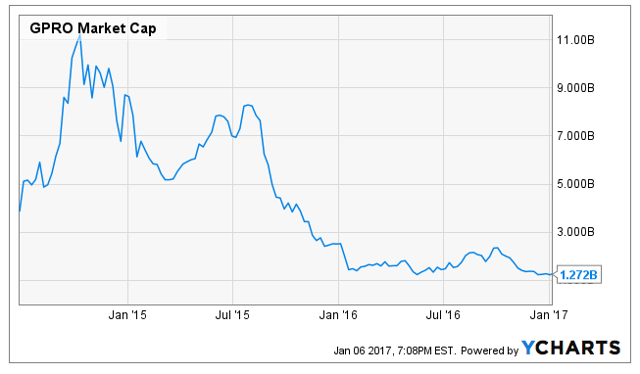 As of September 30, 2016, GPRO held $901 million in total assets compared to just $393.6 million in total liabilities, which means GPRO is trading at just 2.5x its book value. Furthermore, GPRO's price-to-sales ratio is only .818.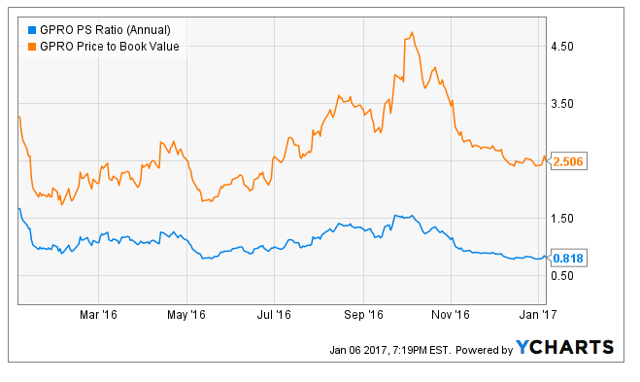 Moreover, GPRO's current valuation makes it an acquisition target. GPRO has roughly $224.9 million of cash on its balance sheet, which effectively reduces the price an acquirer must pay to purchase GPRO through a tender offer. Furthermore, an acquirer may be interested in GoPro's strong brand value which could be leveraged to brand other products.
Additionally, GoPro recently filed an 8-K which enhances its potential to be acquired. Management has prudently been streamlining its operations by consolidating its leased office facilities, reducing the number of its employees, and closing its entertainment division. This has resulted in one time restructuring charges of $24 million-$33 million in Q4 2016, but in subsequent quarters GoPro should be a more efficient and profitable company. This is especially true if its subscription service and licensing platform begin to take off, as they are a fixed cost to operate and each incremental sale adds to the bottom-line.
Tax Loss Harvesting
Another reason I believe GPRO is currently undervalued is due to the selling pressure that likely developed in the latter portion of 2016 from tax loss harvesting. Basically, tax loss harvesting is the practice of selling a security that has experienced a loss in order for an investor to minimize their tax liability. To read a more thorough analysis of this practice, please refer to my article on Glu Mobile, where I discussed tax loss harvesting at a much greater depth.
With GPRO trading at roughly 10% where it traded in 2014 and down about 50% from where it opened in 2016, there are innumerable investors with long-term capital losses as well as short term losses. The incentive to lock in losses in 2016 was much greater than in any normal year due to the likely reduction in tax rates for both ordinary income and capital gains under a Trump administration.
There is a provision in the tax code, called a wash sale, which prevents investors from realizing those losses if they purchase the shares again within a 30 day period. Thus, investors are likely to either wait until the 30 day period passes or purchase a similar type of asset. Therefore, I anticipate that GPRO will benefit from investors who would like to buy back GPRO but sold for tax reasons.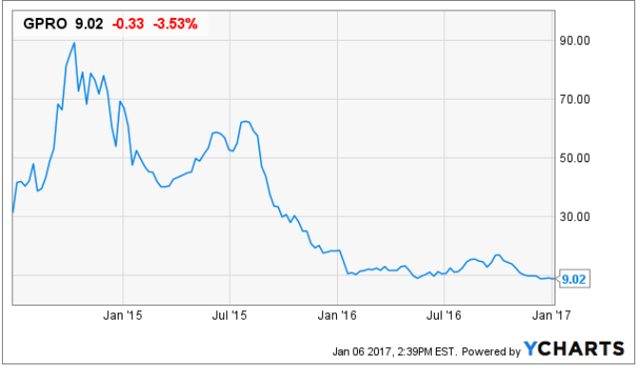 Short Squeeze Potential
If there are any positive developments for GPRO, the stock may experience a significant pop. The reason for this is because a substantial portion of shares are currently sold short. GPRO's short interest is nearly 33 million shares, or roughly 23% of its total outstanding shares. If there is positive news, the shorts may attempt to cover and buy back the shares, creating added buying pressure, which could cause a short squeeze, where the stock would ratchet upwards.
Following the IPO, GPRO saw a meteoric rise and I was a staunch bear. However, the bubble in GPRO has subsequently popped and I have changed my sentiment. When considering its current value, addition of subscription and licensing revenue to its platform, and acquisition prospects, GPRO appears to present a compelling risk/reward investment opportunity.
Disclosure: I/we have no positions in any stocks mentioned, but may initiate a long position in GPRO over the next 72 hours.
I wrote this article myself, and it expresses my own opinions. I am not receiving compensation for it (other than from Seeking Alpha). I have no business relationship with any company whose stock is mentioned in this article.