There is a widespread notion that near-retirees should only hold mature, dividend-paying stocks. In fact, most professional advisors recommend holding dividend aristocrats and dividend champions near retirement. While this notion is reasonable, under certain circumstances near-retirees can consider allocating a limited portion of their portfolio on growth stocks. In this article, I will analyze why near-retirees can include a few growth stocks in their portfolios even if these stocks do not pay a dividend.
First of all, the popular dividend stalwarts, such as Wal-Mart (NYSE:WMT), Procter & Gamble (NYSE:PG), Coca-Cola (NYSE:KO) and McDonald's (NYSE:MCD) did not become dividend aristocrats overnight. These were initially high-growth stocks, they then decelerated and have now become slow-growth stocks, which are held by their shareholders mostly for their attractive and reliable dividends. This will be the path for the best high-growth stocks, even if they have never paid a dividend so far. At some point they will decelerate due to their own size and they will not be able to reinvest all of their earnings into their business. Thus they will eventually start paying a dividend. That's why it should not be surprising that a high-growth stock plunges when it announces the initiation of a dividend, as it essentially signals that lower growth rates are likely in the future.
The best part of growth stocks is that their future dividend yield on cost may be much higher than that of most dividend aristocrats. To provide a perspective, the management of Starbucks (NASDAQ:SBUX) has repeatedly stated its goal of growing the earnings per share [EPS] by about 15% per year for the foreseeable future. If this goal is achieved, the company will quadruple its EPS in 10 years. Consequently, if it maintains its current payout ratio of 47%, which is reasonable, the yield on cost for those who purchase Starbucks now will be approximately 7.1% (=4*1/56.5). This yield on cost will probably be at least comparable to the yield on cost of most dividend aristocrats, such as the above mentioned ones, which have essentially stopped growing in the last 3 years. If the exceptional capital gains from the EPS growth of Starbucks are added into the picture, then one realizes that a high-growth stock can greatly enhance the value of a portfolio, even for near-retirees. It would be a shame to miss the below depicted exceptional returns merely due to the absence of a dividend until 7 years ago.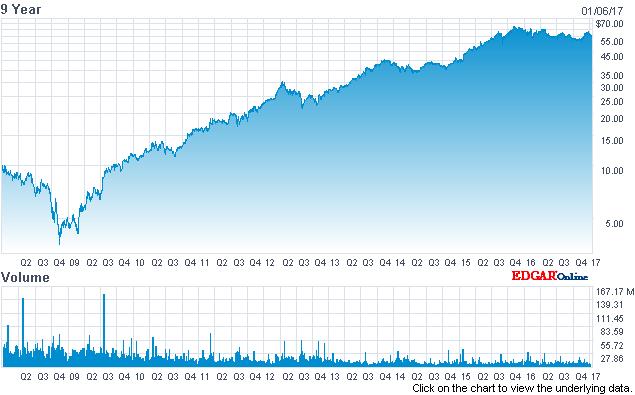 Another great aspect of high-growth stocks is that they will eventually offer decent returns even if one overpays for them. As Peter Lynch has said, investors should not exhaust their conservatism in the valuation of these stocks while they wait for a good entry point. Even if they purchase these stocks at an appreciable premium, they will eventually enjoy great returns as long as the growth story materializes. On the contrary, if investors purchase overvalued slow-growth stocks, they are condemned to receive poor returns for many years.
Of course investors should realize that high-growth stocks tend to be much more volatile than most other stocks. Their volatility results from the fact that even a small shift in the expectations for the future growth rate will pronouncedly reduce the value of the future earnings of the company and hence its stock price. Therefore, only those who can stomach high volatility and will not sell on the first major correction are suitable for purchasing high-growth stocks.
Moreover, investors who want to reap the benefits of high-growth stocks should realize that these stocks command continuous monitoring. In contrast to dividend aristocrats, which usually have a boring (but successful) business model, high-growth stocks usually operate in a new, exciting industry, which however is fast-changing and is usually attractive to new entrants. As the high growth rates usually attract new competitors, a high-growth stock is vulnerable to new entrants, who want to earn a piece of the pie. Moreover, high growth rates cannot be sustained forever, as a company would become gigantic in the end. Therefore, continuous monitoring is required in order to determine whether the promising growth prospects are intact or they have been permanently impaired, either due to new entrants or due to the size of the stock. Great examples are AutoZone (NYSE:AZO) and O'Reilly (NASDAQ:ORLY), which have been growing at double-digit rates for more than a decade but have somewhat decelerated in the last few years, from ~20% to ~15%, simply due to their size limitations. In every single conference call of these two companies, investors have their finger on the trigger, just in case they hear any remark that signals lower growth rates ahead.
Finally investors who reject high-growth stocks merely due to the absence of a dividend can simply follow the advice of Warren Buffett to the shareholders of Berkshire Hathaway (NYSE:BRK.B). As some shareholders complain for not receiving a dividend, Buffett has repeatedly advised them to sell a small portion of their shares every year in order to create an essential dividend. Investors who buy a high-growth stock that does not pay a dividend can follow this strategy and sell a few shares (2%-4% of their stake) every year.
To conclude, near-retirees should not necessarily refrain from purchasing high-growth stocks. Instead they can allocate a small portion of their portfolios on these stocks, as long as they implement their due diligence and monitor these stocks on a regular basis. Of course they should purchase this category of stocks only if they can stomach the remarkable volatility of these stocks. If the growth story materializes, the yield on cost will soon catch up with the dividend yield of most dividend stalwarts while the capital gains will be exceptional.
Disclosure: I/we have no positions in any stocks mentioned, and no plans to initiate any positions within the next 72 hours. I wrote this article myself, and it expresses my own opinions. I am not receiving compensation for it (other than from Seeking Alpha). I have no business relationship with any company whose stock is mentioned in this article.