"You know how advice is. You only want it if it agrees with what you wanted to do anyway." - John Steinbeck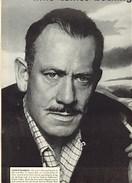 It was a good opening week for investors as trading in 2017 commenced. All major indices posted solid gains to start the new year. The Dow was up just over one percent, the S&P 500 posted a gain of 1.7% and the NASDAQ was up over two and a half percent. Biotech, a huge laggard in 2016, posted better than a five percent gain in the first week of the year. One segment of the market that did not participate in the rally this week was retail.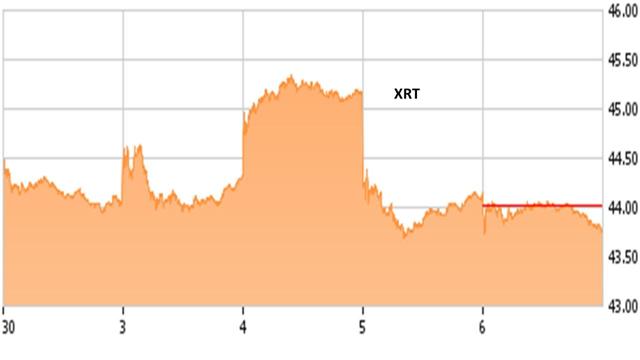 Macy's (NYSE:M) and Kohl's (NYSE:KSS) both had large sell-offs on Thursday after reducing guidance on punk holiday sales. The rest of the department store sector and a lot of retail names staged significant declines in empathy. American Eagle Outfitters (NYSE:AEO) also declined after lowering guidance late in the week.
For all the talk in the 2016 election year about NAFTA and unfair trade with China, the real job killer in retail seems to be Amazon (NASDAQ:AMZN) not a foreign entity. I think Macy's will be fine here as its market capitalization looks to be significantly under the value of its real estate holdings. Its flagship Herald's Square store sits on a city block in midtown Manhattan that has to be worth some $3 billion to $5 billion alone. The stock also yields over four percent which should maintain a floor under the shares. This news will boost efforts to sell off non-performing stores and monetize the real estate it sits on. This will also mean, unfortunately, significant layoffs.
I have been and remain deeply underweight this part of the market. One of the few holdings I have in this industry is Skechers (NYSE:SKX) which looks to be in the early innings of a possible turnaround powered by substantial growth in its overseas sales. It also saw a large insider buy late in 2016.
I offer up an investment analysis on this intriguing footwear retailer. It originally appeared exclusively on the Insiders Forum one month ago.
December 7th article:
Our next Insiders Forum selection is a well-known retail name whose stock has been cut in half over the past year after a huge previous run. However, it appears the ship is turning around and international growth is exploding. The CEO just bought over $10 million in new shares and the company is starting to get analyst "hosannas" again over the past week or so. It seems an opportune time to snap up this stock which could have 30 to 40% upside over the next year.
Company Overview:
Skechers designs, develops, markets, and distributes footwear for men, women, and children. The company operates through three segments: Domestic Wholesale Sales, International Wholesale Sales, and Retail Sales. Skechers sells its products through over 1,700 company-owned and third-party retail stores; and department and specialty stores, as well as through its e-commerce website in approximately 160 countries and territories.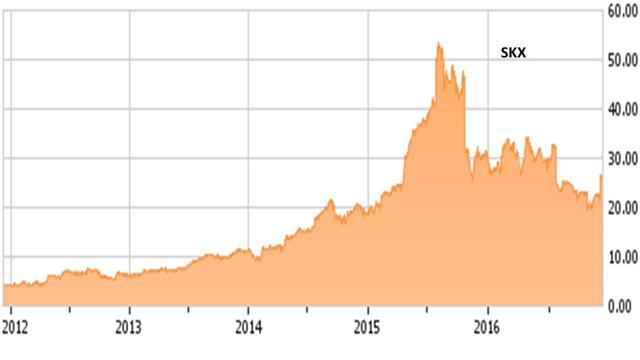 Skechers is squarely in mid-cap territory with a market capitalization of just over $4 billion. As can be seen from the chart above, the shares had a solid run from 2011 through 2015. The stock then bolted much higher and probably got way ahead of its fundamentals. A disappointing third-quarter earnings report in 2015 sent the shares sharply lower and the stock has muddled along in a relatively narrow trading range over the past year, although it has perked up in recent weeks.
Domestic sales growth is still largely flat, but should benefit from a new product cycle. International sales expansion will be the key growth driver for the company in the coming years. Once this starts to be factored into the investment case for Skechers, I believe the company can recover a good portion of its losses since its last peak a bit over a year ago.
Recent Results:
Net sales came in at just over $924 million in the third quarter on a 10% rise in revenues. It was a record for any third quarter in the company's history as far as revenue and the second highest sales quarter ever. Earnings came in at 42 cents a share. Earnings were also held back by 4 cents a share thanks to the rally in the dollar against major currencies in the quarter. In addition, the company's effective tax rate for the quarter was 24.2%, higher than the 19.9% average of the first nine months of the year and above the company's guidance of between 17% to 22%. This is an anomaly that should not be repeated in the quarters ahead which should be a mild tailwind for earnings. Gross margins improved to 45.6% from 45.2% in the previous quarter.
Insider Buying:
The CEO obviously believes a turnaround is near given his recent activity. Through an entity called The Greenberg Family Trust, he purchased nearly $11 million in new shares in two over $5 million transactions. One buy was on November 28th and the other the next day. These are the only insider purchases I can find in this name going back many years.
International Growth:
Skechers is an international growth story. The third quarter saw an 18.3% sales increase in its international wholesale business. This included a 35.4% increase on its subsidiary and joint venture business and a 16% sales increase in Skechers' company-owned retail, which included 61 net new stores opened compared to the prior-year period, of which 11 opened in the third quarter. International wholesale has grown to nearly 41% of the company's overall sales and international wholesale & retail is closing in on half of overall revenues. Domestic sales are pretty flat at the moment but should be helped by new products in coming quarters.
China saw a 50% increase in sales from the same period a year ago and will be an important source of overseas growth in coming years. Through joint ventures, China shipped more than 2.8 million pairs in the third quarter and opened 82 freestanding Skechers retail stores, primarily through franchisees bringing the total Skechers store count in the country to 341. Skechers have approximately 1,860 points of sale in China and an extremely strong e-commerce business with high double-digit growth. The company is just beginning in India where it has approximately 50 sales outlets.
Analyst Commentary & Balance Sheet:
The company has a pristine balance sheet with some $665 million in cash against approximately $70 million in long-term debt. Net cash per share is about $4 a share, which makes Skechers cheaper than it would appear based on just its stock price. Analyst commentary has been exceedingly positive of late. Buckingham Research upgraded the shares from a Neutral to a Buy rating in early December. After attending the Fashion Association of New York trade show, its analyst was impressed with the selection of new Skechers products and believes a sales inflection point is seen about one quarter away. Wells Fargo echoed that view this Tuesday calling the retailer a "compelling" turnaround story in 2017. Susquehanna also assigned a Buy rating to Skechers last week
Outlook:
A new product cycle should help domestic sales in the quarters ahead. International expansion will be the big story in coming years as the company has plenty of room to expand, especially in Asia. A lower tax rate and an ebb in dollar strength could also prove to be tailwinds to earnings in 2017.
After posting earnings of $1.50 a share in FY2015, the company is tracking to $1.60 to $1.65 a share in earnings in FY2016. There is a wide range of profit estimates on Skechers in 2017, with the low end saying $1.60 and a high estimate of $2.40 a share. Given international sales growth and using the middle of the existing range, I get $1.90 to $2.10 a share in earnings for next fiscal year on an eight to 12% rise in overall revenues. Skechers is selling for approximately 13 times forward earnings, 11 if you equate for net cash on the balance sheet. This is a significant discount to the overall market multiple of 17-18 times forward earnings, especially given Skechers should see faster earnings and revenues growth than the S&P 500 in 2017. Nike (NYSE:NKE) sells at more than 19 times forward earnings and has pretty much the exact same revenue and earnings growth forecast for 2017.
If the company does achieve these projected earnings and revenue numbers, I could easily see SKX trading back in to the mid to high $30s by the end of 2017, a more than adequate return over the next 12 months. The stock will enter the Insiders Forum portfolio at today's closing price of $27.33 a share.
Recommendation: Buy SKX up to $28.50 a share
Note: To get these types of articles on attractive small and mid cap stocks insiders are buying as soon as they are published, just click on my profile and hit the big orange "Follow" button and choose the real-time alerts option.
Disclosure: I am/we are long M, SKX.
I wrote this article myself, and it expresses my own opinions. I am not receiving compensation for it (other than from Seeking Alpha). I have no business relationship with any company whose stock is mentioned in this article.