Natural gas (NYSEARCA:UNG) prices finished the week down 11.56%.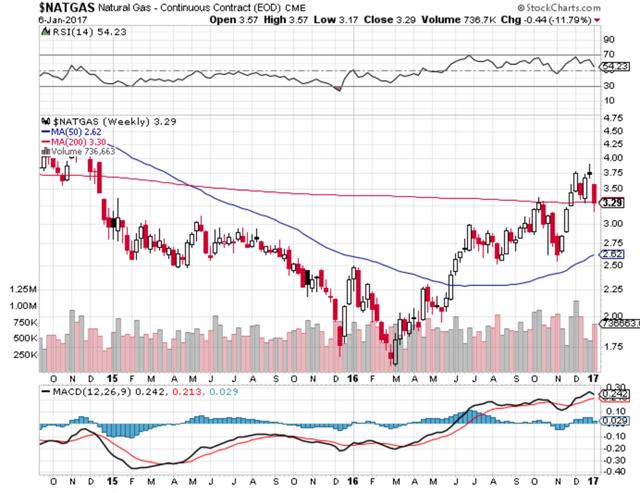 Volatile trading conditions in natural gas continues to present great trading opportunities for traders, but for longer-term horizon investors such as ourselves, we view the recent sell-off in the entire 2017 STRIP as ridiculous and illogical.
Many of our readers have only started following us over the last 5-6 months, and may not remember that we wrote this article in May 2016 - "Natural Gas - The Perfect Storm Is Coming" - which argued for prices to spike to $3.50/MMBtu. Bears contended that the storage situation throughout summer would remain constrained, and they pointed to natural gas producers taking advantage of higher gas prices to boost production. Both of these points turned out to be completely false, as we had been arguing, and the 2017 Henry Hub STRIP is trading at $3.32/MMBtu.
Our analysis of storage forecast, fundamentals over 2017, and current sentiment leads us to believe that the 2017 STRIP is currently undervalued. In our 2017 natural gas outlook to premium subscribers, we said that given the current storage outlook, we expect gas prices to remain above $4/MMBtu for 8-12 months to incentivize natural gas production outside of the Marcellus and Utica.
In a Big Picture Outlook report we wrote in October 2016, we gave the supply outlook for each given pricing scenario, we concluded that if natural gas prices stayed around $3.50/MMBtu, the structural deficit wouldn't catch up to the increase in demand, and storage by Nov 2017 would be in material deficit due to the structural imbalance. Our forecast assumes normal weather demand.
While January weather outlook is expected to remain warm, our bullish stance on natural gas prices over 2017 has not swayed one bit. In fact, we believe that any short-term weakness in prices today will only intensify the volatility we see in natural gas prices months down the road. Increase in volatility will force producers to take a much more conservative approach, and the recent 2017 capex guidance we've seen backs our thesis.
For longer-term natural gas bulls, buying ETFs like VelocityShares 3x Inverse Natural Gas ETN (NYSEARCA:DGAZ), VelocityShares 3x Long Natural Gas ETN (NYSEARCA:UGAZ), United States Natural Gas Fund (UNG), and others are miserable ways to play the long-term upside. Contango, volatility decay, roll cost are all headwinds to holding these natural gas ETFs, and we have already publicly announced the Canadian natural gas producers we are long to take advantage of the upswing in natural gas prices.
Despite gas prices selling off as of late on the back of bearish weather forecasts, we see the structural deficit being heavily in favor of the bulls for the rest of 2017, and we think the STRIP will need to rise to $4 to mitigate the increase in structural deficit.
If you are interested in reading our 2017 outlook, you can sign up here. Premium subscribers also get daily natural gas updates along with weather model updates.
Disclosure: I/we have no positions in any stocks mentioned, and no plans to initiate any positions within the next 72 hours. I wrote this article myself, and it expresses my own opinions. I am not receiving compensation for it (other than from Seeking Alpha). I have no business relationship with any company whose stock is mentioned in this article.