I swear that sometimes I have the worst timing for my buys. I just bought some shares of Teva Pharmaceutical Industries Ltd (NYSE:TEVA) on Thursday and its shares fell 7.5% the next day.
If you recall, I bought shares of McKesson Corporation (NYSE:MCK) the day before it fell 23% a few months ago. Thankfully, I reacted by doubling my position and now I'm a few percentage points above water.
These show that it's difficult to time the market and that time in the market will help with returns as long as you buy good companies at a margin of safety.

Why did Teva shares fall 7.5% in a day?
So, why did the biggest generic pharmaceutical manufacturer in the world fall so much on Friday?
The management released its 2017 guidance on Friday. Based on the midpoint of management's 2016 and 2017 estimations, Teva's 2017 EPS is expected to be nearly 1% lower. The 2017 estimation is almost 6.3% lower than the consensus of $5.44.
Never mind the 7.5% fall. Why have Teva shares fallen 34% since August?
Moreover, Teva has been losing the patent protections for Copaxone in the U.S, as outlined in these Bloomberg articles in August and September 2016.
Since August, Teva shares have declined about 34%. You can't blame the market for being worried. Copaxone accounted for about 20% of Teva's revenue last year.
In the 2017 guidance, management believes that in the downside case, the potential impact of the two generic competitors to Copaxone 40 mg launching in February in the U.S. could reduce its revenue by $1-1.2 billion and its earnings per share by $0.65 to $0.80.
In other words, that would be a cut of almost 29% of Copaxone's revenue from management's base case projections for 2017!
The business
Here's Teva's estimated revenue breakdown for 2016 and 2017.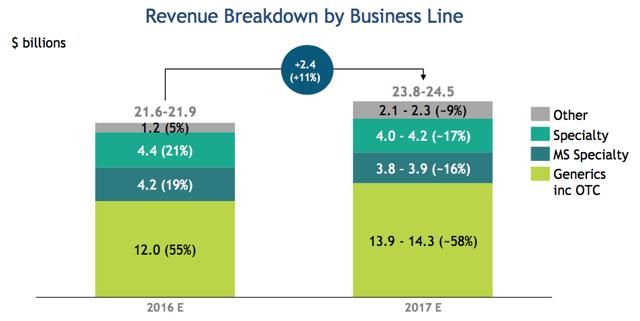 Source: Teva's 2017 business outlook - Slide 6
Since 2013, Teva's gross profit from its Generics segment has steadily increased from 41% to 46.5-47.5%. Likewise, the profitability has grown from $1.9 billion to $3.3-3.4 billion, which translates to 20.8% growth per year.
This year, Teva expects its gross margin and profitability to increase to 48-49% and $4.1-4.3 billion (roughly 25% growth), respectively.
Here's the geographical breakdown of Teva's Generics revenue. This year, the company expects to generate 45% of its generics segment profit outside of the U.S.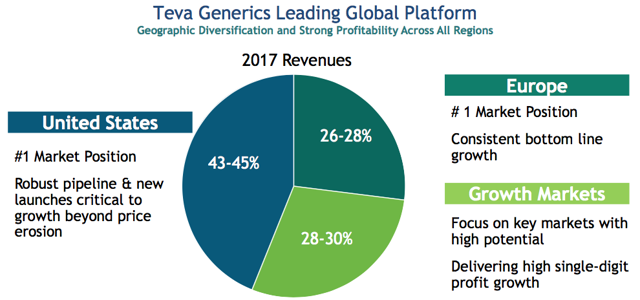 Source: Teva's 2017 business outlook - Slide 10
Recent acquisitions
Teva's net revenue is expected to be 11% higher in 2017. This already accounts for the foreign exchange headwinds of $0.8 billion and the effects from the Allergan Generics and Anda acquisitions of July 2015 and October 2016 for $40.5 billion and $500 million, respectively.
The robust generics platform from Allergan helps support future strategic investment in the Specialty segment. As well, it makes Teva a top 10 pharmaceutical company in the world. Cost synergies and tax savings of about $1.4 billion per year are expected from the Allergan Generics acquisition.
As a leading distributor of generic pharmaceuticals in the U.S., Anda, which Teva acquired from Allergan (NYSE:AGN), expands Teva's distribution network in the country.
Teva's focus for 2017
In 2017, Teva will focus on reducing cost and extracting synergies from the Allergan Generics. Teva estimates the operational synergies and cost reductions to be $1.3 billion in 2017.
Teva will also work on deleveraging its balance sheet and will aim for a debt/EBITDA of 3.64 by the end of 2017.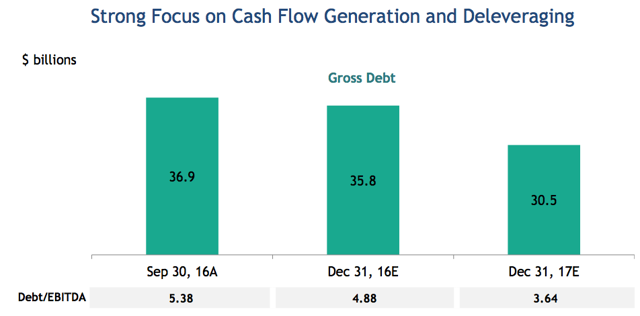 Source: Teva's 2017 business outlook - Slide 15
Strong cash flow generation of $6.3 to 6.7 billion should help tremendously with the deleveraging. Management expects cash flow per share to grow by 9.2% year-over-year in 2017 despite the anticipation of almost 5.5% increase in outstanding shares.
This year, Teva has more than 1,000 new product launches planned globally, which will help boost its top line.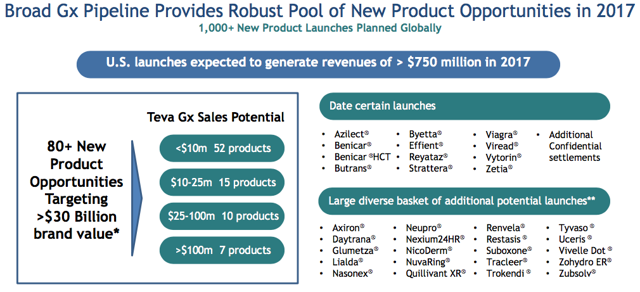 Source: Teva's 2017 business outlook - Slide 11
What's Teva's fair value?
Management's 2016 and 2017 EPS guidance were $5.10-$5.20 and $4.90-$5.30 for 2016 and 2017, respectively. Its 2017 guidance was based on the base case. Accounting for the downside case in Copaxone, Teva's 2017 EPS estimate would be $4.25 to $4.50.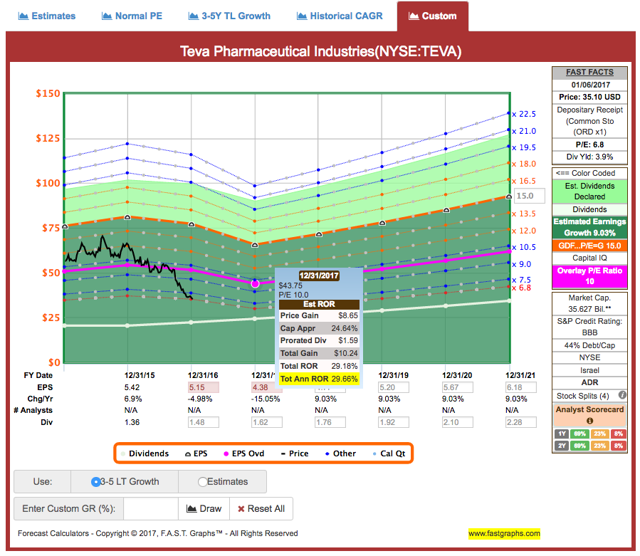 Using the midpoint of these estimates and assuming the shares can reach a P/E of 10, Teva shares would be worth almost $44. At $35, there's a margin of safety of nearly 20%.
What's Teva's upside potential?
Based on management's base cases and assuming Teva can reach a P/E of 10, it can potentially trade between $51 and $55 per share. At $35, there's an upside potential of 45-57%.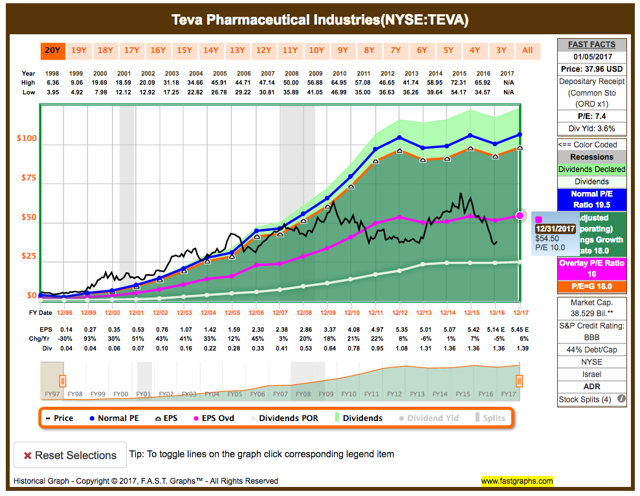 However, accounting for the downside case in Copaxone, there's about a 24% upside potential.
Summary
Teva is the largest generic pharmaceutical manufacturer in the world. Although Teva yields almost 3.9% at $35 per share, there's a 15% withholding tax on its dividend because it's based in Israel.
The conservative estimate is that Teva can potentially trade 24% higher from current levels. The optimistic case is that Teva can trade 45-57% higher from current levels.
Share your thoughts in the comments below
What are your thoughts on Teva?
Which health care companies would you buy right now?
If you like what you've just read, consider following me. Simply click on the "Follow" link at the top of the page to receive an email notification when I publish a new article.
This article first appeared in my premium service, from which my subscribers get priority attention and gain access to my real-time buys and sales. Feel free to try the service for free for two weeks.
Disclaimer: This article is not financial advice but consists of my opinions and is for educational purposes only. Additionally, the information provided is believed to be accurate but is not guaranteed to be so. Please do your own research and due diligence and consult a financial advisor and or tax professional if necessary before making any investment decisions.
Disclosure: I am/we are long AGN, MCK, TEVA.
I wrote this article myself, and it expresses my own opinions. I am not receiving compensation for it (other than from Seeking Alpha). I have no business relationship with any company whose stock is mentioned in this article.