"Patience is a virtue" is the adage I will continue to tell those long Transocean (NYSE:RIG). Offshore drillers are the unfortunate beneficiaries of a cyclical downturn because their higher breakevens cause them to be the last E&Ps to recover. After OPEC and non-OPEC producers announced production cuts, this stock shot up considerably and kept pushing new resistance levels each and every day. While the hype has settled down, the fundamentals since that agreement have not changed and investors need to recognize the significant long-term value at hand with RIG.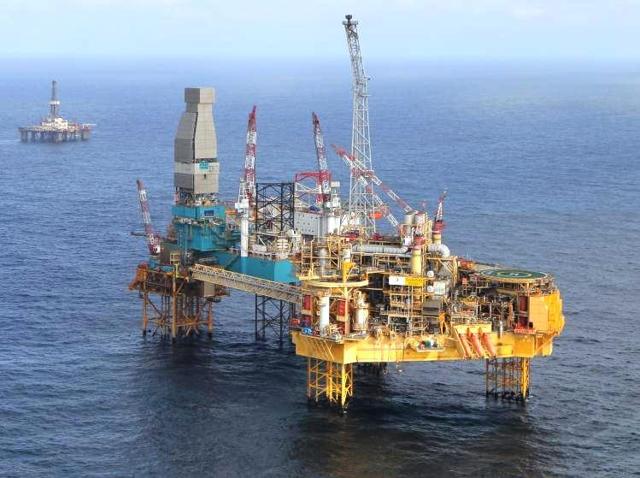 Source: Offshore Energy Today
Gaining Historical Perspective
Would it shock you to know that Transocean used to trade for $130/share? Before we get ahead of ourselves and say that RIG has the potential to put up a 10x return, allow me to provide some historical perspective. Below is a chart of crude oil measured since the beginning of 2002, so effectively the last 15 years. Following this is a chart of RIG over the same time frame.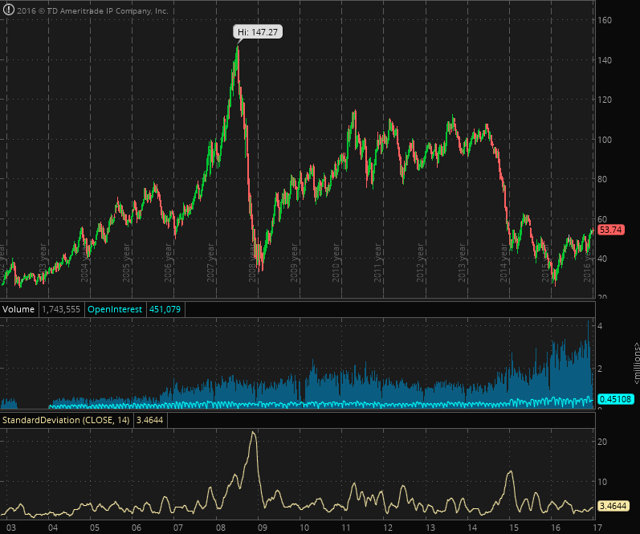 Source: thinkorswim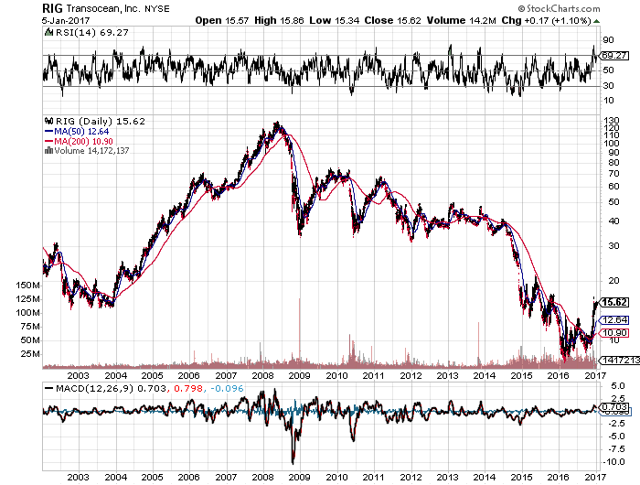 Source: StockCharts
It is my hope that you noticed the stark differences between these two charts. One of the largest crashes for crude ever experienced occurred in 2H 2007, when just about every security on the global markets plummeted. It's quite interesting because RIG didn't fall during this time period and actually continued to increase and actually ended 2007 with a positive return. It wasn't until nearly a year later that the stock started to fall. Thus, the correlation between RIG and crude oil has changed over the past decade. While there was quite obviously a delay for this stock in the first cyclical downturn, there was no delay in the most recent downturn.
What that means for current and prospective shareholders is that the stock's directionality is effectively linked to crude oil prices, so on a day to day basis, the stock will move with crude, ceteris paribus. Need further support of this notion? When the OPEC and non-OPEC deal was announced in Vienna just over a month ago, RIG gapped up over 19%. It shows you how eager market participants are to provide capital to this industry-leading name, but crude fundamentals are the top priority. Based upon historical pricing, I'd say a run to $40 share is achievable in 5 years, provided crude fundamentals stay positive. That's an annualized return of nearly 31.2%.
Advice From A New Year's Perspective
A fresh calendar has a way of providing cathartic experiences to individuals for whatever reason. Time is effectively a construct we've created, so it's quite interesting to see that people so radically adapt their portfolio builds and strategies when the year ticks up one digit. With that being said, January is a fantastic time every year for equity research shops release updates on many of the companies in their coverage universe. Transocean has been on the minds of Evercore ISI and RBC as of late, so I thought it best to break down what they were saying.
Evercore ISI Upgrade
Evercore upgraded Transocean specifically in their note, providing an emphasis on the global fleet lending the company to be an industry leader. It's a solid update, especially with an $18 PT providing some initial upside, as Evercore has made note that potential short-term opportunity will come this company's way. 2017 and 2018 are still going to be recovery years any way you slice it, but the company is making all the necessary moves to keep its fleet intact, maintain quality relationships, and optimize operations.
While the company is trending towards a higher percentage of ultra-deepwater floaters, the company will have enough diversification over the next four years to secure themselves against any one contract setback or further dip in dayrates.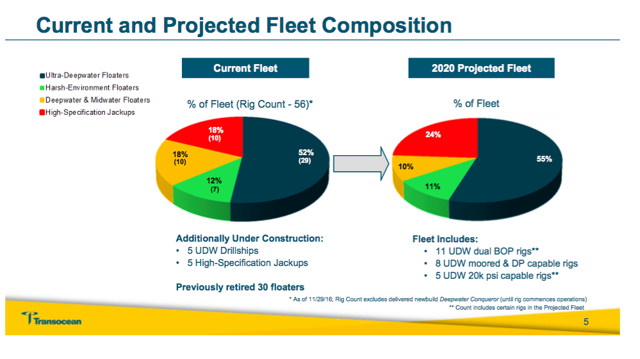 Source: Investor Presentation
RBC Downgrade
RBC broadly downgraded offshore drillers, so it's my inclination to believe that they're looking at the industry's fundamentals rather than company-specific fundamentals. Their primary concern revolves around whether or not crude oil can stay above $50/barrel for the sake of operators in the Gulf of Mexico. As for deepwater operators, which Transocean has a large exposure to, RBC's concern is that $60/barrel is too far off in the short-term. Thus, they're looking to 2018 before this type of drilling sees new contracts and general viability.
I will say that I think it's going to be a bit choppy for Transocean in terms of trading over the next month or so because we're lacking catalysts to push us to the upside in the crude oil market. While you have inventories retracting a bit last week, you have an uptick in the rig count again, which essentially offset each other. With that being said, Transocean is one of the few offshore drillers that can afford to wait. But, even if RBC is right in saying that the industry will be challenged the entire year and Transocean has limited upside, for the company's long-term prospects, I'm not at all worried. On top of an industry leading backlog, they have to one of the best liquidity positions, seen below.
The only real variable in the chart below is the projected operating cash flow, but the company has sensitized it heavily to include a wide range of possibilities. Also, with color on their CapEx budget through 2018 and full repayment of maturities over the next two years, this company still has liquidity of nearly $4 billion, so I can't complain. That's stability for an offshore driller that you don't see all that often.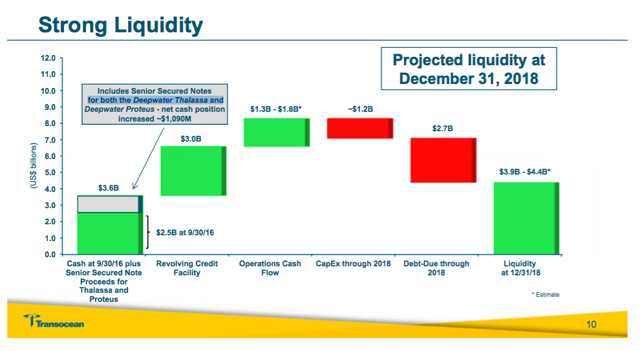 Source: Investor Presentation
Conclusion
I've structured the energy sections of my portfolio such that I have exposure to onshore and offshore E&Ps, as to not limit myself to one class of driller. Transocean is the leading offshore driller, plain and simple. The company has taken significant strides in the last two years to better the business, from higher revenue efficiency to higher EBITDA margins to boosting liquidity. I continue to be long RIG and I think it's an investment that will continue to pay off in months to come. Should any event or trend arise that I deem negative towards the progress of RIG's share price, I will assuredly let the community know.
Disclosure: I am/we are long RIG.
I wrote this article myself, and it expresses my own opinions. I am not receiving compensation for it (other than from Seeking Alpha). I have no business relationship with any company whose stock is mentioned in this article.