Last week was pretty awful for natural gas (UNG) longs. It started with a large gap down due to the expectation of milder weather in January, echoing the move on Monday, 12th December.
Then on Thursday, the EIA data for 30th December rubbed salt in the wounds, reporting 3,311 Bcf in storage. This represented a tiny -49 Bcf draw.
By the time of the release, the February contract was already down 12% for the week and you'd have been forgiven for thinking some traders knew of the bearish figure in advance. To add to the suspicion, the session actually closed up after a 'blink and you'll miss it' move down on the release, pretty much confirming it was priced in in advance.
All in all, a hazardous week, and the February contract for NG futures closed the week -12.8%.
Thankfully I mostly trade technicals and have adopted the tactic of fading the extremes over the winter period. I accept I cannot predict the weather, or EIA reports, but I can attempt to analyze positioning and sentiment. When I see positioning like this: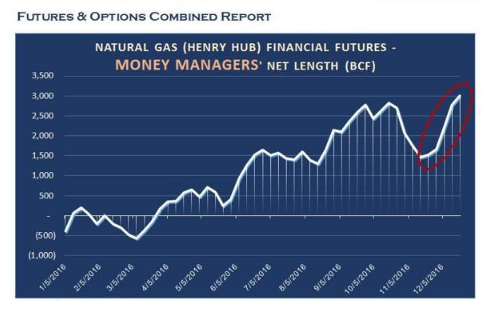 chart by SA contributor Richard Zeits
Combined with a weekly chart like this: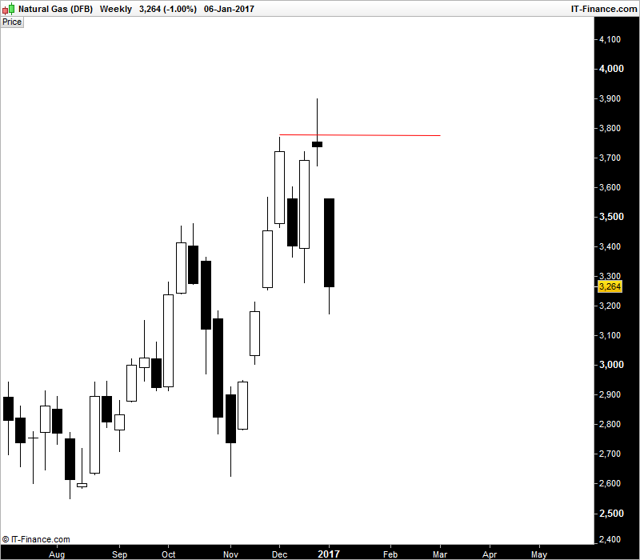 I'd have second thoughts about being long. Actually I was short, but more on that later.
In case you don't know why the two charts above spell trouble for longs, I'll briefly explain. The positioning in the first chart is extreme. Money managers are very long, and there are very few shorts to squeeze out. The weekly chart shows price made new highs, but reversed and closed back below the previous high, forming what is known as a 'doji'. This shows there is too few willing buyers over $3.8 and plenty potential sellers.
With this configuration, any hint of warmer weather is bound to have a large effect on price. If the same weather forecast was reported at a price of $2.5, with opposite positioning and technicals, I'm fairly sure it would not lead to a 12% decline.
In other words the market was much more likely to fall than rise.
Trading The Technicals
In my last article on December 13th I proposed the establishment of a trading range in gas and 'my plan is to fade moves at the extremes of the current range. $3.7-$4 is a sell zone and $2.6-$3 is a buy zone.'
The reasons for this were again technical and a structural comparison to the price action in 2012-2013.
I was short $3.7 and if you follow the comments I closed half on 19th December with the plan to re-short:

I would have rather just stayed short the full position, but the technicals and fundamentals are always changing. I don't just draw a few lines on chart and expect them to play out under every circumstance. The selling did not look impulsive and I had already said in my article, 'it does appear we could get one more high, and a proportionate move could get as high as $4. I am prepared for this move if it happens.'.
I posted this in the comments a few days later -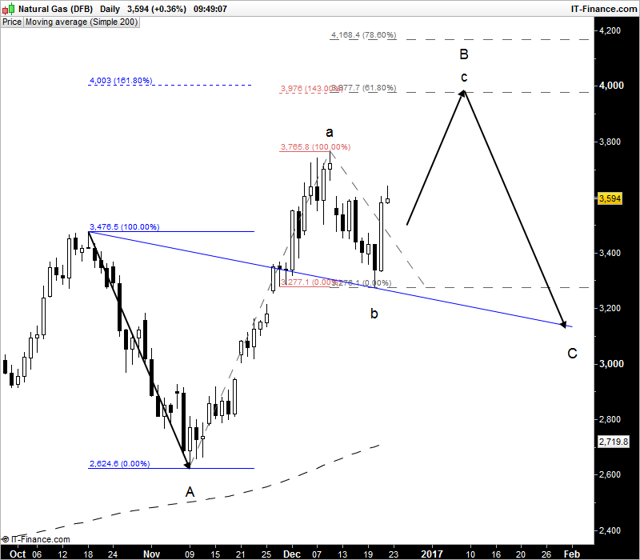 And here is how it played out: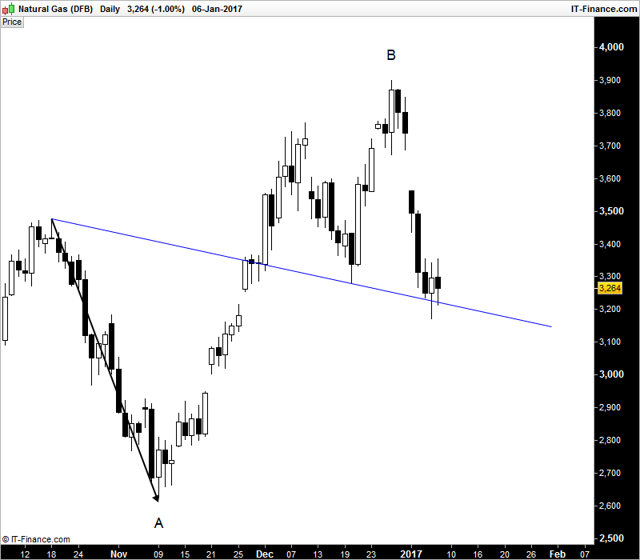 Actually I didn't get filled on additional short orders above $3.9. My original short position rolled over and I closed that at $3.25.
So what now?
Well the bid at last week's lows wasn't exactly strong, but it does look like a cycle of selling finished at the $3.13 gap fill on the continuous chart shown above. The lack of downside follow through on the bearish EIA report ties in with this theory.
I would therefore expect positive catalysts to produce a decent bounce, while negative catalysts should struggle to push price below the $3.13 low for any sustained time. At least in the next week or two.
Medium term there are now a lot of trapped bulls above last week's high and they will likely try to get out of their positions on any rise.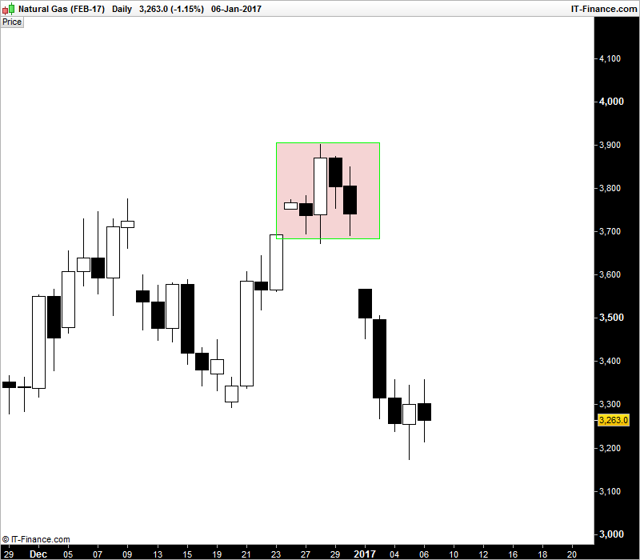 This pattern is called an 'island reversal'. Only a move back to $3.7 will throw the bulls a lifeline, and that usually doesn't happen straight away. Why would it? These bulls bought way too high and the market can force them to capitulate and sell low.
If any bounce looks correctional and weak, I will re-establish shorts around $3.5 for a move to $3 and even the gap fill at around $2.9. I will post my entry in the comments section if I take a position.
If the downside targets of $2.6-$2.9 are hit, I am looking forward to taking a long position in late 2017 futures contracts and holding it all year. The long term trend is very bullish, and the action since the October 2016 high is merely correcting the first phase of the trend. There is a good chance we trade sideways for many months yet, just like oil (USO) did after its initial recovery, but this behavior is healthy.
The ideal situation would be to hold a long term long from under $3 and trade short term swings within the range.
Conclusions
Some bulls are trapped at higher prices and this will cause some resistance. Positioning and technicals are bearish and suggest lower prices are due after a correctional bounce back to the $3.5 area.
Changes in the weather will continue to cause large swings, but I maintain price will be contained in a range, and trades can be taken fading the outer edges of $2.6-$4.
Disclosure: I/we have no positions in any stocks mentioned, but may initiate a short position in UNG over the next 72 hours.
I wrote this article myself, and it expresses my own opinions. I am not receiving compensation for it (other than from Seeking Alpha). I have no business relationship with any company whose stock is mentioned in this article.
Additional disclosure: I trade futures