HISTORICAL PERFORMANCE
When we compare the long-term performance of Berkshire Hathaway Inc (NYSE:BRK.A) (NYSE:BRK.B) stock with the performance of the S&P 500 Index ETF (SPY), we can see Berkshire has strongly outperformed the market index.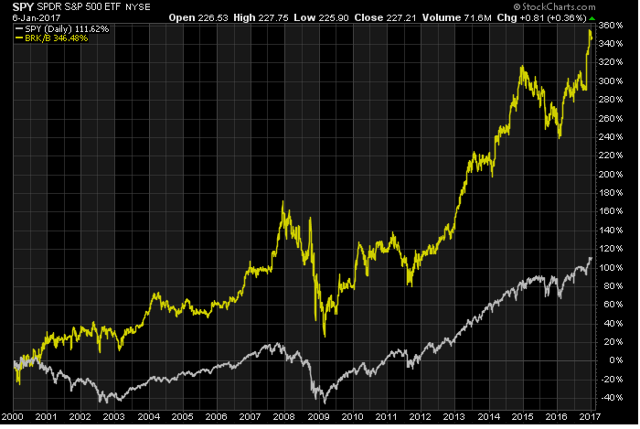 Source: stockcharts.com
Especially in the previous five years, the outperformance was strong (with the exception of 2015):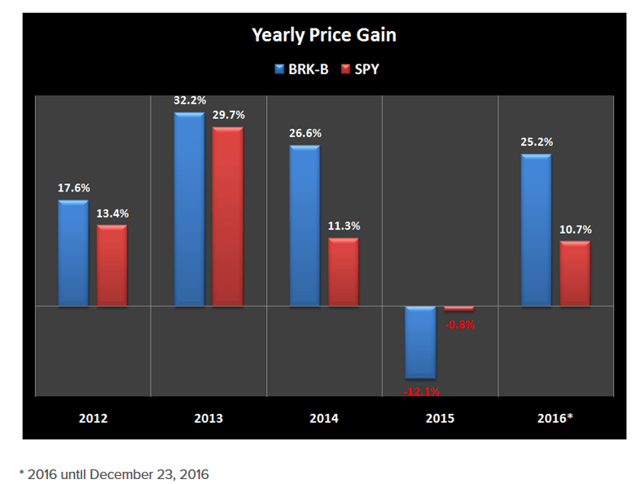 Source: insidermonkey.com
In 2016, Berkshire appreciated strongly in November as Trump was elected the new US president. The anticipation of new investments in the US infrastructure and rising interest rates and increasing inflation rates are all bullish drivers for Berkshire's future earnings flow.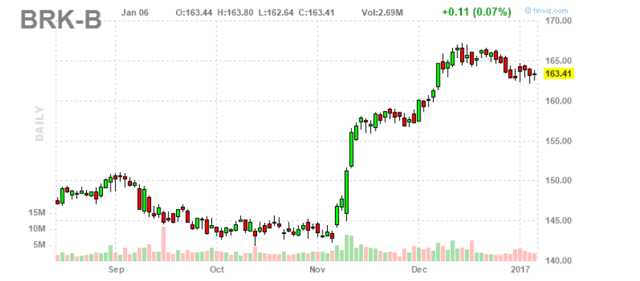 Source: finviz.com
BERKSHIRE IN 2017
The main question now is whether Berkshire will be able to continue this strong outperformance in the coming years.
We believe they will do this for the following reasons:
When people look at Berkshire Hathaway they immediately link it with Warren Buffett and his stock picking skills. While Warren Buffett is still serving Berkshire as CEO, he is currently 86 years old and will not be around forever. We think Berkshire will not lose its earnings power without Warren Buffett in the future. Warren Buffett has already hinted the markets he has chosen his successor to ensure the future of Berkshire Hathaway.
Berkshire currently derives 83% of its revenue from financial products, insurance and financial services. The insurance activities generate large sums of cash through the incoming insurance premiums, which are then invested to make more cash and cover the insurance risk. This has been its historical company model and this will continue in the future.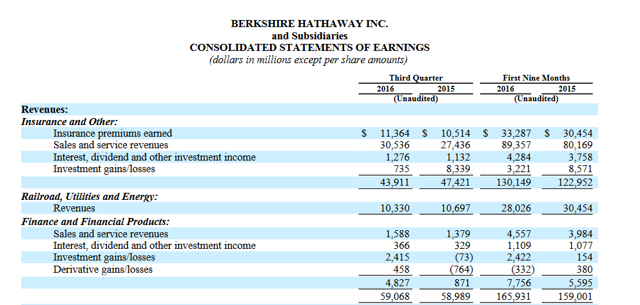 Source: berkshirehathaway.com
The current stock portfolio of Berkshire holds over 45 stock positions in large, diversified, public companies. These companies will benefit (just like Berkshire itself) from the new market conditions (higher inflation, increasing interest rates, deregulation). The benefit here is that you can benefit from this diversification by simply investing your money in Berkshire Hathaway directly.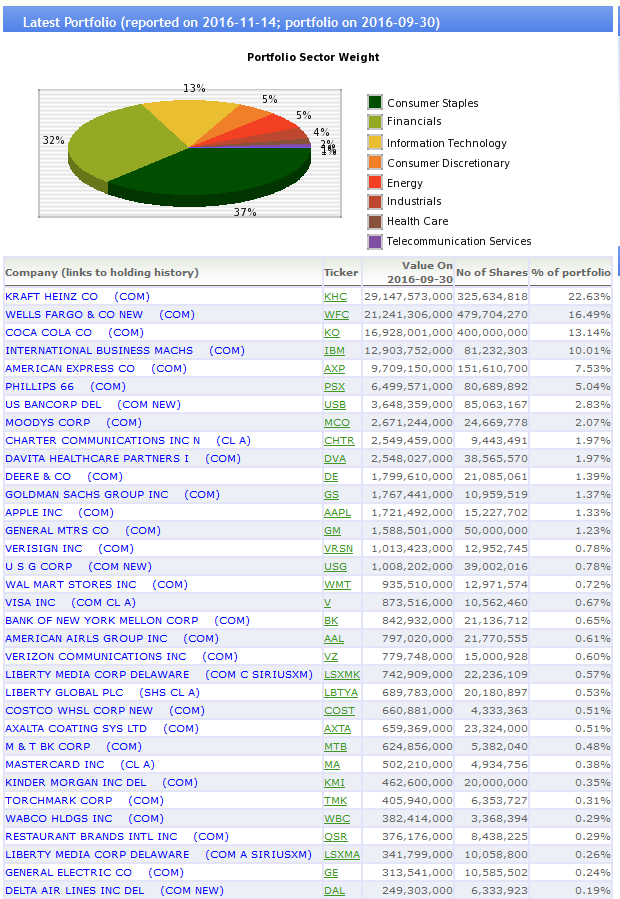 Source: warrenbuffettstockportfolio.com
Berkshire is currently valued at 50% above its book value. This seems reasonable, given the strong earnings growth the company achieved and the anticipation of increasing future revenue. While we suggest buying this stock as cheaply as possible, we don't think the stock price will strongly retrace to its book value.
OPPORTUNITY: Buy call options on Berkshire
Berkshire Hathaway has a long-term track record of outperforming the general stock market. In 2016 this was the case again and we believe it will remain an outperformer in 2017 and in later years.
Considering this historical outperformance and the current market conditions, we think Berkshire remains a strong investment in 2017. The current stock price is 50% above its book value, which seems reasonable given its current position.
For this reason we would suggest initiating a long position in a call option contract on Berkshire. This way you can minimize your required investment to benefit from a rise in the stock price. Here we would suggest to buy a call option contract expiring on 19 January 2018, with a strike price of $150 (around 10% below the latest stock price).
This call option contract gives the holder the right to buy 100 shares of Berkshire for $150 at any time until 19/01/2018. The total cost of the call option contract will be $2,070 ($20.7 per commons share Berkshire Hathaway). The expiration date is 1 year from now, which gives the stock price sufficient time to appreciate in value.
In the graph below, we compare the pay-off of both investments: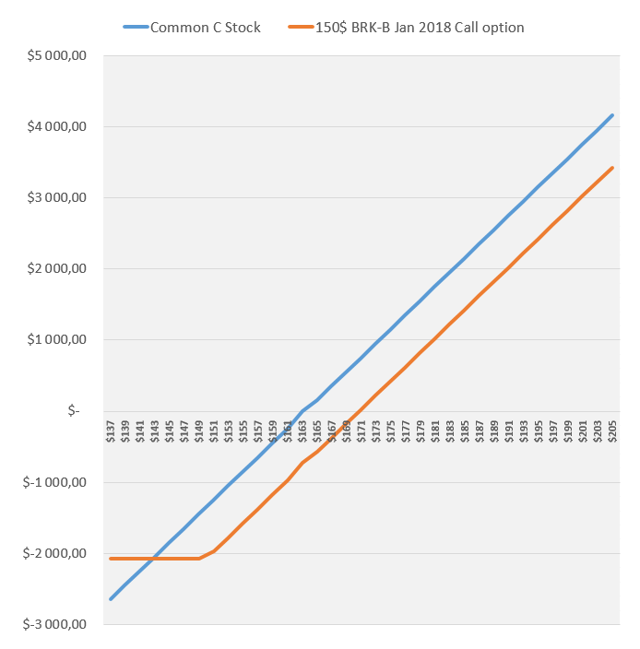 Source: yahoo.finance
Disclosure: I/we have no positions in any stocks mentioned, and no plans to initiate any positions within the next 72 hours.
I wrote this article myself, and it expresses my own opinions. I am not receiving compensation for it (other than from Seeking Alpha). I have no business relationship with any company whose stock is mentioned in this article.