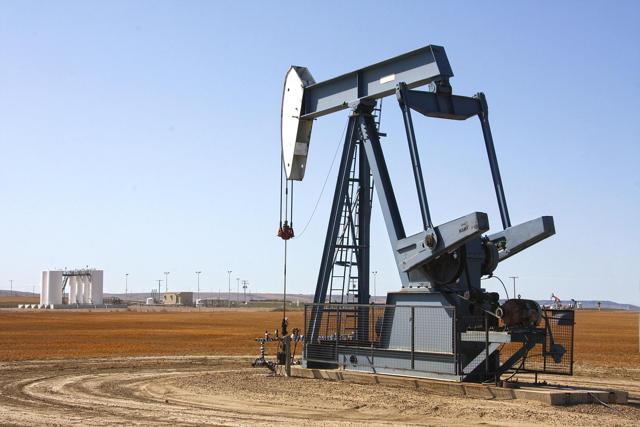 Source: Stock Photo
Not only has the emergence of the U.S. shale industry changed the dynamics of oil and gas imports, it is now about to do the same with exports, which could have an even more dramatic effect on global energy markets. It's one of the major reasons in my opinion Saudi Arabia has been taking drastic steps to diversify its economy, as it's one of the must reliant upon energy to drive revenue.
Even its political and energy competitor Iran is far more diversified economically and is less subject to the whims of the energy market than Saudi Arabia is.
With Canada being used almost like a domestic energy source by the U.S., now accounting for about 43 percent of U.S. oil imports, it has primarily taken share away from Saudi Arabia, which has forced it to compete more in parts of Europe and Asia. This trend away from reliance on OPEC oil should accelerate under a Trump administration, which is good for U.S. producers, but not so much for Saudi Arabia.
Those benefiting the most from this trend will most likely be companies operating closest to the Gulf, and those working out the best methodology and tactics to remove costs and time from the shipping process.
Below you see the lag between adding rigs and oil production. The inevitable rise of U.S. supply will increase exports. And as you can see, it's going to be a lot more than many are expecting.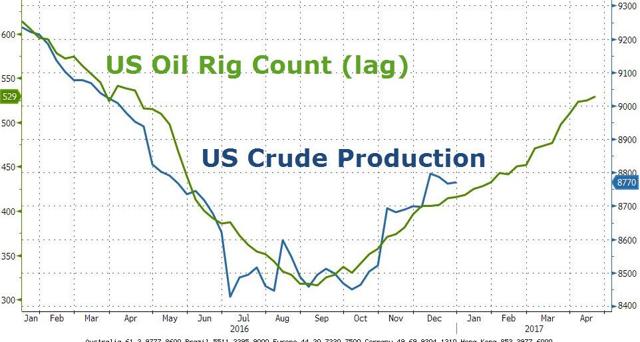 Source: zero hedge
U.S. shale exports
While the EIA doesn't track the locations oil exported from the U.S. comes from, there is one part of the process to look for to at least get a clue as to the strongest probabilities. In that regard, the Gulf refineries provide the best clue.
The key there is that refineries in the Gulf were built to run heavier grade crude. That means shale producers of lighter grade crude can make more money by exporting it to other markets. In turn, that suggests those operating in the Gulf region should get the most out of the U.S. energy export trend breaking forth.
That doesn't necessarily mean other companies operating in more distant locations won't export, only that they won't have the margin competitors have because of the extra costs of transportation, and possibly, storage.
As for the current market leader in exports, that has been Pioneer Resources (NYSE:PXD), which jumped out to the lead because of a loophole in the past export restrictions that allowed for refined petroleum or condensate to be exported. Condensate is a light crude that doesn't go through the entirety of the refining process.
After the removal of the export ban in the latter part of 2015, over the next five months, U.S. crude exports jumped to 501,000 barrels per day, an increase of 9 percent, according to the Energy Information Administration. The EIA added that by September 2016, exports had jumped to 690,000 barrels per day.
Strangely enough, Venezuela, the country with the largest proved crude reserves in the world, was the largest importer of American crude. The island of Curacao accounted for 54,000 barrels of imported oil, says the EIA.
Following Venezuela was the Netherlands, which acquired 39,000 barrels of oil per day, and Japan at 17,000 barrels per day. Other markets exported to included Panama, Israel, France, Germany and China.
The competitive advantage for U.S. exports is they are counted on to be delivered without threat of internal strife or political differences lowering supply. It could happen in the case of politics, but it's highly unlikely when compared against most competitors.
With U.S. exports climbing from about 450,000 per day at the end of 2015 to almost 700,000 per day within nine months, it's easy to see the global threat U.S. crude is becoming.
Some U.S. companies positioned for export growth
Energy producers likely to benefit from this are Exxon Mobil (NYSE:XOM) and ConocoPhillips (NYSE:COP), among the majors, and Marathon Oil (NYSE:MRO), Parsley Energy (NYSE:PE) and Diamondback Energy (NASDAQ:FANG) among smaller producers. Parsley and Diamondback have strong positions in the Permian, while Marathon and ConocoPhillips have staked out a solid position in Eagle Ford.
There are of course a lot of other players that could go the export route as they find markets to sell into. I don't see that being hard for American producers, especially those that have take a lot of the costs out of production. Apache (NYSE:APA) and EOG Resources (NYSE:EOG) are a couple of obvious players there.
Canadian companies
Since America is obviously ramping up production to compete in the global energy market, it has decided to transition its import policies to north of the border, a move that has and will continue to improve the performance of some Canadian companies with a lot of exposure to the Canadian sands.
As I wrote about recently, my two favorites there at this time are Suncor Energy (NYSE:SU) and Cenovus Energy (NYSE:CVE). Even though the Canadian sands have received a lot of negative publicity because of high costs and companies abandoning the region, those like Suncor and Cenovus are there for the long haul and will continue to operate in the region.
The obvious question there is how profitable the companies are while continuing to sell into a relatively low-price market. They've improved in cutting costs, but they still need oil to be sustainably higher in order to exceed expectations.
Since I'm not convinced the production cut deal initiated by OPEC will be able to do that, I'm looking for continual improvement of efficiencies and eventually, for global demand to be the chief catalyst to support the price of oil. That is probably going to take at least a couple of years to materialize.
I think taking positions in either of these companies isn't a bad move, with the caveat investors will have to be patient and in them for the long term.
Generally, the move by the U.S. to boost exports should provide more demand from the U.S. market for imports from Canada. Quality Canadian companies will benefit from this long-term trend.
Other revenue sources
The other major revenue stream increased exports will grow is those providing export services for the industry. In that regard, BP (NYSE:BP), ConocoPhillips, and PetroChina (NYSE:PTR) have taken the lead, with BP appearing to have the advantage at this time.
What American oil is challenged by is the ports it has can only be serviced by smaller tankers. That means they must come in and load the oil and then bring it to larger tankers waiting nearby. Another factor is once the oil is being transported it has to be once again offloaded in order to be shipped to various markets not ordering the full tanker load.
Once oil from the U.S. is imported in larger quantities, this could change, but until then, it takes longer and is more costly to ship than most of its competitors.
BP has been working on solving some of the logistics of these transportation challenges, and in doing so, is positioning itself to generate another nice revenue stream, in addition to its other businesses. The same is true with ConocoPhillips and PetroChina, or any other competitor looking to get a piece of this export business, which is just getting going.
Conclusion
With the U.S. increasing the amount of its exports aggressively, it's quickly changing the face of the global energy industry. I think OPEC in particular will suffer the most as a result, which may be the major impetus behind reversing its decision on how much oil to produce. This is especially true for Saudi Arabia, which is probably the most exposed OPEC country to the impact of U.S. shale competitors.
To me this is why it contradicted itself when asserting it had no answer to the added oil from shale producers. Since the market remains the same as it was before, the conclusion is something else triggered Saudi Arabia to pursue a production cut deal. That something else to me is the competition coming from U.S. exports, where it will not only struggle concerning the price of oil, but in holding on to its existing market share.
I've said consistently for a long time a production cut, if it occurred, would be for the sole purpose of buying time. I still hold to that thesis. What OPEC and others hope by participating in some type of cut, or at least implying they will, is that this will buy time for market demand to grow to the level of organically supporting the price of oil. That, in turn, would represent a more predictable outlook for future revenue and earnings. If demand takes longer than expected to climb to desired levels, which I think is how this will play out, it will put further pressure on OPEC to at least give the appearance of being willing to make more production cuts in order to boost the price of oil.
Once again, not only are improved growth, efficiencies and productivity bringing more oil to market from the U.S. shale industry, but these improvements are now allowing the sector to compete openly on the global market, which will once against disrupt the industry further.
Over time, those companies with significant exposure to shale assets in the U.S. will outperform their peers. The degree to which they do so will be determined by the percentage of their portfolio tied up in shale.
The majority of the oil market hasn't understood yet that the rise in U.S. exports is going to be as disruptive as the rise of the U.S. shale industry in the first place. It's going beyond supplying domestic demand to supplying global demand. That's something that, with the exception of condensates, hasn't happened in any meaningful way. That is about to change.
Disclosure: I/we have no positions in any stocks mentioned, and no plans to initiate any positions within the next 72 hours.
I wrote this article myself, and it expresses my own opinions. I am not receiving compensation for it (other than from Seeking Alpha). I have no business relationship with any company whose stock is mentioned in this article.