This is the fourth article in a series on dividend growth companies in the medical technology space. You can find the first 3 here, here, and here.
Investment Thesis
Becton, Dickinson and Co. (NYSE:BDX) is a large-cap medtech company and a Dividend Aristocrat. It has grown its top-line revenues well over time, and last year completed the large acquisition of CareFusion. Its ROIC is slightly below par when compared to peers, and it is ~17% overvalued based on P/E ratios, but it would merit investment at the right price. I am setting a PT of $150.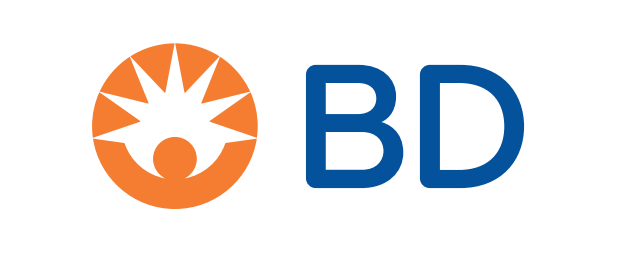 BDX is a 120 year old company in the medtech space that has increased its dividend every year for the last 45 years. This long-term success has rewarded investors with long-term market-beating returns. $10,000 invested in September, 1996 would have compounded at 12.6% per year with dividends reinvested to become nearly $108,000 today.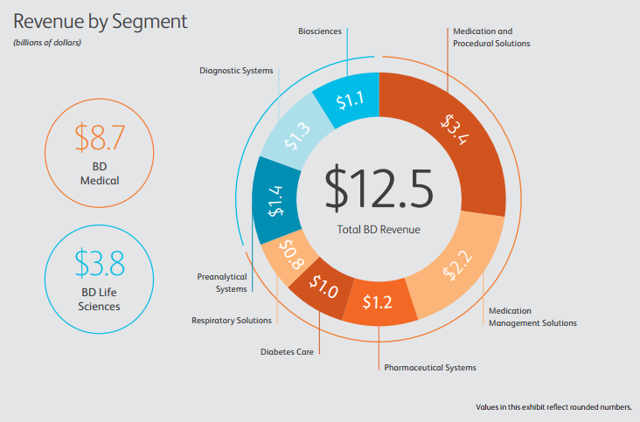 Source: 2016 Annual Report
BDX started as a syringe company back in 1897, and has since grown into a ~$36B company that is engaged in several facets of the healthcare industry. It is well diversified across its product categories, as shown above. The Medical segment comprises the majority of their business, which includes diabetes management, syringes and catheters, IV's and infusion pumps, and automated drug delivery systems. The Life Sciences segment comprises blood collection systems, diagnostic systems, and the biosciences segment, which engages in cell analysis, molecular sequencing, and clinical oncology.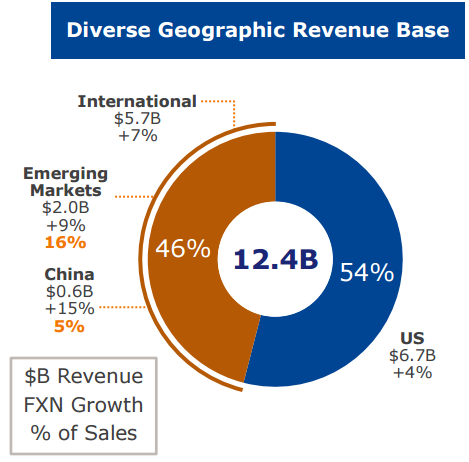 Source: Analyst Presentation
Its revenues from their American operations add up to around 54% of total operations. Emerging markets, including China, account for ~21% and developed international markets account for the remaining 25%. This is well diversified, considering that key international markets will likely grow faster into the future, especially due to the expansion of basic medical care in emerging markets.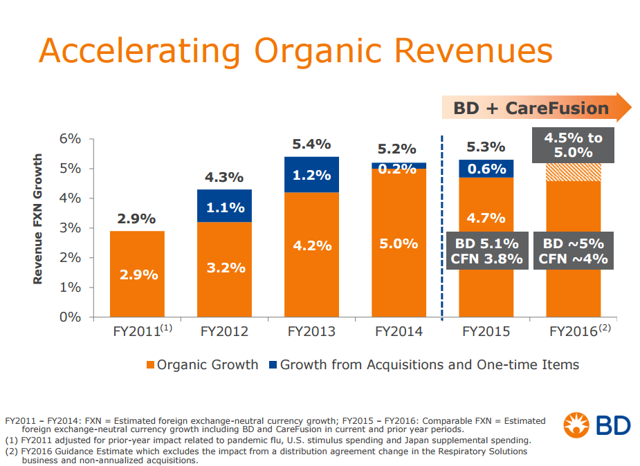 Source: Analyst Presentation
It has become a common theme among the medtech companies I have researched that they have been able to drive organic revenue growth. It is a welcome change from many of the companies I have analyzed, where the only growth is to the bottom line through cutbacks, restructuring, and share buybacks. Top-line growth shows that these companies have the ability to continue investment into their business and it makes earnings growth that much easier to achieve.
In the most recent quarter, BDX was able to drive a 21.4% revenue increase YOY, or 4.3% organically when adjusted for currency effects. They expect to be able to drive 4.5-5% growth in 2017, which is in-line with their growth of the last few years. Earnings grew by 20%, or 29.1% when adjusted for currency, and management projects 2017 earnings to increase 12-13% on a currency-neutral basis.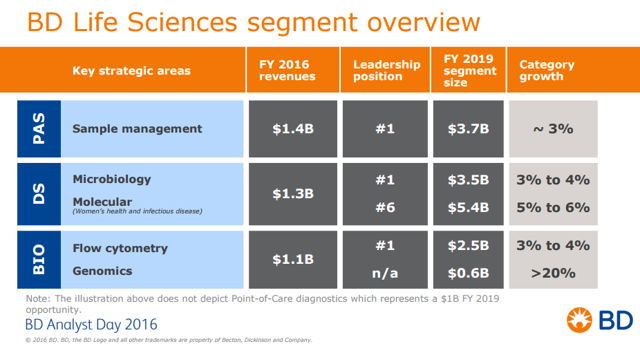 Source: Analyst Presentation
Medtech companies typically benefit from diversification due to the ability to invest earnings in their faster growing segments at any given time. BDX's Life Sciences segment holds a top leadership position in most of its categories. Its genomics business is small, but growing at a >20% rate.
The genomics business deals with the rapidly growing field of DNA sequencing, something which has advanced by leaps and bounds in recent years. In 2003, a full genome sequence took 13 years and cost $2.7B. However, in 2015, it took 6 days and cost only $5K. With the amount of information about disease susceptibility that can be gained from DNA sequencing, it will likely continue to grow in importance in the medical field.
As an example of BDX maintaining their market position, they have been pushing out new products through their extensive pipeline, which is shown below. In the genomics field, in particular, the BD CLiC has reduced sample costs by up to 50%. BDX also has the BD FACSMelody to automate sample sorting and the BD Resolve to label 1,000's of cells for sequencing. These products represent continued advancement towards lab automation and a strong pipeline of new products to maintain market share.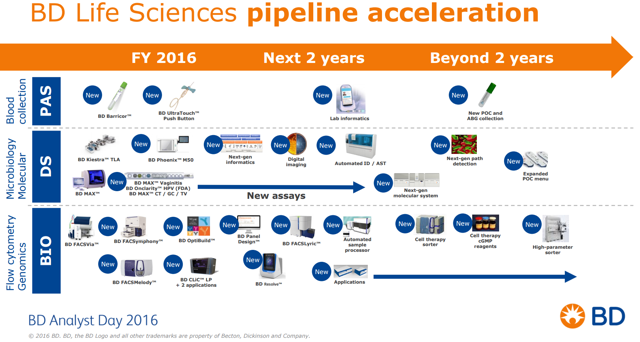 Source: Analyst Presentation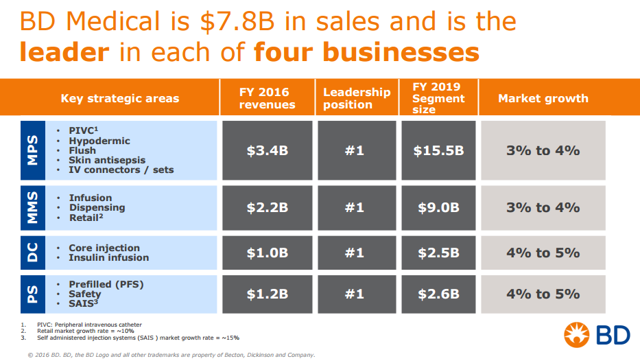 Source: Analyst Presentation
On the Medical side, BDX holds an impressive #1 position in all of their segments. This includes the legacy business that started the company over a century ago with their first syringe. Overall market growth is not going to set the world on fire, but 3-5% annual revenue growth has been more than sufficient for investors in BDX over the last few years.
BDX has a strong pipeline here, as well, not resting on their laurels. The future growth in this category, outside of the well-documented ageing population in developed countries and increased access to healthcare in emerging ones, will likely come from increasing automation in the medical field. Increased connectivity will provide better optimization, national benchmarking, and better organization throughout the process. Additionally, diabetes is a strong growth segment, which I also discussed in my article on Novo Nordisk (NYSE:NVO). Diabetes is an epidemic internationally, and has shown little signs of abating in the near future. At present, BDX estimates ~415M patients worldwide with >60% using insulin without glycemic control. BDX sees this as an emerging $1B opportunity that they will be able to take advantage of into the future.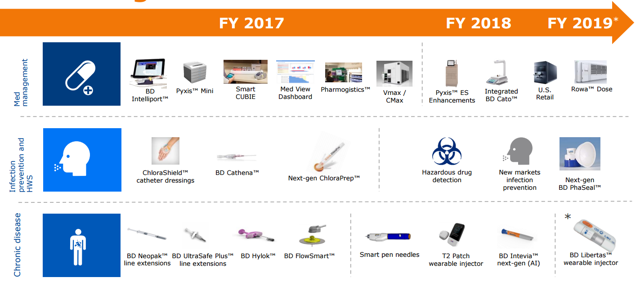 Source: Analyst Presentation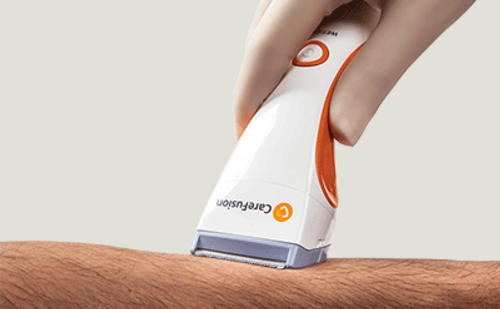 BDX recently transformed itself with the 2014 acquisition of CareFusion. There are plenty of examples of large-scale acquisitions like this one destroying shareholder value in the past, so it's important for strong synergy savings to be unlocked. CareFusion cost BDX $12.2B, using a combination of stock, cash, and unsecured notes. It was originally projected to achieve $250M in synergies, with $170M having been achieved so far. Looking at the chart below, CareFusion and BDX mesh together well to improve the overall offering of both companies. Additionally, CareFusion was much more U.S. based than BDX, pushing BDX's revenues from 42% to 54% in America. Investors should continue to watch the progress being made with integration, and how the combined company's results fare as time goes on.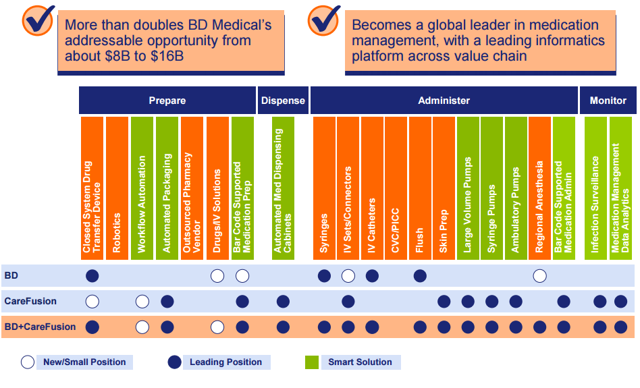 Source: Acquisition Presentation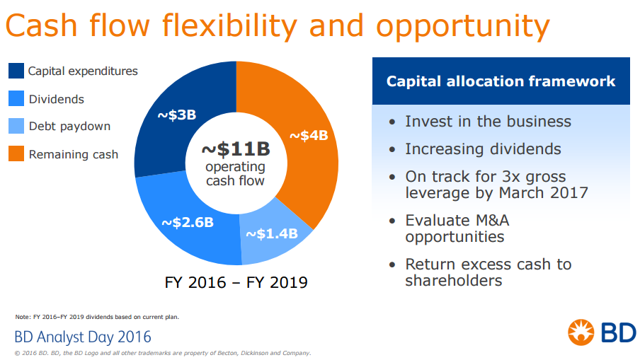 Source: Analyst Presentation
Following the large acquisition of CareFusion, BDX is committed to reducing its debt load vice buying back shares. I wholeheartedly agree with that decision, as I tend to see buybacks as a last option for reinvesting earnings, especially when the company isn't undervalued. Looking above, management has placed emphasis on maintaining the dividend, maintaining their investment-grade credit rating, and paying down debt. I wouldn't expect their dividend growth rate to go any higher than it was this last year, and it could very well be slower if there are any cash flow issues in the near-term. However, I believe that the consistency of BDX's business when combined with its 45-year streak of increasing dividends makes it incredibly likely that BDX will keep the dividend growth coming. It currently yields ~1.74% with a payout ratio of 57.6%, which gives the flexibility to continue hiking the dividend at least as quickly as earnings growth.

Source: David Fish's CCC List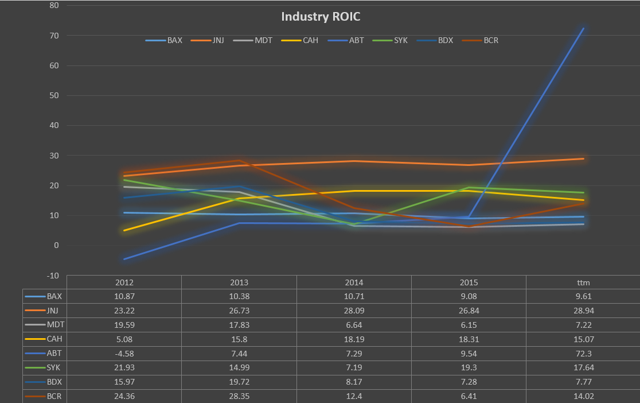 Looking at the chart above, BDX doesn't stand out in its ROIC, specifically in the last few years. I have noted in previous articles that Johnson & Johnson (NYSE:JNJ), Abbott Laboratories (NYSE:ABT), and Cardinal Health (NYSE:CAH) have tended to have stronger ROIC due to having more diverse segments than just medical devices and technology when compared with the pure-play device companies. Stryker (NYSE:SYK) has the strongest returns, followed by C.R. Bard (NYSE:BCR), and then likely BDX after that. BDX has edged out Medtronic (NYSE:MDT) the last few years, but has had an even weaker ROIC than Baxter (NYSE:BAX). If this trend continues, it would tend to show the destruction of shareholder value with management investment since ROIC has been less than WACC.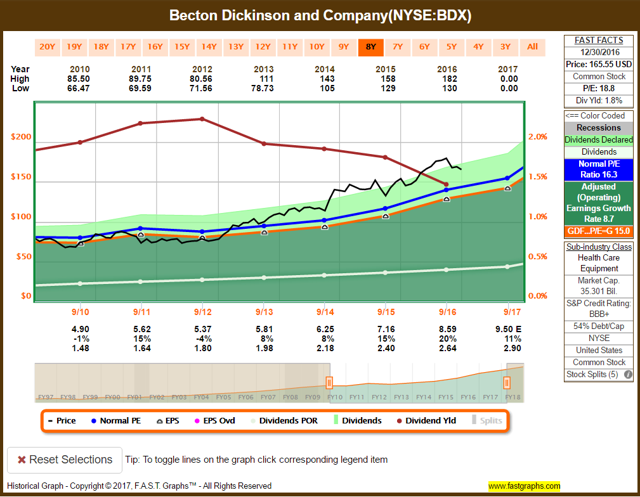 BDX is not grossly overvalued at today's prices. Their yield of 1.74% is not significantly lower than the 5-year average of 1.84%, but their P/E of 19X is about 17% overvalued compared to their 8-year average P/E ratio. When looking at the strong dividend growth companies in the medtech space, I think MDT offers the best value at the moment, with SYK potentially being the strongest choice into the future with their foray into robotics and 3-D printed implants. However, all of the companies I have analyzed are strong companies that would merit investment at the right price. With that being said, I am setting a price target of $150 on BDX for me to become interested in opening a position.
If you liked this article, and would like to read more like it, please click the "Follow" button next to my picture at the top and select Real-time alerts. Thanks for reading.
Financial statistics were sourced from Morningstar, with the charts and tables created by the author, unless otherwise stated. This article is for informational purposes only and represents the author's own opinions. It is not a formal recommendation to buy or sell any stock. Please do your own due diligence and/or consult a financial professional prior to making investment decisions.
Disclosure: I am/we are long JNJ, ABT, CAH, NVO.
I wrote this article myself, and it expresses my own opinions. I am not receiving compensation for it (other than from Seeking Alpha). I have no business relationship with any company whose stock is mentioned in this article.