I wrote a favorable article on Callon Petroleum (NYSE:CPE) back in March 2016 after a press release caught my eye and led me to research the firm in depth. Despite being up 60% since oil crashed in late 2014, which is an incredible feat in and of itself for an E&P company, I recommended the common and preferred equity. As is usually the case before a stock makes a game-changing move, there were many detractors to my argument. For example, this is the last comment on the aforementioned article posted on March 24th:
Common shares are worthless in my opinion. There's no dividends. I would short common and may be buy preferred
That would have been an expensive trade.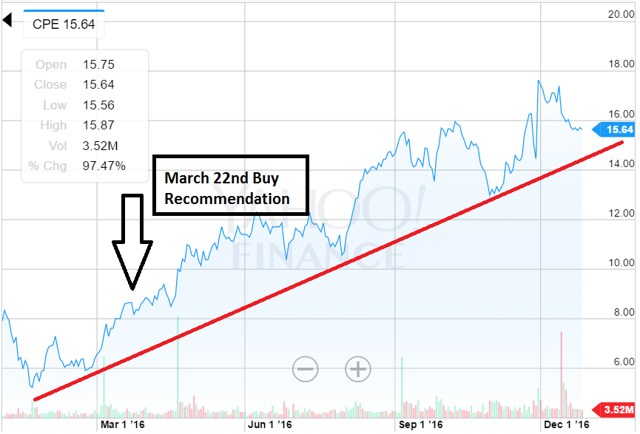 Source: Yahoo Finance and WER
Perhaps very expensive is more accurate given it rose from $8 to over $16 per share in less than a year. I was not able to find a good long-term chart of CPE-A, Callon's preferred stock, but it rose from the $30 range to $53 over a similar time period. The above average coupon of 10%, coupled with the market's confidence in the company, has caused it to trade well over its $50 par value despite the ability for the company to redeem shares at par starting in May 2018. It will be interesting to see where fellow E&P company Gastar's (NYSEMKT:GST) preferred stock GST-B, which pays a 10.75% coupon, ends up. Remember that this recommendation was made when oil was not looking so great, and for a liquids-heavy firm like Callon, the default to blind skepticism is not difficult to understand.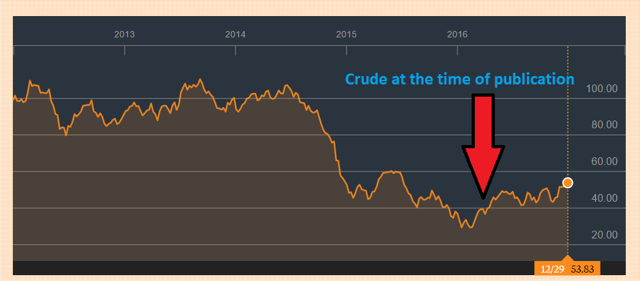 Souce: Bloomberg.com
Back then, it took some guts to recommend oil stocks outside of the integrated majors like Exxon Mobil (NYSE:XOM), BP Plc (NYSE:BP), and Chevron (NYSE:CVX) given most people and investment firms were predicting new lows for oil. I didn't expect oil to test lows due to the fundamentals, but more importantly, I didn't think it would make a material difference for Callon, because it was making the right decisions and was structured to withstand the downturn. Oil retesting lows meant lackluster but positive performance, while higher prices meant significant gains. We've seen that play out even though oil is a long ways from its trading range back in 2014 as shown above.
Justified or Just Lucky?
Sometimes, a stock makes a large upside move without the fundamentals supporting it. We call that many things: change of sentiment, the market "realizing" a firm's potential, sector rotations, et cetera. What we should call it is luck (assuming we are long). Luck goes both ways, so there is nothing wrong with recognizing when it moves in your favor. When it takes place, ring the cash register and go buy a motorbike or fishing boat.

Personally, I like the Ducati 1198 in white, but that's just me. All the legendary stock investment opportunities of the past have something in common - once up several hundred percent, they continued to rise and multiply in value. The original Dell Technologies (DVMT), Berkshire Hathaway (BRK.A, BRK.B), The Coca-Cola Company (NYSE:KO) and Exxon Mobil come to mind. The question is whether relatively small Callon Petroleum is positioned to continue creating value for shareholders or if we should thank the market, take profits, and decide which color motorbike to buy (don't tell my Honda RC51 I'm thinking of replacing her with the above Ducati).
There are a few characteristics of Callon that need to prove true in order for the gains to make sense and additional upside to exist:
Low leverage and an overall strong balance sheet.
Acreage in areas with low operational breakeven for the most economic hydrocarbons. This will likely be in the STACK/SCOOP, Eagle Ford Shale, or Permian Basin. There are smaller basins with favorable economics, but these are the heavyweights.
Drilling results and activity must show not only impressive individual well performance and economics, but production growth at the firm level. We need both.
A reasonable valuation despite recent gains. We should not necessarily expect a steal of a deal, but we need a fair valuation to work with.
These are not easy hurdles to clear. EOG Resources (NYSE:EOG) has heavy exposure in resilient areas like the Eagle Ford, extremely impressive drilling results and economics, and a rock-solid balance sheet, but its valuation bakes in significant production growth and/or higher oil prices. Let's get to work and see where Callon stands.
Balance Sheet and Liquidity
With 161 million shares outstanding, Callon's market capitalization at the current $16 per share is $3.2 billion. For context, the stock would trade at $31 per share if it grew to a mere 10% of ConocoPhillips' (NYSE:COP) market capitalization, the largest upstream E&P company in the U.S. This kind of comparison can be useful to gauge what is realistic. (Callon is a good company, but no one should expect it to develop into an integrated major like Exxon or BP.)
Callon has $500 million in liquidity, including ~$100 million in cash, but that's an easy number to toss around without knowing what it really means. There are a few factors to consider when evaluating an oil company's liquidity. First, what is its net debt position? At only $300 million, that $500 million is almost enough to pay off its net debt twice over. The firm did issue $400 million in senior notes included in that figure, but they do not mature until 2024. By then we'll probably have another oil crash to contend with. In fact, it is so favorable that we don't really need to concern ourselves with the firm's maturity schedule, though we'd need to if existing liquidity were substantially lower than outstanding net debt.
With low debt, what else do we need to worry about? For a company dependent on high production growth rates to justify its valuation, we need to ensure its capital expenditures can be reliably satisfied by cash flow, and if worst comes to worst, some other tool such as a line of credit. We'll cover this in detail later in the article, but the firm's planned CapEx for years 2017 and 2018 totals $590 million. That's a strong position on its own, but let's go through its acreage and drilling performance in order to determine to what degree its expenditures are likely to be satisfied by cash flow.
Acreage Position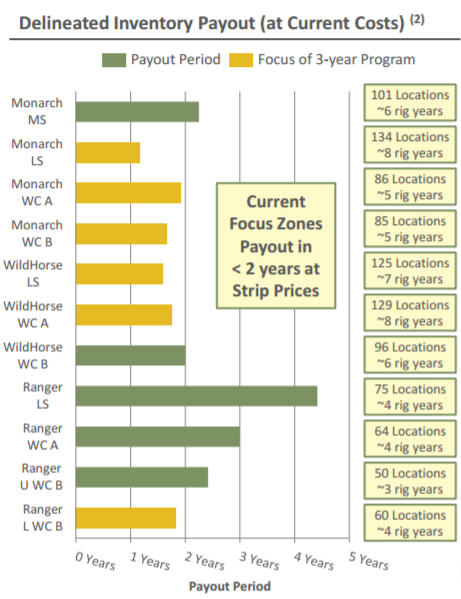 Source: Callon Petroleum 3Q16 Earnings Presentation
This one is easy: Callon is a pure play Permian Basin E&P company. As of now, this is the best position in the United States and among the best internationally outside of assets owned by national oil companies, e.g., the Ghawar Field in Saudi Arabia (maybe we'll get to invest in that company as well in the near future). Property values have soared in the Permian due to recent advancements in hitting new and multiple pay zones, coupled with favorable geology and an extremely long drilling history dating back to 1921. I encourage readers to skim over this historical analysis of the area: "The Imperishable Permian Basin". If Callon hits an unexpected road block, another benefit of these assets is that they are relatively easy to sell at good valuations.
Drilling Activity and Economics
Drilling efficiency in terms of frac fluid design, lateral length, downhole pressures, the number of stages, etc., can get quite detailed. Since we are not testing Callon solely from an engineering perspective (I did that plenty in graduate school), we'll evaluate the statistics that count from an investment point of view. From 2014 through Q3 2016, the company has achieved over a 40% reduction in lease operating expenses ("LOEs"). Given Callon's substantial recent appreciation, let's double check that impressive figure against its peer group to make sure it is performing how it should.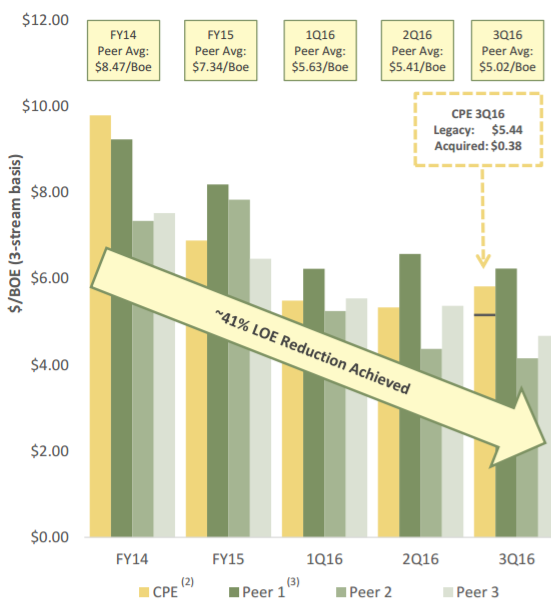 Source: CPE
There a couple takeaways from this chart. Although we do not know who these "mysterious" Midland peer firms are, it is a fairly safe bet they are, on average, closer in scale to Newfield Exploration Company (NYSE:NFX) and Pioneer Natural Resources (NYSE:PXD) rather than small caps. These large independents have led the industry in economic efficiency and are a tough group to beat. Even Exxon and Chevron cannot match their individual well economics. Callon trailed them back in 2014, but has been closer to the middle of the pack throughout 2016. Its gain in efficency may have marginally beat its peers, but that's partially attributable to the fact it started closer to $10/bbl in LEOs in 2014, while its competitors were already well under $9/bbl.
In order for Callon to not only have held its ground but tripled since the downturn, it must have maintained margins and increased production; otherwise, the math simply does not work and we should consider taking profits.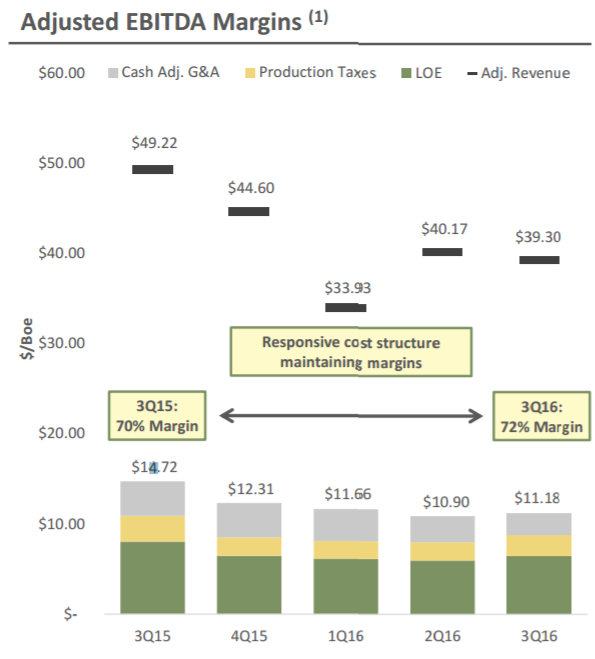 Source: CPE
Although metrics like "Adjusted EBITDA" make me nervous due to selection bias by management, we can clearly see that Callon has maintained a very flat, low, and overall declining cost structure. The chart excludes interest expense, but that is not as critical for the company due to its low leverage. We'd also need to include maintenance capital expenditures to this to reach the "true" breakeven. This is not possible to estimate with great precision, but including both interest and estimates maintenance capital expenditures, Callon generates approximately $20-22/bbl in cash flow at $40/bbl WTI. While not quite as good as that of an industry leader like EOG, it's still very strong.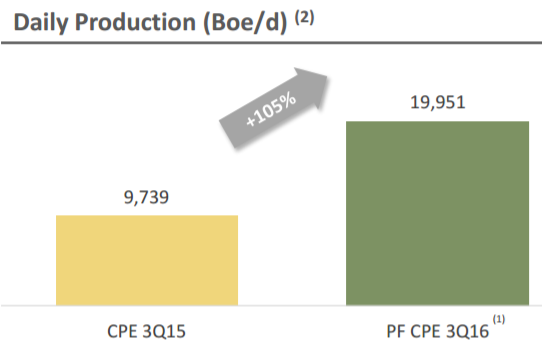 Source: CPE
Callon walks the walk. Production has more than doubled in the last year. We are starting to see why the stock has gained 300% during the crisis: margins are resilient, the balance sheet has stayed strong, all while production growth has skyrocketed.
Remaining the skeptical investors we are, what if Callon is drilling its admittedly great acreage dry and is forced to acquire additional in the near future with potentially expensive financing and at uneconomic land prices?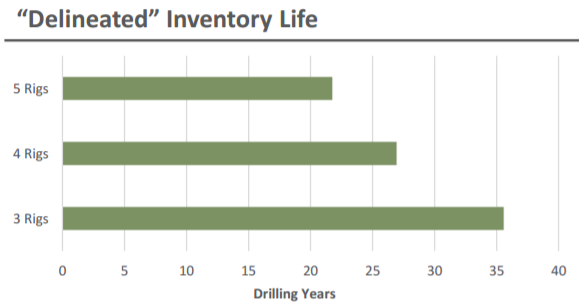 Source: CPE
The firm has recently increased to the 4-5 rig level, but even at this aggressive drilling rate, it has two decades of inventory. We are doing our best to find a flaw in CPE's business, but this is not an area of concern either.
Reliability of Management
Another factor I consider is management's guidance versus what actually occurs. Those who invested heavily in the upstream master limited partnership ("MLP") space know the importance of this, as CEOs of firms like EV Energy Partners (EVEP) and Vanguard Natural Resources (NYSE:VNR) practically swore on their children's lives that distributions wouldn't be cut, only to slash them to zero the very next quarter. Management's credibility matters.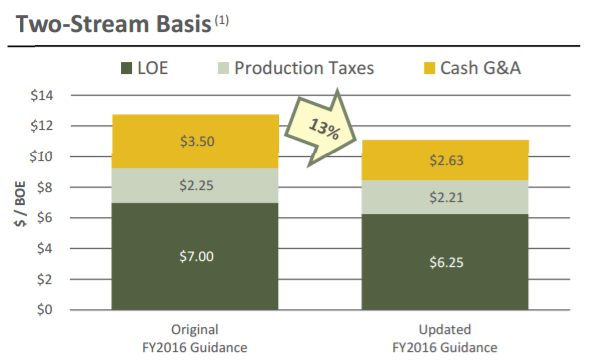 Source: CPE
Not only have costs come in 13% lower than expected as shown above, but production was a full 31% higher than the midpoint provided by management. While impressive on the surface, that only matters if the firm spent the right amount to make it happen. Operating CapEx of $140 million was also in line with expectations, so we are good there too. There are very few oil & gas companies increasing production above expected rates while also surpassing targeted cost savings. M&A activity muddies the waters, but overall, Callon achieves a good score here.
Easier Said Then Done: Valuation Time
This is part art and part science, regardless of what your CFA materials or know-it-all buddy has told you. For an upstream oil & gas company, we must see growth in production, and economical growth at that. We've witnessed Callon's huge gains in volumes recently, but what about the future? After all, stocks represent future cash flows discounted to present value, not what the firm has done in the past.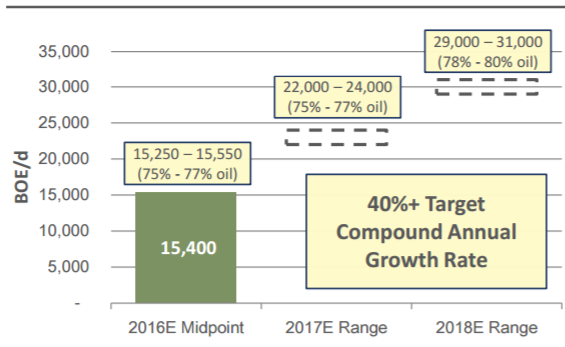 Source: CPE
A 40% compound annual growth rate ("CAGR") is no joke. But why should we trust management? How do we know if they can really execute on such aggressive targets? We don't. That being said, we can at least make sure it is possible. Does Callon have enough acreage to hit these numbers? Yes. Is the company currently and likely to be profitable in the future given potentially low and volatile oil prices? Yes, it's proven it is capable of this. Is its balance sheet and liquidity able to withstand the capital expenditures associated with this projected growth and subsequently capital-intensive drilling? While we cannot be sure, the company has taken all reasonable measures to make this possible and has been reliable in the past. We can also make a more precise judgment by analyzing the firm's own estimates of required capital going forward.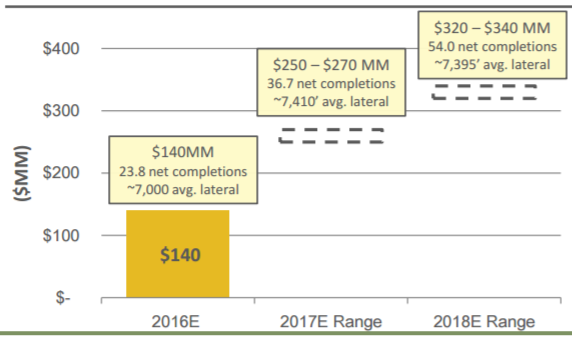 Source: CPE
The average well cost and aggregate annual CapEx figures are reasonable. They will actually come in lower if past patterns of costs relative to guidance come to fruition. With $500 million in liquidity, net debt of $300 million, its first major debt maturity not until 2024, and moderate profitability at $40/bbl WTI and above, even a skeptic would agree that Callon shouldn't have any issues meeting these CapEx requirements.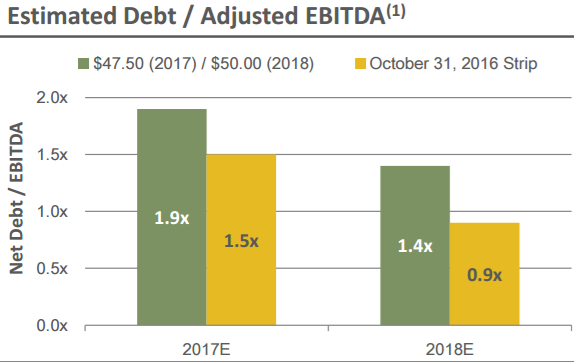 Source: CPE
In fact, at strip prices as of October 31st, which are lower for oil, natural gas, and natural gas liquids versus today, Callon's anticipated spending plan results in a reduction in net debt to EBITDA of ~40% by the end of 2018. This includes the capex associated with increasing production at an incredible 40% CAGR.
What's left is cash flow estimates relative to the firm's capitalization. Using 2017's midpoint of 23,000 BOE/d, given that it will be approximately 76% liquids with little variance, and assuming a conservative $20/bbl in cash flow, lands us at $168 million annually, while 2018 comes in at $219 million. The subsequent price earnings ratios ("P/E") using today's market cap are 19 for this year and 15 for 2018. This is reasonable given the firm's low and declining leverage.
There are a few things worth mentioning about this imperfect calculation. 76% liquids is not 100%, but we'll use all oil, which is more valuable, even on a barrel of equivalent basis, than natural gas and NGLs. Offsetting this is the higher liquids percentage and lower estimated leverage in the future. CapEx includes operating and growth. Callon needs to spend around $50-$100 million to maintain existing production, so that should, and is, incorporated into my estimates. Growth capex is a gray area, because while the firm does require it to grow, it does not need it to maintain production levels. Because of this, only a portion of the company's estimated spending plan is subtracted from revenues to reach sustainable cash flow. This makes sense, because if a private equity firm or competitor, for example, were to buy Callon, it wouldn't include these costs either.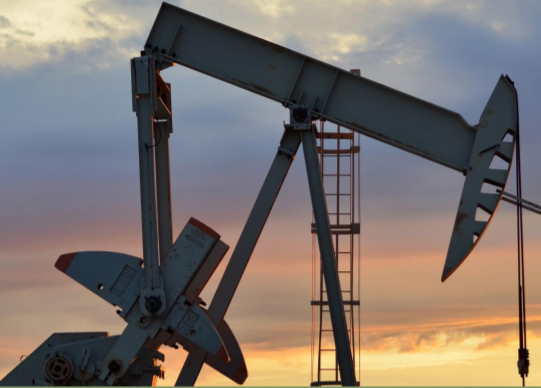 Source: Callon Petroleum 3Q16 Earnings Presentation
The real story comes using higher oil prices like today's. CPE's cash flow at an average of $55/bbl WTI rises to $294 million and $393 million for this year and next, respectively. Now Callon would trade with a P/Es of 10.9 this year and 8.1 in 2018. Raising it further to $65/bbl WTI, but increasing costs 10% to reflect the likelihood of a recovery in service costs, cash flow over the next two years increases to $361 million and $471 million. Both years' P/Es are now deep in the single digits (8.9 and 6.8), which is not probable given the firm's balance sheet, asset quality, and growth rate. To gauge its potential upside, let's apply a conservative 12 multiple and an average of $65/bbl in 2018, with all other things equal. Callon would rise from today's share price of $16 to $28.26 in less than two years. Attaching a 16 multiple or assuming oil averages $10/bbl higher than the previous example, both of which provide similar upside, raises that figure to $37.68 per share, which is well over twice the current stock price.
Some companies, particularly MLPs such as Memorial Production Partners (NASDAQ:MEMP), hedged production volumes far out in the future. Our cash flow estimates aren't as impactful if Callon has hedged all its oil production at lower prices.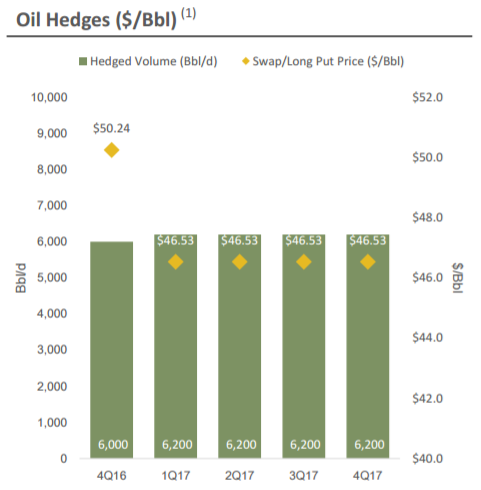 Source: Callon Petroleum 3Q16 Earnings Presentation
While the company has hedged about a third of its production for this year in the mid- to high $40/bbl range, it is not enough to change the outcome of our analysis, particularly considering it is future cash flows rather than those generated this year that are important.
The point of this exercise is not to predict where Callon will trade, as there are too many unknowns, such as what multiple the market will give and where oil will trade. What it does accomplish, however, is that short of oil going well under $40/bbl and staying there or management massively overstating production guidance nearly to the point of fraud, Callon is at worst fairly valued today, and surprisingly well positioned to double again in a few short years if oil manages to hold at or exceed strip pricing.
Disclosure: I am/we are long GST-A, VTR, HCP, HTA, OHI, DOC, MAIN, BXMT, BNS, LGCYO, CF, EPD, MMP, CF, EVEP, TD, RY, HMC, CCP, MRCC, LGCY. I wrote this article myself, and it expresses my own opinions. I am not receiving compensation for it (other than from Seeking Alpha). I have no business relationship with any company whose stock is mentioned in this article.
Additional disclosure: WER has positions in EVEP debt only and LGCY debt and preferred only. WER does not own the common units in either. WER is short Deere & Company (DE). The author may enter into long or short positions in any part of the capital structure of any of the firms mentioned in this article. Readers should always conduct their own independent due diligence and not rely upon information or opinions provided by the author.
Editor's Note: This article covers one or more microcap stocks. Please be aware of the risks associated with these stocks.