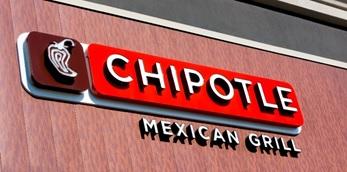 It is often said that the best investment opportunities present themselves when good companies run into short-term trouble. Chipotle (NYSE:CMG) provides such an opportunity today. Chipotle IPO'd in 2006, and has consistently performed well until 2015, when widely reported health safety issues led to steep traffic declines. This has led to a significant fall in comparable restaurant sales to a low of 36.4% in the beginning of 2016. Much has been written about the health safety issues. I will not delve deeper into that, as it has been widely covered by several authors on this site.
As a result of the traffic decline and the need for more rigorous supply chain requirements, the operating performance of Chipotle has suffered. Operating margins have fallen from the high twenties to the low teens; declining from 28.3% to 14.1% in the last quarter. The company has had negative same-store sales growth for each of the past three quarters, while investors were used to the company consistently beating the Street's estimates for the metric and posting double-digit percentage growth in the metric quarter after quarter. In an effort to regain lost traffic, management implemented a loyalty program and increased the amount of promotions. Due to the deteriorating operating performance of Chipotle, shares have fallen from a high of $757 to the current price of $398.
While the decline in the stock price is certainly justified, it shouldn't be ruled out that Chipotle recovers (at least partly) its historical unit economics. Bears are pointing at the company's stretched valuation numbers; however, taking a longer-term view, the growth story remains intact. This has been an exceptionally bad year for Chipotle. The company, however, has a proven track record in creating value for its investors. It also shouldn't be forgotten that Chipotle is still opening restaurants at a double-digit rate, with another 200 new restaurant openings for 2017. Unit economics (average restaurant sales) have taken a huge hit, falling from a high of $2.4 million to the current $1.9 million. This metric will likely start to improve from 2017 onwards on the back of an improvement in traffic. Considering the fact that it costs Chipotle around $800k to open a new restaurant, and the company's ability to generate first year sales between $1.6 million and $1.9 million, the unit economics remain impressive.
1. Historical financials

Source: company filings
Taking a look at the historical financials, it becomes clear that the company was firing on all cylinders until the E.Coli outbreak in Q4 2015. Both revenue and EPS have grown at a double-digit rate until 2015. Today, average store unit volumes are at around $2.0 million and store-level margins at 15%. The lower margin consists of one-time costs (such as the use of promotions), investments in labor and supply chain (which are permanently lost in my eyes), but most of the lower margin is the result of volume deleverage due to a decline in traffic. Normally, Chipotle would pass on higher costs with higher pricing, but considering the drop in same-store sales, it is very unlikely that the company will decide to increase prices. The company does have pricing power. In 2014, it posted full-year comparable sales growth of 16.1%, about half of which was driven by price increases. Currently, Chipotle is focused on increasing restaurant traffic. It could, however, decide to raise prices in the future. Because of the structural margin headwinds due to increased costs and labor inflation, Chipotle will likely not fully recover margins until 2020. I expect a slow recovery in AUVs from 2017 onwards.
The company has historically had great store-level economics. Before the food safety scandals, the average Chipotle restaurant generated over $2.5 million in sales and generated 28% in restaurant-level operating margins. Bears think that Chipotle will never restore its historical unit economics. They note that in the age of social media, consumers won't forget about the health safety scandal. I disagree with the bears and think that it is human nature to forget about these kind of incidents after enough time has passed. Historically, this has been the case with incidents at Taco Bell, KFC and Jack In The Box. It is possible that Chipotle will not achieve $2.5 million in AUVs again anytime soon, but even with lower AUVs, the unit economics of Chipotle remain impressive. Opening new restaurants is extremely profitable for the company, as it has a very high ROIC. In the long run, Chipotle could grow to a total of 4000-5000 restaurants.
Long-Term Growth
Chipotle still has a lot of room to grow its store count. This growth creates significant value for the company because of its high return on invested capital (around 40% before the scandal). It only costs the company around $800k to open a new restaurant. Recently, Chipotle came up with a new model for its store where it will only cost $760K. New Chipotle restaurants have been able to generate $1.6 million to $1.9 million in sales in the first year, growing to $2.2 million+ within 2 years. If a new restaurant has first-year sales of $1.6 million and an operating margin of 15%, the restaurant generates $146k in after-tax profit. If you divide this by $760K to open a new restaurant, you get a return on capital of 19.2% in the first year alone. If the restaurant grows to a mature level of sales, this return on capital will be even higher.
Another argument brought up by the bears is that the growth thesis of Chipotle is broken. According to them, Chipotle has already penetrated the highest return market, and new store openings will have lower returns on capital. I tend to disagree. According to the management, the target size of Chipotle is 4,000+ restaurants in at least 15 years. Most of these restaurants are projected to be in the US and Chipotle's presence internationally is still small. I am a little skeptical about Chipotle's growth opportunities internationally due to cultural differences; however, the company still has a lot of room to grow in the US alone. If Chipotle is able to scale up other concepts such as its burger chain Tasty Made, this will only add to its growth runway. The target of 4,000+ restaurants is certainly achievable if you consider the fact that there are over 25,000 Subways, 14,000 McDonald's, and 6,500 Taco Bells in the US. Over the past 10 years, the company has grown its store count at a double-digit rate every year. In my eyes, Chipotle will continue to expand with around 200 new restaurants a year in the foreseeable future, this would mean that there will be around 3,000 restaurants in 2020.
Valuation
If you take management's guidance of Chipotle earning $10 per share, the stock is trading for a forward P/E of around 40. I do think this is a very ambitious target by management. In my own financial model, I see Chipotle earning $8.55 per share in 2017. This would bring the forward P/E to 46. This is far from cheap, but sometimes you do have to pay up for a quality business. CMG has historically traded at a trailing P/E of around 40/50, which is supported by the average growth in operating income of around 20%. I don't think the stock is cheap; however, I do think the current stock price is close to the bottom and that long-term investors looking for an attractive growth stock should start scaling in slowly at current prices. My financial model has Chipotle earning $12.37 per share in 2018. Putting a multiple of 40 on that brings me to a target price of $495 in the next twelve months, which would imply a return of around 25%. I wouldn't say Chipotle is a screaming buy, I do think, however, that it is a quality business with a long runway to grow. The company's unit economics are unmatched in the industry, and the stock will therefore often trade for a premium.
The stock has been trying to base at around the $400 level after dropping of its highs in the $700s. The stock price is going to be sensitive in the coming quarters. If the recovery will progress slower than expected, the stock could likely fall somewhat further.
2. Chart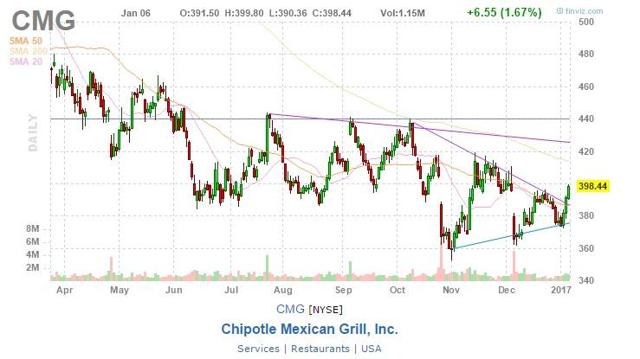 Source: finviz
Comp. sales and earnings are significantly down for the year. Chipotle, however, has increased spending on promotions to bring back customer traffic. The current earnings are therefore not indicative for the earning power of the company. Margins have taken a significant hit, but will likely recover in the coming years. Bears are pointing at the excessive P/E for the current year as the company will only earn an EPS of around $1.30 in 2016. This, however, is only a snapshot in time as earnings will recover in the coming years due to new store openings and a recovery in traffic.
My EPS estimate of $8.55 for 2017 is slightly lower than consensus of $9.06, I anticipate costs to remain at elevated levels, labor costs will on average be higher in the coming years due to volume deleverage and minimum wage pressure. Before the outbreaks, labor costs were about 23% of revenue. In the last quarter, this was 27%. For the coming quarters, I have assumed labor costs to be around 25% of revenue, as traffic will slowly increase again. Another assumption I made is that Chipotle will open 200 new restaurants in both 2017 and 2018. Average restaurant sales increase in the low-single digits in my model, getting to $2.09 million for 2017 and $2.30 in 2018. I have held food, beverage and packaging costs constant at 35% of revenue. I have also assumed there are no additional buybacks.
3. Financial model

Source: own work
Conclusion
Chipotle is a high quality company that had significant headwinds in 2015/2016 due to the food scandals. The company will likely recover in time. This will, however, take some time. Chipotle still has a lot of room to grow its store base, due to its high return on invested capital. This expansion adds a lot of value. I think Chipotle will slowly recover due to an increase in traffic and margins. Chipotle still has a premium valuation and could see some further downside. I won't argue it is a screaming buy. I do think though that investors looking for long-term growth should take a look.
If you enjoyed reading this analysis, make sure to follow me for further updates on this stock and analysis on other stocks. You can follow me by going to my profile and clicking the ''Follow'' button. Thank you for reading.
Disclosure: I/we have no positions in any stocks mentioned, and no plans to initiate any positions within the next 72 hours.
I wrote this article myself, and it expresses my own opinions. I am not receiving compensation for it (other than from Seeking Alpha). I have no business relationship with any company whose stock is mentioned in this article.