Despite initial optimism for brick and mortar retail going into the holiday season, Macy's (NYSE:M) and Kohl's (NYSE:KSS) provided investors with fresh evidence that retail is in the midst of a digital disruption and transformation. Traditional brick and mortar retail is suffering and e-commerce is taking a bigger and bigger piece of the retail pie.
Holiday online sales this year reached historic proportions, surpassing predictions and generating a $1 billion in sales per day over the holiday period from November 1 - December 31. According to Adobe Digital Insights, which aggregates data from 24.6 billion visits to the top 100 websites, the 2016 holiday season generated $91.7 billion in online sales, representing an 11% increase over last year.
E-commerce sales as a percentage of total retail sales has been steady climbing, and now represents 8.4% of total retail sales. But if you think about it, that is still a relatively low percentage. There is still huge potential for growth!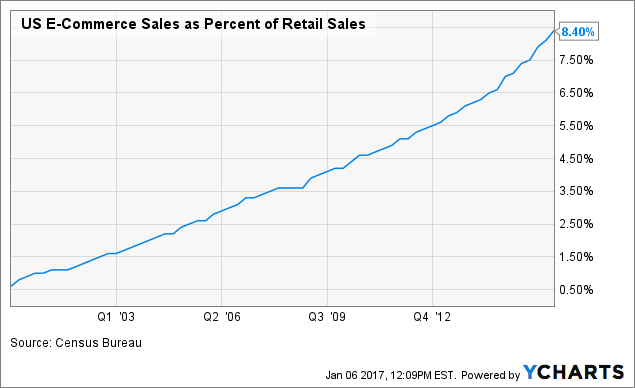 Department stores in particular, once the anchor tenants at malls, have been particularly hard hit as shoppers favor specialty stores, discounters, and shopping online. Macy's announced it would cut more than 10,000 jobs with plans to close 100 stores. Sears Holdings (SHLD) is closing 150 stores and is selling its Craftsman tool brand to Stanley Black & Decker (NYSE:SWK). According to in-store analytics tracker RetailNext, mall traffic sank 12.3% in November and December, while mall sales declined 9.9%.
A decade ago, the future for brick and mortar retail still looked bright. Collectively, traditional retailers were at $400 billion, and Amazon (NASDAQ:AMZN) was only valued at $17.5 billion. But disruption often comes without warning and traditional retailers have reacted slowly to the writing on the wall. Sears has gone from being worth $27.8 billion to $1.1 billion (a 96% decrease), while J.C. Penney (NYSE:JCP) has gone from a valuation of $18.1 billion to $2.6 billion (a 86% decrease). Just look at the chart below!
Big Box and Department Store Sales ($Billion)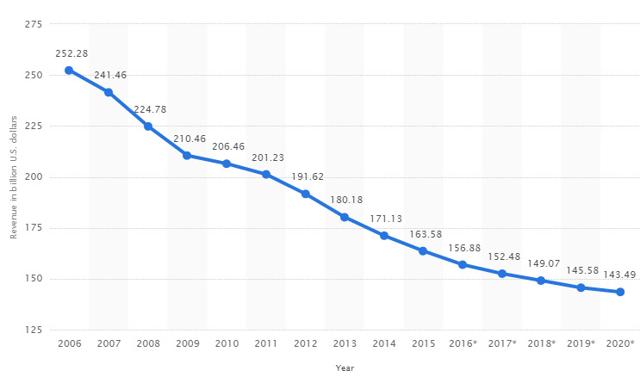 Source: Visual Capitalist
Amazon on the other hand, has gained 1934% over the same timeframe and has been one of the chief beneficiaries of the boom on online sales. It captured 38% of e-commerce sales over the holiday season.
As depicted in the chart below, Amazon is now bigger than most brick and mortar retailers combined, valued at $355.9 billion at year end.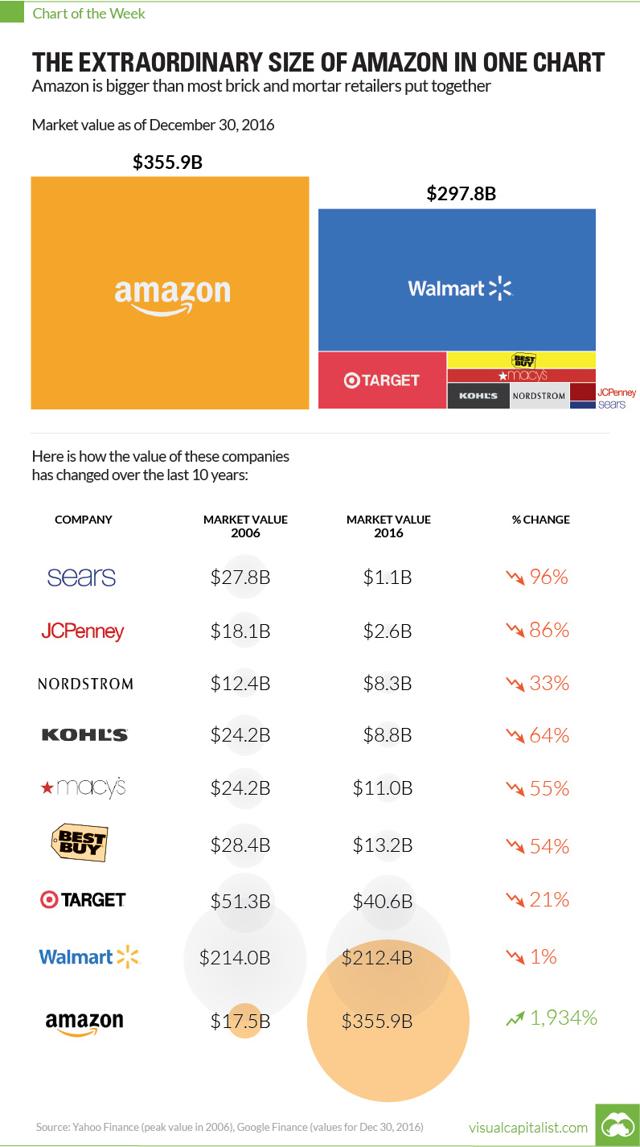 The transformation of retail has not only been demonstrated by Amazon's sales growth, but by the huge disparity in performance between traditional retail indexes and the only pure play e-commerce index, the EQM Online Retail Index. The Index is tracked by the Amplify Online Retail ETF (NASDAQ:IBUY) which launched on 4/20/16.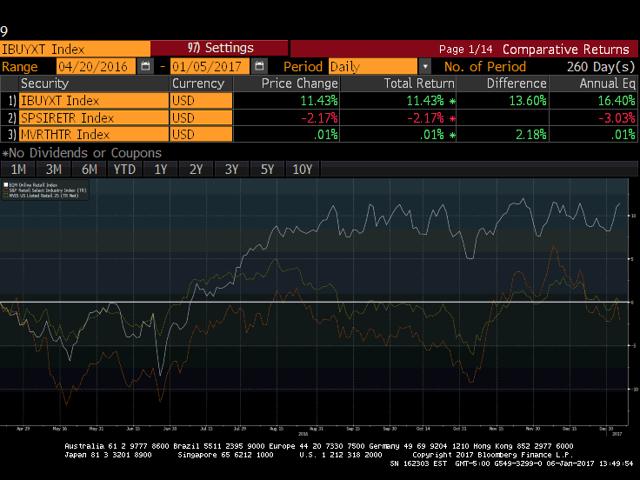 The Index invests in global companies that generate at least 70% of their revenues from online sales and includes companies involved in online retail, marketplace, and travel. It includes international exposure that is capped at 25%.
Top holdings include names such as Petmed Express (NASDAQ:PETS), Etsy (NASDAQ:ETSY), FTD Cos (NASDAQ:FTD), and eBay (NASDAQ:EBAY). Online retail behemoth Amazon, while held, is not currently a top 10 holding. The index uses a modified equal weighting methodology which provides diversified exposure to other smaller cap and non-US online retail companies.
TOP TEN HOLDINGS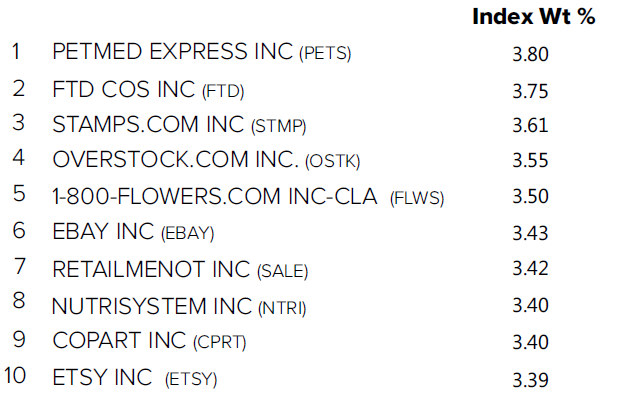 As of 12/31/16
Amazingly, traditional retail ETFs have very little exposure to online retail. The percentage overlap for example between the EQM Online Retail Index and the S&P Retail Select Industry Index is only around 10%.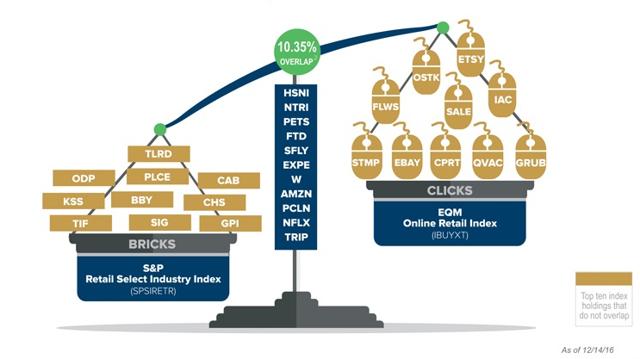 In the battle between bricks and clicks, the clicks are clearly winning. Online commerce is not a "fad" but a nascent trend with legs for years to come. So investors in traditional retail ETFs, may want to reevaluate their exposure and consider an allocation to online retail to capture positive consumer spending trends, because that is where the future growth is. In increasing numbers, consumer dollars are not going to the mall, they are being spent online.
Disclosure
EQM Indexes is the creator of the EQM Online Retail Index which has been licensed to Amplify Investments as an ETF. It is not possible to invest directly in an index. Exposure to an asset class represented by an index is available through investable instruments based on that index. EQM Indexes does not sponsor, endorse, sell, promote or manage any investment fund or other investment vehicle that is offered by third parties and that seeks to provide an investment return based on the performance of any index. EQM Indexes makes no assurance that investment products based on the Index will accurately track index performance or provide positive investment returns. EQM Indexes is not an investment advisor, and makes no representation regarding the advisability of investing in any such investment fund or other investment vehicle. A decision to invest in any such investment fund or other investment vehicle should not be made in reliance on any of the statements set forth on this website. Prospective investors are advised to make an investment in any such fund or other vehicle only after carefully considering the risks associated with investing in such funds, as detailed in an offering memorandum or similar document that is prepared by or on behalf of the issuer of the investment fund or other vehicle. Inclusion of a security within an index is not a recommendation by EQM Indexes to buy, sell, or hold such security, nor is it considered to be investment advice.
Disclosure: I am/we are long IBUY. I wrote this article myself, and it expresses my own opinions. I am not receiving compensation for it (other than from Seeking Alpha). I have no business relationship with any company whose stock is mentioned in this article.