Just the facts please
If you are looking for facts about climate change, the world's most comprehensive database on natural catastrophes is a good place to start. Unsurprisingly, this database is in the hands of someone who has to carefully put a price against future disaster-related damages: Munich RE (OTCPK:MURGY) in this case. You do not have to be a technical analyst to spot the trend in charts like the following: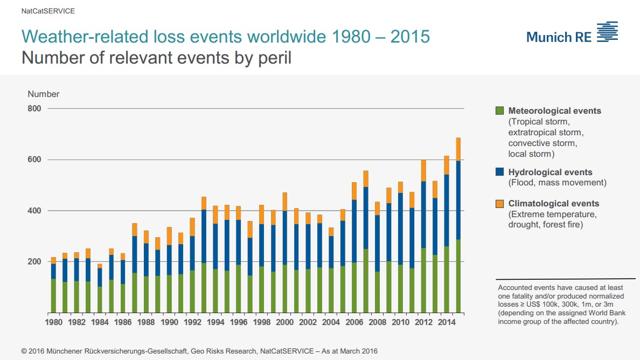 Source: Munich RE, NatCatSERVICE
Munich RE says: "The view that weather extremes are becoming more frequent and intense in various regions due to global warming is in keeping with current scientific findings."
In case you are wondering about causation, Munich RE offers the following perspective: "It is now sufficiently clear [...] that climate change does indeed exist and that it is predominantly caused by human activity."
Peripety
Where you find the square brackets above, I have removed the words "and generally accepted" from the quote. The US presidential election in November 16 took climate change off the agenda overnight. Professional investors are hedging their bets on decarbonization. Fund manager and SA contributor Tom Konrad summed up the post-election situation as follows:
"Other than for fossil fuel companies (which I refuse to invest in), I don't see a Trump presidency being good for much of the economy, or the stock market. [...] I'm moving decisively into cash."
As a self-directed investor, I am not trying to mimic the professionals. Not only I am lacking their toolbox, it may not even provide me with the right tools. I am not accountable to shareholders who compare me against market indices on a quarterly basis. I am accountable to the guy who wants to retire in some 20 years from now. Therefore, I am taking a slightly different view on things.
Enter the Bugblatter
Douglas Adams's "Hitchhiker's Guide to the Galaxy" describes the ravenous Bugblatter beast of Traal as "a mind-bogglingly stupid animal"
It assumes that if you can't see it, it can't see you
Thus, although being ferociously dangerous, it can be dealt with by wrapping a towel around one's own head. Arguably, ferocious danger is a property shared by the beast and climate change, but here is an important difference: The towel won't help us to remedy the climate issue.
Some (rhetorical) questions:
Will the trend shown above reverse after the US presidential election?
Will fewer people be affected by climate change-related disasters?
Will they make their voices heard? Munich RE has even raised a further, non-rhetorical question that investors may care about: Liability for climate change?
Decision tree
Dear reader,
The first comment I received on my Beginner's Guide To Treehugging was
blah blah blah socialist rhetoric
If these are your feelings after having read the above, I would ask you to continue reading with section A below. Otherwise, feel free to scroll down to section B. Thanks.
Section A
As I have learned from Dale Carnegie: "A man convinced against his will, is of the same opinion still." Therefore, it is pointless for me to bother you much longer. I have just one last question: Trying to see the world through your eyes, I see plenty of obvious market inefficiencies to exploit. Not just the rare, esoteric investment niche, but a field wide open:
Coastal dream properties at a discount
Farmland in regions with (alleged) "drier tendency" at a discount (Munich Re has got the map)
Why not sell insurance policies against natural catastrophes at a discount? ...
Are you putting your money where your mouth is?
Section B
You are still there? Great. Let's see what those of us can do who are conscious that climate change will not go away anytime soon and who are still keen to invest accordingly.
Most fellow retail investors are no stock pickers. Using ETFs and mutual funds as investment vehicles makes perfect sense for small guys. These vehicles give direct exposure to the stock market's upside, can provide instant diversification, allow for savings schemes (including fractional shares) and automated reinvestment of payouts and all this in many cases at very low costs.
Adding the carbon footprint to the equation complicates things, though. Screening the fund universe for socially responsible investment (SRI) vehicles seems like a convenient shortcut to solve the problem. However, taking this shortcut can lead carbon-conscious investors easily astray as we will see.
Bigfoot(-print) in the SRI forest
We take the Columbia Sustainable US Equity Inc ETF (NYSEARCA:ESGS) that was launched in June 2016 as an example. It ticks a couple of boxes
Total expense ratio of .35%
Style: large value according to Morningstar
#Holdings: 100 with exposure to different sectors
Benchmark: Beta Advantage℠ Sustainable U.S. Equity Income 100 Index, i.e., the ETF is considered to be "socially responsible".
As comparison, we take a household name from the same Morningstar category: SPDRs Dow Jones Industrial Average ETF (NYSEARCA:DIA).
Total expense ratio of .17%
Style: large value according to Morningstar
#Holdings: 31 with exposure to different sectors
Benchmark: Dow Jones Industrial Average; i.e. this just your average ETF straight from any broker's shelf.
I understand that there are key differences between the two like size, liquidity, degree of diversification etc. Still, we can assume that these two ETFs are plausible screener results for an investor looking to gain exposure to the large-cap value space. The troubling thing is that the investor may opt for the larger carbon footprint, if she is actively looking for SRI-labeled funds.
A useful measure is to look at the CO2 footprint attributed to the investor in the respective fund per every 1 million USD invested. Fossil Free Funds provides investors with the number, here benchmarked against the SPDR S&P500 ETF (NYSEARCA:SPY) (All charts and data from fossilfreefunds.org):


At the risk of pointing out the obvious: The result is not flattering for the SRI fund whose carbon footprint is nine times the footprint of its conventional peer.
Conclusion
I am not saying all SRI funds are bad. I am well aware that SRI criteria cover much more than greenhouse gas emissions. However, I would urge SRI investors to make decisions about their investment vehicles that are as informed as their decisions about other vehicles. Just like nobody in his right mind would argue that propelling a 2+ ton heavy car from 0 to 60 mph in 2.5 secs is the best way to make use of renewable energy because the vehicle in question is an EV, nobody should assume that contributions to CO2-emissions are any better just because they are backed up by a fund that carries the label "SRI".
The screening tools are all available. Fossil Free Funds is a great starting point.
Disclosure: I/we have no positions in any stocks mentioned, and no plans to initiate any positions within the next 72 hours.
I wrote this article myself, and it expresses my own opinions. I am not receiving compensation for it. I have no business relationship with any company whose stock is mentioned in this article.
Editor's Note: This article discusses one or more securities that do not trade on a major U.S. exchange. Please be aware of the risks associated with these stocks.