As many of my followers know, Real Estate Investment Trusts (REITs) tend to be my primary area of focus, but I have decided to change gears for a while. My goal going forward is to identify companies that would be excellent additions to the most conservative income investor's portfolio. I expect that some of my picks will be controversial, but my plan is to show yield-chasers why choosing a stock that pays a lower than expected dividend can make sense, and why income investors need to think about the long term gain and review corporate financials. The subject of this article is going to be industrial powerhouse Eaton Corporation (NYSE:ETN).

Eaton Corporation Overview
Eaton has been operating since 1911 with an original focus on providing components for the automotive industry. Fast-forward to over a century later, and now Eaton is a giant industrial conglomerate that has areas of operations that impact nearly every part of the transportation and power management sectors.
Product Lines
The following was taken from the November Goldman Sachs Industrial presentation to show the breakdown of Eaton's sales from each respective sector.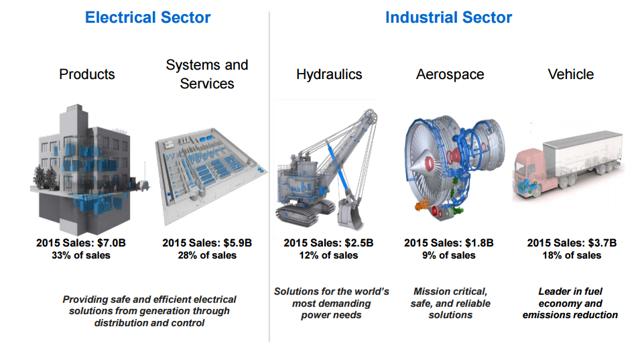 Although Eaton started with a focus on automotive components, we can see that sales revenues have changed significantly as time has gone on. While it is hard to imagine the changes Eaton has made over its 106 year history, the following graphs from the November Goldman Sachs Industrial presentation demonstrated how significant the change has been over the last 15 years.

I really like this visual for several reasons:
Note the growth in sales from electrical sector components and the improved margin from these products.
It shows us that the aerospace sector has a high margin, but that even with revenues approximately tripling in 15 years, it still makes up a very small portion of company sales (now represents 9% of sales total).
Eaton has been able to improve the margin of its vehicle segment, but sales have remained nearly flat over the last 15 years. This is the company's second highest revenue segment, but has shown minimal growth opportunities.
Electrical
If we break down the growth of electrical, we can see that specific products have a lot to do with this growth. The main area I want to focus on is the improvements in lighting and energy efficiency, because these are areas where the greatest opportunity lies. Eaton estimates the following growth in revenue from each of the following electrical sub-sectors (November Goldman Sachs Industrial presentation):
$800 million in lighting annual revenue (by 2020)
$500 million is automation annual revenue (by 2020)
In addition to growth in revenue, I really like that Eaton has acknowledged areas where they can improve their manufacturing process. The following illustration from the Goldman Sachs Industrial presentation breaks down three significant opportunities for Eaton to continue improving overall margins.

The improvements Eaton intends to capitalize on are:
Changing high-cost manufacturing locations to those that are less expensive.
Increasing the average number of employees per manufacturing site (will help reduce fixed costs).
Increasing the number of employees and product from each respective manufacturing site, which will result in increased sales associated with each manufacturing site.
In my opinion, I foresee the most significant gains coming from the electrical sector of Eaton's operations. Based on the Goldman Sachs Industrial presentation, I believe the major catalysts for growth in the electrical sector will primarily come from:
Data centers
Connected/automated systems
LED lighting systems
Hydraulics
This area of Eaton's business represents a modest amount of total sales, but the most interesting aspect of its hydraulics business is how many different industries Eaton's sales is derived from. The following graph from Goldman Sachs Industrial presentation shows the impact each industry has on hydraulics sales.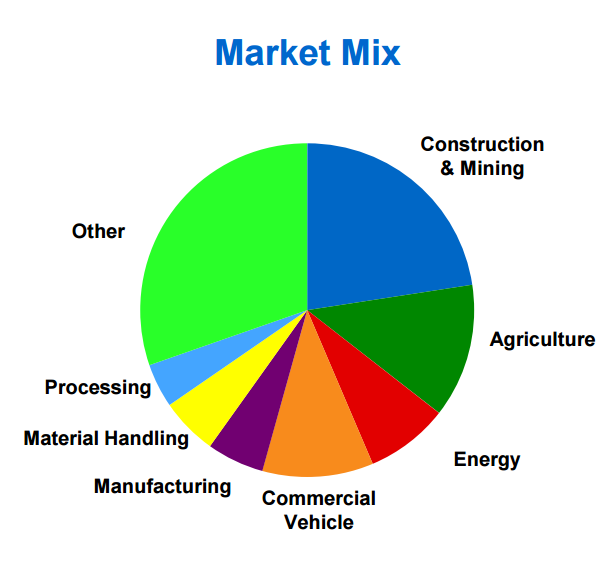 This graph demonstrates that Eaton's revenue mix is stable and that economic disruptions (the mining industry in particular comes to mind) would have a minimal impact on the bottom-line. Secondly, the Goldman Sachs Industrial presentation notes that hydraulics is approximately a $40 billion global market, of which, Eaton only has $2.5 billion of, or approximately 6.25%. This means that Eaton has room to expand its product portfolio, but with its already significant size, they can use existing distribution networks to expand sales and market share with minimal to no additional effort. The downside of the hydraulics market is that it has a lower overall operating margin of 9.6%-10% for 2016.
Aerospace
Although Aerospace makes up a relatively small portion of Eaton's income, there are several advantages to operating in this particular space. In the Goldman Sachs Industrial presentation, Eaton notes that Aerospace is a "long-cycle industry", which means that Eaton can maximize the amount of time it has to benefit from the products it produces, until airplane manufacturers design and build the next one. To put perspective on this, imagine if new airplane models hit the market every three years, whereas the F-16 (first put into service on August 17th, 1978) is still the primary plane of the US Air Force (38.5 years later). This allows Eaton to capitalize on products for a longer period of time before they need to be re-engineered.
One of the most attractive parts of the aerospace segment is that they carry a high operating margin, and Eaton estimates they will see a 19.1% to 19.5% operating margin for all of 2016.
Automotive
Automotive is one of Eaton's oldest segments, and is its second-highest sales segment after electrical. According to the Goldman Sachs Industrial presentation, approximately 70% of sales come from the Americas, and 30% comes from the rest of the world. Although automotive is its second largest sales area, it has been one of the more stagnant revenue streams based on the previous illustration that shows sales and margin growth from 2000 to 2015.
Eaton's greatest catalyst for growth in this segment appears to be increased requirements for both fuel efficiency and emissions standards. Operating margins for 2016 are expected to be approximately 15.2% to 15.6%.
Free Cash Flow Machine
The Goldman Sachs Industrial presentation shows that Eaton has been on a tear when it comes to increasing free cash flow, a metric that I have grown particularly fond of because a company with an extremely high free cash flow can operate flexibly and make decisions that have a significant impact on the bottom line. Over the last five years, Eaton has more than doubled free cash flow to $1.9 billion dollars in 2015. The following chart from the Goldman Sachs Industrial presentation shows Eaton's growth over this timeframe.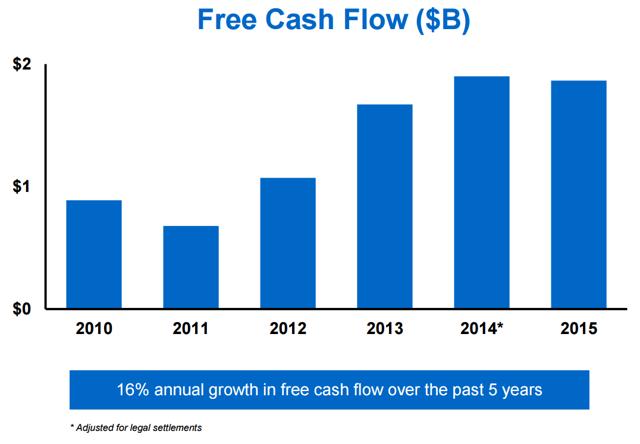 With this free cash flow, Eaton has developed a set of guidelines to drive organic growth, return capital to shareholders, and identify external growth opportunities with remaining funds. The following list from the Goldman Sachs Industrial presentation gives the specifics of Eaton's strategy.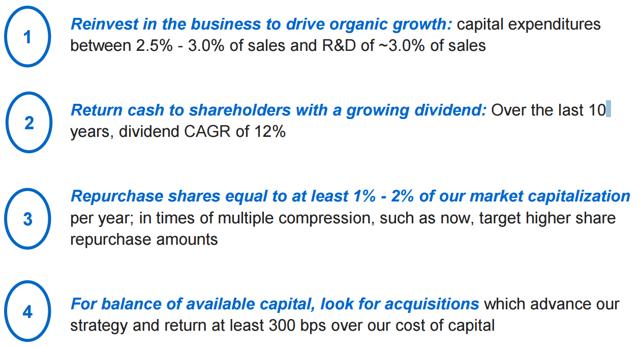 Eaton's strategy has paid off well for shareholders, especially over the last six years. During this time, Eaton has grown the dividend per share from $1.36 annually, to $2.28 annually. Even with Eaton growing its annualized payout by 60% over this time, the company still carries with it a payout ratio of 54.3% (info from dividend.com), meaning that it has room to grow. The following graph is from the Goldman Sachs Industrial presentation and demonstrate Eaton's dividend growth.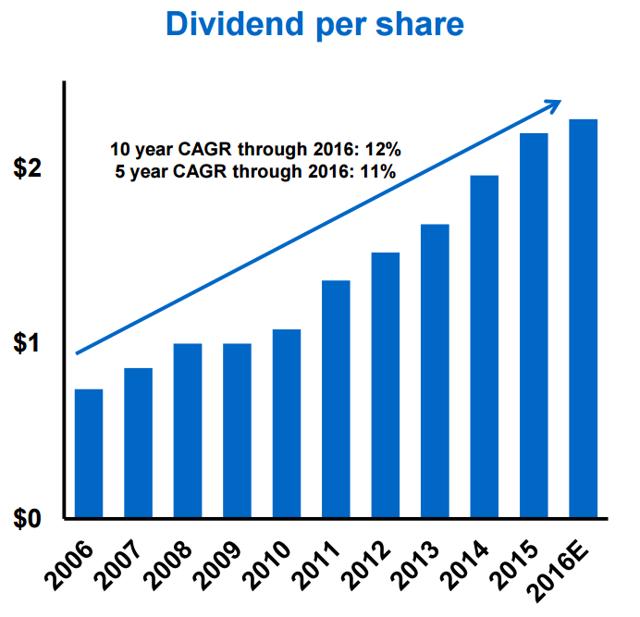 And this one demonstrates Eaton's yield when compared to other industrial conglomerates: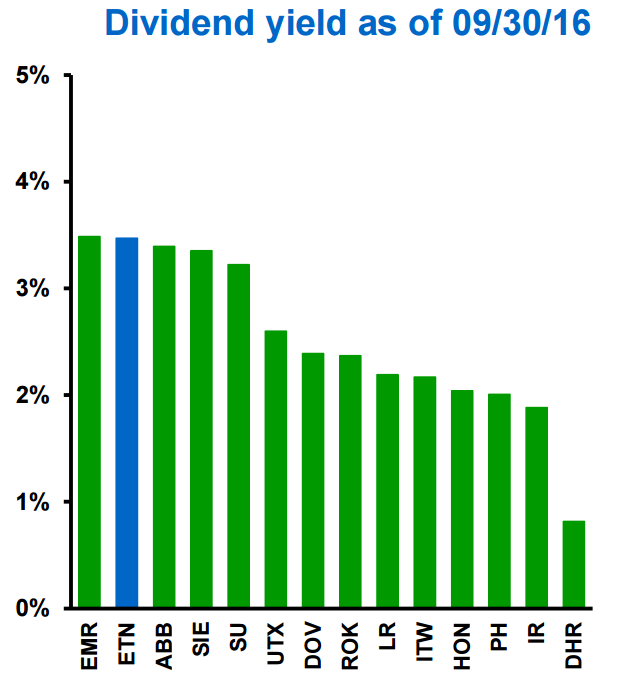 I wanted to take this one step further by looking at the payout ratio of these companies, because a high dividend yield only means something if it's sustainable.
| | | | |
| --- | --- | --- | --- |
| Company | Symbol | Payout Ratio | Dividend Yield |
| Emerson Electric | EMR | 80.30% | 3.40% |
| Eaton | ETN | 54.30% | 3.35% |
| ABB | ABB | 70.20% | 3.38% |
| United Technologies | UTX | 40.00% | 2.35% |
| Honeywell | HON | 40.30% | 2.24% |
When compared to other conglomerates such as Emerson Electric (NYSE:EMR), ABB (NYSE:ABB), United Technologies (NYSE:UTX), and Honeywell (NYSE:HON) we can see that their payout ratio is exceptionally healthy, especially when we take into consideration that the stock yields a full percentage point more than UTX or HON. In addition to having a low payout, Eaton has one of the higher dividend yields of the group, which suggests that now would be a good time to enter in on a position.
In addition to the dividend returns, it is also worth noting that Eaton's 2015 - 2020 goals include $3 billion worth of share buybacks.
Eaton's Future
Eaton finishes its Goldman Sachs Industrial presentation by outlining its five year plan, for which it emphasizes revenue growth, EPS growth, and increased free cash flow growth. While these are important for obvious reasons, I found myself most intrigued by the section that claims management incentives are now better aligned with the organization as a whole. This includes:
Significant equity holding requirements for senior management.
Short-term compensation tied to EPS growth and cash flow return.
Long-term incentive plan aligned with total shareholder return.
By properly incentivizing management I expect to see Eaton thrive going forward. By developing a short-term and long-term compensation package, we should see less cannibalization that can be common at large companies. History has shown all-too-often that upper-level management has a history of coming into a company, making a name for themselves, and jumping ship to a better opportunity because they traded short-term gains for long-term consequences.
Conclusion
Eaton is an industrial powerhouse that has significant potential for both capital and dividend returns. I believe that Eaton is a BUY at these levels based on improving margins, cash flow, and overall company focus (including management incentives) on returns to shareholders. When compared to UTX and HON, Eaton's returns over the last fifteen years has been significant, but the stock has stagnated over the last three years as it completes its restructuring efforts. I do not believe the market has taken into consideration Eaton's improved financial flexibility and free cash flow generation, and this is why the stock has not experienced growth similar to that of UTX and HON.
Final Note: If you enjoy my articles please take the time to follow me. While I enjoy performing analysis, following me is the best method for showing me that SA subscribers are finding my work useful.
If you have any suggestions to improve my articles or if you would like me to perform analysis on a stock please feel free to message me and I will do my best to make it happen.
Disclosure: I/we have no positions in any stocks mentioned, and no plans to initiate any positions within the next 72 hours. I wrote this article myself, and it expresses my own opinions. I am not receiving compensation for it (other than from Seeking Alpha). I have no business relationship with any company whose stock is mentioned in this article.
Additional disclosure: This article reflects my own personal views and is not meant to be taken as investment advice. It is recommended that you do your own research. This article was written on my own and does not reflect the views or opinion of my employer.