Blackberry (NASDAQ:BBRY) has been dying a slow death, which I think will continue for the foreseeable future. The dying nature of the company reminds me of the scene in Jurassic Park where a dying triceratops was lying on the ground, struggling to breathe. In a similar way, Blackberry is lying on the ground, struggling to turn around the decline in revenue.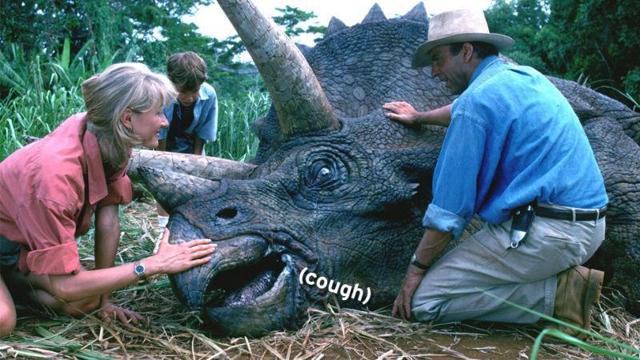 Image source: Jurassic Park
The stock has been choppy, bouncing back and forth with double-digit moves of over 10% in both directions. This movement creates trading opportunities for nimble traders. Buying the stock at oversold levels and shorting the stock at overbought levels can be profitable.
The stock is currently bouncing off of an oversold level with some positive momentum. You could buy it to make some money on the long side until it reaches an overbought level. However, I would rather wait until the stock becomes overbought and then short it.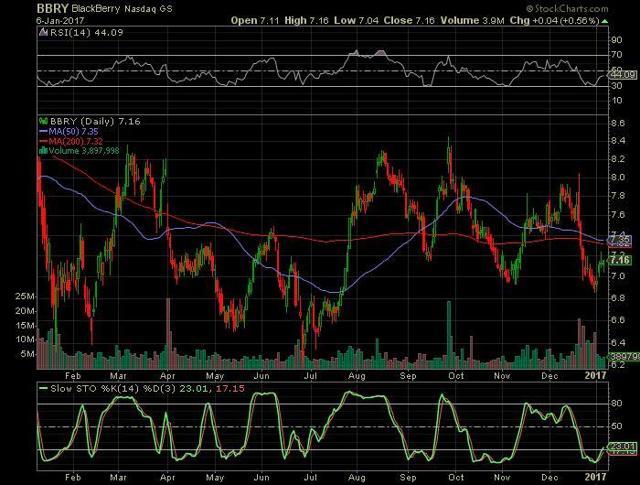 The overall trend for the stock is down. This is being driven by declines in revenue which averaged 41% annually for the past 4 years. I think this downward spiral will continue. However, the pace of revenue decline is likely to slow down a bit. Consensus estimates are calling for a 30% revenue decline in 2017 and a 25% decline in 2018. Then revenue is expected to decline about 14% to below $1 billion in 2019. These double-digit revenue declines are likely to put further downward pressure on Blackberry's stock.
Rationalizing about the company's future will make this clear. Blackberry doesn't have positive cash flow to invest in new growth initiatives. Bullish investors are pinning their hopes on Blackberry's autonomous driving initiative. However, Blackberry had $242 million in negative operating cash flow and spent another $76 million in CapEx over the past 12 months. The company faces large competitors such as Apple (NASDAQ:AAPL) Microsoft (NASDAQ:MSFT) and Alphabet (NASDAQ:GOOG) (NASDAQ:GOOGL) who do have large quantities of cash to spend on autonomous driving initiatives.
Since Blackberry doesn't have positive cash flow, they will need to finance future initiatives, which will add to debt, thus weakening the balance sheet. The company is also more likely to have a need for a stock offering to raise cash. New stock offerings would dilute outstanding shares and likely hurt shareholders as it puts negative pressure on the stock price.
Blackberry's autonomous driving initiative is based on the 2010 acquisition of QNX Systems. However, the technology from QNS to be used for autonomous driving is an operating system. QNX does not have the software that drives the key aspects of autonomous driving: sensing, mapping, and driving software. There are other companies such as Apple with extensive resources and operating cash flow of over $65 billion that are more likely to be the leading developers of an autonomous driving operating system.
The fact that a dozen QNX engineers left the company to join Apple is a good indicator of which company is likely to be the leader for autonomous driving operating systems. The most noteworthy move was former QNX CEO, Dan Dodge, who now works for Apple. If Apple thought that the QNX software was significantly promising, they would have bought the company. Since Apple is developing their own autonomous driving operating system, it doesn't leave much to be desired for QNX and Blackberry. QNX is more likely to be overshadowed by Apple in a similar fashion that the Blackberry smartphones were overshadowed by iPhones in terms of sales and market share.
QNX software is already installed in over 60 million vehicles for its infotainment system software. The bad news is that Blackberry's revenue continues to decline year-over-year. IHS analysts estimated that QNX earns only $3 per vehicle from its licensing fees. Therefore, Blackberry's QNX just doesn't look like a lucrative business.
It will take many years for autonomous vehicles to be mass produced. For example, Ford expects to mass produce an autonomous vehicle by 2021, but that will only be for ride sharing services. Therefore, Blackberry is likely to struggle to create shareholder value over the next few years. This is why analysts are expected further annual revenue declines for Blackberry over at least the next three years according to Thomson-Reuters.
Valuation Still High
Blackberry is trading with a forward EV/EBITDA ratio of 16.9 based on expected 2017 EBITDA of $178 million. The likely leaders for autonomous vehicle software, Apple, Alphabet and Microsoft are trading with much lower valuations with forward EV/EBITDA ratios of 6.3, 13.8 and 11.8 respectively. Blackberry's competitors for the autonomous driving software have strong operating cash flow, while Blackberry's is negative.
The bottom line is Blackberry does not look good as a long-term investment. The valuation is too high. The company's negative cash flow means that the balance sheet is likely to be weakened with more debt and/or shareholders will be diluted over the next 2 to 3 years with new share offerings to maintain its initiatives.
How to Trade It
Since I think Blackberry's stock will decline as revenue declines, traders are more likely to make money on the short side. I expect the stock to decline approximately in-line with revenue declines, about 30% over the next year. However, I would wait until the stock becomes overbought as indicated by a stochastic oscillator reading of 80 or above, which will most likely be near the $8 level. I would prefer to use put options since that will define your downside and protect you against an unexpected positive catalyst. Buying a put option will also accelerate your gains. While the underlying stock falls by 30% over the next year, the put option may gain over 100% just within a year based on a delta of -0.38.
My projection is that the stock will initially rise to about $8 to an overbought level on the current short-term momentum. From there, I expect the stock to decline about 30% from the $8 level over the next year to about $5.60.
To reduce your risk (over standard shorting), consider buying the January 18, 2019 $7 put option. The January 18, 2019 expiration are the longest dated options available, which gives the trade plenty of time to play out. The expiration also happens before mass production of autonomous vehicles is likely to take place. The $7 strike price is trading at $0.96 per option. However, that price is likely to move lower to about $0.64 if Blackberry's stock rises to hit an overbought level of about $8. The value of the option could rise to about $1.55, netting you a profit of about 142%. You could exit the trade after realizing a profit or continue to hold until the thesis changes. You could also buy the put option whenever the stock becomes overbought and exit the position when it becomes oversold. That's how to trade this dying dinosaur.
Disclosure: I am/we are long AAPL.
I wrote this article myself, and it expresses my own opinions. I am not receiving compensation for it (other than from Seeking Alpha). I have no business relationship with any company whose stock is mentioned in this article.
Additional disclosure: If you like my analysis, click on FOLLOW at the top of the article near my name. That will allow my articles to display on your homepage as they are published. The article is for informational purposes only (not a solicitation to buy or sell stocks). I am not a registered investment advisor. Investors should do their own research or consult a financial advisor to determine what investments are appropriate for their individual situation. This article expresses my opinions and I cannot guarantee that the information/results will be accurate.