In this piece we wanted to review our thoughts about the Pimco Dynamic Income Fund (NYSE:PDI) and use that discussion to introduce some of our new tools for fund analysis that we've been very busy developing for our readers and followers. This is a theme we will carry on for the remainder of the year so stay tuned!
In a nutshell we think PDI has become very expensive with the premium to NAV trading at a record high since the fund started in 2012. Long positions in funds with high premia in our view have an assymetric risk/reward profile in the sense that high premia are more likely to fall than to rise significantly.
CEF Discount Analysis Tools
In this section we will briefly review our main tools for quantitative analysis of CEF NAV discounts.
First, a chart of the Price, NAV and Discount shows us that initially the fund traded at a premium, then spent a few years in the discount wilderness and in 2016 traded up to a record premium. We will also note that while the behavior of the discount is not stationary or highly mean-reverting, there have been four instances where the discount has deviated significantly from zero and then returned back to zero, albeit after a long period of time.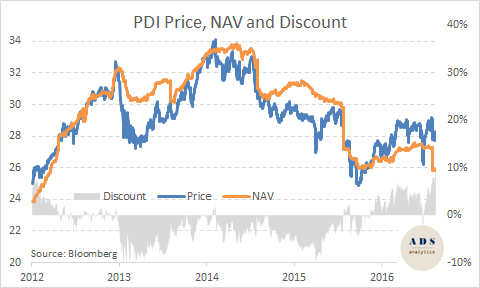 Secondly, a discount frequency plot captures the amount of time spent at each discount value. In the case of PDI we can see that a premium above 5% has been exceedingly rare through the history of the fund.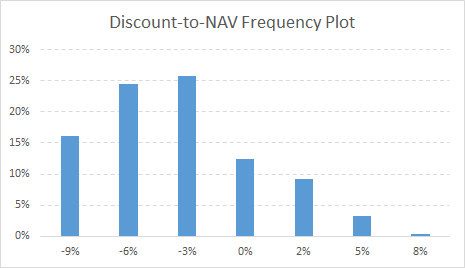 Thirdly, a reversion tendency plot below captures the average trend in the discount for the period of 1-week, 1-month and 3-months after a given starting value in the discount. So, in the case of PDI we can see that for values above zero, the premium has tended to decrease over the following three months.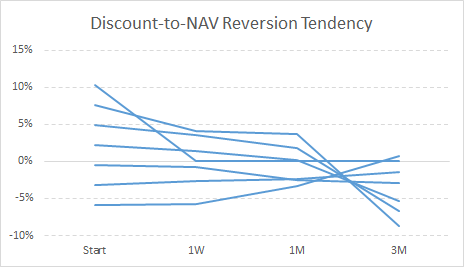 In conclusion, the charts above show that the current premium is unusually high, infrequent and that high premia have tended to decrease through time. While this time could always "be different", we believe prudent investors should consider reducing exposure to the fund.
Threats to CEF Premia
What are the typical reasons that can cause a high premium-to-NAV to fall?
A risk-off period in the market usually compresses premia and widens the discounts in the CEF market across the board. We have seen this play out a number of times during the taper tantrum and the first quarter of last year.
A fund cutting its (often high and unsustainable) dividend normally sees its premium to NAV vanish very quickly.
A reversion to the mean in the fund discounts caused by random noise and valuation pressures.
While we don't think that PDI is about to cut its dividend since its excess NII yield is very healthy, we do think that investors are putting capital at risk in the fund and should consider their alternatives which we explore below.
Choices for Investors
For investors who agree with our PDI thesis, what are the alternatives?
We think the obvious choices are the following.
Avoid buying the fund
Avoid reinvesting dividends in the fund
Reduce position in the fund
Replace the fund with another fund
Sell the fund
In the next article, we will look at tools available to investors who would like to find a better-value replacement for a given CEF.
If you would like to receive this and other analysis please Follow us above (by clicking on the Follow button).
Disclosure: I/we have no positions in any stocks mentioned, and no plans to initiate any positions within the next 72 hours.
I wrote this article myself, and it expresses my own opinions. I am not receiving compensation for it (other than from Seeking Alpha). I have no business relationship with any company whose stock is mentioned in this article.