I try, to the best of my ability, to always practice what I preach when it comes to research and analysis.
One of the central tenets of my philosophy is that the best way to strengthen one's convictions is to subject them to as much scrutiny as possible.
That's often difficult to do because it requires (indeed it demands) that you read and consider alternative viewpoints. When it comes to politics, many people find this to be an almost impossible task. Generally speaking, I find that investors are (almost) as wedded to their convictions about investments as they are to their political beliefs. That's why debates about say, the merits of owning this or that stock have the potential to turn ugly in a hurry.
Over the years, I've managed to extricate myself almost entirely from the mental prison described above. That is, when it comes to investments, I've come to enjoy reading opinions that conflict with my own more than research that validates my beliefs.
Given that, I found it particularly fortuitous when, on Sunday morning, I ran across Wells Fargo's 2017 rates outlook.
Essentially, it contradicts everything I discussed recently in a piece on the likely direction of 10Y US Treasury yields (NYSEARCA:TLT).
My contention is that conditions are ripe for an even sharper repricing of yields than what we saw in the wake of Donald Trump's election. The market isn't priced for significant tightening in 2018...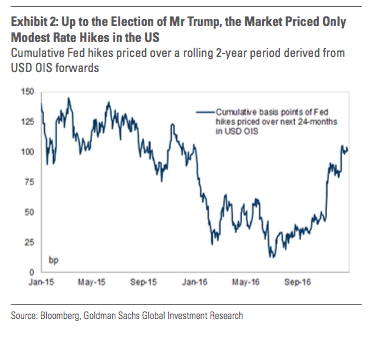 (Chart: Goldman)
... the US economy is nearly out of slack, we're almost at full employment, and there's a good chance that the Fed will have to lean against the fiscal wind (to quote a recent sellside note) should Trump's decision to pile fiscal stimulus atop an already overheating economy end up doing more to stoke inflation than it does to raise growth expectations.
If I'm correct, yields could move higher in a hurry and as we've seen with previous incarnations of the infamous VaR shock, that can activate a self-feeding dynamic that leads to still more selling, still higher yields, and contagion to other safe-haven assets such as Japanese and German government bonds (see the chart below for an example of how this has played out in the past):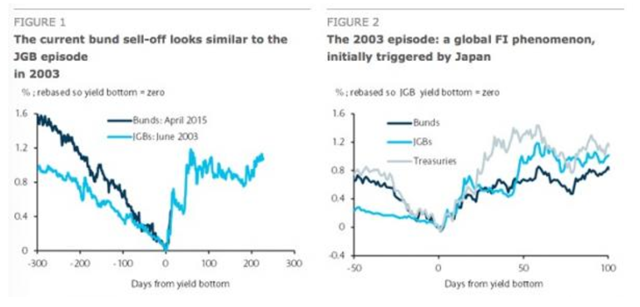 (Charts: Barclays)
Note that my analysis assumes that moves in one of the three markets in question (USTs, JGBs, and bunds) effectively drag the others along for the ride.
But what if, in today's world, 10Y safe-haven yields are determined by the collective impulse from DM central banks? That's a good question. Here's Wells Fargo (my highlights):
We look for U.S. two- and three-year Treasury yields to rise more or less in line with the Fed funds target. The two-year Treasury yield often drops below the Fed funds target rate a year or so into a tightening cycle. Not this time. We expect the two-year Fed funds spread to remain solidly above zero as the market prices another year or two of Fed tightening. Meanwhile, the 10-year Treasury yield should be constrained by low yields globally. Exhibit 1 shows that 10-year sovereign yields in the U.S., U.K., Germany, Japan and Italy have correlated closely since mid-2016. Our interpretation is that yields on 10-year benchmark government bonds are determined by the global market, rather than controlled by an individual central bank. Consequently, we expect the 10-year Treasury yield to rise only moderately despite additional Fed tightening. The net result is that we expect 2s/10s to flatten notably versus the 2017 year-end forward, which is 94 bps at pixel time.
So the reco is flatteners not steepeners. Well, unless you're talking 10s/30s (my highlights):
We think that long-term U.S. Treasury yields in 2017 will be dictated largely by fiscal policy. The new government's policies should take shape in the next few months. These measures probably will not be as aggressive as many pundits anticipated in the early days after the U.S. election. Nonetheless, we believe, the U.S. budget deficit likely will worsen in 2018. If the resulting increase in Treasury supply is at least somewhat concentrated in long maturity issues, then the back end of the curve should steepen. One more reason why 10s/30s should steepen: global 10-year yields have correlated more closely than 30- year yields. In other words, low 10-year yields elsewhere in G10 could help anchor the 10-year Treasury, but the 30-year Treasury may be adrift.
"Now that the market is pricing nearly 60 bps of tightening by the Fed in 2017, we see little upside to 10-year yield spreads," Wells continues, seemingly emphasizing the "anchoring" argument. "The popular Treasury/Bund spread blew past 200 bps in November, is near 225 bps at pixel time, [and] we doubt it will rise much more unless the Fed becomes quite hawkish."
Ok, so I don't buy the whole "anchor" thesis. Or at least I don't buy it "hook, line, and sinker" (epic maritime metaphor extension alert). As Goldman notes, there is indeed a push/pull dynamic...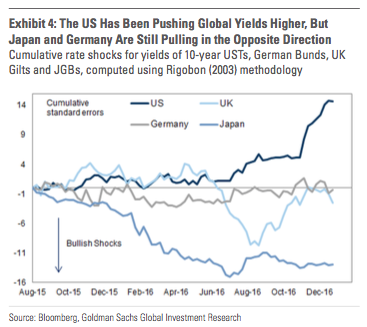 (Chart: Goldman)
...which means there is a bit of inherent anchoring going on, but if we get panic selling in US 10s, I can't imagine that the countervailing effect of the BoJ's yield curve control and/or Bundesbank purchases will suffice to keep yields suppressed in the US.
So coming full circle, I've considered a valid and intelligently presented argument that runs counter to my own convictions and I think my thesis holds up.
That said, my consideration of an alternative narrative has given me a more nuanced understanding of my own argument. And indeed that's the point.
Disclosure: I/we have no positions in any stocks mentioned, and no plans to initiate any positions within the next 72 hours.
I wrote this article myself, and it expresses my own opinions. I am not receiving compensation for it (other than from Seeking Alpha). I have no business relationship with any company whose stock is mentioned in this article.