This article presents the top dividend growth stocks held by established dividend growth bloggers with public portfolios. An analysis of stocks in these portfolios reveals Johnson & Johnson (NYSE:JNJ) to be the most popular holding. I rank stocks by appearance frequency and by proportional weight, taking the relative size of each holding into account. Readers who manage their own dividend growth portfolios may find it interesting to compare their portfolios to the Top Holdings of Dividend Growth Bloggers.
Introduction
In January 2013, I joined a growing community of dividend growth (NYSE:DG) bloggers when I created DivGro. As a rookie blogger, I learned a lot by reading other DG blogs and scouring them for good ideas. For me, the best learning came from reviewing the public portfolios of DG bloggers.
To facilitate quick access, I compiled a comprehensive blogroll of well over 100 DG blogs as well as special links to public portfolios. With public, I mean there is a page dedicated to the portfolio that shows (at least) a list of tickers, the number of shares per ticker, the value of each position, and the total portfolio value.
In my blogroll, I feature established blogs more prominently. These are blogs that are at least one year old. I also have an Honor Roll containing well-known and popular blogs with high quality and inspirational content. For reasons that will become apparent in this article, I highly value established blogs with public portfolios.
Dividend Growth Portfolios
Dividend growth investment focuses on companies that raise their dividends regularly. Most DG bloggers prefer to invest in companies with a track record of consecutive annual dividend increases, usually at least five years.
For this article, I selected established DG blogs on my blogroll with public portfolios. Where DG bloggers have separate taxable and tax-advantaged accounts, I combined the holdings into a single virtual portfolio.
Some DG bloggers invest in a mixture of individual stocks and various funds, including mutual funds, closed-end funds, and exchange-traded funds. For the purpose of this analysis, I considered only individual stocks.
I limited the selection to portfolios containing at least 20 different stocks and with total assets of at least $25,000. Thirty-two DG blogs qualified.
Data Collection and Analysis
To perform the analysis, I created a spreadsheet and collected data from each of the 32 DG blogs. It is relatively easy to copy a portfolio (from the blog page) and to paste it into a spreadsheet for processing. I sorted each portfolio by market value and transferred the following data of the top 25 holdings of each portfolio to another spreadsheet:
| | | | |
| --- | --- | --- | --- |
| Ticker | Market Value | Weight of Holding | Dividend Yield |
Below is a table presenting the 32 DG blogs that qualified. The blogs are sorted by Portfolio Yield, which is a weighted average of the dividend yields of individual holdings. Included are columns showing the total Portfolio Value and the Number of Holdings in each portfolio. The last column is the Inception date of each DG blog.
Name
Portfolio
Value
Value
Rank
Number of
Holdings
Portfolio
Yield
Inception
1
A Frugal Family's Journey
$64,140
23
56
4.88%
Mar 2014
2
I Want To Retire Soon
$44,295
27
37
3.99%
May 2015
3
Passive Income Mavericks
$117,924
18
44
3.95%
Mar 2014
4
DGI Adventure
$53,064
24
23
3.82%
Sep 2015
5
Zero To Zeroes
$38,138
30
22
3.78%
Mar 2015
6
FabSavings
$182,199
13
76
3.72%
Sep 2013
7
Dividend Diplomats (Lanny)
$155,050
15
45
3.72%
May 2014
8
The StockFox
$288,367
5
104
3.71%
Nov 2014
9
Dividend Hawk
$186,953
12
38
3.62%
Aug 2013
10
DivGro
$306,126
4
43
3.58%
Jan 2013
11
Dividend Diplomats (Bert)
$81,399
22
34
3.56%
May 2014
12
Dividend For Starters
$27,976
32
24
3.42%
Jun 2014
13
MonthlyCents
$209,352
9
50
3.41%
Dec 2015
14
Dividend Cashflow
$34,796
31
23
3.41%
Sep 2015
15
Mr. Free At 33
$319,683
3
106
3.40%
Sep 2016
16
Dividend Lord
$39,915
28
29
3.39%
Jun 2015
17
Dividend Mill
$39,313
29
51
3.29%
Nov 2015
18
Captain Dividend
$119,724
17
29
3.26%
May 2013
19
Average Dividend Yield
$223,311
7
27
3.25%
Oct 2012
20
Dividend Vet
$88,612
21
37
3.24%
Jan 2013
21
All About Interest
$205,069
10
34
3.15%
Mar 2012
22
Alpha Target
$334,298
2
75
3.12%
Oct 2013
23
Dividend Life
$44,471
25
33
3.10%
Apr 2014
24
Investment Hunting
$166,587
14
37
3.08%
Dec 2014
25
Passive Income Pursuit
$127,027
16
38
3.05%
Nov 2011
26
The Dividend Pig
$99,008
19
65
3.02%
Oct 2010
27
DivHut
$213,013
8
53
2.98%
Apr 2014
28
Dividend Growth Portfolio
$44,337
26
38
2.91%
Mar 2015
29
Two Investing (Scott)
$197,305
11
39
2.74%
Jul 2010
30
Young Dividend
$246,012
6
39
2.73%
May 2014
31
Journey To Total Freedom
$661,275
1
157
2.47%
Dec 2014
32
$25,000 Dividends
$95,538
20
25
2.35%
Nov 2011
Data Source: Public portfolios of listed DG blogs
Portfolio Value, Number of Holdings, and Portfolio Yield calculated by the author on 1 January 2017.
The total value of all portfolios is $5,054,276 and the average portfolio size is $157,946. Furthermore, the average number of holdings is about 48, while the average yield of all portfolios is 3.35%.
Top Holdings by Frequency
As a first pass analysis, I collated all the tickers and counted the number of appearances of unique tickers. Out of 800 tickers, 236 are unique. If we retain only tickers that appear in at least six DG portfolios, we have 46 tickers distributed as follows: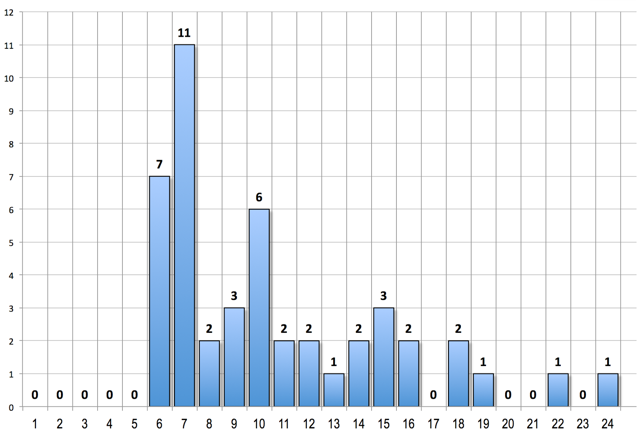 As mentioned in the introduction, Johnson & Johnson is the most popular stock and appears in 24 of the DG portfolios. AT&T Inc (NYSE:T) appears in 22 portfolios and is the second most popular stock.
(In the frequency chart, I zeroed out the columns of tickers appearing in fewer than six DG portfolios. For completeness, there are 12 tickers in only five portfolios, 7 tickers in only four portfolios, 10 tickers in only three portfolios, 34 tickers in only two portfolios, and 127 tickers in only one portfolio).
Below is a chart presenting the 46 top holdings by frequency. I color-coded tickers by GICS sector: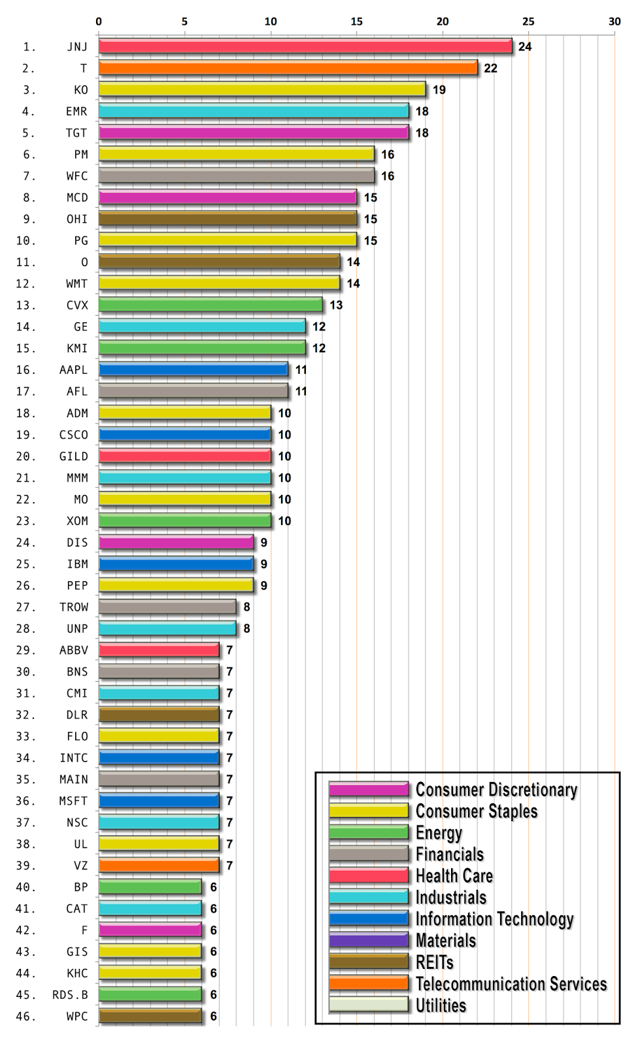 Top Holdings by Weight
When counting tickers, you're essentially assigning an equal weight (of 4%) to each ticker. Instead, I prefer to use the market value of holdings to assign proportional weights. Doing so captures additional information and provides a more representative composite view.
To see the impact of proportional weights, here's a table of the average and maximum weights for the top 10 holdings of the 32 DG portfolios:
| | | | | | | | | | | |
| --- | --- | --- | --- | --- | --- | --- | --- | --- | --- | --- |
| average weights: | 7.9% | 6.1% | 5.3% | 4.9% | 4.7% | 4.3% | 4.0% | 3.8% | 3.6% | 3.4% |
| maximum weights: | 16.2% | 12.8% | 8.6% | 7.9% | 7.7% | 6.7% | 6.0% | 5.8% | 5.0% | 4.8% |
Notice that the top holdings have an average proportional weight of 7.9%, almost double that of an equal weight assignment. Similarly, the top holding of one of the portfolios has a weight of 16.2%, more than four times that of an equal weight assignment.
With proportional weights assigned to each ticker per DG portfolio, I simply added those weights to get an aggregate score for each ticker. By implication, this gives each DG portfolio an equal vote as to the composition of the top holdings.
The chart below presents the 46 top holdings, this time ranked by weight: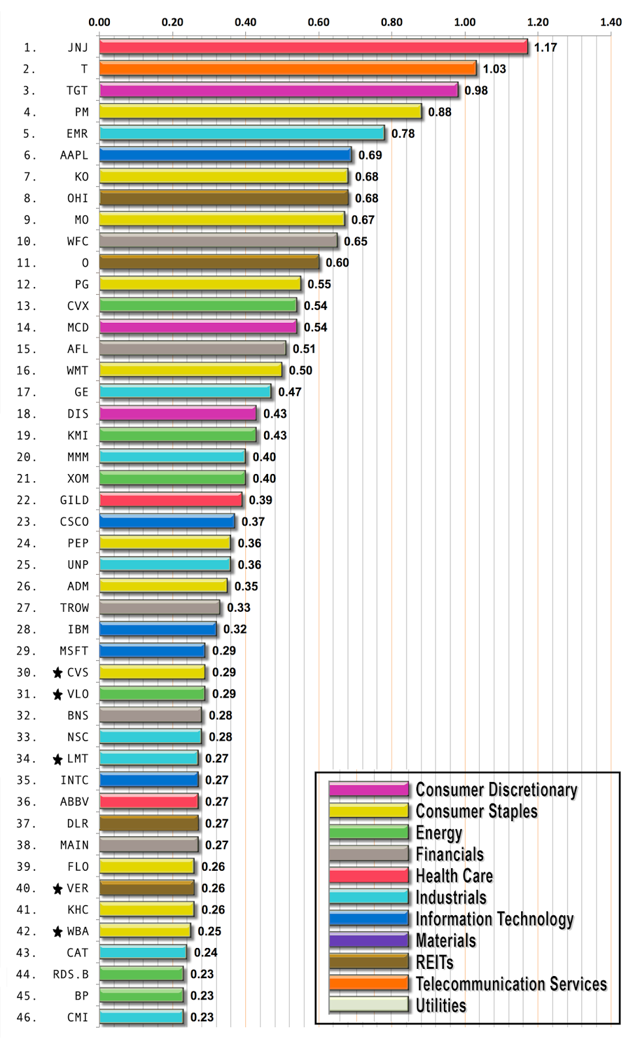 As before, Johnson & Johnson and AT&T occupy the top two spots, whereas Target Corporation (NYSE:TGT) and Philip Morris International Inc (NYSE:PM) have moved into third and fourth positions.
Using proportional weights causes some significant shuffling and several tickers have dropped off the list altogether. Five tickers with higher aggregate scores (but fewer DG portfolio appearances) moved up to replace them. These replacements are indicated with stars.
Here is the entire list of stocks in ranking order:
Johnson & Johnson
AT&T Inc
Target Corporation
Philip Morris International Inc
Emerson Electric Co (NYSE:EMR)
Apple Inc (NASDAQ:AAPL)
The Coca-Cola Company (NYSE:KO)
Omega Healthcare Investors, Inc (NYSE:OHI)
Altria Group, Inc (NYSE:MO)
Wells Fargo & Co (NYSE:WFC)
Realty Income Corporation (NYSE:O)
The Proctor & Gamble Company (NYSE:PG)
Chevron Corporation (NYSE:CVX)
McDonald's Corporation (NYSE:MCD)
Aflac Incorporated (NYSE:AFL)
Wal-Mart Stores, Inc (NYSE:WMT)
General Electric Company (NYSE:GE)
The Walt Disney Company (NYSE:DIS)
Kinder Morgan, Inc (NYSE:KMI)
3M Company (NYSE:MMM)
Exxon Mobil Corporation (NYSE:XOM)
Gilead Sciences, Inc (NASDAQ:GILD)
Cisco Systems, Inc (NASDAQ:CSCO)
PepsiCo Inc (NYSE:PEP)
Union Pacific Corporation (NYSE:UNP)
Archer Daniels Midland Co (NYSE:ADM)
T. Rowe Price Group, Inc (NASDAQ:TROW)
International Business Machines (NYSE:IBM)
Microsoft Corporation (NASDAQ:MSFT)
CVS Health Corporation (NYSE:CVS)
Valero Energy Corporation (NYSE:VLO)
The Bank of Nova Scotia (NYSE:BNS)
Norfolk Southern Corporation (NYSE:NSC)
Lockheed Martin (NYSE:LMT)
Intel Corporation (NASDAQ:INTC)
AbbVie Inc (NYSE:ABBV)
Digital Realty Trust, Inc (NYSE:DLR)
Main Street Capital Corporation (NYSE:MAIN)
Flowers Foods, Inc (NYSE:FLO)
VEREIT Inc (NYSE:VER)
The Kraft Heinz Company (NASDAQ:KHC)
Walgreens Boots Alliance, Inc (NASDAQ:WBA)
Caterpillar Inc (NYSE:CAT)
Royal Dutch Shell plc (NYSE:RDS.B)
BP plc (NYSE:BP)
Cummins Inc (NYSE:CMI)
Top Holdings by Sector
In this section I'm pressing the list again, this time organized by GICS sectors and with useful data included.
In each table, Rank is the stock's position when ranked by weight, while Freq indicates the number of DG portfolios containing Ticker. Years are the number of consecutive years of dividend increases; Yield is the dividend yield as of the closing Price on 6 January 2017; and 5-DGR is the compound annual dividend growth rate over a 5-year period, where available. Finally, M*FV is Morningstar's fair value estimate. Stocks trading below Morningstar's fair value estimate are highlighted in the price column.
8. Materials
None
10. Telecommunication Services


11. Utilities
None
It is interesting to note that no stocks in the Materials and Utilities sectors made the cut. Looking at my spreadsheet, the top-ranked Materials sector stock is BHP Billiton plc (NYSE:BBL) and the top-ranked Utilities sector stock is New Jersey Resources Corporation (NYSE:NJR). BBL is ranked #48 and NJR is ranked #73 when ranked by weight.
How Does Your Portfolio Compare?
Readers that manage their own dividend growth portfolios may find it interesting to compare their own portfolio to the Top Holdings of Dividend Growth Bloggers. How many of the top 10 stocks do you own? How about the top 25 stocks?
Looking at my own portfolio of 46 different stocks, I own 7 of the top 10 stocks and 17 of the top 25 stocks:


Perhaps more interesting are the stocks I own that are not in the Top Holdings of Dividend Growth Bloggers:
GD is by far my best-performing stock. While it now yields only 1.71%, my yield on cost is 4.50%.
Comparison to the Top Holdings of Dividend ETFs
Last month, I published a similar analysis looking at the Top Holdings of Dividend ETFs. It is informative to compare the top 25 stocks contained in each of these lists:


It is interesting that as many as 15 of the top 25 holdings match. These matches are highlighted in yellow and green. If I compare the 46 Top Holdings of DG Bloggers with the 45 Top Holdings of Dividend ETFs, there are 9 more matches for a total of 24. Seven of these additional matches are highlighted in blue, while two happen to fall outside the top 25 holdings of both lists:
Lockheed Martin - #34 in DG Bloggers and #28 in Dividend ETFs
AbbVie Inc - #36 in DG Bloggers and #26 in Dividend ETFs
While comparing the Top Holdings of DG Bloggers with the Top Holdings of Dividend ETFs is just a learning exercise, it would be interesting to compare their performances. To do so, we can use the Portfolio Visualizer to backtest portfolio returns and risk characteristics.
The maximum time period available is March 2011 to December 2016 based on available data for Kinder Morgan, Inc . Allocating $10,000 equally to each of the 25 holdings, with no periodic adjustments or rebalancing but with dividends reinvested, we get the following results: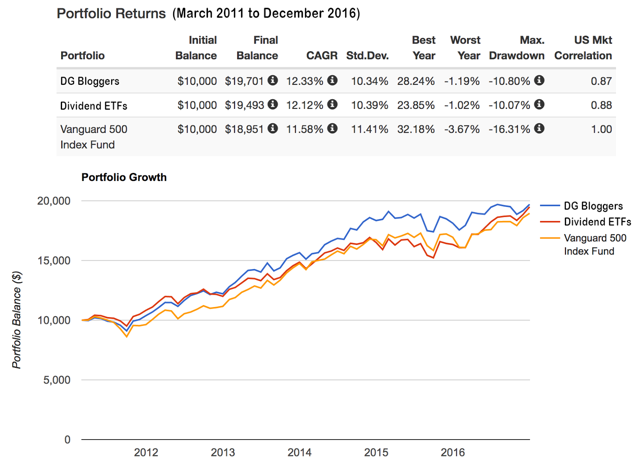 The 25 Top Holdings of DG Bloggers slightly outperformed the 25 Top Holdings of Dividend ETFs over the selected time period. I'm including the Vanguard 500 Index Fund (MUTF:VFINX) as a benchmark.
Removing KMI allows testing over a longer time period, from April 2008 to December 2016 (this time limited by available data for Philip Morris International Inc ). This backtest overlaps a portion of the Great Recession (December 2007-June 2009):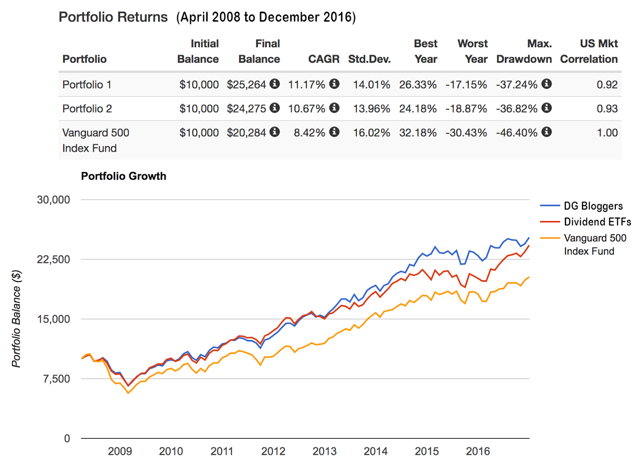 As before, the 25 Top Holdings of DG Bloggers slightly outperformed the 25 Top Holdings of Dividend ETFs, while both easily outperformed the VFINX benchmark.
Conclusion
It is exciting to be part of the DG blogger community. The willingness of many bloggers to share their research and insights has allowed me to become a better DG investor. I've learned a tremendous amount about DG investing, how to value DG stocks and, frankly, the benefits of blogging!
That so many DG bloggers share their portfolios publicly is what made this article possible. Thanks so much to every blogger on my blogroll for making your portfolios public. I apologize if I missed any eligible portfolios. Feel free to let me know of any public portfolios that would qualify for future updates.
Finally, while there is some merit in creating a composite view from the public portfolios of DG bloggers, dividend growth investment is not a popularity contest. Many of the stocks in the Top Holdings of Dividend Growth Bloggers are overvalued and not suitable for investment at this time.
Before investing in any of these stocks, please do a thorough analysis to determine if the stocks are worthy of your investment dollars. I've included Morningstar fair value estimates in the listings to help with a superficial value estimation. Stocks trading below these fair value estimates are good candidates for further research.
Thanks for reading! If you liked this article and would like to read similar articles in future, please click the Follow link at the top of this article.
Disclosure: I am/we are long MANY OF THE STOCKS MENTIONED.
I wrote this article myself, and it expresses my own opinions. I am not receiving compensation for it (other than from Seeking Alpha). I have no business relationship with any company whose stock is mentioned in this article.
Additional disclosure: For a full list of the stocks I own, please visit my portfolio page at divgro.blogspot.com/...