I was doing my weekly analysis research on stocks and was looking for some opportunities to go long in 2017. As I was researching, I happened to take an interest in International Business Machines Corporation (NYSE: IBM) and decided to dig deeper.
My general watchlist was to find stocks that have outperformed the markets, while providing a healthy financial basis to support its momentum. On Friday, January 6th, 2017, IBM increase .38% for the day, getting very close to making new highs. Furthermore, the Dow Jones Industrial Average was close to breaking the 20,000. I believe we may see a break over the weekend and an opening higher than 20,000 on Monday. The current consolidation on the daily is setting up for a squeeze higher, but we still cannot rely on this fact alone, as it can continue to chop or head fake and push lower. When consolidation persists such as this, one must be wary in making trading decisions solely based on one factor. As I continued to look into IBM, I saw a lot of benefits that provide sentiment to continue to go higher and possibly outperform the market in 2017. On the contrary, there were some faults found in their fundamentals that deserve attention. From this research, I have come to the conclusion that IBM looks to go higher, but it is still too early to make a concrete decision. Below you will find my findings on how I came to my current perception of IBM for months to come.
The stock has has been on the rebound since February 10th, 2016. Since then, it has seen a massive increase in price and has reacted phenomenally to the Trump rally that began in November. IBM is known for a broad range of business IT products ranging from software, hardware, and services. Recently, the company jumped into cloud services as one of its new services. Its cloud service extends to many capacities as it creates, develops, manages customers accounts, extending its genuine experience and skills to provide outstanding performance. IBM currently has five segments in which it produces revenue.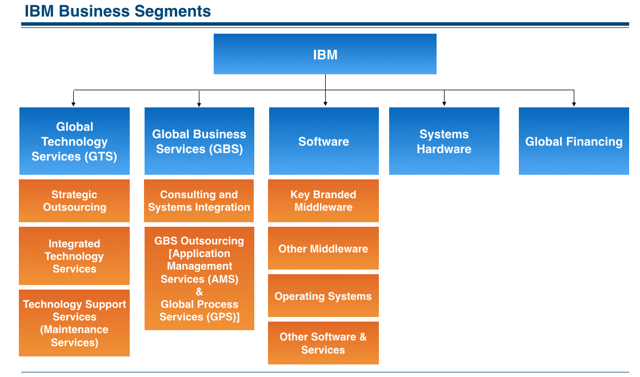 1. Global Technology Services (GTS)
GTS consists of services that provide support and maintenance services for technology. This segment provides integrated technology for data center infrastructure management. IBM also helps companies with network, security, mobile, and other business services that help keep them consistently efficient. Lastly, its newest addition added to GTS is providing support and services for cloud computing.
2. Global Business Services (GBS)
This segment is more focused on application services, management, and support compared to GTS. The revenue produced here is mainly annuity based on contracts ranging from one to ten years. IBM helps companies with testing application performance. It analyzes the data businesses providing in-depth knowledge and information based on business metrics and other sorts of analytical data. GBS also provides management services largely targeting software applications. GBS and GTS tend to be used together to provide a full 360-degree technology servicing package.
3. Software Services
The majority of software services that IBM provides stems from Middleware and operating system software. Middleware speaks for itself. It acts as a middleman between an operating system and applications. It helps integrate all levels of software and hardware to communicate with applications. Middleware is imperative even in today's markets and does not look to diminish in interest anytime soon by consumers and business.
4. Systems Hardware
IBM provides services and products such as servers and solutions towards data storage. Now cloud has become part of data storage and additional alternatives servicing and managing servers. Other sources are disk and tape storage and flash storage solutions.
5. Global Financing
IBM's financing services help its customers by providing installment payment plans or other funding plans that can extend up to seven years. They also help its suppliers by providing a system of short-term inventory and accounts receivables to help suppliers smooth their cash flow. Lastly, they lease or refurbish equipment to make use of available assets.
Potential Cons For IBM
After taking a look at the company's five segments, we can now check to see how its fundamentals are holding up. I consider being on the fence with IBM. Although I believe it that it has more potential to the upside than the downside, at this moment of time it is hard to tell. However, I will provide an analysis which can help pave the way and prepare investors for the possibility of a good buy. I will show you my reasons for analyzing IBM and coming to this conclusion. Before I get into the pros of IBM, I would like to shine some light on possible cons and the elephant in the room. One of the biggest issues with pulling the trigger on IBM is that the market indices are near highs and currently consolidating. The current consolidating is leaving investors on the fence as to which way the market may continue its direction. We can assume that the consolidation in the markets is because everyone is waiting for January 20th, when President-elect Donald Trump starts his term. The biggest risk potential I see for the company is not in the stock itself, but the overall outlook of the market for the next four years. With markets at highs, it is safe to assume that a pullback is justified in 2017. All things considered, the significant risk involved in taking IBM long now would be the downside risk of a possible correction or even a crash. The only viable solution to ease investors' worries would be to hedge with IBM options or index futures.
I have been very pessimistic about the market, and I believe the market is artificially at highs and merits a large pullback. However, that should not stop investors from looking for opportunities or just from analyzing a stock for a future time when the price shoots back to an ideal level. IBM's D/E ratio is massively high, currently at 249.75%! Typically, companies with safe D/E ratios are considered to be around the 20% range. On the contrary, though, I will provide some evidence and proof that can ease the worries of investors from this particular metric.
The dividend payout ratio is typically high at 43.84%. With such a high payout ratio, IBM does not have much room in regard to deciding a dividend increase. Commonly, companies increase dividends when they have retained about 80% of their earnings. The trend of IBM's payout ratio has been increasing, indicating further sentiment that a dividend increase is lacking.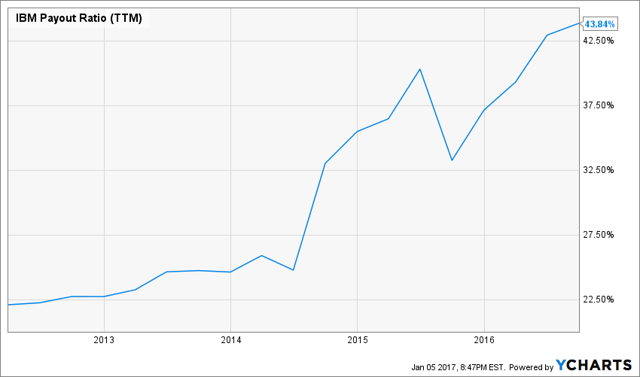 IBM Payout Ratio (TTM) data by YCharts
Potential Pros For IBM
Besides systemic risk in our way of considering IBM long here, there are many pros in the company itself. If we isolate our research just on IBM, we can find some advantages that even the score for the cons in IBM. To assess whether they can continue to provide returns is to look at whether the company could weather the market decline and rising interest rates.
Since IBM's D/E ratio is large, we must look deeper into how the borrowed funds are performing for the company. Its ROE is 78.1%, which is impressive, while the ROA for IBM is 10.5%, providing a decent positive gain. Also, the company took advantage of low interest rates by increasing its borrowing for investments, allowing it to leverage the capital used. The latest data for the interest coverage ratio was 35.09 on December 31st, 2015, which is high enough for IBM to sustain any decline in its revenue or macroeconomic outlook. Although the interest coverage ratio has been decreasing, its debt payments are way into the future, which gives the company room to make financial maneuvers.
The FCF for IBM is $15.08 billion, illustrating to investors that the company is capable of paying its debts exponentially and is safe from any real financial troubles. Lastly, the quarterly earning reports have been showing an increase with a nice consistent trend, making it hard for an investor not to see the potential growth in continued EPS reports in 2017. IBM increased 24.08% in 2016 and outperformed its benchmark index. It is safe to assume, though, that the surge in the stock is partly due to the recent rally. However, IBM still outperformed its indices, making it safe to say that investors' interest is still high.


The last bullish sentiment I have is on price action. Currently, the daily and weekly chart are in an inverted head and shoulders breakout formation that triggered around the recent rally. As it continues to move upwards, it does have a small little gap ahead, but nothing to pay much attention to. The right shoulder of the pattern pulled back to the .5% Fibonacci retracement, making it an ideal place for a stop. At the same time, IBM has much more upside potential with the Fibonacci, as there is less upside resistance compared to below. It makes the stock look like a great potential for a buying opportunity and consistent growth in returns for the future.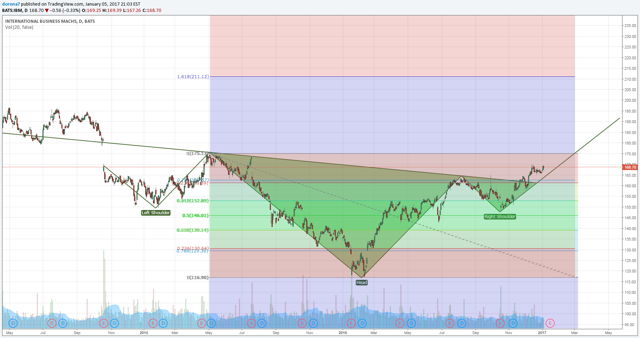 To Be Continued...
We are left with a very complex scale of weighing the pros and cons for IBM. There are many great reasons to consider the stock bullish for the years to come. With the current macro market conditions, it is very hard to find IBM long at current price levels. I think a good buy would ideally be near the bottom of the right shoulder or the continued daily trend support from the head and shoulders formation. Even though I am more on the bullish end of the spectrum, as a trader I would have to wait until the first quarter of 2017 reports to gauge whether IBM at that time is continuing the increase in price greater than its benchmark as well as increased EPS. I also want to see whether SPY will continue to top off after the current consolidation the market is producing. Furthermore, IBM has been around since 1911 and has survived numerous trials and tribulations. It is safe to say that it is is not going anywhere for a long time. This is a company that is reactive to its industry and is always staying up to date in regard to consumers' interests. The biggest concern is where to get in, but so far, time will only paint a better picture as to the entry levels long for IBM.
Disclosure: I/we have no positions in any stocks mentioned, and no plans to initiate any positions within the next 72 hours.
I wrote this article myself, and it expresses my own opinions. I am not receiving compensation for it (other than from Seeking Alpha). I have no business relationship with any company whose stock is mentioned in this article.