Investment Thesis
Investors very often look curiously at low-priced stocks, and Hudson Technologies (NASDAQ:HDSN) is one of them. Hudson had a nice run in 2016 - it started off around $2.97 and rose to $7.70. But its price is not the most attractive thing, the company has strong fundamentals and I expect to see further growth.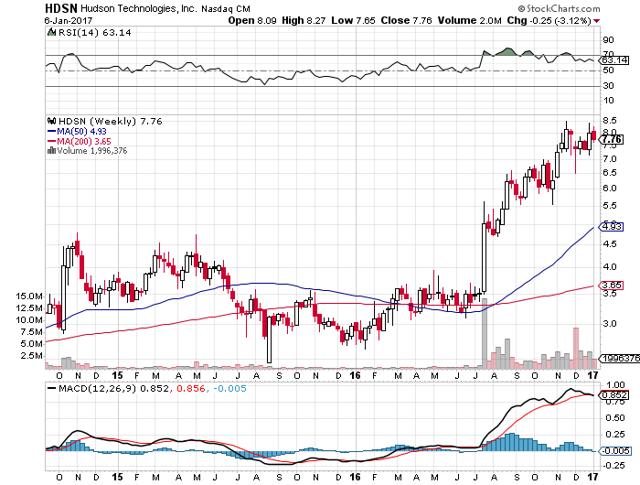 Source: stockcharts.com/
Company Profile
Hudson in not a well-known company, so I'd like to give a brief overview. Hudson Technologies is a refrigerant services company providing solutions to recurring problems within the refrigeration industry. The Company's operations consist of one reportable segment. The Company's products and services are primarily used in commercial air conditioning, industrial processing and refrigeration systems, and include refrigerant and industrial gas sales, refrigerant management services consisting primarily of reclamation of refrigerants and Refrigerant Side Services performed at a customer's site, consisting of system decontamination to remove moisture, oils and other contaminants.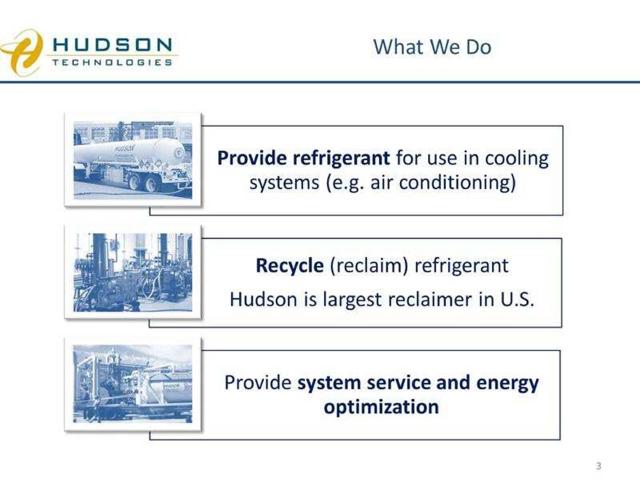 Source: Hudson Technologies Investor Presentation
In November 2014 Hudson Technologies announced the acquisition of Polar Techonologies, a full service refrigeration reclaimer. Polar serves several hundred wholesale customers from three reclamation facilities located in Nashville, Tenn., Ontario and Puerto Rico. According to the 2015 Annual Report we can assume that the sum of the deal is about $7,368,000. Here is the quotation from Kevin Zugibe, chairman and CEO of Hudson Technologies:
This accretive acquisition is an important milestone for Hudson, significantly expanding our customer base, geographic presence and reclamation capacity. We believe Polar is the fourth largest reclaimer in the industry, historically reclaiming approximately 8 percent or more of the total reclaim market and they have been a respected competitor for many years
Another interesting point is that according to the 2016 Annual Report, as of December 31, 2015 the Hudson Technologies had $856,000 of goodwill, of which $435,000 is attributable to the acquisition of Polar Technologies, LLC and $421,000 is attributable to another acquisition. It was a strategic acquisition of a West Coast based supplier of refrigerants and compressed gases, and the sum of the deal is about $2,424,000. This acquisition helped to win a large DoD contract.
And so another piece of good news is that in this summer Hudson Technologies announced a five-year contract including a five-year renewal option to perform refrigerants reclamation for the Department of Defense with an estimated maximum value over the term of the agreement of $400 million sales. Since that time HDSN stock has risen from $5.00 to $7.39.
And in December 2015, Hudson Technologies announced about $49 million public offering of common stock, so it would dilute existing shareholders by 22%. In the short-term it is negative news for HDSN shareholders, and after this announcement HDSN stock was plunging down by 17%. But I think in the long-term it would be a good decision, additional cash can help the company continues the further growth and finds another good acquisitions.
Valuation
Hudson Technologies can remember this past year as a good year, and I hope next year will be better. According to analysts' estimates, the company's revenue is expected to come in at approximately 104.92M, and in 2017 revenue should rise to ~ 137M. By my calculations Hudson's EBITDA will rise to $11.2M in 2016 and will reach about $14.5M in 2017. However, morningstar expects that the company's EBITDA will already increase to $22M in the next year. Thereby all analysts expect that the company will continue further growth.
Figure 1: Hudson Technologies's EBITDA and Gross Margin

Source: Hudson Technologies Annual Reports
I've used simplywall.st to estimate fair value of this stock and based on its calculations the fair value of Hudson Technologies is $16.8. So, HDSN stock price is undervalued by 111.4 %. I think this estimation is very positive, but the target price may be in the range of $9.5-$11.0. Thereby, Hudson has about 28 % upside potential.

Source: simplywall.st
Disclosure: I/we have no positions in any stocks mentioned, and no plans to initiate any positions within the next 72 hours.
I wrote this article myself, and it expresses my own opinions. I am not receiving compensation for it (other than from Seeking Alpha). I have no business relationship with any company whose stock is mentioned in this article.