Despite surging more than 10% after-hours on Thursday, 1/5, on a strong Holiday sales update, shares of Gap (NYSE:GPS) retreated in trading on Friday, 1/6, to close up less than half a percent. A weak Holiday sales update from J.C. Penney (NYSE:JCP) coupled with concerns about the longevity of Gap-owned Banana Republic are likely reasons why the stock failed to hold its gains, but we think the subsequent sell-off following tremendous news creates a buying opportunity here.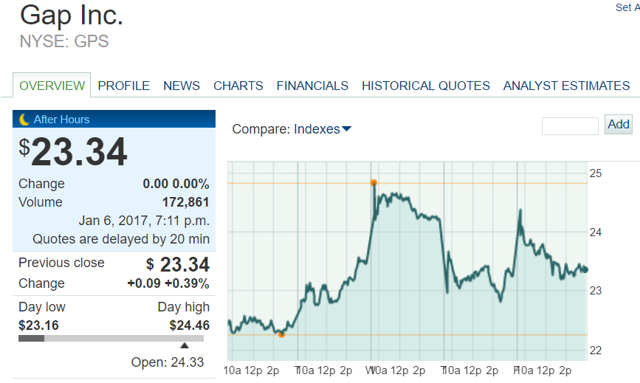 (Source: MarketWatch)
GPS stock popped more than 10% after the company announced that comps rose 2% in the November-December shopping period, including an impressive 12% comp in December at Old Navy. The positive report stands in stark contrast to what we have heard from other retailers, including Kohl's (NYSE:KSS), Macy's (NYSE:M), J.C. Penney, Stage Stores (NYSE:SSI), and L Brands (NYSE:LB), all of whom reported negative comps for the Holiday period. We take a bullish stance on the fact that GPS was able to stand out from the pack in the all important November-December time frame. The easy lap helps (comps were down 5% in December last year), but a handful of these retailers also had easy laps yet still put up negative comps. Moreover, there is a clear upward trend forming in comps this year.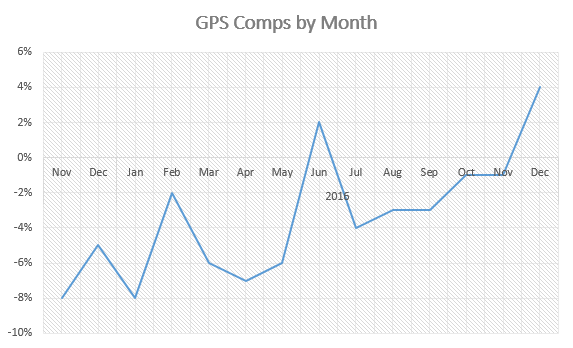 This upward trend back into positive comps territory implies some level of stabilization in company wide sales. In this harsh retail environment where everything is going digital and almost everyone appears to be victim to the Amazon (NASDAQ:AMZN) threat, stability is a good thing to have. Its especially good to have when it appears other big names like KSS, M, and JCP do not have that stability yet. That makes GPS stand out as a company that must be doing something right in the face of increased online competition.
Sales are set to fall this year, but we think the upward comps trend implies sales stability around $15.5B per year. Gross margins should continue to be pressured by a promotional retail environment, and we think the company can net long-term stable gross margins around 36%. Operating expenses have trended around $4.2B for the past several years and we see that trend persisting. That leads to stable annual operating income of just under $1.4B. Less about $70 million in net interest expense and at a 38% effective tax rate, that implies stable net income just north of $800m per year, or roughly $2 per share. This stock historically trades north of 14x earnings, so a 14x multiple on our base-case stable EPS of $2 implies a $28 stock. Upside to the $2 base-case stable EPS could be driven by a lower corporate tax rate under Trump, a continuation in the upward comp sales trend to rebound sales to a $16B level, and margin expansion to the high 30-percent range as a result of a less promotional retail environment.
Overall, we like the stock here. The valuation is attractive at 11.7x what we see as a stable, base-case EPS that has pretty good growth potential from tax cuts and other big-box store closures. The company reported strong Holiday sales against the backdrop of poor Holiday reports from other retailers, making it certainly seem like GPS is doing something uniquely right, and that should attract buyers. We think $28 is a good level to watch here (14x multiple on $2 EPS), and considering the stock has roughly 20% upside to that level, we are buyers here and will continue to buy lower, all else equal.
Disclosure: I am/we are long GPS, AMZN.
I wrote this article myself, and it expresses my own opinions. I am not receiving compensation for it (other than from Seeking Alpha). I have no business relationship with any company whose stock is mentioned in this article.