First week of trading in 2017 started with a blast for short volatility strategies. VIX index closed at 11.32, down 19% from previous week's close.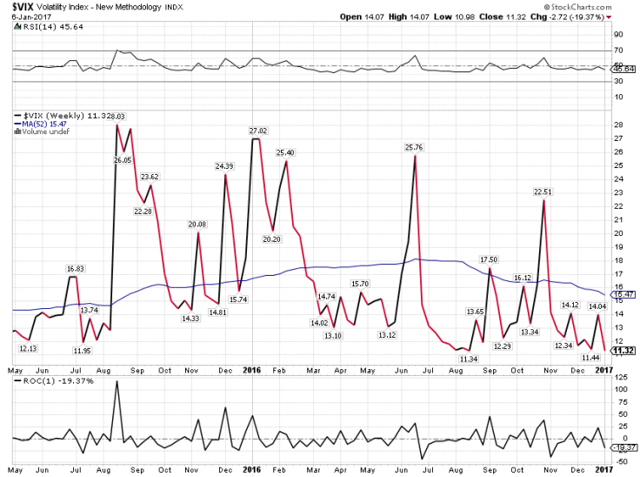 SVXY and XIV had exceptional weeks, too, rising more than 14% and closing at all-time highs.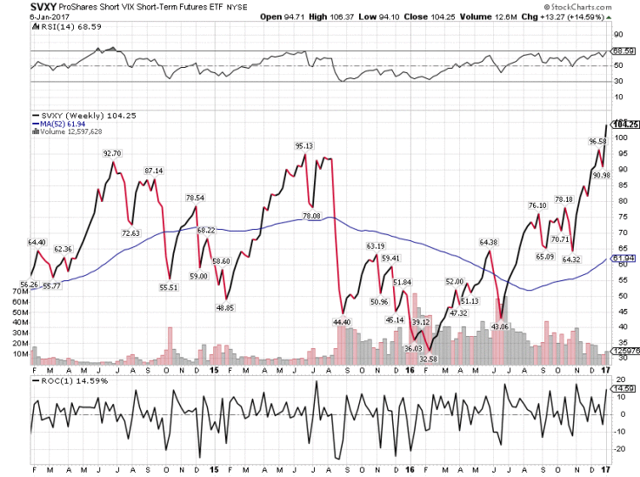 I had positioned myself for a potential move lower in VIX and a corresponding move higher in SVXY by swapping out of a call spread into a long stock position and covering VIX futures short put position. My forecast from last week was rather conservative compared to what actually took place. I was thinking a move near $98 on SVXY would take a couple of weeks to complete, but it occurred in a single trading day.
With markets moving in a favorable direction, I decided to trim my positions and decrease overall portfolio risk as early as Monday. I continued to trim positions as SVXY pushed higher throughout the week and added some short calls.
Trades last week

Positions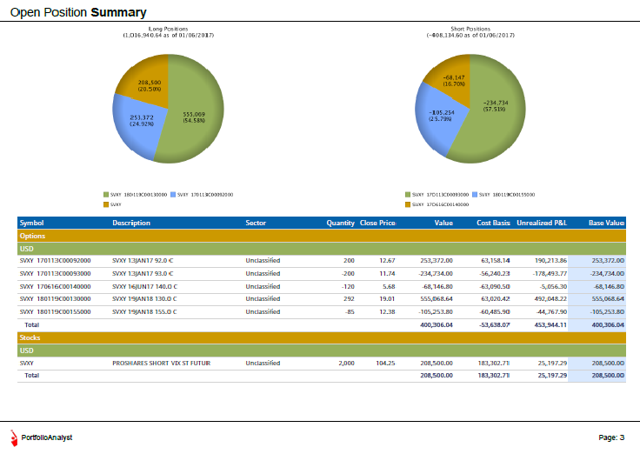 In retrospect, I pulled the trigger too early for all Monday trades. I covered 25% of my long SVXY at $96.75, and more importantly sold VIX futures puts for around 90 cents. As the week progressed, SVXY went as high as $106, whereas those same puts are trading around $1.50 as of Friday's close. However, I won't dwell much on these trades, as risk mitigation at this time is more important than harvesting every last ounce of profits.
Additionally, I sold 120 SVXY calls expiring in June 2017 with a strike price of $140. These calls will act as a shorter-term hedge for my 2018 $130 calls and for the remaining portion of long SVXY position. With this particular trade, I am looking for SVXY to continue higher over the next six months, but at a far slower pace than in 2016. One reason I am cautious on near-term prospects of SVXY is due to 30-day synthetic VIX futures trading below 14 for the first time since August-September 2014.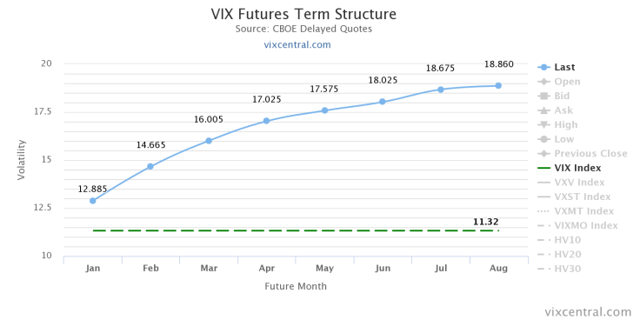 Despite being cautious, I fully acknowledge that we may find ourselves in a 1993-1995 or 2004-2006 type low volatility environment. Backtested XIV/SVXY values from 2004 show that VIX first closed below 12 on December 17, 2004 and the corresponding SVXY value was $9.44. Over the next twelve months, SVXY would have doubled in price, and by the end of 2006, would have more than tripled. I don't assign a significant probability for such events to replicate themselves in 2017; however, I'm mindful of such historical precedents.
Therefore, I'm not fully covering my positions at this time, but rather putting up certain types of hedges. Once again, I have to reiterate that indices continue to show healthy internals, which bodes well for continued strength in the near term. However, sentiment is no longer a tailwind, and I see seeds of overbought conditions in bullish percent indices and in the percentage of NYSE stocks trading above 50 and 200 days moving averages. Specifically, $NYA50R is above 80, and it is a warning sign for the bulls that some sort of decline is about to take shape.
For now, I still expect declines if/when they occur to remain shallow because the technical picture and internals are still solid. I have warned my readers in late November and early December recaps that overbought conditions do not necessarily resolve themselves with strong downward corrections. At the time, indices were on a tear and many pundits were quick to predict imminent selloffs based on the unsustainable pace of the rally. However, markets can simply bide time, which they did throughout December and work off overbought indicators by moving sideways.
Sideways movement near all-time highs is a killer for those who are long volatility. I projected in those weekly missives that sideways action had the highest probability of occurrence and a significant number of traders lost a lot of money buying long volatility ETFs when VIX index dipped into low-mid 12s in mid-November and once again in early December. I don't believe mechanical VIX strategies can perform well if traders do not take into account the most probabilistic direction of the overall market. What I'm saying is that you cannot simply go long volatility at 12.50 or lower and expect positive results each and every time around.
Account performance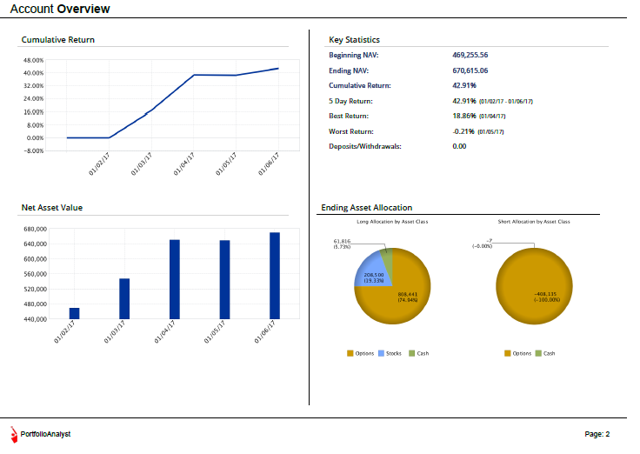 To recap, it was a blast last week for anyone short volatility. My trading account increased by $200k or nearly 43%. I have more hedges in place now given that 30-day synthetic VIX futures are trading below 14. Nasdaq 100 index took out round figure resistance at 5,000 and I expect DOW 30 to overtake 20,000 level sometime next week. I have no idea how the market will react once the round figure resistance is broken, but my base case scenario is that we don't move significantly in either direction until Q4 earnings season starts in earnest.
Once again thank you for reading and commenting, I will be traveling over the next two weeks and will publish my next recap on Monday, January 23rd.
Disclosure: I am/we are long SVXY.
I wrote this article myself, and it expresses my own opinions. I am not receiving compensation for it. I have no business relationship with any company whose stock is mentioned in this article.