2016 is now over and what a year it was. Who would have thought that the markets would have ended the year on a positive note after such a horrible start for the year due to China growth concerns? I, sure, was quite surprised. Nevertheless, now at the start of a new year it is good to look back at last two calendar years and assess my portfolio performance. As I am not an index investor, I feel it is critical to compare my decisions against the market. Even though I consider owning shares as a very exciting and interesting hobby, I still spend a considerable amount of time monitoring my holdings in terms of financial performance, so in that sense I want to have at least a minor compensation for my extra efforts. Otherwise, it would make much more sense just to invest in low cost index ETFs, hold them until perpetuity and use that excess time to do something else more productive. Before delving into my portfolio and its performance, I think it would be first good to shed some light on my investment strategy, i.e. how do I really pick my positions.
My Strategy
As with every investor, their strategy is crafted gradually during the years until finally finding the one which you are most comfortable with. For me this expensive process took almost 8 painful years. After many failures, panic sells and lack of patience, I finally found the strategy which was a perfect fit for me. My portfolio started forming to its current shape late 2014 while confirming fully to my investment style not until mid-January 2016. As taxation is extremely heavy for capital gains where I come from, I needed to find a strategy where I could minimize its impact as it has a detrimental effect on portfolio returns over longer periods. So, if I didn't go for index-based ETF investing, I had to find stocks which I could own for decades in order to postpone sales and therefore capital gains taxes. However, I wanted to know how I could at the same time produce at least similar returns compared to markets. This is where my quest for an investment strategy began.
Warren Buffett is quoted as saying that you should invest in wonderful businesses with moats. Wonderful and moat are wide concepts and very difficult to value accurately. However, if a company is able to generate higher margins compared to competitors over a long period of time, then this particular company is most likely doing something right, i.e. have some kind of a moat around its business. Therefore, I decided that the first requirement for my picks would be market leading margins in terms of ROE, ROA and net margin. In addition, as current share price is a projection of future cash flows and as growth in today's world is a very important factor, I decided that the second requirement for my picks would be as constant as possible but at least 3% average annual revenue growth over a couple of business cycles. My last requirement is a bit more special one and this has actually shaped my investment method the most. A few years ago I was reading a great Swedish investment blog and I read there once an article about Owner Earnings (again a term introduced by Warren Buffett). I was very fascinated by the underlying cash flow and the idea behind owner earnings even though the latter one is quite difficult to calculate. What I especially liked was the fact that all dividends, debt repayments, investments and acquisitions are paid via cash flow and not from net income. Therefore, the third requirement for my stock picks was that requirement #1 was to be calculated using free cash flow and that the ratio between capex and operating cash flow was as low as possible. As a summary, if I were to use a stock screener, the requirements would be the following:
15-year historical median RoA at least 10% using free cash flow
15-year historical median RoE at least 20% using free cash flow
15-year historical median free cash flow to net sales margin at least 10%
15-year historical geometric revenue growth at least 3%
A decent financial position
Each holding from different industries
As the above requirements sound very natural and logical to me, I felt very comfortable using them. This is actually considered to be a very important factor in investing, as bouncing from one idea to another is rarely considered a recipe for success. If you are comfortable with your methodology, you are more likely to sit tight even through bad times.
Before I decided to start using this strategy late 2014, I had to be sure that this type of a strategy would perform well against the market. Doing a proper simulation like this manually would have taken months and been very error-prone so that was out of the question. Instead, I used QuantumTester to simulate how a fictional portfolio would have fared from start of 2000 to mid-2014 (that was the time I did the backtest). The reason why I chose 2000 as the starting year was because back then the internet bubble was at its peak so I wanted to get as bad start as possible for the strategy because I thought that markets were pretty much similarly overpriced back in mid-2014 as compared to the beginning of 2000. For the simulation, I decided not to have any selling criteria as I wanted to see how the stocks would have performed during a 14-year investment period. The underlying reason behind this was to avoid selling which triggers taxes. Even with my current strategy, I sell only if the fundamentals behind my holding have changed dramatically to worse when compared to the situation when I purchased it originally.
When I run the simulation with the above rules for publicly listed US stocks, I got the following results from QuantumTester. During this almost 15-year period, the portfolio rose 400% or 11.7% annually. The benchmark DIA rose only around 5% annually during this same period if dividends are included. When looking at complete calendar-year returns, out of 14 full ones, the strategy lost to its benchmark only on two occasions and did this with lower standard deviation and low correlation, 0.67. You can see monthly and yearly return table as well as full portfolio graph below.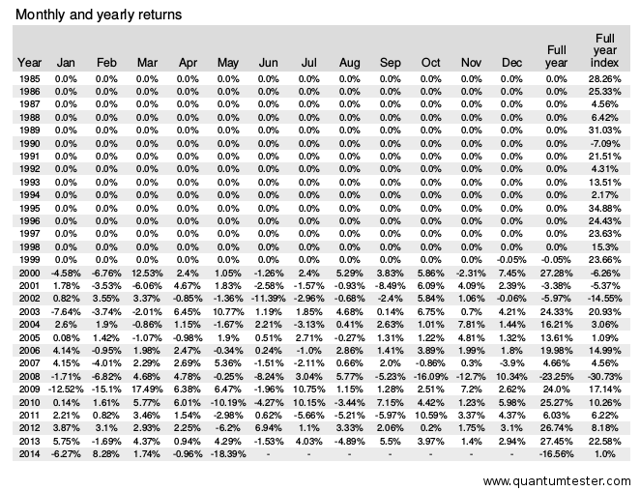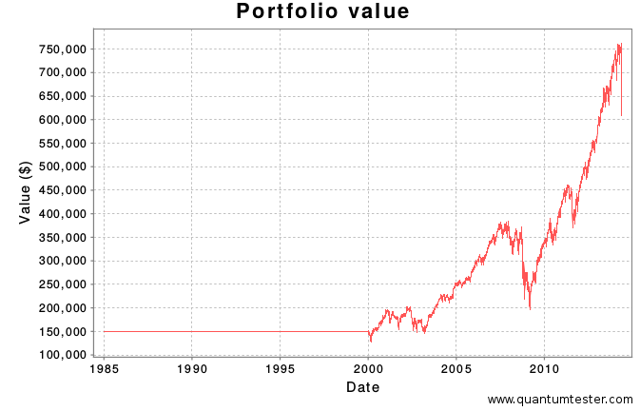 Once I had done the backtest, for which I was very satisfied with, it took me around 3 months to construct a list of viable purchase candidates which I am still using today as we speak. All my purchases up until now are based purely on that list, which was back then constructed based on the above-mentioned criteria.
I have now 2 full calendar-years' worth of live data where majority of my portfolio has been constructed based on the above requirements. At least so far, I am still doing fine. During 2015, my portfolio generated a hefty 19% return while during 2016 the returns were a bit sub-par, or 8.5%. As a benchmark I have used a basket of various market indices, namely S&P 500, DAX 30, DJ Canada, OMXC 20, OMXS 30, OMXH 25 and OSEBX each with the same weight. As the previous indices are price ones, I usually add a 2.5% additional annual return from dividends. My benchmark returned around 8% in 2015 and 11.5% in 2016, meaning that I am still ahead of around 7.5% after two full years. All returns are expressed in euros and my portfolio results include taxes on dividends. You can see a graph version of my two portfolios below. Portfolio 1 has had an average weight of 75% during both 2015 and 2016 and portfolio 2 the remaining 25%. I currently invest once a month to each of my holdings and my plan is to still have one more position in my portfolio. In this case, I would have 12 positions so with a plan of once-a-month stock purchase, I would be able to purchase each stock exactly once per year.

Portfolio 2
My Current Portfolio
As you can pretty much conclude from my benchmark indices, I own stocks from various parts of the world. The reason for this has been a) global diversification and b) lack of support for other markets from by broker. Below you can see a snapshot of my current portfolio holdings with weightings.
Amphenol (APH) - Electronics - 6%
This producer of cables, interconnects and sensors is actually in a very sweet spot business wise. If I recall correctly, this company was global #2 in its business segments right after TE Connectivity. What I especially like about the company is that it operates in a fragmented business environment where it is fairly easy just to acquire smaller businesses and exploit the Amphenol brand and economies of scale to lift the margins in the acquired company to corporate levels. Something like 40-50% of the current market is still fragmented leaving plenty of space for future acquisitions. In addition, the company has been a cost and margin leader for decades. FCI acquisition should start to have a more positive effect on the margins this year onwards, but my biggest concern is related to the possible trade war between US and China. Even though Amphenol specializes in serving its customers locally, the company would still face most likely major issues from Chinese government as an American company. Due to ripple effects to the global economy and due to the fact that 30% of sales are generated from China, this position carries the biggest political risk at the moment and could tank massively if this kind of a situation were to happen.
Atlas Copco (ATLKY) - Industrial - 6%
Probably, the most profitable industrial company in the whole world. Its lean business model makes it very easy to adapt to changing demands. In addition, its corporate rationale is based on the idea that if a business cannot stand the light of publicity, then it is not taken. Wonderful compressor business segment minting money, vacuum business is then a bigger question whether it was a mistake or not to enter it. The company focuses on critical process components but which only cost a fraction of the overall project. This gives the company pricing power.
Brown-Forman (BF.B) - Alcohol - 1%
A recently initiated position still to be built up. A very lucrative and profitable business where everything is all about the brand. Brand power then on the other hand means great margins. Irrespective of current legislative constraints against this industry, it is still doing well. People have been consuming alcohol for centuries and they will continue doing it in the future as well. Let us see will the entering of the scotch single-malt category be a success or not in the long term.
Canadian National Railway (CNI) - Transportation - 3%
A recent position still waiting for build-up. What I like most about the company is its monopolistic business nature. There is just no economic sense to construct a competing railroad next to existing one. Therefore, the company can easily raise prices as it sees fit. Since the emergence of railroads, they are still the most cost effective way of transporting goods across land. On top of all the previous pros, the company is the margin leader and benefits massively from automation. Unless someone invents teleporting, this company will keep on booming as long as the economy and commodities keep on going. My biggest concern is the risk of trade war between US and China which would have a major effect on the company's top and bottom line.
Hennes & Mauritz (HNNMY) - Fashion - 5%
The world's second-largest fashion apparel retailer with a focus on affordable and fast fashion. Two-thirds of this great company is owned by the Persson family, making it very difficult to get proper information about the business. It has even been discussed in Swedish media whether stock exchange is a right place for the company. Hopefully it will stay there. Currently struggling with e-commerce and omni-channel issues, where the strong growth of physical stores is eroding margins as people are starting to do purchases online and use physical stores as a fitting room. Next year the decrease in investments should finally start providing some support for the margins going forward. Let us see if it proves to be a right business decision.
Hershey (HSY) - Food & Snacks - 7%
An iconic chocolate manufacturer with pure brand power giving the possibility to jack up prices without major decrease in demand. This was already proved once again last calendar year. Even though there is constant discussion about people shifting from junk food to more healthy options, people are not going to ditch chocolate and candy. For instance, I am an extremely health conscious person and even I still eat sweets from time to time. As long as you do this in moderation, I think it is fine. Nevertheless, the company is still investing on "healthier" snack options to meet consumer demands so I do not see this as a big issue - like Krave for instance. A possible trade war between US and China might not actually hurt the business that much. If I recall correctly, some time ago the management stated that international operations (especially China) will contribute around 1% point to top-line growth. So, if the Chinese market were to be abandoned due to political blockage, the growth target would be revised downwards but since these operations have been so far value destroying, the margins and profits would increase. This could be a zero-sum effect.
Nokian Tyres (NKRKF) - Consumer Discretionary - 8%
The inventor of the winter tire and the first manufacturer of studded winter tire is the most profitable and northern tire manufacturer in the world. This Finnish company is a sheer cash machine due to its focus on premium aftermarket sales and extensive Vianor distribution chain acting as a spearhead for growth. The Nokian Hakkapeliitta brand celebrated last year its 80th birthday. How many other tire brands can match the same? The development in Russia will be the key driver for share price appreciation.
Novo Nordisk (NVO) - Medicine - 5%
Danish global #1 manufacturer of insulin and diabetes products. The company has been at the forefront of innovative products when it comes to its medicines. Right now, it is facing major pricing difficulties in its core market, which forced the company to radically change its R&D strategy and cut growth targets. I do not see a short-term turnaround in sight.
SAP (SAP) - Software - 7%
Global leader in ERP systems. The company is currently focusing on a move to cloud-based offerings and solutions as is the industry as a whole. Biggest problem in this move is that the margins in that segment are at the moment and most likely in the future as well lower than the good old software services segment where the product was installed on the site. Even though the company has weaker margins than Microsoft (NASDAQ:MSFT), IBM (NYSE:IBM) and Oracle (NYSE:ORCL) I especially like the fact that the company has still been able to grow both its cloud and the old software segments at the same time during this transition. The path for 2021 seems very clear and intact so if the company were to succeed in it, I still see way for future share price appreciation. What I especially like about the business is that its services help other companies to decrease costs (and increase productivity) and no matter of the business environment, there is always demand for these kinds of services.
Svenska Handelsbanken (SVNLF) - Retail Banking - 6%
Europe's and one of the world's safest banks measured by credit spreads. A unique business model developed in the 70s has created a strong business moat around the company, making it extremely difficult for other banks to crack. A journalist once asked its competitors if they could start using the same business model as Handelsbanken, and they immediately rejected the whole idea as impossible. So far, Handelsbanken's decision to concentrate all banking decisions to a branch level and cutting all bonuses and sales targets have been correct. Even though I am not personally its customer, you can clearly see a difference in customer service when compared to other banks; e.g. in Nordea you are treated as nothing else but a bag of money the bank is trying to milk, in Handelsbanken I have always been treated as a person where the personnel never tries to force me upon any of its products. In addition, it is the only Nordic bank which survived the last 2 banking crisis without any additional outside capital injections (1990 and 2008).
Varian Medical Systems (VAR) - Medical Devices - 5%
Global #1 provider of X-ray medical equipment for treating cancer. The global cancer burden is all the time increasing, so the long-term prospects for the business should be very much intact. The biggest risk I see now is the emergence of alternative treatment options to cancer which would have a detrimental effect on the business. I am not quite sure if the company is even at the moment focusing on mainly treating certain types of cancers. The margins have been lower for a few years now and I am not fully sure whether it is due to Obamacare or the demand for lower margin products in the emerging markets. One other risk I see is a possible trade war between US and China which could mean a complete blockage for Varian products in its most important growth market. In this kind of an event, the Swedish competitor Elekta (OTCPK:EKTAF) would easily take over. I am not planning to hold Varian.
12th position
I plan to start a 12th position within a year but I have still not decided which company it would be. I am very interested in 3M (NYSE:MMM) but at current valuation, I will pass it. The situation might be totally different after one year so let us see what happens.
Cash - 41%
You can just simply never have enough cash especially now when the interest rates and inflation are so low and stock market valuations are so high. I believe cash will be king at least for the short term. I could be wrong but at least it provides me a major cushion for a possible market downturn and gives me a good night sleep.
Summary
My current strategy was formed with the help of backtesting (QuantumTester) two and half years ago and at least after full two years, I am still very pleased with the portfolio performance overall. 7.5% outperformance when compared to my benchmark indices after two years might not sound much but I am more than happy with this. Therefore, I can warmly recommend backtesting your strategies first before taking them into live usage. I have almost 41% of my portfolio in cash which I consider to be a good buffer for future market downturns. There could be several reasons which could trigger it, such as the above mentioned trade war, but since I cannot predict the future I continue sitting on top of my portfolio and continue executing my current plan. For this calendar year, I expect a flat development for my portfolio if status quo were to remain the same. In the event of a trade war, I would guesstimate my portfolio to tank around 20% with Amphenol leading the way. Nevertheless, I am still optimistic in the long-term prospects of my portfolio and in reaching my targets.
Thanks for reading.
Disclosure: I am/we are long ALL OF THE ABOVE EXCEPT DIA AND MMM.
I wrote this article myself, and it expresses my own opinions. I am not receiving compensation for it (other than from Seeking Alpha). I have no business relationship with any company whose stock is mentioned in this article.
Editor's Note: This article discusses one or more securities that do not trade on a major U.S. exchange. Please be aware of the risks associated with these stocks.