Author's Note: The article can be viewed in its entirety, including all existing positions, in the Core Value Portfolio, whose goal is to compound capital at 20% over the long term.
The Core Value Portfolio trailed ETFs that tracked major indices in 2016, declining by 4.5% compared to an increase of 12.0% for SPY (S&P 500), 16.4% for DIA (Dow Jones Industrial Average), and 7.1% for QQQ (NASDAQ 100). The surface level takeaway is that the portfolio failed to repeat its success in 2015 and brought down the annualized return of the portfolio to 16.2%. Although higher than SPY's annualized return of 7.5%, the portfolio is still below its long-term objective of 20%.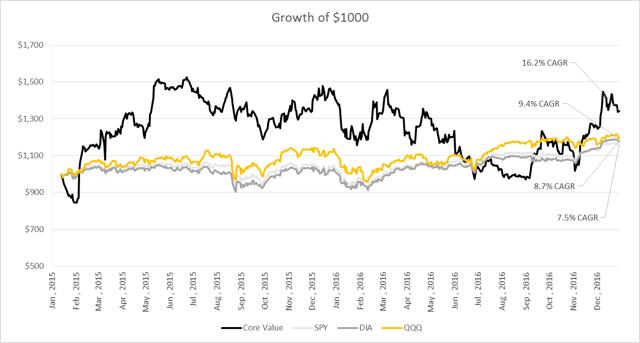 Performance since inception as of December 30th, 2016
Despite the underperformance in 2016, the mandate of the portfolio has not changed. As I've stated in the introduction to the portfolio, the Core Value Portfolio is not about chasing short-term results. In fact, the appetite for volatility (especially on the downside) is truly one of the biggest factors that will drive the portfolio's outperformance over the long-run.
How exactly can volatility allow the portfolio to produce higher returns? Market sentiment fluctuates wildly. Instead of a stock rising from $10 to $15 in a steady fashion, the stock could dip to $3 before bouncing back to $15. Sure, opportunities are easy to spot in hindsight; who wouldn't buy a stock at $10 if he or she knows that the stock will run to $15? However, the journey along the way can be painful. Do you buy more at $8? Do you back up the truck at $7? Do you fall into despair at $4? There is no perfect answer, as whatever sentiment that sent the stock down from $10 can still persist (and even strengthen) at $4. However, I think we can all agree that if one is confident about the future value of a stock (ascertained through vigorous analysis), the stock becomes increasingly attractive as the price decreases. That is the philosophy on which the portfolio was built, and that is the philosophy that the portfolio stuck to in 2016.
Let's take a look at the portfolio's largest position, Conn's (NASDAQ:CONN). The portfolio began the year with more than 10% of capital being allocated to the stock. The company continued to suffer from short-term headwinds throughout the year. However, because the company's long-term outlook has not changed, the portfolio continued to accumulate additional shares as the stock declined. The portfolio ended the year with significantly more of capital in Conn's. The increase in allocation reflects my belief that Conn's is a much better buy now than it was a year ago. Unfortunately, buying on the way down did negatively impact performance. As I've mentioned in other articles, even if a stock's long-term prospect has not changed, the share price can always go down another 25%. However, the fundamental value of a company will not be impacted by share price movements (though exceptions do apply - see StoneMor Partners (NYSE:STON)).
So where does this leave us? The portfolio began 2017 with its biggest position at almost half the price it had at the beginning of 2016; in addition, we've put even more money behind it. I believe that all else equal, the expected portfolio return in 2017 is exceedingly bright.
Top Holding: Conn
Shares fell from $23.47 at the beginning of the year to as low as $6.54. As mentioned earlier, the portfolio bought more along the way. As Q3 results showed some improvements that the Street was looking for, shares have bounced back to above $12. On a quarter to quarter basis, the macro environment has improved since Q1 2016. Oil has rallied to 52-week highs, boosting consumers' confidence in oil-rich states such as Texas, where most of Conn's stores are located. The promise of tax cuts could further induce consumer spending.
On a fundamental level, the company has now isolated itself from virtually all of the poor performing loans. Even if a recession were to occur, the company will remain liquid thanks to its clean revolver. Earnings power of the retail business aside, the current stock price is cushioned nicely by the company's book value, much of which consist of assets that will eventually be converted to cash (i.e. yet-to-be-securitized receivables and residual interests in VIEs) through securitizations and collections. While the cost of funds could face some pressure in a rising rate environment, it's important to note that the company is still offering a huge spread on its notes. I believe that in the base case scenario, funding costs should decline modestly or stay flat in 2017 as spreads compress.
As the company continues to fine-tune its lending policies and residual interests start to be realized, I am confident that the market will recognize Conn's' value. If not, I am certainly willing to wait.
2017 Outlook
The biggest question mark for me is no doubt Trump. It is still unclear what exactly his plans are. Take Obamacare. We know that he wants to replace it, but no details have been given. The pace of transition to the alternative plan will have major impact on the healthcare sector. Even though the amount of uncertainty right now is arguably much greater than what it would have been under a Clinton administration, who would have been more focused on addressing price increases, investors have pushed healthcare stocks higher recently.
The lack of information regarding future policies means that there could be a lot of volatility in various sectors going forward. Volatility creates opportunities, and if Trump's policy remains unclear, 2017 could be a year filled with opportunities (note that this doesn't mean our portfolio will change much). Unfortunately, it is difficult to know what and when in advance.
While we don't know much about Trump's exact plans, the consensus seems to be that economic growth and inflation will both pick up. This view has sent the stock market sharply higher since election night. Does this mean that the market is pulling forward future gains (i.e. implying poor returns later)? I do not think so. I've always maintained the opinion that the U.S. economy is well-oiled, meaning that the stock market should rise regardless of fiscal stimulus. However, if nothing is broken, why fix it? As such, I am concerned about Trump's policies possibly disturbing the delicate balance. Do we really need loose fiscal policies when consumers are already spending more and more, unemployment is at historical lows, and GDP is growing at 3.5%?
Of course, higher growth, all else equal, is a good thing. It would be great if we could grow at double digits like an emerging economy, but it must not be accomplished at the expense of future growth. We should not be borrowing from the future like we did prior to the recession. As I mentioned previously, we don't know what exactly Trump will do, so it's difficult to identify specific risks. However, I do believe that aggressive fiscal spending and a Fed that seems to be dead set on raising rates to counter the aforementioned loose fiscal policy could set the stage for another disaster (read Identify A Crash Before It Happens). Granted, we are not even at step one yet, hence I will refrain from making any bold prediction. But given the current economic outlook, I am as optimistic about the economy in 2017 as I have been in 2016.
Click the "Follow" button beside my name on the top of the page to be updated with my latest insights. To learn more about the Core Value Portfolio, whose goal is to compound capital at 20% over the long term, I encourage you to read the introduction to my investment process. Premium subscribers get full access to the Core Value Portfolio.
Disclosure: I am/we are long CONN.
I wrote this article myself, and it expresses my own opinions. I am not receiving compensation for it (other than from Seeking Alpha). I have no business relationship with any company whose stock is mentioned in this article.