In the next few articles I want to explore Sporting Goods Industry, and the first company that I will cover is Nautilus Inc. (NYSE:NLS) This article is my brief analysis of this stock.
Company Profile
Nautilus is a consumer fitness products company. It provides solutions to help people lead a fit & healthy lifestyle. It is engaged in designing, developing, sourcing & marketing of cardio & strength fitness products & related accessories for consumer use primarily in the United States and Canada, but also in international markets outside North America.
Nautilus's products cover a broad range of price points and features. Their products are designed for home use by the person who works out occasionally to the serious athlete. Here are brands of Nautilus Inc.:

Nautilus® is their corporate umbrella brand and is also used to differentiate certain specialized cardio, treadmills, ellipticals and bike products.
Bowflex® brand represents a highly-regarded line of fitness equipment comprised of both cardio and strength products, including the Max Trainer® and TreadClimber® specialized cardio machines, PowerRod® and Revolution® home gyms and SelectTech® dumbbells.
Octane Fitness® brand is known for its innovation around low-impact cardio products, including the perfection of the traditional elliptical machine, along with the creation of new categories of exercise, including the xRide® recumbent elliptical, the LateralX® elliptical, and the Zero Runner®
Schwinn® brand is known for its popular line of exercise bikes, including the Airdyne®, treadmills, and ellipticals.
Universal® brand offers a line of kettlebell weights and weight benches along with a recently launched cardio line.
Business Strategy
Approximately 82% of Nautilus's revenue in 2015 is the share of consumer cardio products. The company is one of leaders in the consumer strength product category, but Nautilius believes that market for cardio products is more attractive and offers greater opportunity for the further growth. The company makes more 85 % of net sales in the United States, but the US market has been struggling in recent years, and the global fitness equipment market is anticipated to grow at 3.6 % from 2015 to 2022. So, an expansion into new regions can be a solid growth opportunity.
And steps were taken towards M&A - on December 31, 2015 Nautilus announced the acquisition of OF Holdings, Inc., sole parent of Octane Fitness for an aggregate base purchase price of $115.0 ml., plus adjustments for working capital and cash on the closing date. The company funded the acquisition through an $80 million term loan and cash on hand. Here is the quotation from Bruce M. Cazenave, Nautilus Chief Executive Officer:
The acquisition of Octane Fitness is a significant milestone for Nautilus and will meaningfully accelerate our strategic growth initiatives, including extending into higher price point products, penetrating new channels of distribution, and expanding access in international markets…
Sporting Goods Industry
And now let's see how the company compares to its competitors. For my analysis I have chosen the following companies from the sporting goods industry: Black Diamond (BDE), Callaway Golf Company (NYSE:ELY), Escalade (NASDAQ:ESCA), Johnson Outdoors (NASDAQ:JOUT), Pool Corporation (NASDAQ:POOL), Sportsman's Warehouse Holdings (NASDAQ:SPWH) and Vista Outdoors (NYSE:VSTO).
Source: Yahoo Finance
It is easy to see here that Nautilus was much better than other companies during the last five years, but should we invest in NLS today is an interesting question.
Valuation
For puzzling over this question, I made a chart which you can see below. It is a bubble chart with three variables - Enterprise Value/EBITDA (x values), Net Debt/EBITDA (y values) and Capitalization (size values). Nautilius is located in above the middle among its peers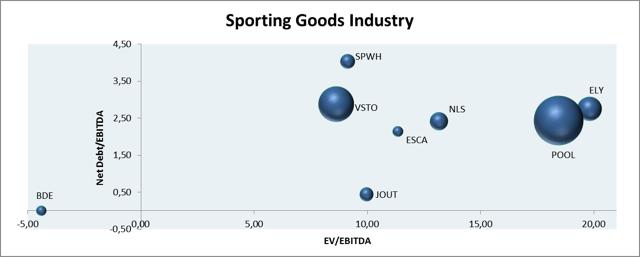 Source: Data - Morningstar; infographics by author
But I still like this company, because they can produce steady cash flow, so I am sure that in the near future the company will extinguish its debts, as a result, market value of NLS will increase.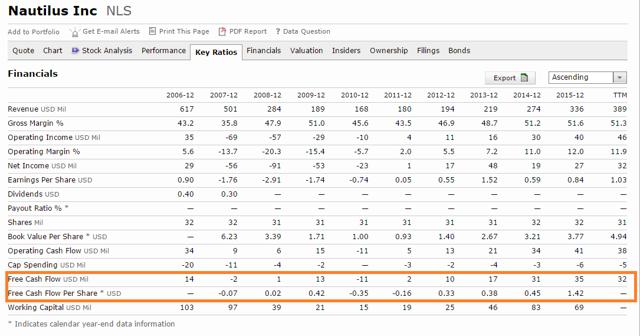 Source: morningstar.com
I have used simplywall.st to estimate fair value of this stock. I totally agree with this estimation, and I think that there is about 20% upside potential. The company has strong fundamentals, and there is a room for further growth, I set a $23 target price for this stock.

Source: simplywall.st
Disclosure: I/we have no positions in any stocks mentioned, and no plans to initiate any positions within the next 72 hours.
I wrote this article myself, and it expresses my own opinions. I am not receiving compensation for it (other than from Seeking Alpha). I have no business relationship with any company whose stock is mentioned in this article.