The first full week of 2017 is done and gone, and it was slow. Most of the focus companies went without any DoD Contracts being awarded at all; compared to last week, there is hardly any difference at all.
Yes, you are seeing that right, only Raytheon, Northrop and BAE got new contracts. The only one to get a sizeable award (N00024-17-C-4409) was BAE and that for "just" $75 million to dry-dock the USS San Antonio. Outside of our focus companies there was a little movement, but not much.
Significant Contracts
The biggest winner of the week was Harris Corporation (NYSE:HRS). They landed a $403 million award (SPRBL1-17-D-0002) to provide spare parts for tactical radios. Harris pretty much has the tactical radio communication market locked down for the US Military, and this is further evidence of their leadership position. This contract is for five years and the company will be paid as parts are delivered. The market reacted favorably and the company closed the week out up 1.1% on Friday to land at $104.55.
Another contract was awarded to a very small boot maker known as McRae Industries (OTCPK:MCRAA)(OTCPK:MCRAB). Though the contract modification (SPE1C1-15-D-1023 ) was only for $9.5 million, this company only has a market cap of $63 million. The company does quite a bit of business with the US Government and a quick search of DoD contracts over $7 million yields significant results. The company is thinly traded in the OTC market, but they do offer a 2% dividend. While not a pure defense play, the military will always need boots, and with the 2017 NDAA stopping the drawdown in numbers and the increase in personnel promised by Mr. Trump, this may be a way to get some exposure. From what I've seen, the company is owned heavily by insiders, and is conservatively run with solid balance sheet.
Weekly Performance
The quiet week in contracts did not translate into a quiet shortened week for trading of our focus companies.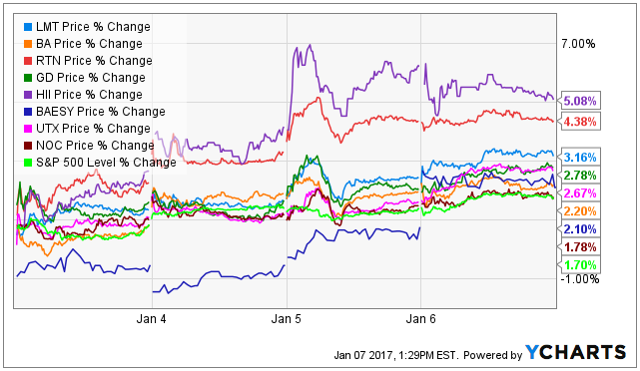 All beat the S&P 500 this week, and Huntington was the big winner, thanks to some big news that dropped. The bigger news was perhaps that the President-Elect didn't attack a defense contractor over Twitter (NYSE:TWTR) this week, instead going after Toyota (NYSE:TM).
Nuke Filled Submersibles
The big news this week that drove up the entire defense sector, especially Huntington, was that the US is moving ahead with plans to build 12 nuclear submarines for $128 billion. The 2017 NDAA all but guaranteed this would happen, and in an earlier installment of this series, we discussed this.
These new Columbia Class submarines are a jump ahead and meant to replace the Ohio Class subs as the main component of our nuclear weapon-equipped naval assets. Now that Kim Jong-Un thinks he can get a ballistic missile to hit the United States within two years, our nuclear-deterrent assets will likely jump ahead a few spots in line, as well as our missile defense.
The big benefactors will be General Dynamics, who has the lead on the project, and Huntington Ingalls who is the primary subcontractor. Most appealing about the program, at least for long-term investors, is the decades of revenue this will bring in ongoing maintenance. As the Navy works toward reaching their 355 ship goal, Huntington and GD could be serial outperformers with the constant flow of revenue. General Dynamics, with a P/E just below 19, looks like a fair buy right now.
Lions And Tigers and Bombs... Oh My!
A Wall Street Journal article this week gave insight into the big business of big bombs and the ongoing air-strikes against ISIS militants.
The article focused heavily on Lockheed, Boeing and BAE systems. The three munitions highlighted the Joint Direct Attack Munitions, or JDAM, the small diameter bomb and the Hellfire missile. The JDAM, a simple kit to make a dumb bomb smart, is the most popular dropped, thanks to its cost-effectiveness and accuracy. In fiscal year 2016 alone, there were over 14,000 dropped and that number isn't likely to come down. The small diameter bomb and Hellfire missile were also outlined in the article. The small diameter bomb, or the SBD-1, is manufactured by Boeing, but has some competition coming from Raytheon and the SBD-II offering.
On top of the constant need for more bombs to drop on ISIS, the 2017 NDAA also set aside funds to replenish our depleted ordnance stockpiles that haven't quite recovered from the wars in Iraq and Afghanistan. Other ordnance contractors such as Raytheon, Orbital ATK (NYSE:OA), National Presto (NYSE:NPK), Olin Corporation (NYSE:OLN) and Vista Outdoors (NYSE:VSTO) will also benefit. I've often referred to these kinds of products as the blades to the razor handle made popular by Gillette (NYSE:PG). Providing the blades is a stable business so long as hair grows, and in our case with bombs, so long as terrorists insist on challenging the United States.
In Other News
A movement to keep the A-10 in service is gaining momentum. I'm one to agree, the plane is incredible.
Uranium miners got a boost last week as Mr. Trump tweeted about growing the stockpile and being okay with an arms race.
Russia is pulling back some military assets from Syria, notably their only aircraft carrier...which comically has to stop to refuel.
The US is sending 300 Marines back to Helmand Province.
Lockheed Martin's Senior Vice President Leo McKay met with Donald Trump at Trump Tower over a possible appointment to Secretary of Veteran Affairs.
On Seeking Alpha
Discount Fountain presents the case for sideways trading in Lockheed until certainty is achieved.
Daniel Jones explores Donald Trump's war on war.
Sure Dividend outlines General Dynamics as a safe bet amidst increased defense spending.
The Coming Week
As President Obama's administration heads into the final weeks and many Congressmen and cabinet officials pack up their offices, it will likely be pretty quiet. Those first 100 days of Mr. Trump's administration will inject some volatility back into this sector. The inauguration, for one reason or another, could provide some additional upside to the sector despite not much actually changing that the market didn't already know about. Don't forget about Mike Pence's statement about sending Congress a supplemental funding request for the DoD in the first 100 days, depending on the size and wording that could provide a nice bump.
I appreciate you reading, please leave your thoughts and questions in the comments. If you don't already follow me and would like to receive the (mostly) weekly updates on this sector along with my other posts, please hit follow.
Disclosure: I am/we are long RTN, BAESY.
I wrote this article myself, and it expresses my own opinions. I am not receiving compensation for it (other than from Seeking Alpha). I have no business relationship with any company whose stock is mentioned in this article.
Editor's Note: This article covers one or more stocks trading at less than $1 per share and/or with less than a $100 million market cap. Please be aware of the risks associated with these stocks.