The latest macro releases confirmed that the risks for the global economy are still to the upside, and this allowed major US equity indices to reach new highs. Does this optimism mean that the time has come for investors to get defensive? Probably not, as long as China succeeds in its effort to buy time defending the yuan (NYSEARCA:CYB) in order to allow for the effects of its gigantic infrastructure program to start materializing. This is not an easy task to do for sure. Yet, this is what risk asset investors should put first on their watch list, until they start assessing the actual planning and eventual implementation of the new US administration's economic policy mix. China will definitely need to prove that it can continue to hold the line on its foreign exchange battle, as it has done so far, in order to reassure investors that they can continue to reap the benefits of the global reflationary scenario. A scenario which seems increasingly likely when viewed through the lens of the Great Fiscal Rotation, and the subsequent normalization of monetary conditions. Thus, before we even start witnessing the way pro-growth policy in the US starts to shape under President-elect Donald Trump, all eyes should stay glued on China and the on-going progress of its peculiar 100-meter sprint race.
China's 100-Meter Sprint Race Turned To Marathon
China is battling against two enemies; a structural and a cyclical one. The structural is its meticulous long-term rebalancing process from a cheap exports growth model to a consumer oriented one. The cyclical one is its rush to defend its currency and its financial system from a devastating capital exodus in order to buy enough time before the beneficial effects of its infrastructure plan come into play. In this light, investors in US equities (NYSEARCA:SPY) should better care for China's ability to keep the upper hand in its cyclical battle with currency speculators, a necessary condition for extending the global reflationary trend.
According to the latest PBOC announcement, China's foreign exchange reserves dropped slightly above $3 trillion. This level is considered by many investors as the last line of defense for China's central bank. This threshold has more symbolic than real substance, though, given that there is no actual change in Chinese foreign exchange market dynamics if the $3 trillion mark is taken out. Nevertheless, market psychology can turn markets around, a reality which Chinese are fully aware of.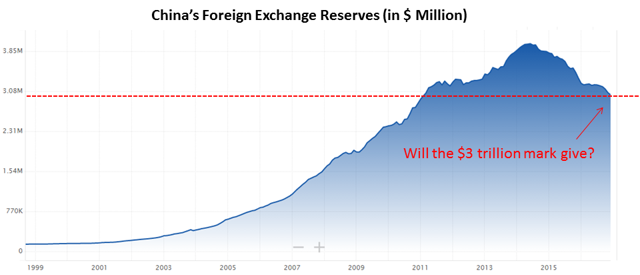 Source: ieconomics.com
As a matter of fact, it was precisely the psychological and symbolic meaning of the $3 trillion threshold which forced the PBOC to act so decisively by unleashing a number of regulatory and policy actions. It wanted by all means to defend the $3 trillion figure and it achieved that. The result was an alleged monetary intervention which brought an unprecedented rise in overnight off-shore rates in Hong Kong and triggered a temporary yuan gain and a sell-off in alternative currency markets like Bitcoin (NYSEARCA:OTCQX:GBTC). USDCNY dropped from as high as 6.96 to as low as 6.87 within two days, reflecting a 1.3% weakened dollar against the yuan. PBOC's intervention came at a time that the USDCNY was about to test the 7 area. However, the key point is how China's dilemma, i.e. burn through as many reserves as necessary to defend the USDCNY 7 limit or carefully allow this level to be taken out, is resolved. The PBOC most certainly leans towards the latter. After all, there is already a growing consensus among analysts for a continued devaluation of the yuan beyond the 7 level well into this year, and the Chinese will take advantage of this. What the PBOC is trying to avoid by all means, though, is a simultaneous break of the 7 USDCNY level and shrinkage of reserves below the $3 trillion threshold.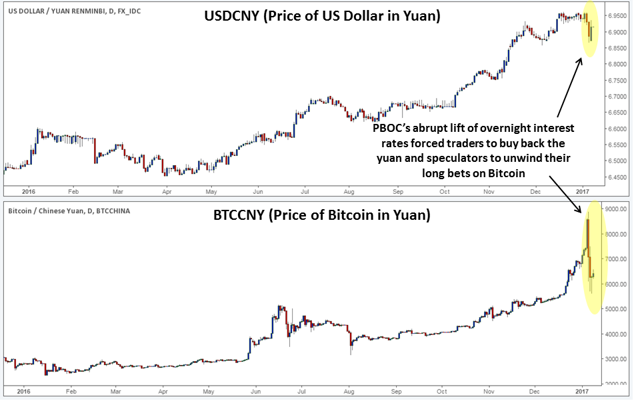 Source: tradingview.com
That's exactly why the PBOC announced a series of tightening capital control measures, refraining from the curtail of the $50.000 annual quota of foreign exchange purchases by Chinese citizens, which was allowed to roll over at the beginning of the year. The exact nature of the measures and policy actions shows that the PBOC wanted to inflict greater control over the foreign exchange market, avoiding signaling that it is willing to put its foreign exchange reserves into greater risk.
Under this light, one of the most striking actions was the pause in its gold (NYSEARCA:GLD) purchases for a second month in a row in December. This decision was made most certainly in order to avoid exposing the USD-denominated reserves into greater devaluation risk, in the case of an accelerating US dollar (NYSEARCA:UUP) rise. An increased portion of foreign exchange reserves allocated in gold could reduce their dollar value, because a stronger dollar would weigh on gold's price. This made gold the newest victim in PBOC's effort to stem US-denominated reserve losses.
Furthermore, according to Bloomberg reports, PBOC considered to force stated own enterprises to temporarily convert their dollar holdings into yuan to assist it in the defense of the national currency. This move again aims at achieving yuan stabilization without burning more of the official foreign exchange reserves (under the assumption that SOEs' cash balances are not already counted as foreign exchange reserves).
All these moves aim at buying the Chinese critical time in order to get the growth and credibility engine moving again through another big weapon of theirs; a $0.5 trillion infrastructure plan to be implemented over the next four years.
China, by defending the $3 trillion foreign exchange reserves threshold, reminded the world that it has some really powerful weapons in its arsenal; short-term monetary tightening being one of them. Still, it can only be used very selectively unless PBOC wants to risk a downfall of its fragile economy. In this light, the reported intentions by Chinese policy makers to relax their trade and economic growth targets for the year ahead are making perfect sense. They want to leave room for some potential macroeconomic "turbulence" in case the tightening of monetary conditions needs to take an even more aggressive character. The dilemma between burning through more foreign reserves and increased monetary tightening will continue to be a fine balancing act by the PBOC and one of the top two factors to watch for the short-to-medium term potential of risk assets.
China has begun its own 100-meter sprint race and US equities bulls are the warmest spectators. They would definitely wish that China secures enough time through "surgical" foreign exchange manipulations before the first income effects of its massive infrastructure program as well as global fiscal coordination come into play. Sure, all regional and global activity indicators continue to provide evidence in favor of the reflationary scenario by consistently beating expectations for quite some time now. However, a strong global economy which sparks a rally on the US dollar is a double-edged sword. It can accentuate funding shortages in the economies which are in greater need of cheap funding, such as China.
However, and for the time being, investors in US equities and risk assets in general face increasing probabilities of the reflationary scenario. In order for these probabilities to begin turning into material moves, the Chinese are required to demonstrate a rare virtue; their ability to run a marathon by keeping a constant 100-meter sprint pace. Will they manage it? A positive answer for equity bulls is not only a welcome gift; rather, it is a matter of existence.
Disclosure: I/we have no positions in any stocks mentioned, and no plans to initiate any positions within the next 72 hours.
I wrote this article myself, and it expresses my own opinions. I am not receiving compensation for it (other than from Seeking Alpha). I have no business relationship with any company whose stock is mentioned in this article.
Additional disclosure: The views expressed in this article are solely those of the author, provided for informative purposes only and in no case constitute investment advice.