Regular readers are aware that I have been maintaining a model portfolio built with three objectives. First is high current income. I want a portfolio that will allow taking 8% in income and, ideally, generate a modest excess beyond that 8% to reinvest. The second is sustainable capital. Too many high-yielding investments suffer from capital erosion. My objective here is to stem that erosion and maintain a stable portfolio value over time. And finally, I've looked for tax efficiency. This third objective needs a fair amount of wiggle room, because tax efficiency can be inconsistent with the first two objectives. It is difficult to attain the first two objectives without some allocation to tax-inefficient fixed-income and REIT funds. So in striving for tax efficiency, I've focused on the equity cohort and added a couple of muni-bond CEFs.
Until now, the portfolio has been made up entirely of closed-end funds. Part of my goal has been to demonstrate how CEFs can be the most effective high-yielding investment choice.
I began with $100,000 at the end of the third quarter of 2015 and have been updating it quarterly. As of the end of 2016 (15 months), the portfolio value was $106,610 and withdrawn income was $13,565. Here's a list of the component funds at the beginning of the current quarter (see "Retirement Income: The High-Yield Sustainable-Capital CEF Portfolio 2016 Report" for details).
Equity-Common: Nuveen Dow 30SM Dynamic Overwrite Fund (NYSE: DIAX), Eaton Vance Tax-Managed Global Buy-Write Opportunities Fund (NYSE: ETW), Eaton Vance Tax-Managed Diversified Equity Income Fund (NYSE: ETY), Miller/Howard High Income Equity Fund (NYSE: HIE), Tekla Healthcare Opportunities Fund (NYSE: THQ), Nuveen Nasdaq 100 Dynamic Overwrite Fund (NASDAQ: QQQX), Columbia Seligman Premium Technology Growth Fund (NYSE: STK).
Equity-Preferred: First Trust Intermediate Duration Preferred & Income Fund (NYSE: FPF), Nuveen Preferred Income Opportunities Fund (NYSE: JPC).
Fixed Income - Taxable: Apollo Tactical Income Fund Inc.. (NYSE:AIF), AGIC Convertible & Income Fund (NYSE: NCV), PIMCO Dynamic Credit & Mortgage Income Fund (NYSE: PCI).
Fixed Income - Tax-Free Municipal Bond: Eaton Vance Municipal Bond Fund (NYSEMKT: EIM), MFS Municipal Income Trust (NYSE: MFM).
Real Estate: Cohen & Steers Total Return Realty Fund (NYSE: RFI).
Allocations, yield and discount/premium status for the funds are as follows: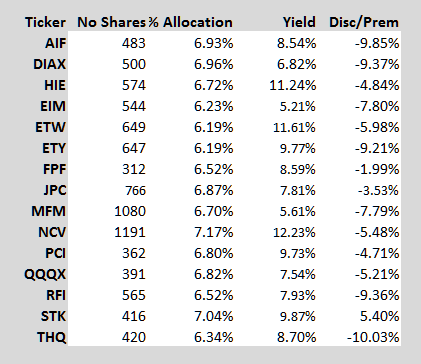 I normally update this portfolio at the beginning of the new quarter, but was a bit behind this quarter. As I noted in the year-end update, I felt the portfolio was inadequately diversified in the equity sector, and I wanted to look at adding some exposure to energy as soon as possible. Most market observers consider energy generally, and MLPs in particular, poised to continue their strong rebound in 2017. My intention was to review MLP closed-end funds and choose one from that set. With that in mind, I set out to review the category. When this subject came under discussion in the readers' comments, several suggested that I look at the InfraCap MLP ETF (NYSEARCA:AMZA). To some extent, this goes against the spirit of the exercise, which was to build the portfolio out of closed-end funds. But a look at AMZA's metrics convinced me to add it to my survey.
With this is mind, what I'll do here is a brief version of my usual methods of surveying a CEF category adding the ETF, AMZA, into the mix for those metrics that are applicable to the ETF. I used the 26 CEFs* in cefconnect's MLP category. I did not include the funds in the Energy/Resources category because I wanted to focus on MLPs here. CEF data come from cefanayzer.
Discount/Premium
As an ETF, the Discount/Premium metric is much less relevant to AMZA, although its market price does show some variation from NAV, more so than is typical for most ETFs. On Friday (January 6), the fund closed at a -0.25% discount to NAV, but over the course of the fund's history, it has had a small premium more often than it's fallen into discount territory. This chart from Morningstar shows the Premium/Discount history on a monthly basis since the fund's inception.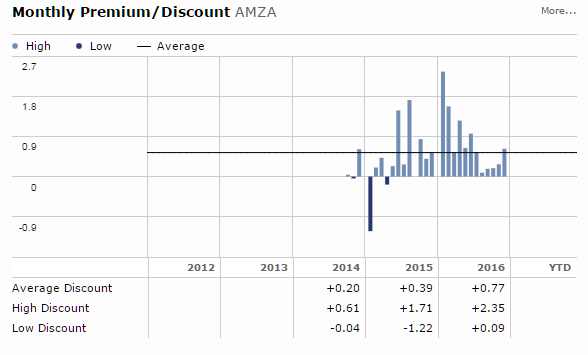 As for the CEFs, they show the wide range typical for the CEF category:

And for the record, here's a summary of Z-scores for the CEFs:

One could, of course, calculate a Z-score for AMZA as well, but the usual sources restrict their use of the metric to CEFs, where premiums and discount play such an important role in investment decisions. I've not done it myself, so I put AMZA in as "N/A," which shows here as zero, a spurious value. As for the CEFs, we see that most still have negative Z-scores, even with the year-long upswing for the category. Funds that have been losing points to the discount include MIE, JMF, FEN, NDP and FPL, but most of the others have seen a deepening of their discounts (as evident from their negative Z-scores).
Market Yield
Let's turn now to yield. The following chart shows market yield for AMZA and the 26 CEFs in cefconnect's MLP category:

AMZA's 18.9% yield makes it the standout for this metric by a substantial margin. If anything, a yield that high should give one pause with regard to the potential level of risk being taken to generate that yield. It certainly raises a caution flag.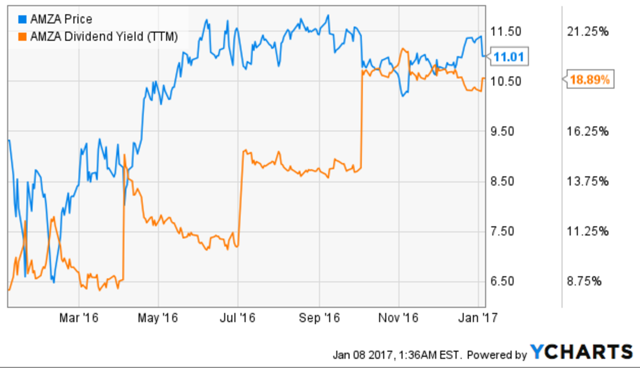 Leverage
AMZA, along with all but one of the CEFs in the category, uses leverage to enhance yield to shareholders. This quote from its October 2015 Annual Report sums up the fund's leverage policy:
"The Fund's policy is to maintain the leverage ratio in a range of 10-33% over the long term. Additional leverage may be used when attractive investment opportunities arise but such leverage would be reduced over time... Total leverage represented 25.3% of total assets at year end which was at the high-end of the long-term target range."
Comparing leverage for the CEFs and AMZA:

Clearly, AMZA is not generating that massive lead in yield by cranking up leverage despite being at the "high end of the long-term target." Only four of the 26 CEFs carried less leverage than the fund at its most recent reporting.
Fees and Expenses
AMZA also leads the CEF category in fees and expenses, again by a substantial margin.

Summary of Metrics
The next table summarizes Yield, Discount/Premium, Z-Scores, Leverage and Expenses for the CEFs and, where applicable, AMZA: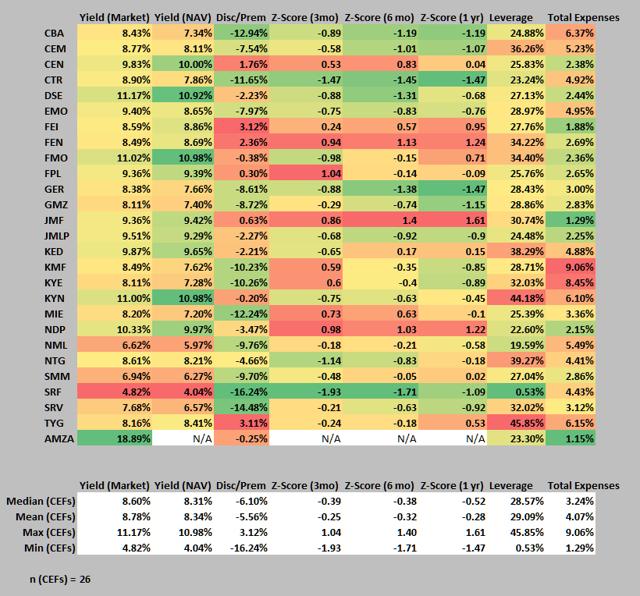 In rank order, with 1 being the best, the table looks like this: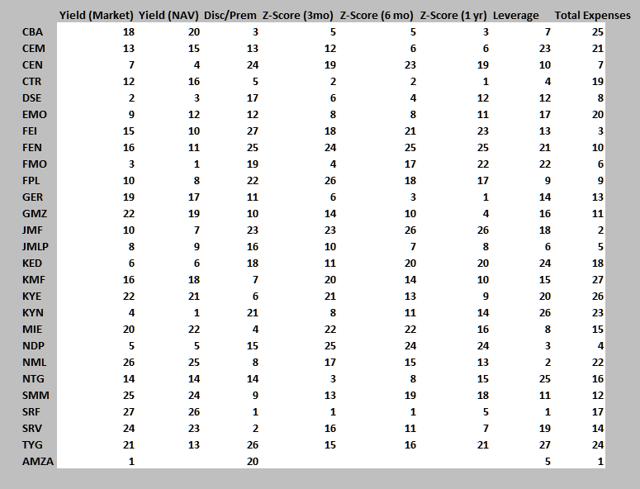 Based on these metrics, the case for AMZA is compelling.
Total Return Performance
The next tables show total returns (1, 3 and 12 months) for the funds. (Please note: The table as originally published was incorrectly transferred. The TR (1yr) column sorting and ranking was incorrect. I've changed the table 10 Jan 2017 at 6am PST. My apologies for the error.)
First the returns: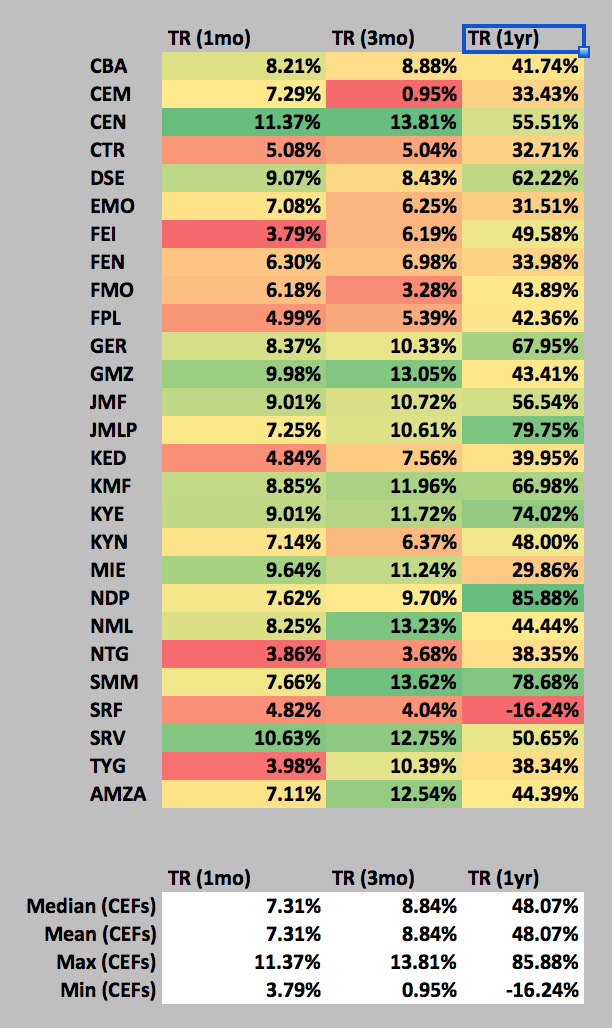 And then a rank order (1 is best):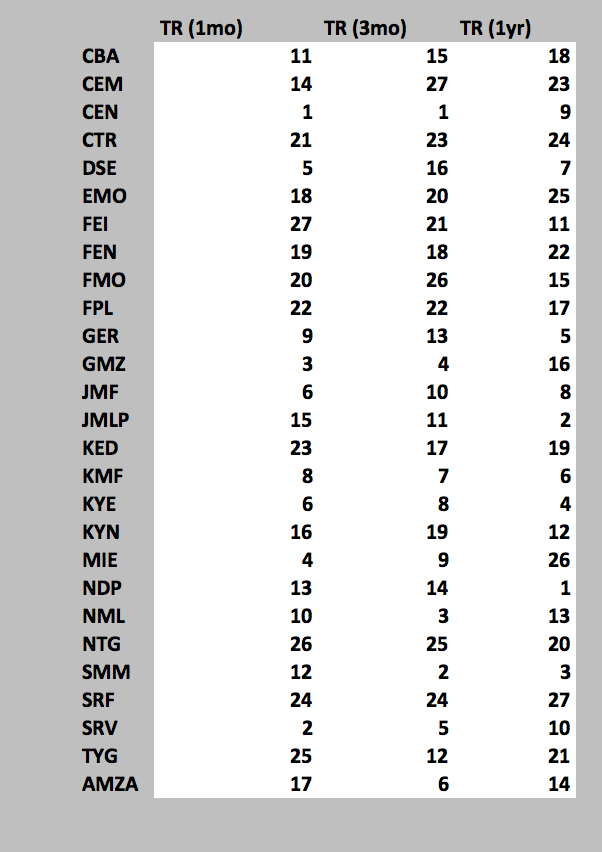 For the CEFs, NDP, JMLP, SMM, KYE and GER stand out as top performers for the year. AMZA stands near mid-pack. In many ways, this is a problematic comparison, because the CEF category mixes funds with predominantly midstream and downstream portfolios, and these subcategories of MLPs have had quite different performance records. Taking this into account, AMZA, which is currently a midstream MLP portfolio, appears to have stronger relative performance than it would have if compared only to the midstream funds. The fund's management does, however, have greater discretion to move into other subcategories as conditions dictate.
The ETF
AMZA began as an ETF on October 1, 2014, almost precisely as the MPL market began is long slide down as we see in this chart of the ALPS Alerian MLP Index (NYSEARCA:AMLP) for price (NASDAQ:BLUE) and total return (green) from January 2014. The red line indicates the untimely start date for AMZA.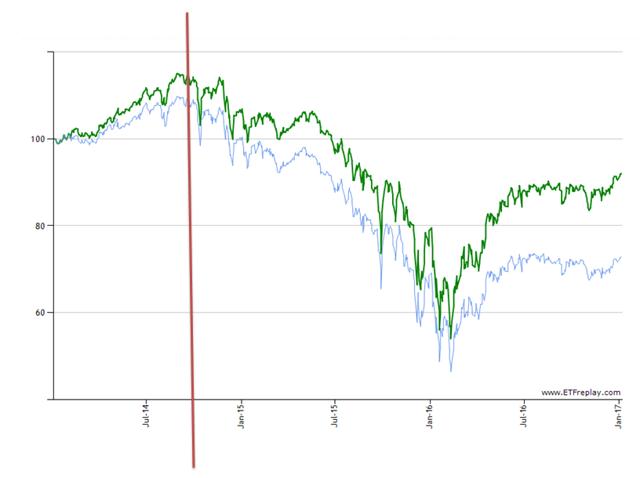 In light of this start, it's not surprising that the fund suffered badly over its first 18 months.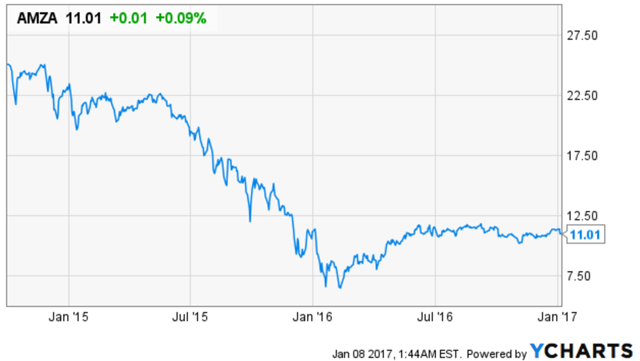 But as the energy sector recovered through 2016, it turned in a quite strong recovery. Total return for AMZA for 2016 was 44.7%, while for the ALPS Alerian MLP Infrastructure Index it was 30.5%.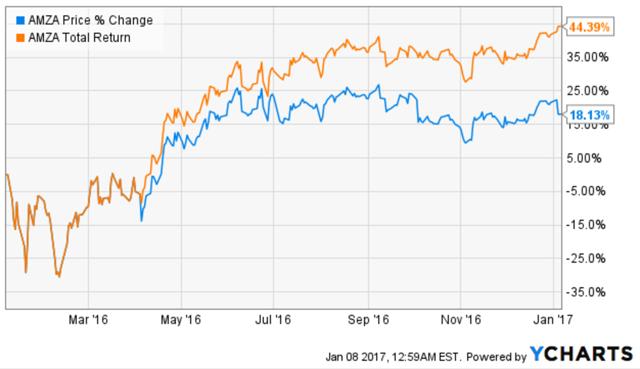 AMZA's stock and MLP portfolio is entirely in midstream names.

In addition to these holdings, the fund writes call and put options on MLP and energy infrastructure names, which provides a source of income to shareholders. It is this aspect of the fund's strategy that sets it apart from other MLP ETFs.
Updating the HI-SC portfolio
It should be obvious at this point that I'll be adding AMZA to the High-Income, Stable-Capital portfolio. With its massive distribution, the fund will provide excess capital to reinvest in the fund, so it can potentially contribute to the first two of the portfolio's objectives. However, as a fund of MLPs, the vast majority of the distributions should be ordinary income (although there was a string of return of capital during the 2015 slide), so the tax-efficiency priority will suffer by this change.
While on the subject of taxes, I should add that whenever one considers MLPs, one has to confront the issue of K-1 reporting. Some find this an untoward burden; others find it manageable. But no one likes it. AMZA provides a vehicle for MLP investing without the K-1. As an ETF, it provides investors with a 1099-DIV. I'm sort of on the fence on K-1s. I can deal with them, but I'd rather not, so I appreciate that AMZA can remove that addition to my tax preparation headaches. This is something I've factored into my decision making.
The next issue is decide on what to replace to make room for AMZA. I've decided to sell ETY. I like ETY and would just as soon hold it in the portfolio. But the driver for this move is to diversify out of technology, and ETY is heavily into tech. Its top four holdings are Google (NASDAQ:GOOG), Apple (NASDAQ:AAPL), Microsoft (NASDAQ:MSFT) and Amazon (NASDAQ:AMZN). The other consideration was QQQX, but I feel it adds potential for capital appreciation to the portfolio, which is why I included it in the first place. I'm less convinced ETY is going to keep pace with QQQX on that front. So, even though ETY does have a substantially higher yield than QQQX, I'd prefer to hold onto QQQX here. STK was a possibility as well. This would certainly have moved the sector mix away from technology, as STK is a pure tech sector fund. But I have done so well with STK over several years that I am extremely reluctant to part with the fund. I only considered common equity funds. My last change was a replacement of a fixed-income fund with and equity fund, and I didn't want to further skew the allocations in favor of equity.
With that swap, the new portfolio looks like this:
I should add that for those interested in learning more about AMZA, there are several excellent articles on Seeking Alpha that cover the nitty-gritties I've overlooked in this article. I would encourage you to do a search for them and look them over. Suffice it to say that sentiment on the fund has been strongly positive on the part of SA authors.
Finally, I want to thank those who drew my attention to AMZA in the comment stream from the end of the year update. As always on a new investment venture, I'm optimistic and hopeful.
_____
*The 26 funds comprising the category (MLPs from cefconnect.com) are: American Energy Mlp Fund INC. (CBA), ClearBridge Energy MLP Fund Inc. (CEM), ClearBridge Energy MLP Opportunity Fund Inc. (EMO), ClearBridge Energy MLP Total Return Fund Inc. (CTR), Cohen & Steers MLP Income & Energy Opportunity Fund (MIE), Cushing Energy Income Fund (SRF), Cushing MLP Total Return Fund (SRV), Duff & Phelps Select Energy MLP Fund Inc. (DSE), FIDUCIARY/CLAYMORE MLP OPPORTUNITY FUND (FMO), First Trust Energy Income & Growth Fund (FEN), First Trust Mlp & Energy Income Fund (FEI), First Trust New Opportunities Mlp & Energy Fund (FPL), Goldman Sachs Mlp & Energy Renaissance Fund (GER), Goldman Sachs MLP Income Opportunities Fund (GMZ), Kayne Anderson Energy Development Co (KED), Kayne Anderson Energy Total Return Fund, Inc. (KYE), Kayne Anderson Midstream/Energy Fund, Inc. (KMF), Kayne Anderson MLP Investment CO (KYN), Neuberger Berman MLP Income Fund Inc. (NML), Nuveen All Cap Energy MLP Opportunities Fund (JMLP), Nuveen Energy MLP Total Return Fund (JMF), Salient Midstream & MLP Fund (SMM), Tortoise Energy Independence Fund, Inc. (NDP), Tortoise Energy Infrastructure Corp (TYG), Tortoise Mlp Fund, Inc. (NTG).
Disclosure: I am/we are long AMZA, AIF, DIAX, ETY, HYG, NCV, PCI, QQQX, STK, THQ.
I wrote this article myself, and it expresses my own opinions. I am not receiving compensation for it (other than from Seeking Alpha). I have no business relationship with any company whose stock is mentioned in this article.
Additional disclosure: I am not an investment professional and this article does not constitute investment advice. I am passing along the results of my research on the subject. Any investor who finds these results intriguing will certainly want to do all due diligence to determine if any security mentioned here is suitable for his or her portfolio.