While stocks rallied strongly in a number of countries throughout 2016, and the U.S. stock market was especially strong after the November 8th election, most bonds did not end the year successfully. Globally, bonds in 2016 rallied until the summer and then sold off. Price drops were gradual at first, but accelerated sharply after the U.S. presidential vote. A broad measure of U.S. investment grade bonds (NYSEARCA:AGG) ended the year flat. Treasuries were flat to down on the year. Outside of Treasuries, with the exception of negative returns on Municipals, bonds returned approximately 2%-8%. The was well below the best returns available on stocks.
Holders of Treasuries on the long end of the curve (the blue line on the chart below) were the most disappointed bond investors in 2016. In July, their returns were up over 15%, much better than U.S. stocks at the time. In September, some volatility began to appear (this happened globally and not just with U.S. Treasuries). In October, a noticeable decline began and this turned into a significant route immediately after the election.
The drop wiped out all the previous gains. Bonds, with maturities of 20 years or greater, ended the year down approximately 2%. A similar, yet less dramatic path was followed by bonds on the shorter end of the yield curve. Only TIPS (Treasury Inflation Protected Securities) closed out 2016 with a positive return (the red line on the chart below).
Performance of U.S. Treasury Bonds in 2016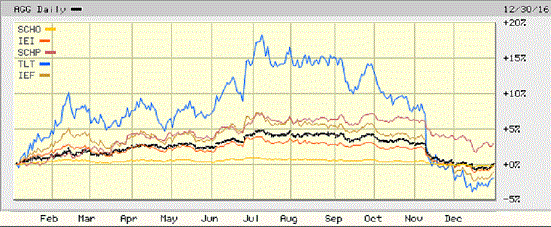 Black line Investment grade U.S. Bonds, Red line TIPS, Yellow line 1-3 Yrs, Orange line 3-7 Yrs, Bronze line 7-10 Yrs, Blue Line 20+ Yrs.
Bondholders in markets outside the U.S. and corporate bondholders within the U.S. did earn positive returns. Keep in mind that they were holding riskier bonds and therefore should have had better returns than "risk-free" Treasuries. U.S. high yield corporate bonds (the bronze line in the chart below), also known as junk bonds, started out 2016 with negative returns, but ended the year up in the 8% area. The was only because the economy was in acceptable shape and the default rate was low. In poor economic conditions, defaults can skyrocket wiping out the advantage of higher interest rates.
Emerging market bonds (also fairly risky) were the next best performers in 2016, but with only around half the returns of the junk bond sector. U.S. investment grade corporate bonds and international developed country bonds ranked lower, with both returning somewhat over 2%. Investors in Municipal bonds actually lost around 2% during the year.
Performance of Non-Treasury Bonds in 2016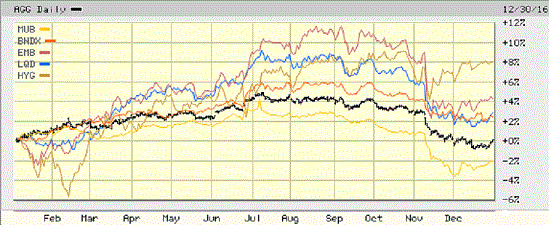 Black line Investment grade U.S. Bonds, Bronze line High Yield Corporate, Red line Emerging Markets, Blue line Investment Grade Corporate, Orange line Developed Markets, Yellow line Municipal Bonds.
No matter how you look at it, stocks were a much better choice than bonds in 2016. Whether or not the same will be true in 2017 is a complex question since other assets such as commodities or cash might perform better than either. As 2017 begins, there is every reason to think that bonds will continue to face headwinds. It is difficult to believe, after all, that negative yields, which became common in much of Europe and in Japan in the first half of 2016 can be sustained or fall even lower.
They are theoretically impossible in a free market and have only occurred because central banks have become major purchasers of bonds through their QE (quantitative easing) programs. Even though these programs are still continuing outside the United States, interest rates nevertheless already started rising in the second half of 2016 - and indication that central banks can't keep them down any longer.
Investors will likely get their best bond returns again in 2017 in the riskiest areas of the market - high yield and emerging markets. This strategy will work as long as the global economy remains in decent shape, so that needs to be monitored carefully. Some ETFs/ETNs for high yield bonds are: HYG, JNK, SJNK, PHB, HYS, and ANGL. ETFs/ETNs for emerging market bonds include: EMB,PCY, VWOB and EMCB.
Disclosure: I/we have no positions in any stocks mentioned, and no plans to initiate any positions within the next 72 hours.
I wrote this article myself, and it expresses my own opinions. I am not receiving compensation for it (other than from Seeking Alpha). I have no business relationship with any company whose stock is mentioned in this article.