In our previous article we noted the strong rise in the premium to NAV of the Pimco Dynamic Income Fund (NYSE:PDI) and recommended that investors reduce their exposure to the fund. We also made a comment that one of the options investors had at their disposal was to switch out of the fund into another, more attractively valued, fund. In this article we review two methods which investors can use in order to find a replacement fund, specifically focusing in on the Pimco Dynamic Credit and Mortgage Income Fund (NYSE:PCI).
NAV Correlation Analysis
We analyze daily NAV one-year pairwise correlation for all the CEFs in our database. We get the following results for PDI:
PCM Fund (NYSE:PCM): 95%
Dynamic Credit and Mortgage Income Fund : 88%
Corporate and Income Strategy Fund (NYSE:PCN): 86%
Perhaps unsurprisingly all of these funds are PIMCO funds with similar mandates to invest in Global Fixed Income with a heavy emphasis on MBS and High Yield.
Zeroing in on PCI in particular, the rolling 1-month and 3-month correlations have been fairly volatile. It is also interesting to note that the range of correlations (especially 3-month) has narrowed suggesting that the two funds have converged in their NAV behavior.
We believe this type of analysis is particularly helpful when you want to get a quick top-down view of the CEF universe and don't know where to begin.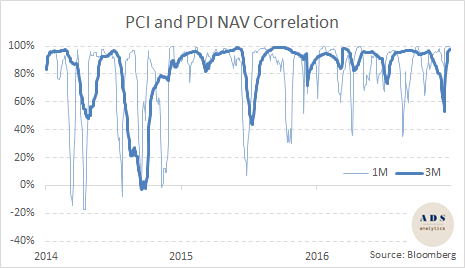 Regression Model Asset Analysis
Once we have candidates for the switch we can dig into the actual asset drivers of NAV of the two funds. We regress NAV returns on benchmark asset class funds or indices such as mortgages, high yield credit, Treasuries and others.
We present the results only for those asset class drivers where the t-stats are above 1. Continuing with the PDI and PCI comparison, the results tell us the following:
PCI has a less negative beta to Treasuries than PDI
PCI has a higher beta to High Yield than PDI
PCI has a lower beta to MBS than PDI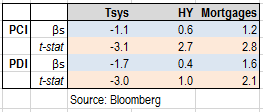 These results are expected as PDI holds more MBS in its portfolio and less High Yield than PCI. This analysis can be repeated for candidate funds identified in the pairwise correlation analysis above.
Conclusion
In this article we presented two ways in which investors can analyze candidates for switching out of a particular fund. We should stress, however, that while we believe the above analysis is helpful, it should not serve as the only or final basis for fund selection but should just be a starting point for portfolio allocation decisions. Over the coming months we intend to publish articles that delve further into the broader portfolio management issues investors should consider.
Please let us know whether you, our readers and followers, find this helpful and what tweaks you think can improve the analysis or presentation. In the future we intend to publish more timely analysis for identifying fund switch candidates.
Good Luck!
If you would like to receive this and other analysis please Follow us above (by clicking on the Follow button next to our name).
Disclosure: I/we have no positions in any stocks mentioned, and no plans to initiate any positions within the next 72 hours.
I wrote this article myself, and it expresses my own opinions. I am not receiving compensation for it (other than from Seeking Alpha). I have no business relationship with any company whose stock is mentioned in this article.