By Parke Shall
We know that Gap (NYSE:GPS) posted better than expected same-store sales for December, reported last week on Thursday, but like the muted market response on Friday showed us, we don't think that this is reason enough to jump in and start buying Gap.
We wanted to take a moment and write today about why we think that this data were more likely a one time aberration than a longer-term indication of turning around the business and we wanted to juxtapose that with the state of brick and mortar retail as it exists today. Combining this with poor performances in retail that we were made aware of last week and a popular retail chain deciding against its initial public offering, we think it is pretty easy to draw a relatively grim picture around both Gap and the sector that it is in.
Without repeating everything that has been said over the last five years, it has been made clear that in-store brick and mortar retail is in a secular bear market and facing extreme challenges. The advent of online shopping has put pressure on the entire sector, including Gap, and has seen most of the major in-store retailers take a significant hit over the last few years. You can see this in the chart below.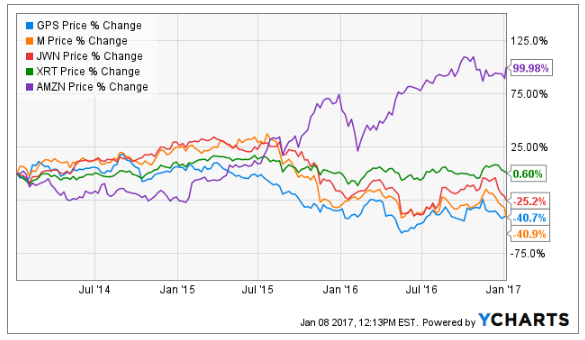 So when Gap comes out last week and posts better than expected same-store sales, it is easy for us to be skeptical as opposed to jumping on the euphoria train and buying the stock. It seems as though Wall Street felt exactly the same way. Once the data was released on Thursday after hours, the stock shot up at one point over 12% in the after hours session. By the time that the data had been digested and investors had time to mull it over, GPS only finished the day on Friday up a couple of pennies. We believe the market's thoughts about the company are similar to ours.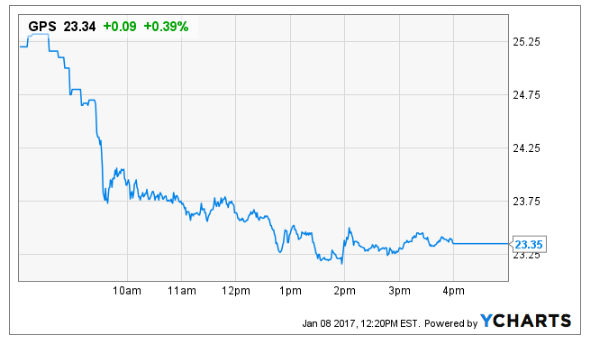 We took a look at recent news in the sector and we're not incredibly confident that this data were indicative of a trend that was sector wide. After all, it was only days prior to this report from Gap that both Macy's (NYSE:M) and Kohl's (NYSE:KSS) had published ugly data for the holidays. Marketwatch reported,
Weak holiday sales announcements from Macy's Inc. and Kohl's Corp. furnished experts and analysts with fresh evidence that retailers must further transform their businesses to operate across the bricks-and-mortar and e-commerce channels while seeking ways to expand overseas.

Kohl's shares plummeted 19% to mark their biggest-ever one-day decline. Macy's tumbled 14%. The declines dragged down other fashion retailers with Michael Kors Limited Ltd. closing down nearly 3%, J.C. Penney Company Inc. down 7%, and Nordstrom Inc. down 7%.

Online sales for the holiday season from Nov. 1 through Dec. 31 total $91.7 billion, according to the latest numbers from Adobe, an 11% increase on a year-over-year basis. Nearly all of the 61 shopping days, 57 of them, generated more than $1 billion of sales.

Going into 2017, experts believe the threat from e-commerce giant Amazon.com Inc. won't abate. Moreover, investments in things like personalization and such technology as artificial intelligence won't necessarily combat the "Amazon effect."
This holiday data saw the stock of both retailers, as well as other retail companies, crash mid week.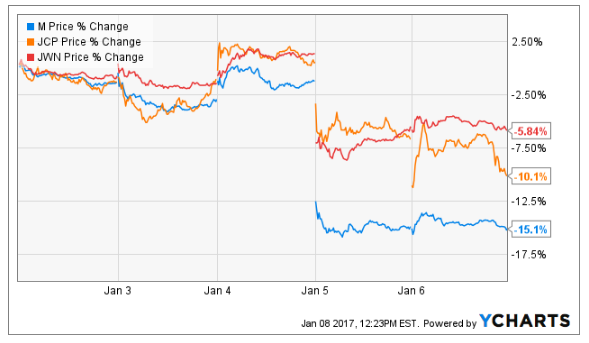 Perhaps this is why people were so surprised when Gap released their numbers. However, in the case of Gap, where same-store sales numbers have been comparatively horrible for so long, it isn't a surprise that the company finally had a month where sales beat expectations. It is a "broken clock is right twice a day" type of moment for the company. As things are getting so bad, it is only reasonable to assume that at some point comparative numbers may wind up in positive territory.
Gap's ability to reiterate its full year guidance is reminiscent to us of when Macy's did the same thing less than 12 months ago. There were several quarters where Macy's came out and reiterated full year guidance but it was only a matter of time before the numbers started to slip from the company and the company found itself where it is today, with lowered guidance and a lower stock price. Macy's actually has a bit of an advantage over Gap, because it owns a lot of valuable real estate that we think the company may be able to monetize, but the concept is the same. While Gap may reiterate its already lowered guidance for this year, we expect the longer-term secular decline for earnings and the sector in general to continue. This chart gives you an indication of the trend that we think will continue for Gap.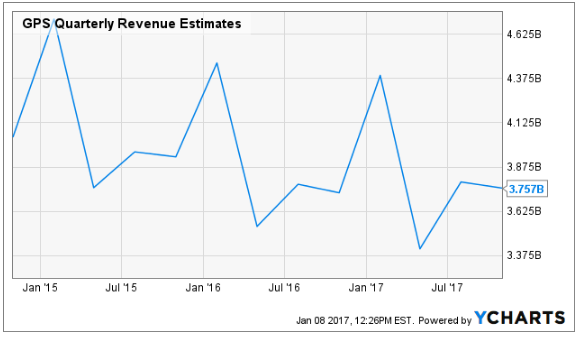 Plus, this past week there was yet another indicator that the retail sector is in bad shape. We saw Neiman Marcus pull out of its planned IPO. Neiman Marcus is an upscale retailer, similar to Nordstrom (NYSE:JWN). We believe that the company pulling out of its IPO is very indicative of what the climate is like right now for in-store brick-and-mortar based retail companies. We just don't think the demand is there, either from the consumer or from the investor. CNBC reported,
Neiman Marcus Group said on Friday it would withdraw its initial public offering, nearly two years after the upscale department store chain filed its intent with U.S. regulators to go public, as it grapples with weaker customer demand.

Neiman Marcus' abandoned IPO underscores the challenges facing the high-end retailer, as the broader industry struggles under the weight of competitive pressure from off-price stores and online retailers such as Amazon.com Inc

Neiman Marcus declined to comment on the reasons for pulling the IPO.
We would need to see a string of positive data results from Gap to begin to believe that the company has bottomed and is turning around as a whole. For now, however, we can't find ourselves getting excited about one data point, especially when the company has been setting a lower and lower standard for itself over the last couple of years. For those that looked at Thursday's same-store sales data and piled in to the stock or are considering investing in the stock, we would suggest that they take into account the attitude of the market trading GPS on Friday as well as the overall climate of the sector that the company is in. At a forward P/E of 11.3x but with earnings still in question going forward, it's tough to put a true valuation on GPS shares. We simply don't think GPS is a good buy here.
Disclosure: I/we have no positions in any stocks mentioned, and no plans to initiate any positions within the next 72 hours.
I wrote this article myself, and it expresses my own opinions. I am not receiving compensation for it (other than from Seeking Alpha). I have no business relationship with any company whose stock is mentioned in this article.