U.S. Series I Savings Bonds are a boring, ultra-conservative investment that somehow drive many people - including a lot of very wealthy people - to scheme over buying strategies and fret over single basis-point rate swings.
Why is that? Simply this: I Bonds are the only super-safe investment that can guarantee to match inflation while providing tax-deferred earnings, rock-solid deflation protection and a flexible maturity. An I Bond investment can't lose money. Here is what the Treasury says:
They are U.S. Treasury securities backed by the U.S. Government. I Bonds even protect you from the effects of severe deflation - the earnings rate can't go below zero and the redemption value of your I Bonds can't decline.
But there's a catch - the Treasury only allows purchases, through TreasuryDirect, of $10,000 per person per calendar year. (There's also a strategy of receiving up to $5,000 in paper I Bonds as payment for a federal tax refund. This involves too much scheming for me; I don't do it.)
Many investors use I Bonds as a way of pushing predictable, tax-deferred, inflation-protected money into the future (retirement income, for example, or education costs). But to make that strategy work, an investor has to amass a large cache of I Bonds, and the only way to get to that goal is to buy I Bonds every year, up to the limit. So the question each year isn't whether to buy I Bonds, but when to buy I Bonds.
So when should you buy I Bonds in 2017?
I Bonds are presenting investors with an interesting dilemma in January 2017, combining a very favorable but short-term variable rate with a lousy and permanent fixed rate. The current composite rate of 2.76% is an excellent return, but it only applies to the first six months you own the I Bond. Here's how that works:
The I Bond's fixed rate is currently set at 0.0%, down from 0.1% in October. This rate could be reset - possibly higher - on May 1, 2017, and then again on November 1, 2017. The rate stays with an I Bond through its 30-year maturity.
The inflation-adjusted variable rate is currently 2.76%, based on non-seasonally adjusted CPI-U from March to September 2016. It will be reset on May 1 based on inflation from September 2016 to March 2017.
The composite rate is 2.76%, and will be reset on May 1.
Advice: Do nothing right now
There is no reason to buy I Bonds in January - or February or March for that matter - because you can lock in the current favorable variable rate for six months with any purchase through April 30, 2017. So I suggest waiting until April 14, 2017, (8:30 a.m., if you want to mark it on your calendar) to learn details of the March inflation report. At that point, you will know the I Bond's new variable rate for May to November, and you can choose to:
Buy before April 30, locking in the current 2.76% for six months, and then getting the next variable rate for six months. The fixed rate will stay at 0.0% until you cash out or the I Bond reaches maturity.
Buy after May 1, locking in the next variable rate for six months. You will get the new fixed rate, as yet undetermined.
Do nothing, and wait until October 13, 2017, when the September inflation report will be released, setting the November 2017 to April 2018 variable rate.
Unless... you want to make a short-term investment
The Treasury points out that I Bonds "are meant to be long-term investments," but right now, with the variable rate at 2.76%, they are an excellent short-term investment. If you sell an I Bond after one year, you pay a three-month interest penalty. That means with I Bonds currently earning 2.76%, you are guaranteed to get at least 1.38% for a one-year investment, no matter what variable rate is set on May 1.
Can you find a one-year bank CD paying 1.38%? Probably not. Worth the trouble? Probably not. But if this is your strategy, I'd suggest buying near the end of January, because you earn a full month's interest on I Bonds no matter the date you buy them. You can come close to shortening the one-year holding period to 11 months by using this strategy.
The current variable rate is at risk
I track the non-seasonally adjusted inflation numbers each month to follow the status of the I Bond's variable rate. So far, two months into the six-month rate-setting period, the trend isn't good:

Although 'headline' inflation has been steadily rising in recent months, non-seasonally adjusted inflation has actually declined since September. It hasn't been a good beginning for this rate-setting period. These non-seasonal numbers balance out over a year, but at this point, the variable rate of 2.76% looks at risk for the next reset.
The current fixed rate is too low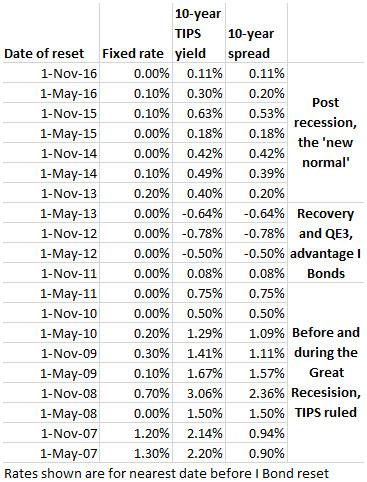 The Treasury set the I Bond's current fixed rate at 0.0% on November 1, when the real yield on a 10-year Treasury Inflation-Protected Security was 0.11%. On Oct. 16, I predicted that could happen, given the very low real yields at the time.
But the Treasury's decision came just a week before Donald Trump was elected U.S. president, shaking up the bond market. The Treasury currently estimates a 10-year TIPS real yield at 0.46%, which could justify an I Bond fixed rate of 0.1%. For example, on May 1, 2016, the Treasury set the fixed rate at 0.1% when the 10-year TIPS was yielding 0.30%.
Are you delaying an I Bond purchase because you want a higher fixed rate? That could be a good move.
The showdown: Variable rate versus fixed rate
This isn't a contest. The fixed rate is the most important factor in any long-term I Bond purchase. The fixed rate stays with the I Bond for 30 years, and it is your actual real yield above inflation. A fixed rate of 0.0% will match inflation, but can't beat it. When you sell your I Bond, taxes will cut into your gain.
When viewing an I Bond as a long-term investment, consider a higher fixed rate your No. 1 priority. If you have I Bond holdings with a 0.0% fixed rate, those can be targets for future sales, while retaining the higher fixed rates as long as you can.
However, as we approach the May 1 rate reset, watch that variable rate. If it barely climbs above 0.0%, then an I Bond purchase with a fixed rate at 0.0% might make sense. On a $10,000 investment, you'd earn $138 in six months, equal to the earnings of nearly 14 years of a 0.1% fixed rate. I don't see this as likely, however.
With these strategies in mind, 2017 is going to be a waiting game. Watch the variable rate; hope for a higher fixed rate.
Disclosure: I/we have no positions in any stocks mentioned, and no plans to initiate any positions within the next 72 hours.
I wrote this article myself, and it expresses my own opinions. I am not receiving compensation for it (other than from Seeking Alpha). I have no business relationship with any company whose stock is mentioned in this article.