After a tumultuous year, it looks like Nike's (NYSE: NKE) bad spell might finally be over. The stock is trading at 3-month highs and looks like it is on a solid upward trajectory. Nike's been one of the main stocks I've covered and written about on Seeking Alpha, so I'd like to give an overview of the company's prospects in 2017 and what it needs to accomplish in order to regain its position as one of Wall Street's favorite companies.
Growth Problems
Let's make it clear: Nike's share price deterioration throughout 2016 was a direct consequence of slowing growth. The company posted a quarterly growth rate of 6% as per its last earnings report, 8% excluding currency changes. North American growth was only 3% quarter/quarter as per its fiscal Q2 2017 report, down from 6% growth as reported in its fiscal Q1 2017 report. Growth in China also declined from 21% to 17% from Q1 2017 to Q2 2017. These numbers were taken from Nike's 10-Q filings, which are accessible under "SEC Filings" on this page.
Futures orders were also flat overall, or up 2% on a currency-neutral basis, as per this chart:

North American futures, in particular, were down 4% - an area of concern for investors and the main reason why Nike stock sold off in the days following the release of its earnings report. I'd like to add that the importance of futures orders has been downplayed by company management and NKE bulls, but they are still an important metric, as Nike's DTC segment, while growing, still comprises less than 30% of Nike's revenues. I can also assure anyone reading this that if futures orders were solid, management would not be telling investors to ignore what has always been one of the most watched metrics of growth for the company.
Nike needs to show it can grow at a faster rate in order to justify its current valuation and ward off critics.
Combating Adidas
I believed growth would slow in North America primarily due to the resurgence of Adidas (OTCQX:ADDYY), and as such, I wrote several bearish articles on Nike and advised investors to buy Adidas instead through my StockTwits account:
$NKE buy $ADDYY if you want growth. Adidas is starting to dominate in fashion/streetwear, lots of potential growth

- Edwin (@kyecapital) May. 23 at 03:09 PM
Adidas shares are now up over 20% since this post, and I believe the company is the primary reason why Nike has been struggling of late. Under Armour (UA, UAA) has also been brought into the conversation and has certainly been a thorn in Nike's side, but UA is 4x smaller than Adidas in terms of revenues and is growing at a slower clip in North America than is Adidas (16% vs. 29%, respectively, as per each company's last quarterly earnings reports.
Adidas was named Sports Business of the Year by Yahoo Finance and has had a remarkable 2016 by capturing the attention of fashion-conscious teenagers and millennials through partnerships with pop culture stars. It has also done well due to the popularity of retro styles such as the Stan Smith and Superstar, along with new models such as the Ultra Boost and NMD.
The gap between search queries for Adidas and Nike has decreased significantly over the past couple years, and the below graph is yet another example of how Nike will need to fend off competition from the German giant.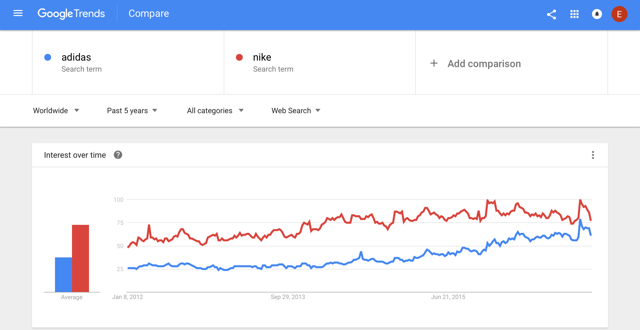 I'm including this information about Adidas because I think the company will play a significant role in Nike's future trajectory. If Adidas continues its hot streak in the United States and other regions, it's likely that Nike will continue to struggle. I would advise Nike shareholders to pay close attention to Adidas and how it does in 2017, as many Nike and UA shareholders seemed completely bewildered by the company's superb performance in 2016.
Nike will need to take some of Adidas's momentum in fashion and streetwear in 2017 in order to regain growth in North America and the US in particular. I think the company understands this, as it recently signed model Bella Hadid, and its streetwear collaboration with VLONE has received a lot of social media buzz.
Basketball: Is It Really Back?
Basketball was one of the highlights of Nike's earnings call, as management talked excitedly about new models and stressed that "basketball is back". Management also raved over the popularity of new signature styles from LeBron James and Kyrie Irving, and painted a fantastic picture of the state of Nike Basketball.
However, I read through the company's 10-Q filing and found this very interesting tidbit:
"North America revenues for the second quarter and first six months of fiscal 2017 increased 3% and 5%, respectively, primarily driven by growth in our Sportswear and Jordan Brand categories, partially offset by declines primarily concentrated in Nike Basketball".
This shows that Nike Basketball is continuing to struggle, and that sales are still on a negative trajectory. Jordan Brand sales have done well due to increased production of previously limited retro styles such as the Space Jams and the current fashion trend that has led to retro styles gaining popularity over performance footwear.
Nike Basketball, however, is clearly still struggling, and it remains to be seen whether or not the company will be able to regain growth in this segment and fend off competition in basketball from Under Armour and Adidas.
Still Dominant
I'd like to add that Nike is still the dominant and preeminent sports brand in the world, and that this will not change in the foreseeable future. Its market cap is 3x that of Adidas and over 6x that of Under Armour. It still boasts the best balance sheet of the big three sportswear companies (Nike, UA, Adidas) and has an impressive repertoire of sponsored athletes.
I'm including this tidbit because I've received many responses to my bearish articles and comments on Nike arguing that it remains the dominant sports brand in terms of market share and size, and as such, a bearish perspective on the company is illogical.
However, NKE share price declined in 2016, not because it lost its position as the top dog but because the level of its dominance was challenged.
Valuation
Nike's TTM P/E ratio is currently 23.75, forward P/E is 20x, and its price-to-sales ratio is 2.7, which are high for a company growing at single-digit rates with the headwinds it is currently facing. Nike has historically enjoyed a premium valuation due to the strength of its brand and dominance in the industry, but the company needs to prove in the upcoming year that it deserves its valuation.

I have read many arguments that Nike is a buy because its P/E ratio is at multi-year lows. I would caution against this type of thinking, as there are many reasons for the company's current "undervaluation": slowing growth, strong USD, declining gross margins, competition from UA and Adidas, etc.
Conclusion
I like Nike from a long-term perspective, but I feel it needs to prove that it can regain growth and stop some of Adidas's momentum before I initiate a bullish outlook on the company. My current stance on Nike is still bearish, but less so than it was at the beginning of 2016 and fairly close to neutral. I'll continue to monitor the company's progress and update readers when new information or trends arise.
In the short term, it is very possible that NKE share price will go up due to the current strength of the market, but I believe the share price will continue to reflect the concerns I outlined in this article in the longer term.
I've spent the majority of my time in equities analyzing sportswear companies and welcome any questions or disagreements either in the comments section below or via email (email address is in my Seeking Alpha bio). Thanks for reading!
Disclosure: I/we have no positions in any stocks mentioned, and no plans to initiate any positions within the next 72 hours.
I wrote this article myself, and it expresses my own opinions. I am not receiving compensation for it (other than from Seeking Alpha). I have no business relationship with any company whose stock is mentioned in this article.
Editor's Note: This article discusses one or more securities that do not trade on a major U.S. exchange. Please be aware of the risks associated with these stocks.