Introduction
Recently, an SA commenter was carping about how (s)he thought significant litigation was grounds for selling a stock. A riposte challenged: would you drop Johnson & Johnson (NYSE:JNJ) for such a reason?
The sense of this second comment was that JNJ was above such consideration.
Is it? Should it be?
A 1/4/17 Reuters news report with the headline "Judge halves $1 billion award in JNJ hip implants case" shows that product liability disputes can add up to big money.
Playing the slots is usually a loser's game, but Johnson & Johnson has been giving some rich tickets to players of late.
The one-armed bandits are so lucrative for casinos that they long ago dispensed with the one arm. Now players can get their gambling rush with a finger tap. Tap, tap, tap: each tap pays the house tiny little increments. Slots are a volume game. The occasional payoffs are merely baits to keep the tappers tapping.
Litigation is another game of chance. Most of the bandits in this game have two arms. They work on shares; they pluck their rewards from wealthy miscreants or, if there are no miscreants on offer, they go for the wealth.
When it comes to wealth, Johnson & Johnson is right near the top. Turn on your TV, particularly late at night. You will see plenty of bandits with two arms prospecting for clients to shake down consumer products/medical companies of all types for their misdeeds, actual or perceived.
Johnson & Johnson has a long history of facing serious legal issues. This article will focus on several that seem particularly serious at the moment.
The first place to get a quick overview of the latest scope of JNJ's known product liability risks is its 10-Q. On page 22 of JNJ's Q3, 2016 10-Q, we learn that the sum of the ultimate outcome of all legal proceedings, net of accrued liabilities, is not expected to have a material adverse impact on the company.
We also learn that such outcomes or accruals taken during any period may have a material impact on the company's results for that period. In other words, lawsuits do not pose an existential risk to JNJ; they may, however, muck up expected earnings for particular reporting periods.
The 10-Q provides more granular information on the onslaught of litigation that plagues JNJ day in day out. In this respect, the Q3, 2016 10-Q offers the following effective October 2, 2016:
...in the U.S. there were approximately 2,900 plaintiffs with direct claims in pending lawsuits regarding injuries allegedly due to the DePuy ASR™ XL Acetabular System and DePuy ASR™ Hip Resurfacing System, 9,300 with respect to the PINNACLE® Acetabular Cup System, 53,400 with respect to pelvic meshes, 15,400 with respect to RISPERDAL®, 15,600 with respect to XARELTO® and 2,400 with respect to JOHNSON'S® Baby Powder.
While wholesale lawsuits, coupled with jumbo jury verdicts, give an appearance of desperate straits, such is not necessarily so.
Hip replacements sold by JNJ's DePuy unit have sprouted a litigation firestorm.
Revra DePuy began his splint company in 1895. It is now known as DePuy Synthes Companies, a division of JNJ. It has a long and colorful history of helping people with disabling bone and joint issues.
Until you have experienced serious hip pain, you have missed one of life's truly painful and disabling conditions. JNJ's DePuy unit has been in the forefront of a series of hip replacement therapy advances, which have saved countless patients, countless hours of hip-related agony.
Pioneers in medical technology such as DePuy serve important roles in advancing patient care. Occasionally, their ambitions exceed their ability to produce. Certain of DePuy's hip replacement products giving rise to these lawsuits qualify as misfires. Each of you can judge for yourself whether this is because of actionable defects by DePuy or otherwise.
If you Google the phrase "DePuy defective hips," you are rewarded with a rich array of websites alerting you that there is a problem. The first entry reads:
Hip Replacement Recall - Problems After Surgery?

Call Us Now. Get the Compensation You Deserve. We Know How to Win Complex Cases.

Avoid Common Mistakes
Free Consult with Lawyer
Free Case Analysis
Don't Pay Unless We Win
This very first entry is an ad paid for by a San Francisco law firm whose website touts its nationwide products liability reputation. The firm stands ready to serve its clients in a broad smorgasbord of cases against big businesses. Its website pictures five of its lawyers looking bold and powerful standing in an office with breathtaking views of what I believe to be the Bay Bridge in the background.
Perhaps, you will take this first search result with a grain of salt considering its provenance. The second entry is one of Google's authoritative bold-faced editorials; it reads as follows:
Lawsuits. It remains to be seen how DePuy's recent recall, which affects the ASR XL Acetabular System and the ASR Hip Resurfacing System, will affect the company financially. ... The first lawsuit in the United States against DePuy Orthopaedics was filed on June 15, 2010.
When you refine your inquiry with the search phrase "depuy asr hip recall", you get more legal ads, then a breath of fresh air. Wikipedia has ventured into the fray.
Click. No such fresh air when America smells a big tort award there is no room for balanced reportage. The following legend hovers above the Wikipedia entry:

So if no middle ground reportage appears on offer, what additional insight can we draw from JNJ's Q3, 2016 10-Q? The 10-Q tells a long and unpleasant tale of rampant litigation.
We know the number of pending U.S. hip cases from the excerpt above. The 10-Q also advises that the number will fluctuate as existing cases are resolved and new ones filed. The federal cases relating to DePuy's ASR hips have been organized as a multi-district litigation in the United States District Court for the Northern District of Ohio; the cases relating to DePuy's Pinnacle hips have been organized as multi-district litigation in the United States District Court for the Northern District of Texas.
This multi-district designation results in special procedures designed to expedite resolution of complex cases. It helps the court to manage its caseload and to streamline discovery. Absent such designation, witnesses might be in an untenable situation of giving repetitive depositions over extended periods.
Sadly, problematical DePuy hips, both hips with the ASR designation and the PINNACLE designation, have been transplanted into people around the world. The DePuy litigation is not confined to the US. It snakes around sundry common law jurisdictions worldwide such as England, Australia and Canada but also jurisdictions with less familiar jurisprudential norms such as Germany and Italy.
Settlements resolving the bulk of ASR hip cases in the US and Australia are included in existing accruals. The 10-Q informs us:
However, many [ASR] lawsuits in the United States will remain, and the settlement program does not address litigation outside of the United States. ... The Company continues to receive information with respect to potential costs associated with this recall on a worldwide basis. The Company has established accruals for the costs associated with the DePuy ASR™ Hip program and related product liability litigation. Changes to these accruals may be required in the future as additional information becomes available.
The ASR claims are winding down. Such will not be the end for JNJ's hip lawsuits. They will be clambering away as JNJ finalizes its ASR cases and proceeds with its PINNACLE cases.
Claims for personal injury have also been made against DePuy and Johnson & Johnson relating to DePuy's PINNACLE® Acetabular Cup System used in hip replacement surgery. The number of pending product liability lawsuits continues to increase, and the Company continues to receive information with respect to potential costs and the anticipated number of cases.
One of JNJ's most beloved signature products has generated several multi-million dollar verdicts backed by thousands of pending lawsuits.
If you were never around infants and even if you were, but were less than an equal contributor to infant care, the term "baby powder" is likely still evocative. I have never been the world's most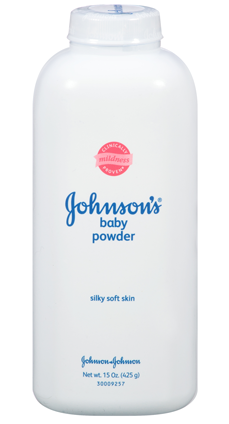 engaged infant care manager; nonetheless, the term "baby powder" brings an image to my mind, a texture to my fingers and a scent to my nose.
JNJ's fiscal 2016 10-K filed 2/24/16 makes no mention of any talc or baby powder-related litigation issues. Beginning with its ensuing 2016 10-Qs we see first disclosure of the Mississippi AG's complaint seeking damages and injunctive relief for failing to disclose risks that talc in baby powder poses for female customers along with disclosure of private party baby powder lawsuits.
As the baby powder lawsuits continued to swell, JNJ's Q3, 2016 10-Q advises that JNJ was starting an accrual to account for expected defense costs in connection with baby powder litigation. JNJ's Q1, 2016 advises of 1,400 lawsuits; its Q3, 2016 10-Q reports 2,400 lawsuits. If JNJ could grow its profits at the pace it is growing lawsuits it would truly be onto something.
JNJ's Q3, 2016 10-Q reports its standard repertoire of lawsuit disclosures for its baby powder suits; the number of suits keeps increasing, a multi-district proceeding has been established, this time in New Jersey, accruals may be adjusted.
JNJ maintains that talc poses no risk. Jurors are not buying the defense. An October Bloomberg article reports how JNJ has lost its last three cases that went to jury. In the most recent, the jury awarded damages against JNJ totaling ~$70 million after only three hours of deliberation. The other two awards also exceeded $50 million each.
Sundry other products liability issues are plaguing JNJ.
In addition to products liability quagmires from hip replacements that result in odious medical procedures to replace the defective hips, JNJ also has another installed device issue with pelvic mesh products from its Ethicon division. These lawsuits appear in JNJ's 10-Q with the following disclosure:
Claims for personal injury have been made against Ethicon, Inc. (Ethicon) and Johnson & Johnson arising out of Ethicon's pelvic mesh devices used to treat stress urinary incontinence and pelvic organ prolapse. The number of pending product liability lawsuits continues to increase, and the Company continues to receive information with respect to potential costs and the anticipated number of cases.
As noted in the first 10-Q excerpt, there are more than 50,000 of these lawsuits filed; again, multi-district designation exists for its thousands of mesh cases, this time in the District Court for the Southern District of West Virginia. Again, mesh cases are not confined to the US or even to strictly common law jurisdictions. Cases also exist in Israel, Venezuela, Belgium, and Italy. Again, the company has established an accrual which it may increase as the situation merits.
In January of 2016, Bloomberg reported JNJ's first settlement in the mesh arena. It was a manageable $120 million to settle several thousand of the cases coming to ~$50,000 per case. The Bloomberg article also reported JNJ's total litigation expenses for the years 2013 thru 2015 as follows:
The New Brunswick, New Jersey-based company reported $141 million in total litigation expenses in 2015, down from $1.2 billion in 2014 legal costs and $2.2 billion in 2013, according to its filings.
While filings have been rising, JNJ's out-of-pocket cost has been dropping precipitously. Will this counter-intuitive trend hold?
In addition to JNJ's device suits and its talc suits, it has a couple of batches of garden variety prescription drug lawsuits. These include >15,000 each for RISPERDAL and XARELTO. RISPERDAL suits have been banging around the courts in various guises for years.
RISPERDAL verdicts in the $70 million range are being appealed along with lesser verdicts. In January of 2016, the US Supreme Court upheld a $124 million South Carolina award against JNJ's Janssen division for improper marketing of RISPERDAL.
A multidistrict designation for Xarelto has been established in a Louisiana federal court since December of 2014. Bellwether cases are set for spring 2017 to help shape the legal issues for ultimate resolution by settlement or otherwise.
Verdicts are type on paper; they are far from money good.
Lawsuits on the scope of those faced by JNJ cost hundreds of millions to defend. Defense costs are money spent. However, $70 million jury verdicts are nothing more than a ripple in the stratosphere for a company of the size and scope of JNJ.
What counts is ultimate resolution. JNJ litigation accruals can vary wildly from year to year. Its latest 10-K at page 17 noted a reduction in litigation expense of $1.1 billion for 2015 as compared to the prior year.
According to JNJ's latest 10-Q for Q3, 2016, accruals for litigation expenses are up $.6 billion compared to the prior nine months of 2015.
Conclusion
JNJ clearly considers product liability expenses to be an expected business expense. The only way for shareholders to track these costs is by looking at litigation accruals. Prospective litigation costs get funneled into its accruals as management recognizes the probability of a loss. In some cases, management accrues anticipated defense costs only, as in the case of baby powder claims; in others, it accrues anticipated costs of defense with anticipated losses.
Shareholders who invest in JNJ should expect periodic headline announcements of outsized jury verdicts from time to time. Such verdicts have little or no impact on the financial results of the company until they are recognized by management as likely to give rise to a loss. Management signals that it anticipates a loss when it pumps up its litigation accruals.
JNJ currently has a rich array of cases pending against it which are likely to lead to periodic large adverse jury awards. As investors, we are not likely to have the background or to know the facts which allow us to judge the merits of particular cases.
I consider JNJ's ongoing products liability exposure as a minor net negative for the stock. I concur with management's assessment that such exposures may be material for particular reporting periods but are not material to the company overall.
Disclosure: I am/we are long JNJ AND MAY BUY OR SELL SHARE WITHIN THE NEXT 72 HOURS.
I wrote this article myself, and it expresses my own opinions. I am not receiving compensation for it (other than from Seeking Alpha). I have no business relationship with any company whose stock is mentioned in this article.
Additional disclosure: This article is for general informational purpose only. In no wise should this article be considered as legal advice or as a recommendation to buy or sell any stock.