LM Ericsson Telephone (ERIC)

Welcome. In this article I will give the dollar and cents reasons for how come ERIC looks like a relative bargain in today's marketplace.
Story
In the trailing ten years ERIC has earned their market cap in free cash flow. This is a signal the company may be undervalued. If ERIC can repeat the performance and earn over $19B in the coming ten years. In a market where many companies are being valued at twice or three times as much free cash flow as they've generated over the trailing ten years, this factor alone makes ERIC a relative bargain.
I don't want to create an irrational exuberance around ERIC with lofty growth targets. So we're going to focus for a moment on a relative comparison with Nokia (NYSE:NOK). The stand-out difference between these two company's results over the last ten years is ERIC's demonstration of their business model's ability to keep bringing in cash over and above what they have to spend to continue operating. Where NOK earned just ~10% of the cash from operations in 2015 as they did in 2005, ERIC earned ~90% of what they brought in back in 2005.
ERIC has demonstrated a superior ability to continue doing business, whereas NOK's business has plainly shrunk over the same period of time.
Proprietary Stock Valuation Model Results For ERIC
I developed this model which evaluates a stock company's value based on how much cash the firm produces.
Cash flow analysis is central to the approach private equity investors use when evaluating a company for acquisition.
It's all about comparing the price of the company today with its expected cash generating ability in the coming years. We're going to rely on the company's track record to produce a forward-estimate of their incoming cash flows. These track record based numbers are the figures used to develop the forecast in the following stock valuation report: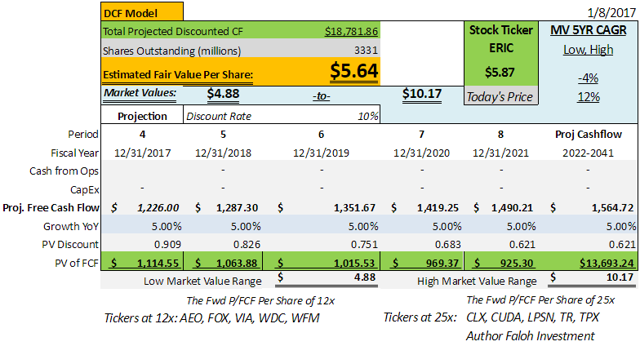 (Source: Faloh Investment, YCharts)
According to the model's report, ERIC is available for purchase at a very small premium of 4% to the Fair Value of its projected cash flows. This is a good result as typically an established company will spend substantial periods of time trading at large premiums to the Fair Value figure as my proprietary model reports it. Therefore ERIC is a bargain at today's price of $5.87 so long as they continue to operate at these or better levels of cash generation.
ERIC's balance sheet is in good shape. They have a tangible net worth of $8.83B, ignoring credit risks on their short-term receivables, which have historically been reliably collected. The balance sheet indicates the company is in a good position to continue operating and fulfill the projected cash flow we are evaluating the company's stock by.
Likely A Superior Investment Compared To NOK
Reliable earnings are an important component to a good investment. ERIC's track record is much better than NOK on this front. The former hasn't lost money on its operations during any reported year since 2002, whereas the latter has lost money on its operations in 2012 and edged out a miniscule profit in 2013. The reported figures indicate more regular earnings power at ERIC.
Concluding Remarks
ERIC's regular dividend distribution has exceeded $900M on a yearly basis since 2010. It appears the company will be able to hurdle that figure in the coming years, so investors ought to be confident in a forward dividend rate of ($900M / $19.55B = 4.6% per annum). If securing a yield in excess of 4% is a primary investment objective, ERIC is worth a nibble.
In addition to a dividend I believe capital appreciation is available in this name because they're trading near their Fair Value. Oftentimes an established earner like ERIC will be found in the marketplace trading at prices far in excess of their fair value. Therefore, barring any unforeseen diminishment in earnings power going forward, this looks like a bargain purchasing opportunity in this name.
Final Word
My 5-year target price for ERIC is $10.17, representing a compounded annual growth rate of 12% while delivering an annual dividend yield in excess of 4%. Dividend investors, please consult available resources to evaluate the tax implications of investing in this foreign corporation.
Disclaimer: This article represents the opinion of the author as of the date of this article. This article is based upon information reasonably available to the author and obtained from public sources that the author believes are reliable. The author does not guarantee the accuracy or completeness of this article. This presentation is the author's interpretation of the information contained in the article. The author may close his investment position at any point in time without providing notice. The author encourages all readers to do their own due diligence. This is not a recommendation to buy or sell a security.
Please click the + icon next to my user name and follow me, Faloh Investment, as I work to keep you informed on further developments as the market continues to present major value opportunities.
Disclosure: I/we have no positions in any stocks mentioned, and no plans to initiate any positions within the next 72 hours.
I wrote this article myself, and it expresses my own opinions. I am not receiving compensation for it (other than from Seeking Alpha). I have no business relationship with any company whose stock is mentioned in this article.