I've written two important articles since the start of this year. Both articles were about purchasing managers indices. The first one discusses the strong US PMI index (ISM manufacturing index). The second article covered the most important European PMIs.
The purchasing managers index is a leading indicator conducted in dozens of countries around the world. These indicators tell us what we can expect in terms of economic growth. That's why these indicators are called 'leading'.
In this article, I will cover the PMIs of the most important emerging markets. I primarily focus on the so called 'BRIC' countries. These are Brazil, Russia, India and China.
-----
Extra: Before I continue, I want to give you the link to an article I wrote to elaborate on the importance of using the right indicators. Feel free to read it if you want more information about the way I use these indicators.
Article: Establish A Solid Macro View Using The Top-Down Method
----
First of all, let's start with a comparison between the iShares MSCI Emerging Markets ETF EEM and the US dollar. Emerging markets tend to have a very high correlation to the USD because of a few important aspects.
Many countries have used the USD as a way to fund growth in a cheap way after the zero interest policy of the FED started. A higher USD increases the relative debt load on these foreign borrowers.
The problem is that a high USD is generally bad for commodities. Commodities get relatively more expensive if the USD goes up.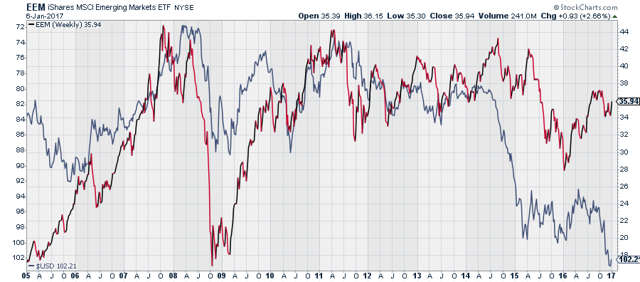 It is therefore no surprise that emerging markets tend to perform rather badly in times of a strong USD. Note that I inversed the USD to get a better comparison.
Now, let's look at the PMI numbers.
China increased further from 50.9 in November to 51.9 in December. This puts China's growth outlook at the highest level since January of 2013 and way above the 47.2 bottom of 2015. This growth trend is very important since China is the biggest importer of industrial materials like copper and steel and the biggest BRIC country.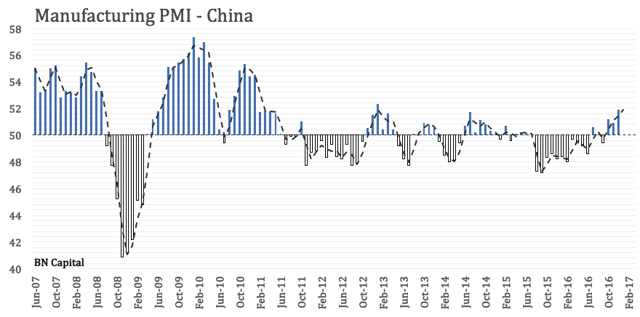 Brazil on the other hand is doing very badly. Brazil's PMI is currently close to 45 after contracting since the third quarter of 2014. The third quarter of 2014 has also been the period when US growth started to decline. The USD played a huge role in it. Therefore, the US is back on track. Brazil is not.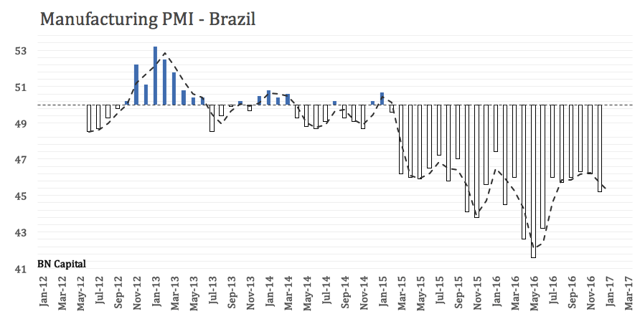 The iShares MSCI Brazil Capped ETF EWZ has dramatically underperformed other emerging markets since the commodity peak in 2011. Brazil remains the ultimate emerging market. If you are bullish, you want to buy this one. If you are bearish you short Brazil. A real alpha trade if..... you turn out to be right.
The average of all important emerging markets shows that the USD is spoiling the party. I used the following countries to make a non-weighted average: China, India, South Korea, Russia, Turkey, South Africa and Brazil.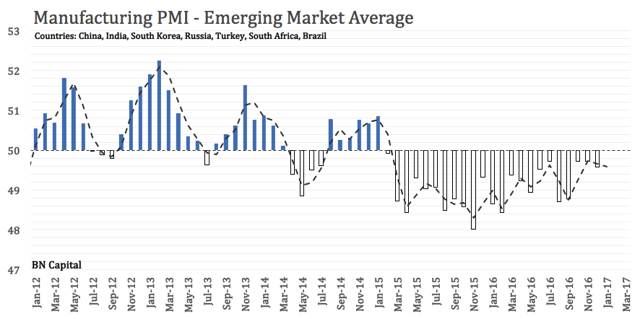 One striking thing is the fact that the average declined in December versus November. The US ISM index accelerated during this period. So did the European PMIs.
It is therefore no surprise that emerging markets failed to outperform US stocks (SPDR S&P 500 Trust ETF SPY). The strong 2016 rally has been completely destroyed in the fourth quarter.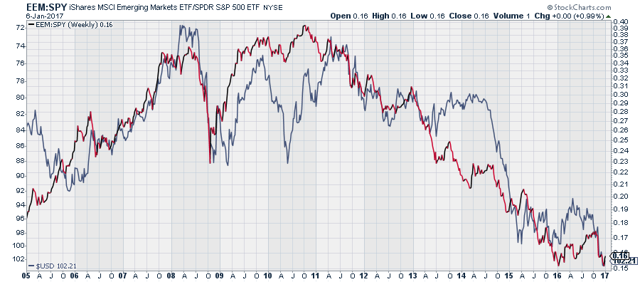 Emerging markets won't stand a chance against US stocks as long as the US economy is growing backed by a stronger USD. That's especially if you consider that emerging market growth outlooks are declining again.
I will be ignoring emerging market stocks for the time being. I currently have a considerable long position in US stocks and won't switch to emerging markets until fundamentals support that they will be able to outperform.
Disclosure: I/we have no positions in any stocks mentioned, and no plans to initiate any positions within the next 72 hours.
I wrote this article myself, and it expresses my own opinions. I am not receiving compensation for it (other than from Seeking Alpha). I have no business relationship with any company whose stock is mentioned in this article.