In my recent "5 Ways" series of articles on Seeking Alpha, I have highlighted five strategies (size, value, low volatility, dividend growth, equal-weighting) for buy-and-hold investors that have historically beat the market. In yesterday's piece, I illustrated that two of these factor tilts - Dividend Growth (BATS:NOBL) and Equal Weighting (NYSEARCA:RSP) - have combined to beat the S&P 500 (NYSEARCA:SPY) in all but two years this century.
The Low Volatility Anomaly describes the surprising fact that lower-risk investments have outperformed higher-risk investments over time. This Anomaly may seem paradoxical; investors should be paid through higher returns for securities with a greater risk of loss. However, across different markets, geographies, and time intervals, the series shows that higher beta investments have not delivered higher realized returns and offers suggestions backed by academic research to suggest why this might be the case. That series also discussed how Warren Buffett, the most successful investor of our lifetime, leveraged low volatility stocks to generate market-trouncing returns.
The second part of this two-pronged market-beating strategy is to purchase value stocks. While most may not attribute the idea of buying "low volatility" stocks to Buffett, most consider him one of the foremost value investors. Buffett's professor at Columbia University, Benjamin Graham, is often considered to be the "father of value investing". In my previous article, "The Value of Value", I demonstrated the above-market returns from stocks with high ratios of book value to market value over a 90-year stock market history.
The S&P 500 Pure Value Index chooses index constituents based on ratios of book value, earnings, and sales-to-price. This index is replicated through the Guggenheim S&P 500 Pure Value ETF (NYSEARCA:RPV) with an expense ratio of 0.35%. The S&P 500 Pure Value Index identifies constituents by measures of high levels of book value, earnings, and sales-to-share price.
Index returns for the S&P 500 Low Volatility Index (replicated through the PowerShares S&P 500 Low Volatility Portfolio ETF (NYSEARCA:SPLV)) and the S&P Pure Value Index are detailed below. I compare a 50-50 weight of the two indices versus the total return of the S&P 500.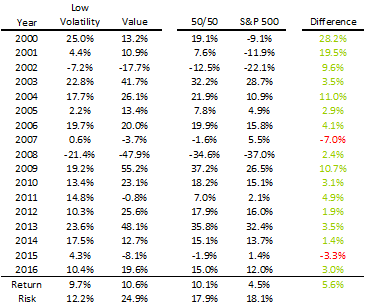 The Low Volatility bent produced a disproportionate amount of their relative excess return versus the S&P 500 in falling markets (see 2002, 2008), and the Pure Value index produced its relative excess returns in rising markets (see 2003, 2009). Combining their return profiles produces a risk profile that exceeds the broader market with less variability of returns. Combining these two strategies in equal proportions has bested the S&P 500 in fifteen of the past seventeen years. Singularly, Low Volatility stocks have beat the S&P 500 in just 9 of the past 17 years, and the Pure Value Index has beat the S&P 500 in 12 of 17 years, but combining the two passive strategies in equal proportions has led to even more consistent outperformance.
How good has the outperformance of this strategy been? Any active fund manager beating the market for 15 of the last 17 years would have made himself a lot of money. The geometric average return of this strategy (+10.1% from 2000 to 2016) beat the S&P 500 (+4.5%) by 5.6% per year, while exhibiting lower return variability. Over this historically weak period for stock returns that featured two large drawdowns (the tech bubble and the Global Financial Crisis), a dollar invested in this strategy in 2000 would be worth $5.43 today, while a dollar invested in the S&P 500 would be worth less than half that figure - just $2.12 - even with stocks near all-time highs.
The 50/50 Low Volatility/Value strategy has trailed the market twice in the 2000s. Once was in 2007 as the index hit its pre-crisis highs, and both low volatility stocks and value stocks underperformed as the market incorrectly priced in higher growth prospects heading into a deep recession. The more recent spate of underperformance was in 2015, and was likely a function of the strong outperformance of the FANG stocks, which were all among the top ten contributors to the S&P 500's 2015 return. None of these stocks frequents the low volatility index, as all have trailing volatility at or above that of the broader market. These growth stocks were also not constituents of the Pure Value Index, an index severely underweight higher-multiple tech and more tilted towards financials and utilities.
While the Low Volatility index has trailed the market (2001, 2003, 2004, 2005, 2006, 2009, 2010, 2012, 2013, and the recently concluded 2016), Pure Value beat the market in each of those years. That is rather astounding. In each of the years that Pure Value has lagged the S&P 500 (2007, 2008, 2011, 2014, and 2015), Low Volatility stocks outperformed in all but one year - the ill-fated 2007.
If we believe that this strategy will have lower relative risk to the broad market because of its Low Volatility bent, will this strategy continue to generate excess returns? I believe Low Volatility stocks will produce excess returns when adjusted for their lower risk over long time intervals. I am sure some astute readers will note that Low Volatility has nearly equaled the return profile of the 50/50 portfolio with lower risk. Why not just own Low Volatility and eschew Value altogether?
While their risk-adjusted performance will remain strong, I do not expect Low Volatility stocks will necessarily continue to outperform the broader market on an absolute basis. Even in this 17-year sample period, Low Volatility has only outperformed the market in 9 years. Its long-run outperformance is a function of lower drawdowns in weak market environments.
There is some concern among market participants that part of the success of Low Volatility strategies is a function of expanding multiples due to the increasing popularity of the strategy. I do not concur with that logic, but am duly wary of the argument. Higher interest rates in the back half of 2016, especially post-election, took the wind out of the sails of Low Volatility large-cap strategies, which had outperformed strongly in the first half of the year.
Adding a value bent to the strategy by selecting stocks with low valuations relative to their fundamentals provides an uncorrelated source of alpha. In my aforementioned long-run study of value investing, value has generated its outperformance in bull markets when lower volatility stocks may not keep pace with the broader market.
For passive investors who want broad market exposure, understanding that changing your index weightings to a combination that overweights low volatility and value stocks relative to the broad market benchmark has historically produced higher average returns with lower variability of returns. Readers should not be surprised that I forecasted both pairs - Dividend Aristocrats/Equal Weighting and Low Volatility/Value - would beat the market in 2017 in my article "50 Predictions For 2017". These combinations have outperformed across business cycles, and I believe they will again produce market-beating risk-adjusted returns this year.
Disclaimer: My articles may contain statements and projections that are forward-looking in nature, and therefore inherently subject to numerous risks, uncertainties and assumptions. While my articles focus on generating long-term risk-adjusted returns, investment decisions necessarily involve the risk of loss of principal. Individual investor circumstances vary significantly, and information gleaned from my articles should be applied to your own unique investment situation, objectives, risk tolerance, and investment horizon.
Disclosure: I am/we are long SPLV, RPV, NOBL, RSP, SPY.
I wrote this article myself, and it expresses my own opinions. I am not receiving compensation for it (other than from Seeking Alpha). I have no business relationship with any company whose stock is mentioned in this article.