In order to make informed equity-investment decisions, it is important to understand how the market is priced with respect to the underlying economy. This tells an investor whether prices are justified by underlying economic activity, or whether the market is over-priced or under-priced. In order to have an informed opinion whether the market is over-priced or not, it is necessary to have an objective metric to measure it against.
One common metric is the S&P 500 price-to-earnings ratio. Investors look at this ratio, attempting to understand whether the market is overpriced or underpriced with respect to earnings. As the theory goes, high P/E ratios indicate the market is expensive or overpriced and heading for a correction. Some will argue that corporate earnings are a reflection of the underlying economy, or that you can predict a bear market using the P/E.
While the P/E ratio may be a popular metric, it's not very predictive. Below is the P/E of the S&P 500 (NYSEARCA:SPY) at various points in time:
34.0 Apr '99 Before 2000 crash
28.5 Feb '03 Market bottom in 2003 before 80% gains
25.9 Jan '92 Just before 8-year bull run of 250% gains
25.2 Dec '16 Current P/E (est)
20.2 Sep '29 Market peak before Great Depression
19.1 Average S&P P/E over the past 50 years
17.9 May '07 Just before 2007 crash
9.2 Nov '80 Peak before early 80's recession
Conventional wisdom states the economy is the engine that drives the stock market. Thus, many investors track various economic indicators, in order to get insight into the underlying economy.
There are many economic metrics, such as the Fed's Leading Economic Indicator, Gross Domestic Product, Employment, Manufacturing, etc. However, like earnings, these are all based on the output of the economy. In other words, by the time these indicators show a change, the change in the economy has already occurred. We're just measuring it after the fact.
It would be more desirable to monitor the inputs to the economy, rather than the outputs. The input to the economy is financial capital, which is raised through equity and debt, and it's spent. People don't get a car loan and then not buy a car. Governments issue bonds for a reason. Likewise, companies that issue new equity spend the money they raise doing so to grow. This is new money that didn't exist or wasn't participating in the economy before the capital was raised.
When you borrow from a bank, they borrow from the Federal Reserve. When you buy into an IPO, you are taking money from your savings or brokerage account (where it wasn't participating in the economy) and giving it to a company to inject into the economy through spending. This provides an impetus for economic growth.
Financial capital is new money entering the economy.
Any other money in the economy was already there.
By tracking the growth of debt and equity liabilities nationwide, we can calculate the amount of financial capital entering the economy. Fortunately, all the necessary data is available from the Fed, who take an active interest in all things related to the economy. We can track the liabilities of companies and households, as well as federal, state, and local governments.
By correlating growth rates in financial capital to the total return of the stock market (approximated by the S&P 500) we can create a price-channel for the S&P 500 that indicates whether stock prices are cheap or expensive with respect to new financial capital that has already entered the economy. This correlates very well historically.
Below is a chart of the price-channel with respect to the S&P 500 over the past 45 years calculated using this method.
Source: Author
Remember the channel is a function of financial capital growth rates, rather than directly measurement of economic activity.
Note that financial capital growth during 2010-11 was increasing, even as the popular press was reporting fears of a double-dip recession. The graph also shows that the market was not keeping pace with capital growth around 1994-1995. This situation corrected with a huge market rally from 1995 to 2000.
This indicator provides an estimate of the fair-value of the S&P 500 on an economic basis. But there are other interesting things we can do with this data.
New capital entering the economy doesn't just instantly appear at the output. It takes time to turn financial capital into profits and GDP. The most recent point in the chart above is actually based on old data. This means we can calculate values of the indicator for future dates using newer data which has already been released. We need only to estimate the dividend yield for the S&P 500, which is estimated to be 2.0% here (below).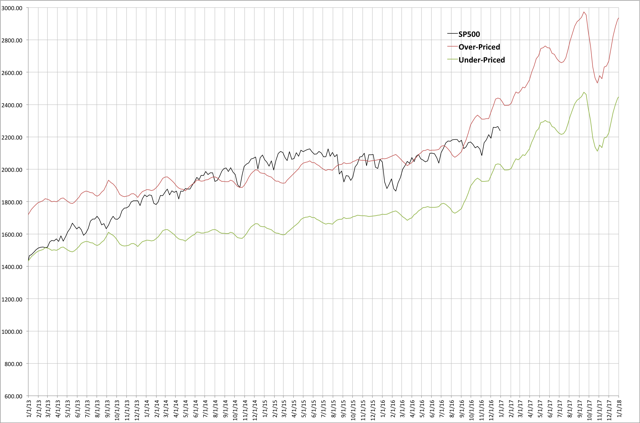 At this point, I feel I must remind readers of a couple things:
1. This is not a prediction of the future. This is simply shows price channel that would be justified by financial capital that has already entered the economy.
2. Actual market prices are driven by market participants, and their individual fears and greed. The market price can (and does) go outside the channel on a semi-regular basis.
Caveats aside, this implies financial capital that has already entered the economy supports continued market growth from current levels. How the market ultimately behaves remains to be seen, but prices below the channel would indicate potential buying opportunities while prices above the channel should be treated cautiously.
Monthly updates to the S&P Price Channel Indicator will be available on my Instablog, and links to this and other economic and market indicators can be found here.
Disclosure: I/we have no positions in any stocks mentioned, and no plans to initiate any positions within the next 72 hours.
I wrote this article myself, and it expresses my own opinions. I am not receiving compensation for it. I have no business relationship with any company whose stock is mentioned in this article.