From Pittsburgh to the East Coast…
PNC (NYSE:PNC) is, as are many other regional or supra regional commercial banks in the US, the fruit of the dog-eat-dog M&A frenzy over the last 20 years, accelerated by the enactment of the Reagle-Neal Interstate Banking Act by Bill Clinton in 1996.
PNC Financial is the archetypal US regional bank: born in Pittsburgh, Pennsylvania, in 1845 as Pittsburgh Trust and Savings Company, PNC was the first American bank to apply for a national charter, which was granted in 1863.
After going through several rounds of local mergers PNC was renamed Pittsburgh National Bank in 1959 becoming a subsidiary of Pittsburgh National Corporation.
In 1982 Pittsburgh National Corporation and Provident National Corporation from Philadelphia merged creating the modern PNC Financial in what at that time was the biggest banking merger in the US.
During the 90s and particularly after interstate banking was liberalized, PNC acquired more than ten smaller lenders in order to expand its original Pennsylvania / Philadelphia geographic scope encompassing a wider area between Kentucky and the New York metropolitan area.
During the 2000s PNC purchased a new collection of commercial banks such as Maryland based Mercantile Bankshares, Yarville National Bancorp from New Jersey and Sterling Financial Corporation from Pennsylvania. Finally, PNC acquired the polemic Riggs Bank from Washington, involved in several high profile scandals at that time.
The acquisition in 2008 of Cleveland retail lender National City Bank for $5.2bn in stock doubled the size of PNC and made it the 6th bank of the United States by deposits. The deal was well timed, buying a distressed lender at the lowest point of the crisis just after PNC had left the TARP program.
The acquisition greatly enhanced PNC's presence in the MidWest, made PNC the biggest bank in Pennsylvania, Kentucky and Ohio and in general terms completed the expansion of the Pittsburgh lender on the East Coast, from New York to Miami.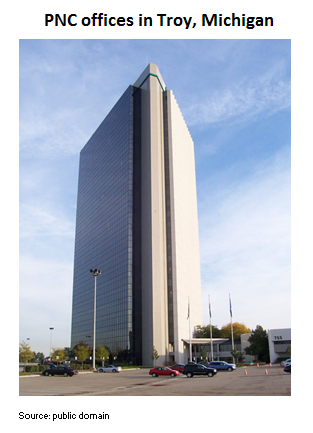 …and the XXIst Century
PNC is a straightforward, prudently managed operation with a predictable business model focused on mid market retail and corporate banking on the East Coast and in the Mid West.
PNC's major divisions are Retail Banking (22% of net income and 43% of revenues at the end of 2015), Corporate and Institutional Banking (50% of income and 36% of revenues) and Asset Management (4.4% of income and 7.77% of revenues). Finally, PNC owns 22% of Blackrock, which contributed 13.6% of net income in 2015.
The Retail Banking division serves individuals and SMEs across the relevant geographic areas in which PNC is present; it does not seem to be very profitable. Cost of risk is very low, at 40bps, but a low NIM (net interest margin) combined with high fixed costs (70% efficiency ratio) generated a suboptimal return on assets of 1.27% in 2015 and a meagre 0.97% in 2014. This situation, in its turn, drags down the profitability of the whole bank.
Corporate and Institutional Banking is a key division of PNC, even if the business design of the whole group is that of a retail bank; CIB added 50% of profits to the group in 2015 while it generated 36% of revenues.
The division offers the whole array of corporate lending, debt and equity underwriting and M&A advisory to midmarket corporations within its geographic scope.
Its return on assets (ROA) is significantly higher than that of Retail, at around 1.54% at the end of 2015. Cost of risk is very low - a common feature of corporate lending during good times - and, as a difference with Retail Banking its efficiency ratio is better, at around 40%, a symptom of the fact that the division operates closer to its capacity ceiling.
PNC has always been a conservative bank in terms of equity levels and leverage. Tier One Capital Ratio at 11.1% and a low loan to deposits ratio of around 81% produce a low risk balance sheet funded mostly by customer deposits instead of commercial paper.
In terms of returns PNC is a reasonably profitable bank nowadays and historically, but not at the level of top performers Wells Fargo (NYSE:WFC), US Bancorp (NYSE:USB) or M&T Bank (NYSE:MTB).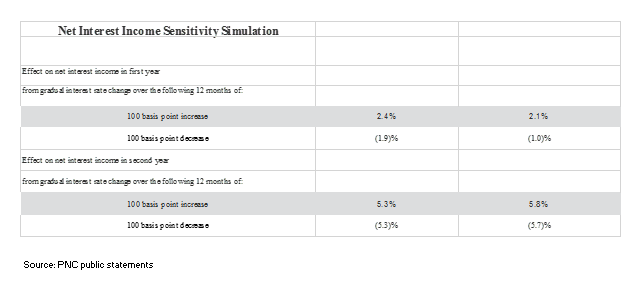 According to CRSP database PNC's NIM (net interest margin) was 2.74% at the end of 2015 compared with a historic average of around 3.52%. Not bad but under historic averages of Wells Fargo - 2.92% at the end of 2015 and an outstanding 4.59% historically -, M&T - 3.14% and 3.77% respectively -, and BB&T (NYSE:BBT) - 3.32% NIM at the end of 2015 and 3.9% historically averaged since 1998 -.
Nevertheless, PNC ranked at the end of 2015 over the average in terms of NIM when compared with a basket of US regional and supra regional banks - JPMorgan (NYSE:JPM), Bank of America (NYSE:BAC), Wells Fargo, Comerica (NYSE:CMA), Fifth Third (NASDAQ:FITB), M&T, KeyCorp (NYSE:KEY), SunTrust (NYSE:STI), Zions (NASDAQ:ZION), BB&T, Huntingdon Bankshares (NASDAQ:HBAN) and PNC itself.
In terms of ROA (return on assets) PNC was at 1.17% at the end of 2015 compared with 1.33% of the average of US regional and supra regional banks. Historic average from 1998 favours PNC nonetheless - 1.88% return for PNC against 1.33% for the sample of US banks historically since 1998.
Finally, in terms of actual ROE PNC stood at 8.4% in 2015, or 40% below its historic 2006 - 2015 average of 14% which, again, is above the average for the banks basket for the period.
A spread book value trade with better upside / price equity stories
PNC is right now at the centre of a very "hot sector": US financials. What eight months ago was a hopeless industry plagued by low profitability, corruption, regulatory harassment and poor yields is now the harbinger of huge riches to come.
What truth can we find in these two moody sets of expectations?
As we have seen, PNC is a good, solid organization with moderately over the average historical profitability when compared with sector averages.
PNC Financial is certainly sensitive to increasing interest rates, but as it has been well spotted in the article "Sell PNC Financials before earnings next week", the upside is limited by the weight of its Corporate and Institutional Banking division over the whole group and the part of income fees over total revenues (45% of the overall at the end of 2015).
Nevertheless interest rates will certainly impact PNC's bottom line. In PNC's 2015 Annual Report the lender estimates in a Net Interest Income Sensitivity Simulation that an increase of 100 basis points in the benchmark would increase Net Interest Income 2.4% the first year after implementation and another 5.3% during the second year.
Therefore, assuming 150bps benchmark increase during the next two years, Net Interest Income would increase in $975 million bottom line, assuming NPLs stay equal. That is an increase in profits of 17% compared with pre tax profits of 2015 taking into account only rising interest rates.
Adding to this basic picture revenues growth for extra lending in retail, mortgage finance and corporate finance together with minor but significant fees increases from the pickup of M&A, underwriting, markets and asset management activities, PNC's potential for stock price increase in the future seems to be reasonably good.
But is it this good enough? The answer is no. There are better opportunities around; for example, Bank of America.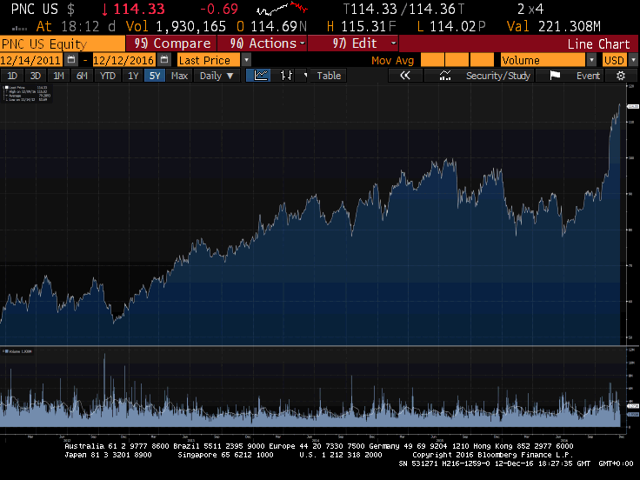 In terms of sensitivity to the gearing of the cycle through interest rates curve steepening and investment banking pick up potential, Bank of America should clearly outperform PNC due to its higher sensitivity to the steepening of the yield curve and the huge potential of its investment banking arm, the former Merrill Lynch (See Article "Bank of America and Trumpnomics: the house always wins").
In terms of stock price, PNC does not look cheap. At 2016 expected 16.5 times and price book value of 1.37, it compares reasonably with more efficient producers Wells Fargo (PE 14 times & 1.59 price book value) or US Bancorp (PE 16 times and price book value 2.1) and close to the average for regional banks of similar dimension such as BB&T or SunTrust.
However, when we compare the Pittsburgh lender with Bank of America things change. BAC is priced slightly lower at 15.4 times PE but its price book value is further down, at 0.94 times compared with 1.37 at PNC, or 31% under.
This is a measure in our view, of BAC's extra capability to gear its balance sheet over the next 5 years when compared with PNC, assuming structures of both banks in terms of business are close enough.
In other words, Bank of America has a wider scope to increase the employment of each unit of equity to generate extra returns and thus increase the price paid for each dollar of that equity (definition of price to book value ratio).
Therefore, it looks like BAC has a higher earnings upside and that, taking into account the price paid for this upside in terms of PE, it is cheaper to acquire than PNC.
A simple strategy to capture this spread - in the context of a wider portfolio to smooth risk - would be to sell upside volatility of PNC and use the premium to buy upside volatility at Bank of America, on a structural basis during the next 3 - 5 years.
Disclosure: I/we have no positions in any stocks mentioned, and no plans to initiate any positions within the next 72 hours.
I wrote this article myself, and it expresses my own opinions. I am not receiving compensation for it (other than from Seeking Alpha). I have no business relationship with any company whose stock is mentioned in this article.